After a 90km highway ride home from the Gold Coast yesterday, I put the Zero DS electric motorcycle on charge and wrote down my first impressions. You can read them here.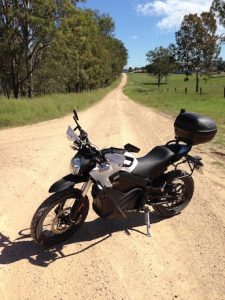 Today I intended to ride out to Lake Wivenhoe and play in the dirt since this is a DS which stands for dual sport. However, when I switched on the ignition I found that it had only charged to 95% despite being on charge all night.
This particular electric motorcycle is set up as a police evaluation vehicle with lights, siren and CB radio, but none of those was turned on, so I don't know why it didn't charge to 100%. (Read my story on the police bike here.)
I headed out with the mode switched back to "eco" and rode about 95km/h on the highway to maximise range-longevity. However, by the time I got about 50km to some decent dirt tracks, it was already down to 55% battery. I turned around and found some interesting dirt tracks to ride around on for a while and test out whether it deserves the DS nomenclature.
The Zero DS electric motorcycle really isn't suited for dirt chores, mainly because of the power delivery. It comes on in a linear manner, much like turning the volume up on your radio dial (do radios have dials any more?). There is no sudden "oomph" which means it is difficult to break traction to turn the bike in the dirt and it won't wheelie over obstacles.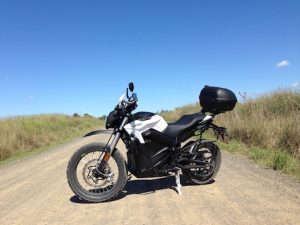 Then I switched it to sport mode and had less trouble breaking traction, but still couldn't loft the front wheel. There's not even a clutch to pop clutch wheelies! Also, the traction didn't break straight away as you would expect, but broke a little bit later and suddenly. First time it took me by surprise, but I soon got used to the strange power characteristics.
It was on the corrugated dirt roads that I found the suspension is certainly not up to the task. It's almost as though there are no shock absorbers at all. It pogos and continues to bounce long after it's hit the slightest bump. I played with the clickers front and back over night and settled on a middle setting, but it just doesn't work. Much more development needed here.
One good point about an electric motorcycle, especially dual-sports models, is the low seat height. Dual-sport machines usually have high seats because of the high clearance of the bike. However, with no conventional engine in the way, the seat can be scooped down lower. This electric motorcycle sits about 790mm which is low for an adventure bike. But the riding position isn't great for off-road as the bars sit too low. You'd definitely need bar risers for standing duties.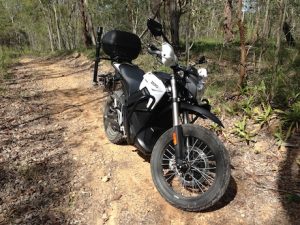 On the way home I played around with eco and sport modes to feel the differences. For a start, the eco mode is restricted to 116km/h top speed, while I couldn't reach the top speed in sport mode, although I did see 130-something on the speedo before thinking better of it. The Zero DS sprints to 100km/h in eight seconds, which isn't very impressive given my BMW R 1200 GS behemoth dual spotter takes about half that time. Sport mode shaves a couple of seconds off the 0-100km/h time, but it's still nothing startling. However, roll-on acceleration is quite good. It will zap through from 80-100km/h in a couple of seconds in sport mode.
After performing a few of these roll-ons and standing starts I noticed the motor temperature had reached 100C and the yellow temperature warning light came on. You then have to roll off, calm down and the temperature quickly comes back to a satisfactory level. Batteries are susceptible to temperature and will quickly lose charge if the ambient temperature is high or you run the motor too vigorously.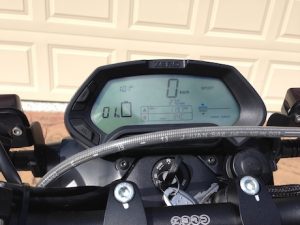 With my remaining charge now into the single figures, I switched back to eco mode to make it home. I judged it perfectly. As I rolled into my suburb it hit 2% and the power was suddenly restricted. Then as I rode up my street battery charge dropped to 1%. Unlike a fuel tank gauge which reads empty but has a reserve, there is no reserve in this "tank"; 0% on the battery gauge means there's nothing left.
It's now back on charge and I'm hoping I have 100% battery when I leave tomorrow morning for the 90km trip on the highway back to Moto Arena on the Gold Coast. When I get there I'll be picking up the road-going version and will be shooting some video. Full test and video reviews on both electric motorcycle coming soon. Stay tuned.
Zero motorcycles
Prices: $20,490 for the base model Zero S and DS to $19,180 for the Zero SR and DS with Power Tank for extended range.
Dealer network:
Central Coast Cycles (New South Wales)
Mototecnic Performance Bikes (Victoria)
Moto Arena (Queensland)
Shearwater Motorcycles (Tasmania)