Z1R Eclipse Helmet Review Summary
Z1R Eclipse Helmet Image Gallery
How time flies! It was just about one year ago since our Z1R ZRP-1 helmet review.
We probably wouldn't have reviewed it, except that Motorcyclist magazine ran a very interesting story on helmet safety and the ZRP-1 scored very highly in their non-standard testing, so we figured we'd have to give it a try.
At that time, I asked the question "If a highly rated helmet is too flimsy or uncomfortable to wear, will anyone buy it?"
My gut feeling was "no", but the ZRP-1 did have one or two redeeming characteristics that just barely kept it out of the "don't bother" category.
One thing it did not have, however, was a comfortable fit; in fact, as I look back on it, it's probably one of the strangest internal helmet shapes we ever encountered.
The ZRP-1 fit very tight at the neck but it had a bowed internal shape.
That is, tight at the top but with way too much space on either side of the head.
So what if it got high marks in an impact penetration test?
If the rider's head rattles around inside the helmet, something is not right and chances are that it will sell at about the same rate as ice cubes in the Grise Fiord.
Based on this experience with Z1R products, I didn't have high hopes for the Z1R Eclipse flip-up (or "modular") helmet either.
But since the Eclipse is a new addition to the Z1R line, we thought it might at least incorporate the latest in Z1R's helmet technology.
Also, maybe it was also the beneficiary of a continuous improvement program that might be in place at Z1R Helmets.
Unfortunately, after wearing it for some time, I'll have to say right up front that I'm just not fond of the Eclipse.
I would not wear this as my every day helmet.
In fact, I have to wonder why anyone would want to save a few theoretical bucks by not buying a higher quality helmet.
After all, there are plenty of them out there these days.
The Z1R Eclipse can be had for $199.00.
But for a measly $17.00 more you could buy the HJC SyMax (review); the Vega Summit II XPV (review).
It's one of our current favorite flip-ups, can be found for about $140.00.
And for about 50 bucks less you could own the HJC CL-Max (review).
And don't forget the Zeus Z-508 (review) which, in our opinion, is a nicer helmet than the Z1R Eclipse and sells for an incredible $87.00.
That alone is reason enough for you "thumb the nose at the world" types to break open your wallet.
So what's not to like about the Z1R Eclipse?  Let's take a look…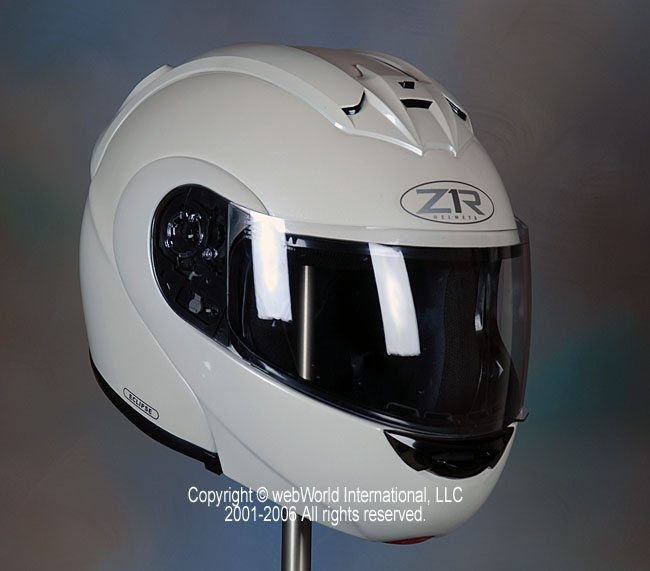 Helmet Fit and Comfort
Let's start with the internal shape of the Eclipse which, I think, does more to lower its appeal than probably anything else.
The good news is that it does not fit like the Z1R ZRP-1 that we reviewed.
The bad news is that the Eclipse has what is probably an even more bizarre internal shape.
Our size XL example runs at least one size large, in our opinion. It fits like a size XL helmet used to fit, back before somebody decided to shrink the size standards by making the modern size XL fit like an old size large.
In other words, our Eclipse in size XL fits like an XXL for sure.
(For more information, check out the wBW Motorcycle Helmet FAQ page for more information on head shapes and choosing and purchasing motorcycle helmets).
But the other problem is the internal shape.
Our Eclipse fits very tight in the circumference around the forehead but then the sides of the helmet flare out like a bell, widening until the neck area is way too big for any normally proportioned humans that we are aware of.
The odd shape can be somewhat compensated for by over-tightening the chin strap, but this leads to another problem. The Eclipse sits way up high on my head, yet my chin sticks out the bottom.
So when the chin strap is tightened enough to firm up the helmet, I feel like I'm choking.
The proportions seem wrong — my chin sticks out the bottom, the helmet feels like it has a high center of gravity because it sits too high on my head.
And then when the rotating flip-up visor is closed, the bottom part of the eye port is in line with the tip of my nose, cutting off valuable sight lines.
I think it's one of the more claustrophobic helmets I've worn in a while, because no matter how I adjust it, I feel like I'm peering our over the top of the chin bar like a little kid.
The liner isn't too bad, except for the tightness around my forehead.
But the bell shape of the helmet means that there's a lot of air space around my ears, which I guess might also be a benefit to some, but if there's too much air space on either side of my big earth-shaped dome, then the helmet is definitely too wide.
The Eclipse does have a pair of deep ear pockets, which would probably allow some decent-sized speakers to be installed, but only a thin layer of fabric lies between my ears and the outside shell.
It seems normal to grab the opened helmet by the sides, and when my fingers touch the inside of the ear pocket I can feel how thin the shell seems and the lack of padding is noticeable.
I guess you can tell that I'm just not very enchanted by the Z1R Eclipse.
Maybe I'm getting jaded from all the good helmets we have running through here in a year's time, but hey — it's 2006, there's just no excuse for poor design!
Or poor quality, which brings us to our next topic…
Paint, Finish and Quality
The Z1R Eclipse is only available in Anthracite, Candy Red, Silver, Black and the Pearl White metalflake shown here (which unfortunately shows up in the photos as rather muddy-looking).
There's nothing wrong with that per se, but the overall finish on our example has thin paint that doesn't have a consistent color.
Like the rather plan ZRP-1, a solid color helmet can be jazzed up with some reflective graphics or motorcycle stickers and decals if so desired.
The decals on the Eclipse are very basic — just a stick-on "Z1R Helmet" logo up top and a really cheap-looking "Eclipse" sticker on the side.
There are a few dust specks here and there entombed under the finish.
And although it appears that the helmet has a polished finish, it does not appear to have a thick (or thin) enough coating of clearcoat that might deepen it up a bit whilst giving the helmet some added protection.
So the bottom line here is that overall, the paint is thin and unimpressive, especially considering that other helmets at nearly the same price point are much better in this regard.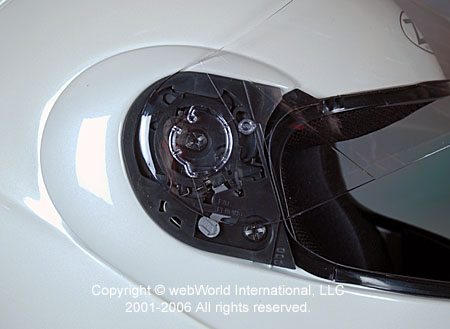 Face Shield
The vent assembly is glued on to the top of the helmet and it has some fairly large gaps where it meets the helmet shell, although the assembly does feel more robust than some other inexpensive helmets in our stable.
The flip-up visor actually fits fairly close to the body of the helmet shell and the clear visor fits relatively snug against the eye port gasket, so that's a plus.
The flip-up visor opens with a push on the single button underneath the center of the chin bar, which is as it should be.
No complaints here, except that the latching mechanism for the flip-up visor is made mostly from plastic or Nylon and, as is the case in modular helmets in this price range, it doesn't feel very sturdy.
However, we can not get the clear visor to raise all the way up without a significant struggle.
It feels like it's going to break as we lift it up to the last two detents, and this seems to be by design, although I'm not sure why. I just don't have a good feeling that the clear visor opening mechanism will last very long.
It makes all sorts of knuckle-cracking noises as the visor is raised and lowered.
Thank goodness the visor itself seems to be made from a nice, thick, sturdy material. It has a lifting tab on the lower left-hand side, which is perfectly located for raising or lowering the visor when riding.
The clear visor uses what's becoming a standard release mechanism; open the visor all the way (in this case, forcing the visor open to its topmost position), pull down on the release lever and lift off the visor.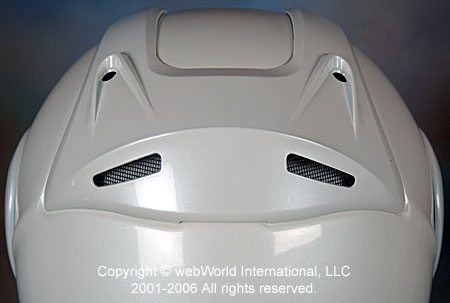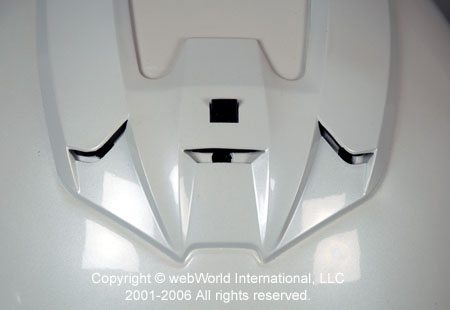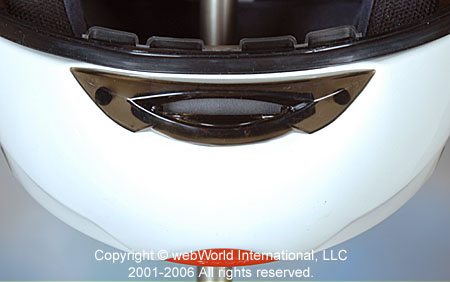 When a helmet has a large gap opening around the neck area, lots of air can flow in, making it hard to tell where the air is actually coming from, the vents or the gap.
Nevertheless, the Eclipse seems to flow a decent amount of air up top, although the sliding vent on top of the helmet opens only a tiny amount to uncover three drilled holes.
Two of those holes, however, open up right through the liner and on to the rider's head, so I'll give them the credit for the breeze.
I'm becoming convinced that there just isn't any correlation between vent shape and air flow, because so many weird and seemingly tiny air vents sometimes seem to flow way more air than is expected.
Although the basic chin vent opens and closes with authority, it does seem slightly flimsy (maybe I'm piling it on too much now?) but I don't seem to feel a difference whether it is opened or closed.
That's probably because of all the air that naturally flows up under the helmet anyway.
Noise Levels
Here's some good news: we're just as surprised with the Eclipse as we were with the ZRP-1 regarding low noise levels.
That's because the Eclipse also seems quieter than it should be, considering the shape and the helmet type (i.e., a flip-up, typically noisier than a full-face helmet).
Like many other helmets, the Eclipse can generate lots of low-frequency "booming" noises from turbulent air coming off a windscreen and bouncing around the neck area.
But overall, the Eclipse seems relatively quiet.
Note that the key word here is "relatively". But it is quieter than expected when riding an unfaired bike, like our new Ducati GT1000.
See the wBW Motorcycle Helmet Noise page for more information on the causes and prevention of helmet noise.
See also the wBW Ear Plugs and Hearing Protection page to learn more about protecting your precious hearing. We never ride without earplugs, period, and you shouldn't either.
Helmet Weight
Our Z1R Eclipse weighs 1765 grams, or 3 pounds, 14-1/4 ounces. This puts it at the upper end of the helmet weight scale when compared to the 56+ helmets in our stable.
See the wBW Motorcycle Helmet Weights page for more information, including a chart and graph that compares the weights of all of the helmets we've reviewed.
As mentioned above, the Eclipse also seems to carry its weight high, which doesn't help matters.
Miscellaneous
The Z1R Eclipse carries a U.S. DOT sticker. Some day, someone will make a modular helmet with an all-metal visor retention cage system that positively latches shut and will meet Snell standards and, in fact, will offer more protection than a normal full-face helmet.
But I'm not holding my breath…
The chin strap uses the tried-and-true "D" ring attachment system and it includes a snap to secure the extra length of strap.
Conclusion
My feeling is that if you're in the market for an inexpensive flip-up, or modular, helmet, you'd be better off spending the very few extra dollars to purchase a nicer helmet.
w

BW

 Review: Z1R Eclipse Helmet
List Price (2006): $199.95
Made In: China
Colors: Anthracite, Candy Red, Silver, Black and the Pearl White.
Sizes: S-XL
Review Date: September 2006
Note:
 For informational use only. All material and photographs are Copyright © webWorld International, LLC since 2000. All rights reserved. See the webBikeWorld® 
Site Info page
. Product specifications, features and details may change or differ from our descriptions. Always check before purchasing. Read the
Terms and Conditions
!
Owner Comments and Feedback
---
From "V.M.":  "I am surprised you haven't noticed that Z1R Eclipse helmet has many components ripped off from older HJC helmets.
Top ventilation spoiler originates from HJC FG14, as well as visor lock system. Front ventilation hole originates from AC11. It is hard to tell from the pictures but I guess liner is ripped off as well."
Editor's Reply:  Thanks for the info. It's possible that the Eclipse uses parts or design from an older HJC helmet but this doesn't affect the outcome of our evaluation.
From "C.S.":  "The Z1R Eclipse looks suspiciously like an HJC CL-Max with a fancier vent cover over top.
Not surprising, Parts Unlimited seems to simply be rebadging HJC products and a couple other brands for the Z1R and Icon product lines.
I think the Z1R Strike (ZRP) is also an older HJC model, the CL-10, I believe. That CL-10 is only sold as such in Europe, and I'm guessing it's a direct carryover for this market, considering it's DOT-only approval which is not hard with an ECE22/05 spec'd piece.
Same thing goes for any of the flip-up models out right now, and the real reason they are likely not ever going to be Snell-approved in any current form. They are all ECE22/05 spec helmets.
The chin bar testing is not the real issue, and in fact some may be well able to pass any current chin bar-related tests, be it Snell deflection requirements or the ECE22/05 chin impact.
Those lighter ECE spec models are probably used to keep the already heavier weights that come with the additional mass of moving parts, and costs down due for what amounts to niche market for crash helmets with an emphasis on convenience.
The reasons for the "strange" fit issues are likely due to the use of the common European or Asian head shapes used for other markets, and if they are older designs they might not be based on ISO headforms or more "organic" in shape to begin with, especially true of any low-end helmets.
To keep the prices in the cheap you get no re-engineering for additional safety specs or fit considerations, on top of the other concessions to fit and finish."