Henry Crew, 23, is heading to Australia on his bid to become the youngest person to ride around the world – all in the name of mental health.
The Brit is undertaking the epic ride to challenge himself, while speaking out about his own experiences with depression and anxiety and the friends he has lost to suicide.
Henry is aiming to raise more than $62,000 for the Movember Foundation, during the 13-month challenge in which he will cover 56,000km, 35 countries and six continents.
The ride kicked off in London in April.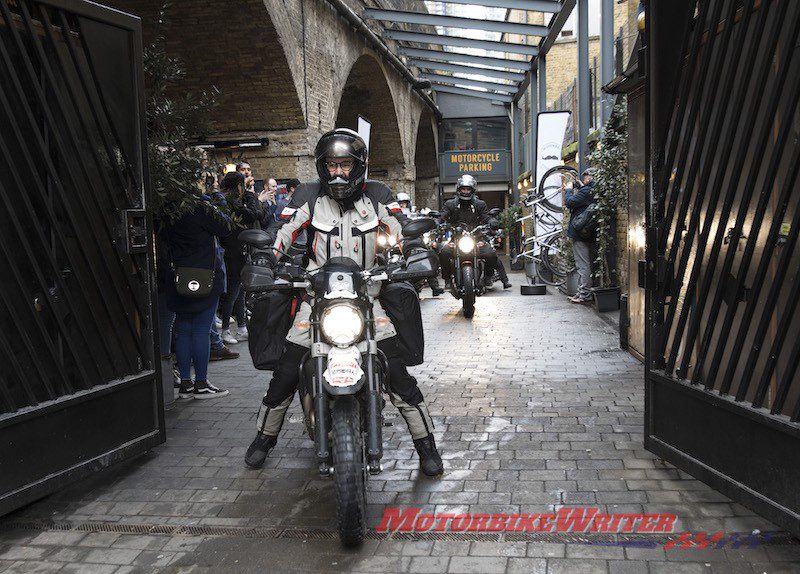 For the past four months, Henry has ridden an average of six to eight hours each day, travelling through 19 countries, including Russia, Kazakhstan, Myanmar and Iran.
Youngest record
The current Guinness World Record for the youngest global rider is held by Spaniard Kane Avellano. Last year he became the youngest person to travel solo around the world at the age of 23. He rode 51,500km (32,000 miles) over eight months.
To break the record, Henry will ride a new Ducati Scrambler Desert Sled 56,300km (35,000 miles) through 35 countries. He needs to be back in the UK by Friday, May 10, 2019.
Henry is scheduled to touch down in Perth on Wednesday (29 August 2018).  His trip Down Under will stretch for almost 6000km from Perth to Brisbane.
While in Australia, he will ride accompanied by New Zealander Mike Gilbert.
You can track his progress here.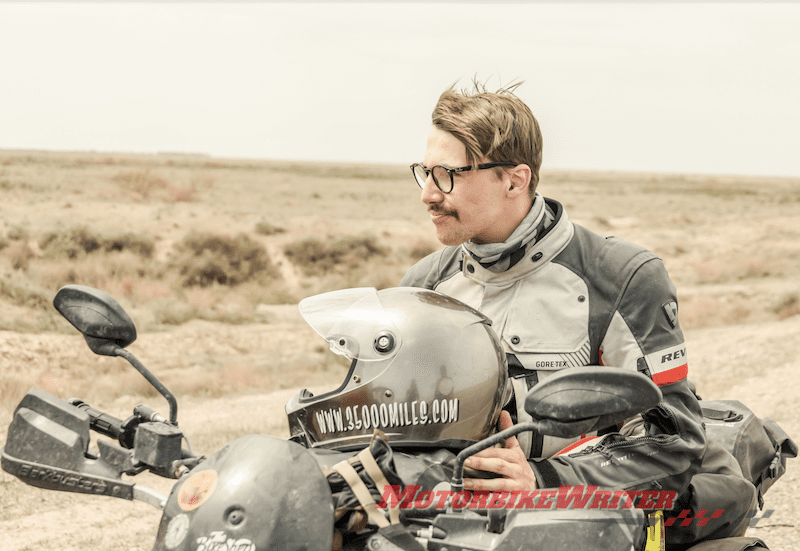 Novice rider
Henry only got his motorcycle licence three-and-a-half years ago.
"I've wanted to spend as much time on a bike as I can since I first started riding and combining that with travel has always been a dream," Henry says.
"When I discovered I could also get the record that was the motivation and sort of the selling point to make it happen. "
"I'm really excited about India and Australia because of the bike scene there as well as all the beautiful scenery and culture which I haven't experienced before," he says.
Henry is keen to meet up with other riders along the route. You can join him by contacting him via email.
Ducati Scrambler Desert Sled
Just one month into planning his record-breaking trip, the young rider wrote off his Kawasaki W800.
Movember then came to the rescue by approaching motorcycle companies for a replacement bike.
"Harley Davidson were interested for a bit and we were going to customise a roadster and make it more appropriate but honestly I feel like the Desert Sled is a much better option," he says.
"I'm super happy with the bike and can't wait to use it on some more rugged terrain.
"We also had an offer of a bike from Norton. I didn't want to do this trip on a 'proper' adventure bike – they aren't really my thing."
However, he will encounter some rough terrain on his global ride and will need the longer-travel suspension of the Desert Sled model.
"I haven't done any special training but I have had some advice from great adventurers such as Charley Boorman and a developer and adventurer who works at the Ducati factory," he says.
"I racked up about 18,000 miles (28,969km) a year on my last bike and have had some off-road experience on small bikes. I also took the Sled off road a couple of times before I left."
His biggest fears are having a problem with the bike that he can't fix, issues at borders and "super adverse weather".
"My schedule will loosen up after Europe though so it's not like I will have to ride every day through any conditions."
Supporting November
Along the way, Henry is raising money for men's mental and physical health organisation November which was started in Melbourne in 2002 by two mates.
"Movember were the obvious charity partner because I had an existing relationship with them through the DGR (Distinguished Gentleman's Ride) and I have had my own mental health issues which were greatly helped by riding motorbikes," he says.
Henry also lost three friends to suicide and hopes to raise £1 for every mile he travels for Movember.
The money will go towards research and support programs designed for prostate cancer, testicular cancer, men's mental health and suicide prevention.
Stay in touch with Henry here:
Instagram: @henrycrew
Facebook: 35000 Miles
Twitter: @35000Miles