There are many types of yoga – hot, prenatal, restorative, power, etc – but we've never heard of moto yoga before!
We don't recommend it, but yoga on a moving motorcycle is not as rare as you would think. In fact, there are even Guinness Book of Records mentions for the most consecutive yoga positions on a motorcycle as seen in the video above.
The record was set in 2011 in Mumbia, India, by yoga teacher Yogaraj C P of Hong Kong striking 23 different poses.
As amazing as that seems, the record was more than doubled just two years later by Hav Jabalpur with 50 positions, including 10 demanding reverse positions, and covered a total distance of 5 km (3.1 miles) on the motorbike.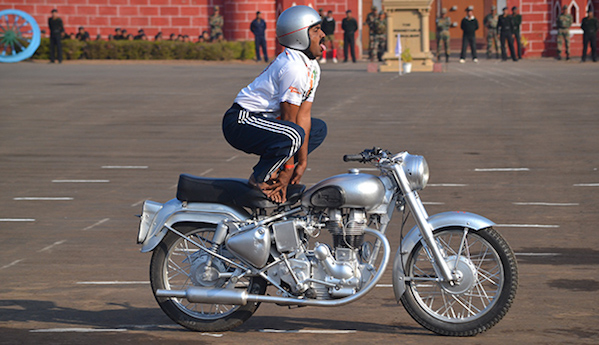 But some riders don't do yoga while riding just to break or set records.
We published an article and video (below) in 2014 about Indian farmer Gugulotu Lachiram, 40, of Khammam, who practises the ancient exercise while riding for fun and exercise!
"I completely love doing stunts on my bike," he says. "I will continue to do so for the next 10 or 15 years."
Surely this form of exercise lengthens your life and 50-55 wouldn't be too old to continue doing it, although performing it on a motorcycle at 60km/h could be a life-shortening experience.
"I take risks when I perform but so far no accidents," he says. "I get scared when I perform stunts, but I feel happy too."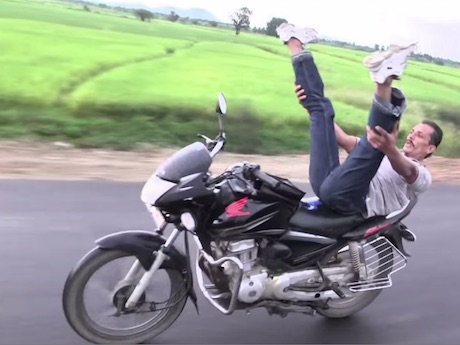 While we don't condone stunt riding on public roads, you have to admire this guy's balance, poise, strength and riding skills.
Please continue to do your yoga on a mat or in bed, not on your motorcycle on a public road. It's great for stretching muscles before and after a long ride!