Sometimes maligned as a bit of a "softie", Yamaha Motor Australia has "Australianised" the XTZ660 Tenere.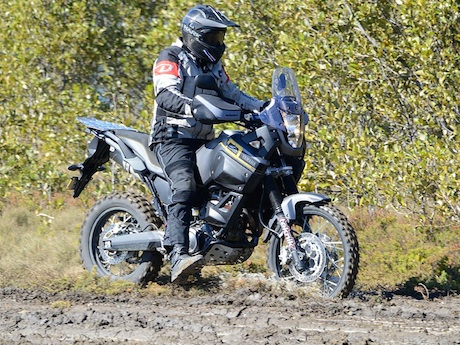 What they mean is they have toughened it up for Australia's harsh conditions with some accessories that are made in Australia. YMA marketing guru Sean Goldhawk says he wants to offer the kits "down the track" or maybe a voucher to get the suspension set-up. 
The accessory pack on this bike adds almost $3000 to the $13,999 rideaway price but it converts it from a Toyota RAV-4 "softroader" into a rugged Jeep Wrangler offroader. The accessories consist of performance and handling modifications, protection and creature comfort items.
The most popular and usually the first modification riders make to their bikes is a replacement muffler. This bike comes standard with a dual exhaust system which Yamaha has replaced with a single Barrett muffler which saves some weight. 
While the low-compression, bullet-proof XTX660 Tenere engine has been around for ages, the fuel-injected model is a little more lively and economical. There is no need for any engine tuning as the EFI adjusts to the new muffler. 
Performance doesn't seem to be greatly enhanced, although it revs a little freer and from about 4500rpm it gets quite lively. The Barrett muffler has a wet-fart MX thumper sound that doesn't become an annoying drone on the highway and has some entertaining burps and pops on the overrun.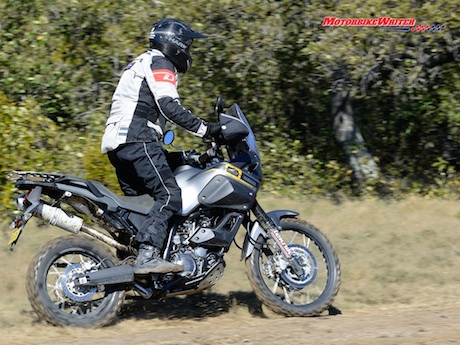 It doesn't seem to make much difference to the fuel economy which was just under 5L/100km on my 1800km test ride through Central Queensland's back roads and trails.
The word "thumper" suggests massive vibration and rough running, but this robust mill has limited vibration that doesn't rattle your teeth. It also leaves a stable image in the rearview mirrors. Speaking of which, the test bike arrived with the left mirror removed. Many adventure riders take the left mirror off to save breaking it in a fall. However, it's illegal in most states to ride without two mirrors and since my test would take me for short blasts on major highways, I thought it prudent to fit a second mirror. At least it showed that the standard mirrors have better vibration absorption than a cheap aftermarket unit. 
The biggest and most important modification in the Australianised pack is the suspension. In its standard form, the XTX660 Tenere feels too plush for off-road riding, although it has long enough travel to avoid bottoming out in all but the biggest hits. 
Yamaha turned the bike over to Teknik Motorsport in western Sydney who have been doing a lot of work on the modern Tenere since the model returned in 2008. Teknik owner Nick Dole says they did a significant revision of the suspension in 2010 and now have a package that he believes will suit the most aggressive and heavy rider.
Basically, they replace the standard .44 springs with straight-rate springs between .50 and .65 and keep the same oil weight.
"If we change the oil weight and the owner takes the bike to their local dealer sometime down the track when their oil seals start to leak, the mechanic won't know what oil weight we put in so they use the standard recommended rate and then it won't work properly," he says.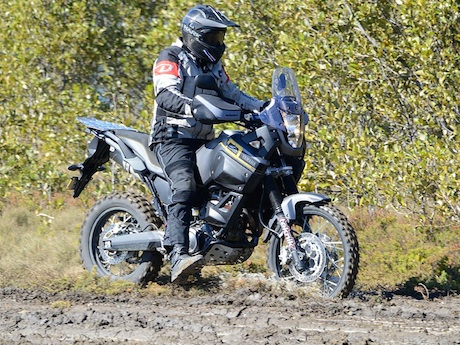 Nick also uses the standard Yamaha rear shock after testing many other models. "I think the Yamaha performs quite well. We just revalve it and I reckon the modified standard shock is just as good as the bottom of the range Euro aftermarket shocks."
The result is a bike that handles the rough stuff, keeps the power down over corrugations and doesn't translate the big hits through the seat or the handlebars to the rider.
The next thing adventure riders will change will be the road-biased dual-purpose standard tyres. Yamaha has chosen the popular and quite aggressive Dunlop D606 knobbies which seem to tackle most terrain quite well with en ought of a gap for clinging mud, a good spread for sand and even some road grip, although they do howl a little and lack in braking bite and steering feel on the tar.
While many owners have been happily commuting Teneres to work thanks to their high position and slimline lane-splitting design, the bikes are also suitable for travelling much further on the highways and byways, so luggage capacity may be a consideration. Yamaha has opted for a 4mm thick aluminium rear rack from B&B Offroad Engineers. It's a solid and flat surface with plenty of slots for tie-downs. The thick rear steel subframe means it will be strong enough to support heavy luggage without sagging or fracturing.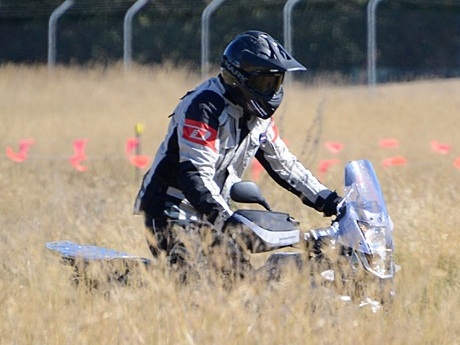 Another solid feature of the Tenere is the steel sidestand. It is very straight and upright, but it's robust and if you find the bike too tall to throw a leg over, you can use it to mount without fear of bending it.
The riding position on the XTX660 Tenere is ideal for the long haul with one of the most comfortable seats on any dual sport bike, so there is no need to change the suede-look seat. However, Yamaha has opted for handlebar risers to make tall riders even more comfortable when standing. The slim tank allows riders to get their heads right over the triple clamp for optimum weight balance and control. 
Yamaha has also thankfully replaced the far-too-narrow rubber foot pegs with wide metal Pivot Pegs. I was originally sceptical as I thought they would upset use of the levers, but I find they vastly improve comfort for long standing duties and don't interfere with pedal use.  
The brake lever has a cable protector, but there wasn't one on the gear shifter which may have been an oversight. These are very handy to protect your levers bending and snapping off in a crash.
As for the transmission, the five-speed gearbox has a couple of short gears which are great in the technical stuff and stretch out to a long fifth gear that allows you to comfortable ride at highway speeds at 3500 revs from where you can roll on the throttle for overtaking or drop a cog for swifter progress. If you were doing more highway duties, you might want to drop a tooth on the rear. 
I find I feel far more confident on the dirt on an inexpensive bike than I do with an expensive one simply because you don't have as much at stake in a crash. It's one of the key attractions of a smaller adventure bike like this. But even so, Yamaha has added a very sturdy bash plate and engine bars. I overbalanced when trying to mount bicycle-style and the bike fell over, but didn't cop any damage at all.
A highlight feature of this bike's performance is the standard brakes with Brembo calipers. No need for modifications here. The twin disc front has brute force with soft initial bite and great progression while the back brake also has good feel, even when wearing chunky off-road boots. 
The instruments are set high and are easily visible in all lighting conditions. Information provided includes an analogue tacho, plus a digital screen with odometer, fuel gauge, clock and two trip meters. A GPS mount was added to the handlebars, but no GPS. You could also attach one on the bar above the instruments.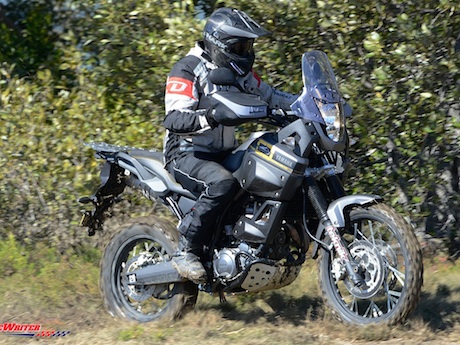 The dashboard is very neat and there is plenty of space for a steering stabiliser which I would recommend. The steering flicks into corners with a light and deft touch but it can feel a little flighty on the highway and over lateral ruts. A damper would be a must, especially if you are going to be riding through mud and sand.
My only other complaint is with the windscreen which is set so far forward it creates an enormous amount of tiring wind buffeting. Smaller riders might not get as much buffeting, but I would either remove it altogether, fit a larger aftermarket windscreen or an extender. I chose to fit a Wunderlich extension for our trip and it worked just fine.
Best of all, this bike is learner approved which means novice riders can enjoy this vast land of ours without having to sacrifice a quality ride.
If you are concerned with how much you may need to spend to get your XTZ660 Tenere up to par, remember it cost $15,565 ride away when it was released and now costs only $13,999.
My history with adventure bikes is literally up and down. I started with a Honda XR650, then a BMW R 1150 GS, then a KTM 640 Adventure, R 1200 GSA, BMW F 800 GS and now an R 1200 GS. Next move for me will be back down again and I think I could easily become a Tenere tragic.

Yamaha XTZ660 Tenere 
tech specs
Price: $13,999 ride away
Modifications:
Bark Buster VSB Handlebars $79.95
Bar Risers Adapter Clamps $55
Bark Busters with wind deflectors $165.95
Guard-It engine protector combo CB0023 $389.95
Pivot Pegs $239
B&B Offroad Engineering rear rack $180
Dunlop D606 tyres $250
Tag handlebar grips $30
Barrett single outlet exhaust $495
Teknik Front and rear off road suspension $990
Accessories total: $2874.80
Engine: Liquid-cooled, 4-stroke, single cylinder, 4-valve, 660cc SOHC
Bore x stroke: 100 x 84mm
Compression: 10:1
Fuel tank: 23L
Transmission: 5-speed, chain drive
Length: 2246mm
Width: 900mm
Height: 1477mm
Seat: 865mm
Wheelbase: 1500mm
Clearance: 260mm
Wet weight: 209kg
Frame: Steel tube diamond shaped
Suspension: Telescopic forks, monocross swingarm
Brakes: 298mm discs (front), 245mm disc (rear), Brembo calipers
Tyres:90/90-21 M/C; 130/80-17 M/C