More Original Than the Original
October 28, 2014 – I'm still digging through my SD memory cards and finding leftover photos from the 2014 AIMExpo (Report).
One night, I hung around until past closing time (18:00), hoping they wouldn't kick me out.
They didn't and I was wandering around and came across the Yamaha display.
I can't say I'm much of a fan of Yamaha's current lineup, but then I saw this SR400 jewel.
I remember the original very well; it was sort of on my wish list but I never did get around to owning one.
And back in those days, owning a kick-start, carbureted single was a labor of love.
I never thought of the original SR400 as a lightweight; it was just a bike like many other spindly bikes in those days. When everything's spindly, you never think you need beefy.
The 2014 SR400 has been sold in Japan forever — I believe it's been made and sold since 1978. So although it seems new and different to us Yanks, it's not.
Funny thing is, the U.S. version is more original than the original, which had cast wheels and a rear disk brake.
This one has wire wheels, tubed tires, a drum rear brake and — get this — kick start. That's right: no electric start at all on the SR400.
Youngsters probably have no idea what a kick start is, much less ever used one. So the bottom line here is that the SR400 isn't just a retro — it's the real thing. The really real thing that's real. Except maybe for the fuel injection…
The price may seem steep at 6G's, but I bet you'll be wishing in 10 years that you bought a few and kept them under wraps.
I'm tempted…but mine would certainly have a few miles on it ten years from now. What do you think?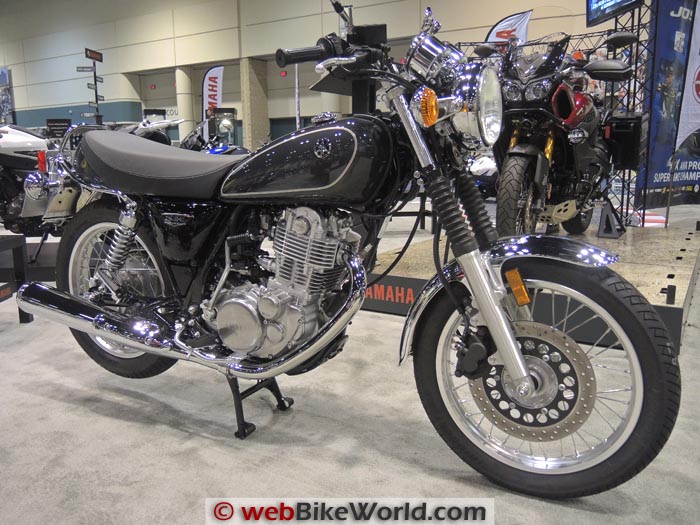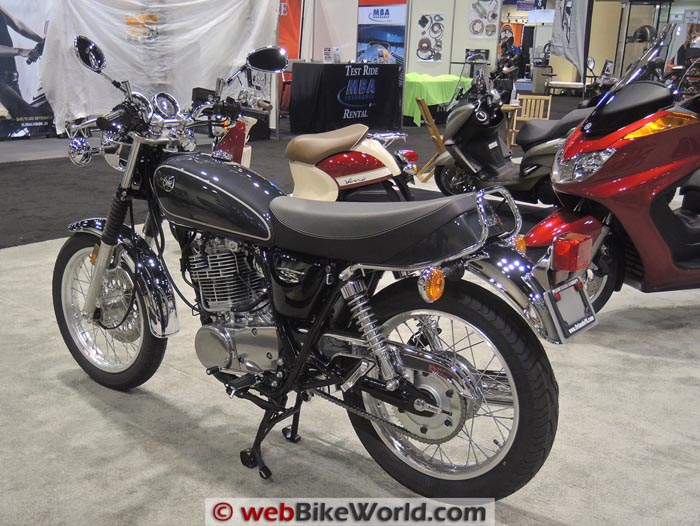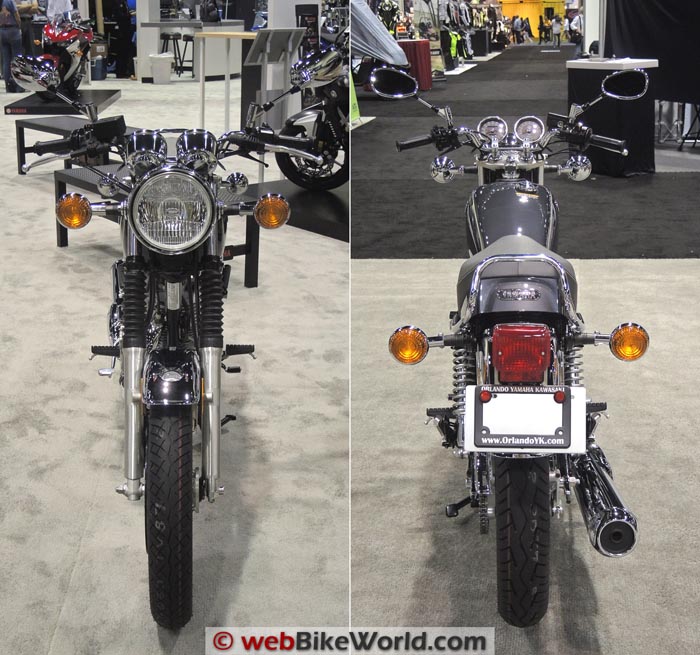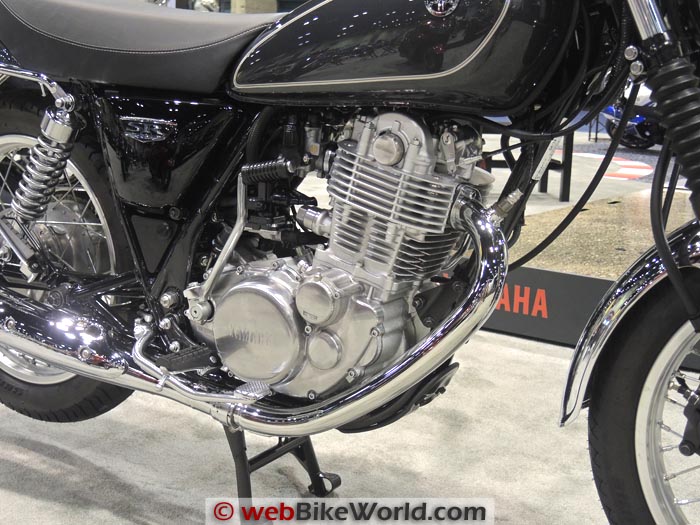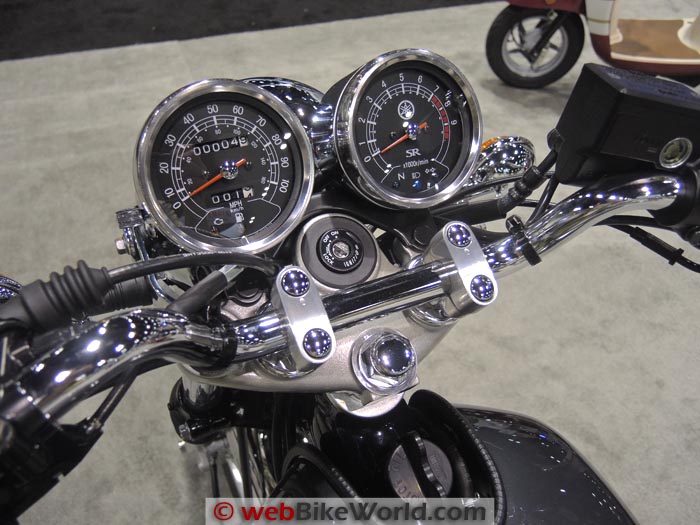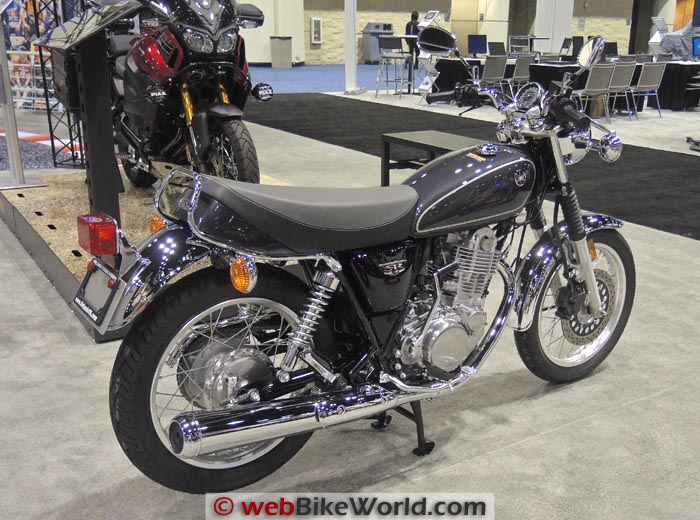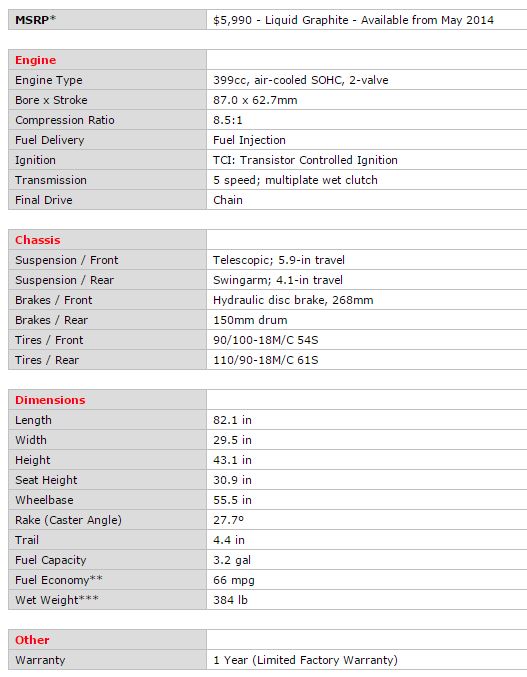 More: 2014 AIMExpo Reports
Publication Date: October 28, 2014
Note:
 For informational use only. All material and photographs are Copyright © webWorld International, LLC since 2000. All rights reserved. See the webBikeWorld® 
Site Info page
. Product specifications, features and details may change or differ from our descriptions. Always check before purchasing. Read the
Terms and Conditions
!
Owner Comments and Feedback
---
From "H.S." (August 2015): "Thank you for such an informative website! I wanted to provide a little input on the SR400 (2015 MY).
This is my first bike, and I just turned over 1,000 miles here in Virginia. To my fellow Americans, if your local highways are above 65 mph, this bike may be too slow for you. For my 55 mph country roads, it is a blast and a half!
For a 5'4″ frame, this is very comfortable, and I could see it being even more so if I were a few inches taller.
The power is nothing spectacular compared to my brother's, and father's '80's 600s and 650s, but for my commuting and little mountain roads, is acceptable.
I live in a dirt road with a darn steep climb before my driveway, and first and second gear are plenty to power up the mild scree.
The fuel consumption is pretty awesome, at an average of 68 mpg using non-ethanol fuel, and 65 using ethanol. The vibrations are not all that bad at 55, but tend to be numbing above 65.
All I have left to say, is that this is a gateway cycle. If you want anymore info, just let me know!"
---
From "J.Z." (January 2015): "When I first saw pictures of this bike and learned it was coming to the U.S. I decided I was going to get one — I had cash in hand and was just waiting for its arrival.
It was the retro bike I wanted to have without the need to rebuild everything like I'd need to with a true vintage bike.
Then the prices were announced. I expected something around $4K, certainly no more than $4500 out-the-door. Had it been $5K, well, I'd have probably waited for some Winter discounts.
But $6K? I don't mind paying a bit more for something I really want, but at that price, sorry, as cool as it is I can't even consider it. A shame…"
Editor's Reply: Wait for those discounts, I'm guessing they will come! Also, I'm thinking there will be some low-mileage used bikes for sale after some owners decide it's too retro for them.
---
From "M" (November 2014): "I remember when these were the cheap thrill of motorcycling. Sometime in the early 80's (iirc), the dealers were offering them for half price, which was  999 USD. Oh, for some psychic ability!"