If only I had a dollar for every time a prospective new rider walked up and asked me what is the best beginner bike on the market, I would have enough to buy Mat Mladin's racebike at the end of the season.
It is one of the most common questions I am asked when out riding on the street or by people at the race track.
Everyone has different concerns when deciding what bike to purchase. Is a 600 too small for me? Will I outgrow it? I'm a heavy rider, should I get a 1000? Should I get a cruiser or a sportbike? Are sportbikes uncomfortable?
The list goes on.
Of course every rider is different and has special needs in a motorcycle so the answers are not always simple.
With this in mind, I set out to ride like a complete novice for the next two weeks to see if the 2009 Yamaha FZ6R is truly a great fit for the beginner.
Riding gear? Who needs it . . put on a skid lid, some shorts and flip flops and hit the road then.
Paddle my feet about 50 feet to get the bike rolling while kicking at the neighbors dog, dump the clutch to get a bit of a wheelie while nearly hitting the nearest parked car and I'm off to split lanes in moving traffic.
What's that I see? A motorist about to make a left turn up ahead?
Surely they see me, I'll just keep focusing ahead then, besides if the car decides to turn into my lane I will just stomp my dangling sandal on that there rear brake and stop this bad boy on a dime.
Come to think of it, riding like a novice might not be the best idea, I think I will put on some proper riding gear and do this the right way; after all, the FZ6R is not just a motorcycle for beginners.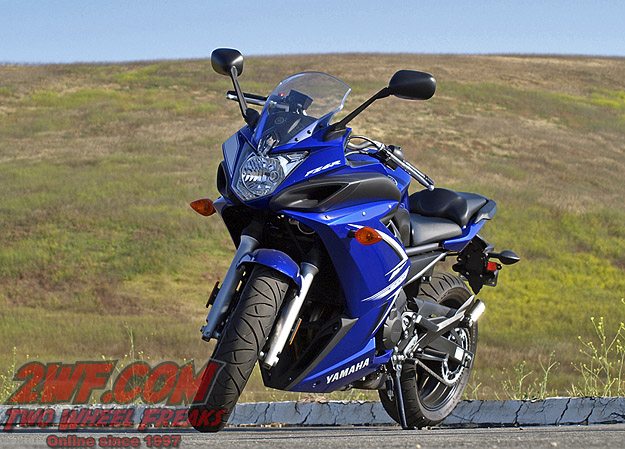 The Yamaha FZ6R: First Impressions
When picking up a motorcycle made by the Yamaha Motor Corp. you can always be sure of one thing — you will not be forced to cruise the streets on an ugly duckling for the next two weeks.
The styling will always be appealing and you will not be left saying…"Oh I can't believe they sent me off with a bike in this color!".
Once again, Yamaha did not disappoint and the Team Yamaha Blue/White FZ6R I was taking command of had sharp lines and aggressive curves to match the racy paint work — a quite stylish package for a bike at this price point.
But would the all-new FZ6R with it full fairing be all show and no go? Well not exactly — but I did feel the styling somewhat outweighed the performance in the engine department at least.
The FZ6R motor gets its DNA from an earlier generation R6. It shares bore and stroke dimensions and compression ratio with the standard FZ6 but the cylinder head, crankcase, intake and exhaust system, clutch and shifter have been completely redesigned.
Lightweight forged aluminum pistons are used in the FZ6R, creating a very smooth motor. And a 32-bit ECU controls the four-hole, two-direction, high-dynamic-range type fuel injectors.
The fuel injected, 600cc liquid-cooled 4-stroke engine engine seems to have quite a mild state of tune.
The fuel injection is crisp and the FZ6R picks up the revs cleanly and quickly from the bottom, but there is a noticeable lack of kick from the Yamaha power plant.
It will make a fine motor for commuting and zinging through town but it is not the most inspiring 600cc motor on the market, even when compared to its bargain priced competition.
However, I had been riding a nearly 200HP V-Max for the previous two weeks, I might need to cut the FZ6R motor some slack.
What the FZ6R motor lacks in beastly character it more than makes up for in the handling department.
The Yamaha frame is made from high-tensile steel-tube and uses the engine as a stressed member for increased rigidity. The forks are non-adjustable 41mm Soqi units and the rear features a Soqi monoshock unit with preload adjustment.
While these previous specs might not make your hair stand up, the simple combination of parts actually works well. The Yamaha feels thin, has a low seat height and its 470 pound wet weight is extremely nimble.
While having sharp steering and easy-to-maneuver in town around tight corners, the FZ6R was also at home holding its line in faster sweepers and had no problem while adjusting that line at speed.
There was a slightly springy feel in town but as speeds increased the suspension seemed to be well suited and overall I felt very confident in the way the FZ6R handled.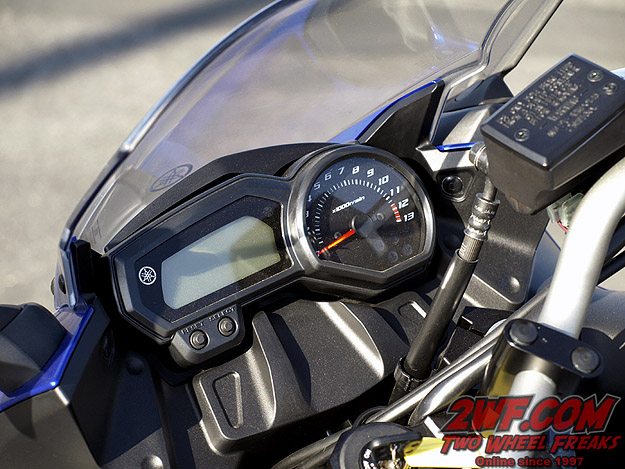 Yamaha FZ6R Specs
The FZ6R rolls on 120/70R 17-inch front and a 160/16R 17-inch rear tires. Traction was never a problem and the narrower rear tire profile likely helped with the sharp, quick steering.
Seating position on the FZ6R is comfortable and roomy and allows the rider to move around and get aggressive when the road calls for it.
The seat has separate front and rear sections, and the rider's seat features a height adjustment mechanism; it can be set 3/4 of an inch higher for taller riders.
Heavier riders may want to opt for a firmer seat however, as the padding felt a tad soft even for my spindly figure.
If you are looking to do multiple hours on the open road the FZ6R should be perfectly comfortable for most riders. The handlebars and footpegs stretch you out enough to keep you from locking up at the appendages.
The footpegs were a bit on the buzzy side but everything felt nice and smooth at the handlebars; much appreciated by my numbness-prone hands.
The 6-speed transmission on the FZ6R never gave me a very positive feeling. While not actually causing me to miss a shift, it always seemed like it was difficult to feel the positive engagement when going into each gear.
On some bikes you can feel 100% when the bike goes and locks into gear . . .this transmission felt slightly looser, like it was almost floating between gears. It would also actually grind somewhat on engagement.
This was more of a feeling than anything, as I never had the bike jump out of gear, but it always had me being extra careful to make sure I was engaging each gear.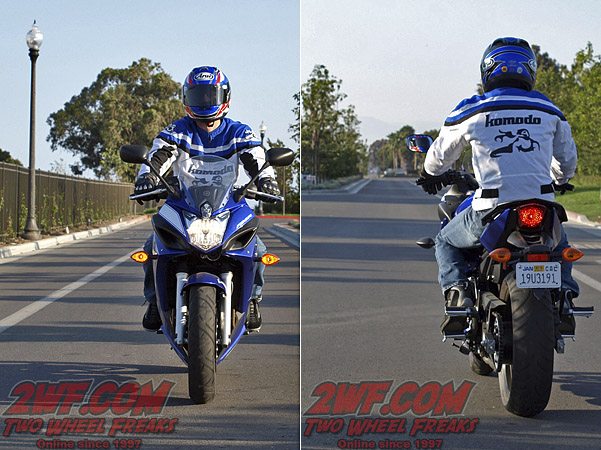 Brakes, Clutch and Instruments
The FZ6R uses twin piston Akebono brake calipers with dual 298 mm front rotors and a 245 mm disc in the rear. The feel is quite good at the lever but stopping power is about average.
While you will not be mistaking these for race quality brakes, overall performance front and rear is more than enough to get things slowed down when needed.
Clutch feel and engagement was excellent on the FZ6R with an extremely light lever pull; something you will surely be grateful for when negotiating rush hour traffic.
The gauge cluster on the new Yamaha was a good looking piece, providing just the right amount of information to the rider.
Digital speedometer, analog tachometer, odometer/tripmeter, fuel gauge, water coolant gauge and clock have you feeling like you're in the cockpit with Tom Cruise ready to go Mach 2 with your hair on fire.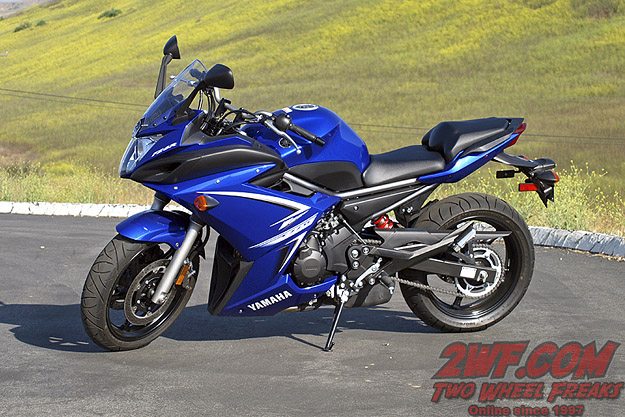 Conclusion
So to answer the question that inevitably comes while riding the FZ6R . . . is this a good entry level bike?
The answer is easy: the Yamaha is indeed a great bike for the beginner due to its excellent handling in and around town and it's a breeze to ride with its relatively tame but electric-feeling motor.
But the Yamaha also offers more than just beginner level appeal.
If you are a rider who doesn't need a spec sheet raving about MotoGP led development but are searching for a motorcycle that won't break the bank while still offering style and performance, the new FZ6R may be just what you're looking for.
Publication Date: February 2010
Master Listing of All wBW Motorcycle Product Reviews
2009 Yamaha FZ6R Specifications
Engine
Type: 600cc liquid-cooled 4-stroke, DOHC 16 valves
BorexStroke: 65.5mm x 44.5mm
Compression Ratio: 12.2:1
Fuel Delivery: Fuel injection
Ignition: Digital TCI
Transmission
Transmission: 6-speed; multi-plate wet clutch
Final Drive: Chain
Chassis, Suspension and Brakes
Front Suspension: Telescopic fork, 5.1-in.travel
Rear Suspension: Single shock, 5.1-in travel
Front Brake: Hydraulic disc, 298mm
Rear Brake: Hydraulic disc, 245mm
Wheels and Tires
Front Tire: 120/70 ZR17M/C 58W
Rear Tire: 160/60 ZR17M/C 69W
Dimensions, Weights and Capacities
Length: 83.5 in
Width: 30.3 in
Height: 46.7 in
Seat Height: 30.9 in
Wheelbase: 56.7 in
Rake (Castor Angle): 26.0°
Trail: 4.1 in
Fuel Capacity: 4.6 gal
Fuel Economy: 43 mpg
Wet Weight: 467 lb (CA: 470)
Colors and Prices
Team Yamaha Blue/White, Cadmium Yellow, Pearl White: $7,090
Raven: $6,990
Note:
 For informational use only. All material and photographs are Copyright © webWorld International, LLC since 2000. All rights reserved. See the webBikeWorld® 
Site Info page
. Product specifications, features and details may change or differ from our descriptions. Always check before purchasing. Read the
Terms and Conditions
!
Owner Comments and Feedback
---
From "M.L." (May 2017): "One commenter has said that only Australia has this bike as a LAMS approved bike for learner riders. This incorrect, New Zealand also has this bike available for learners."
---
From "S.P.B." (5/10): "I am pleased to say that I am the proud owner of a FZ6R.
This surprises me, as I was not in the market for a 600cc bike and being an even prouder owner of a 1984 FJ1100, I did not think that anything in the 600cc class could come close in handling or sheer power.
The FJ1100 is an amazing bike even for today.
And there have been many an R1 rider who when deciding to show off have been suppressed/shocked that they could not shake off a 30 year old bike and to only get taken at the first corner, roundabout or chicane.
Don't get me wrong — the FZ6R does not have the same power but I was surprised at how similar the handling is.
So after test driving one trying to kill 2 hours of waiting, I just had to have one.
Thanks to the FZ6R I feel that I can do my license legally (ride the FZ6R until I get the blacks then switch back to the FJ1100 or by an XJR1300 if I can afford it.
But what a beautiful bike worth every penny) without falling asleep behind the handlebars or passing out from sheer embarrassment and having a prang in the process.
I have read your review of the Yamaha FZ6R (and) I thought it was accurate a pretty fair and well written however there are a couple of points I would like to make:
1) Transmission felt slightly looser – My FZ6R feels very solid and has a very solid thud when changing gear that left no question of a doubt and I would compare it to having a similar solid feel on the FJ1100.
I can't help but feel that there may have been issues with the setup or gearbox of the model you test drove or perhaps Yamaha have changed the settings since you test drove to resolve this.
However my FZ6R is a very solid feeling when changing up or down gears one of my deciding factors when purchasing
2) Relatively tame but electric-feeling motor – Yes very true, however when unrestricting is capable of delivering more power than any other 600cc bike in its class with more options.
It is by far one of the most cheapest bikes to unrestrict.
Surprised that your magazine and every other journalist who has reviewed the bike seems to have missed, this was my biggest deciding factor on purchasing this bike.
And the dealer has checked with Yamaha Australia and Canada to confirm the processes and they are as listed (Editor's Note: There are no restricted motorcycles in the U.S.A., so we could not report on this):
a. Unrestrict to XJ6N Engine Specs: New cable bracket (Throttle movement has been restricted) and cables and throttle replaced from XJ6N parts.
Note that Yamaha have advised me that paperwork will have to filled out along with information on Drivers Licence to order the $30.00 part and will not be shipped for three days until Drivers Licence and paperwork have been verified.
(At least I know Yamaha care about it's customers and can only lead to the value of having one of these unrestricted).
The engine management chip will also have to be remapped but this can be done by just about any Yamaha dealer total cost expected to be $499.00 and 2hrs of my life (Outside of the 3 day wait for verification).
b. Unrestrict to R6 version FZ6R (aka Deceptor I think): R6 Engine specification as released in Europe, Australia is the only country that is getting this bike as a LAMS version.
Note I may have the nickname wrong but it began with a D) Same as above however with the addition of the cam is changed to the same cam used in an R6 total cost is unknown at this stage as I am the first person to enquire about unrestricting in this country.
Initially when approached, Yamaha Australia did not want to unrestricted the bike.
However, when the dealer pointed out that there was no legal requirement for them to when I get by blacks and that they could have legal issues in refusing to do so when the part is available in Europe and Canada and could be legally obtained from Europe or Canada.
(It probably helped that I kept copies of the web page that stated it could be unrestricted. I note that it seems to have been removed completely now from the site).
However Yamaha has come to the party now and are prepared to unrestrict and then came back saying I could have options.
I am pretty sure that Yamaha Australia were probably in the process of setting up the avenues of and just did not have the information at hand at the time.
My brother has a Suzuki SV600 LAMS another good bike but the cost to unrestrict at a Suzuki dealer is $2,000 for a new engine management unit otherwise $999.00 through the Internet from a Melbourne company.
Also, SV600 have the added advantage at this stage of being able to be fitted with Inertia active suspension dampeners.
You may want to know that currently the only Yamaha model that they currently manufacture the components for is the VMax I am still waiting for them to bring out components for FJ1100 and FZ6R could be waiting a while)."
Editor's Note: The comments above were submitted by an owner living in Australia. The FZ6R we reviewed was sold in the U.S.A. There are no restricted motorcycles sold in the U.S.A.
---
From "D.L." (3/10): "I have a hard time recommending any bike with full plastic fairings and turn signals that stick out on top of those to a beginner. I always tell new riders to get something with no body work.
They are going to drop the bike at some point, guaranteed. It might be while riding or maybe on a slippery gas station driveway or maybe just backing the bike out of the garage while not yet comfortable with the weight and balance.
You drop a bike like this Yamaha and you either have a costly repair on your hands or you've lost a lot of resale value if you don't fix it.
Either way you've taken a big hit on your "move up" funds when you feel you want/need a bigger, faster bike.
The only plus I see to the FZ6R is the lack of an exhaust can sticking out the side, so they won't be tempted to spend needless money on a "slip on" pipe and there's less chance of damaging it when they have the fateful tipover."
---
From "M.I." (2/10): "I started my journey on two wheeled powered vehicles three years ago at the ripe age of sixty-one years old. My first scooter was a Honda Ruckus which I rode for 1,000 miles before trading up to an Aprilia Atlantic 200 scooter.
Three thousand miles later I moved up to a Suzuki AN400 Maxi Scooter which I rode for 8,000 miles commuting to work and leisure, which I still own today.
Two years after my first scooter I obtained my motorcycle endorsement.
I purchased a great beginner motorcycle, a Kymco Venox 250, on which I taught myself to ride a clutch motorcycle. I have ridden it 2,700 miles but alas winter has set in here in New England.
BTW, the Venox unlike most beginner bikes has double the horsepower of the Honda Rebel and other learning motorcycles.
I like the way the large wheels of a sport touring motorcycle add stability to riding unlike that of a 13 inch wheeled scooter, yet I have no problem with low speed handling with the larger bike.
A big plus would be the Yamaha FZ6R Fuel Injection rather than carbs that are found on the slightly smaller 500cc bikes.
Now I keep asking myself if a motorcycle such as the Yamaha FZ6R is a good choice for a beginner's motorcycle (am I really a beginner?) or are the tried and true Suzuki and Kawasaki 500cc a better choice for me."
---
From "S.S." (2/10): "I'm a moderator at Motorcycle Forum, where we get a lot of questions about beginner bikes.
After giving advice on this issue so often, I've developed almost a stock response to questions about which bikes are good for beginners.
This usually includes a warning against bikes with inline-four cylinder engines, such as most Japanese sportbikes (which prospective riders are always drooling over).
So being unfamiliar with the FZ6R, I was almost shocked to see it- a four cylinder, 600cc sportbike- billed as a beginner bike.
After reading your review and researching the stats, I was surprised and impressed to find that the FZ6R really does seem suitable for some beginners, being comparable in power and ergonomics to the 650cc parallel twins like the Ninja 650.
I personally would still recommend something along the lines of a Ninja 250 or 500 for most beginners interested in sportbikes.
But for people with previous experience (like riding dirtbikes) or who at least have completed a motorcycle safety course, I'll add the FZ6R to "the list" of bikes I recommend for beginners."
Editor's Reply:  Thanks for the feedback, I guess this is why I called the FZ6R "The 'secret' best beginner's bike?" on the home page link!
I believe Kawasaki and Yamaha and I think Suzuki and Honda also used to take their 2-3 year old, previous generation sport bikes and detune them for more relaxed riding and beginner use. I haven't kept up with it in a while but the FZ6R fits that mold.
Some beginning riders may like the FZ6R because it looks like the "real thing" but it has much easier, laid back response.
By the way, when people ask me about beginner bikes, I usually tell them to find a used BMW R65, which has about 40 hp but is a very fun bike with a lot of history that is very easy to work on, with parts still available and a huge support base of "Airheads".
The R65 has great turning radius (generous steering lock) and is overall pretty hard to get into trouble with. It also has a large friction zone in the clutch. And it can even be used for touring.
The best thing is, once they want to move up — if they do — they can sell the R65 for what they bought it for. I have one (here) and it's a real pleasure to ride, I always enjoy it, even though I also currently own two Ducatis!
---
From "D.S." (2/10): "Maybe but there are much better first bikes. The Ninja 250 is a great first bike. Even an experienced rider can have fun on it. It is light, will cruise on the highway easily and is pretty comfortable.
If the 250 is a little too small jump up to the Ninja 500 or the Suzuki GS500. If you are getting back in the sport then the SV650 and ER6 are good choices.
If you like standards the TU250X (info) looks like a lot of fun. I can not wait till they are available used.
I think it would make a great little Cafe bike 🙂 I am pretty sure all of them are cheaper than the FZ6R and I feel all are better suited to being a first bike.
For Cruisers you have the Rebel, Virago250, and the S40. If you like dirt roads pick up one of the 250 Dual Sports.
Frankly I think the FZ6R is a good re-entry bike and is the type of bike that most street riders should be riding instead of the repli-racers