Yamaha appears to be planning on a blown future with a turbocharger system similar to that used in many cars where the unit is next to the exhaust manifold.
The Japanese company filed a patent in April 2019 for a parallel twin with two turbo options, the other placing the unit inside the exhaust.
Now it appears they have opted for the car-like turbocharger system.
The original patent filing showed drawings (above) of a turbo in an MT-09 which is actually powered by a triple-cylinder engine.
However, the drawings don't necessarily mean they will build the engine, the bike or use the MT-09 to house the engine.
If it's the MT-09 engine with a cylinder lobbed off, it would be about 588cc which would be the same engine capacity as the Suzuki Recursion turbo concept unveiled in 2013 with a single-overhead-cam parallel-twin turbo engine.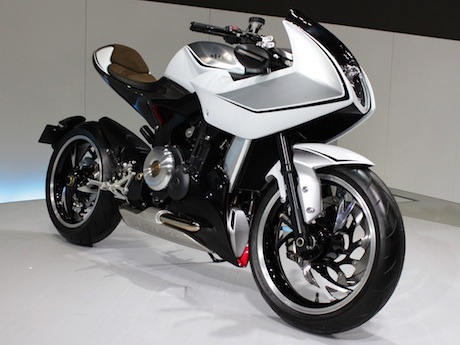 Blown era
Yamaha's turbocharged decision follows the success of Kawasaki's supercharged H2, patent filings by Suzuki and Honda for turbo engines and Ducati applying for a patent for an exhaust system turbine.
So it seems the future for motorcycle engines might be blown, either with forced induction or exhaust.
The switch to smaller, lighter, more powerful yet more fuel-efficient blown bikes makes a lot of sense given the stricter emissions rules in Europe and California, as well as tough imposts such as a charges for or restrictions on older bikes entering CBDs.
Turbo was the "next big thing" back in the '80s with models from several of the Japanese manufacturers, including the Honda CB500 Turbo, Yamaha XJ650 Turbo, Suzuki XN85, and Kawasaki GPz750 Turbo.
They had manic light-switch power that made them not only difficult to control, but dangerous. They were also temperamental and unreliable.
However, modern low-boost mini turbos and superchargers which have revolutionised the car industry in recent years would be a lot more controllable and reliable than the temperamental rocketships of the '80s.
Turbocharger problems
Turbos and superchargers require a fair bit of plumbing and coolers.
They are easy to fit in a car where space is not scarce like on a motorcycle.
The Yamaha patent presented two different solutions to the problem.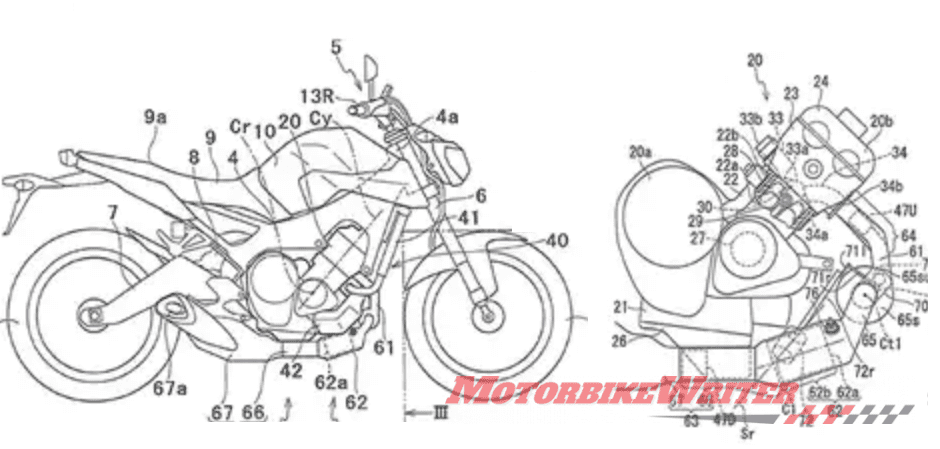 In one filling, the exhaust headers merge into one to pipe the gas through an intercooler into a low-mounted turbocharger in front of the engine with the catalytic converter underneath.
The other filing (top image on this page) has the turbo upside down and closer to the headers, allowing the cat to be mounted in front of the cylinders.
It is not only more compact but would also heat the cat faster and decrease emissions. That's why they have chosen to go with the latter.