How would you like to win one of five double passes to the "one-off, world exclusive" Motorcycle: Design: Art, Desire exhibit at Brisbane's Gallery of Modern Art (GOMA) running until 26 April 2021?
UPDATE November 30: The winners of our competition are: Bill Mitchelmore, Daniel Aaron Dienes, Glen Mayne, Jhonnatan Paez and Neil Leggoe.
Congratulations! GOMA will be in touch to post your tickets or arrange "digital passes".
If you missed out you, can buy tickets now on the GOMA website.
Prices range from $18 for a GOMA member to $25 for non-members with concession prices for children, families, seniors, pensioners and season passes. Buying your tickets online in advance will save you waiting at the door with permitted numbers restricted by COVID policies.
It arrives just in time for border openings and school holidays.
I just attended the media preview of the exhibit of motorcycling through the ages and into the electric future and I can tell you picking a highlight is not easy.
There are more than 100 motorcycles from the 1860s to the present day, drawn from private and public collections across the globe.
The world-exclusive exhibition that takes up the entire ground floor in three big rooms features some important bikes, some major coups and some of my personal favourites.
Other highlights include:
The Brisbane-designed and built 1906 Spencer;

Spencer

An 1871 Perreaux, the first steam-powered velocipede and oldest known motorcycle in the world;

Velocipede

The wild and expensive 1930 French Majestic 349cc;

Majestic

The 1951 Vincent Black Lightning that set an Australian land speed record in its day and more recently a world record for the highest price paid at auction for a motorcycle;

Ehret's record-setting Vincent

Symbols of speed including the1930s Triumph Speed Twin and the 1970s Ducati 750 Super Sport green frame (my personal favourite);

Italian flair (green frame in foreground)

Tambrini masterpieces

Kiwi-designed 1991 Britten V1000;

Britten's stroke of genius

Off-road motorcycles including Aussie Toby Price's debut Dakar Rally winning KTM;

Toby's 2016 Dakar winner

Customised motorcycles at the intersection of art and design; and

Custom bikes

Ultra-modern electric motorcycles, demonstrating the future of transportation in the age of renewable energy, including the soon-to-be-released Aussie Savic C-Series.
Apart from the bikes, there is also a collection of motorcycle helmets painted by 15 contemporary Australian artists at the entrance to the gallery.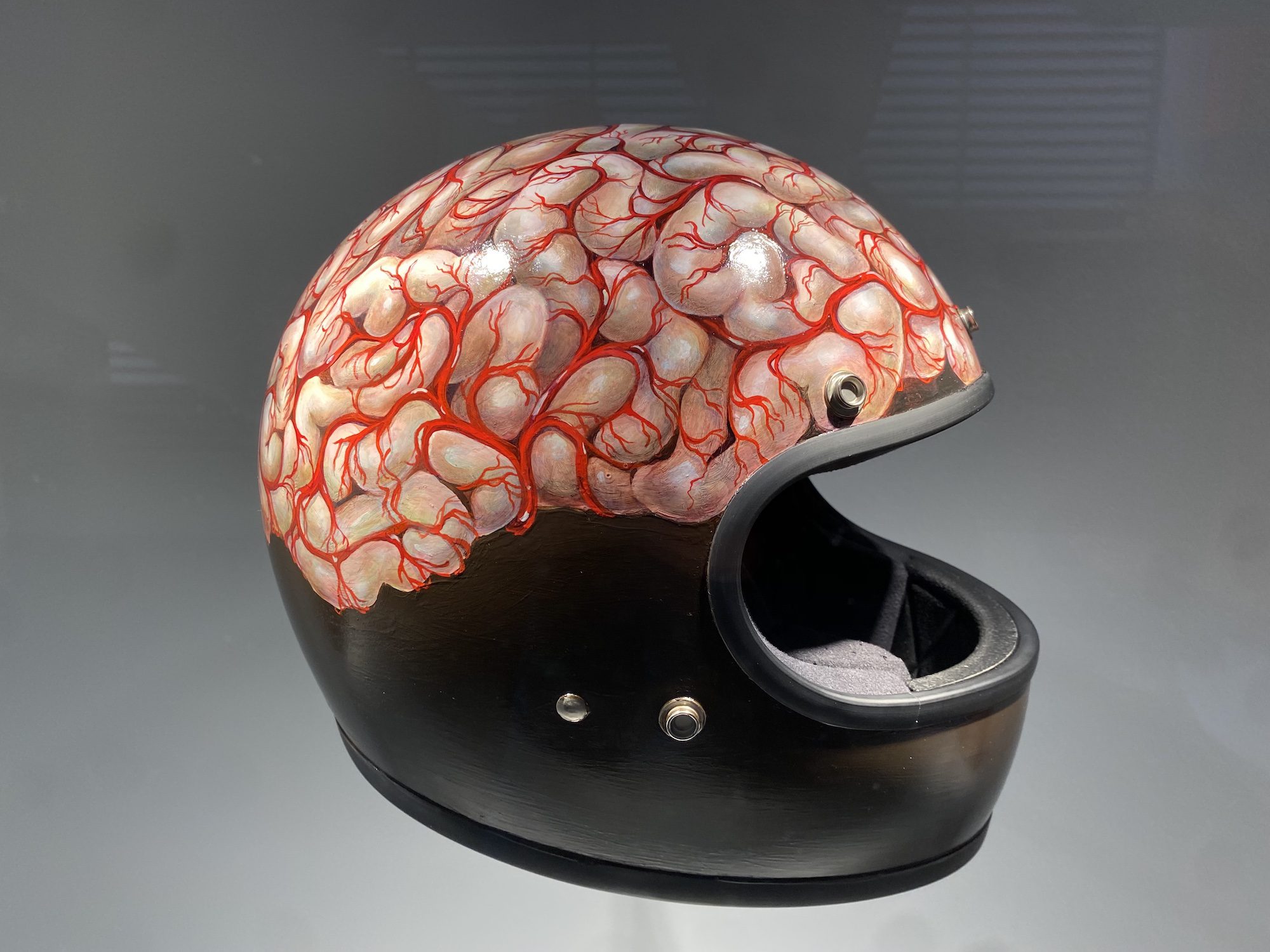 There are also interactive displays where you casn create your own custom bike.
Scattered among the exhibits are big screens that from a Motorcycles on Screen exhibit within the exhibit.
It features old racing and riding footage plus iconic films classics such as The Wild One (1953) and Easy Rider (1969), cult favourites Scorpio Rising (1963) and Akira (1988), plus recent films Finke: There and Back (2018) and The Wild Goose Lake (2019).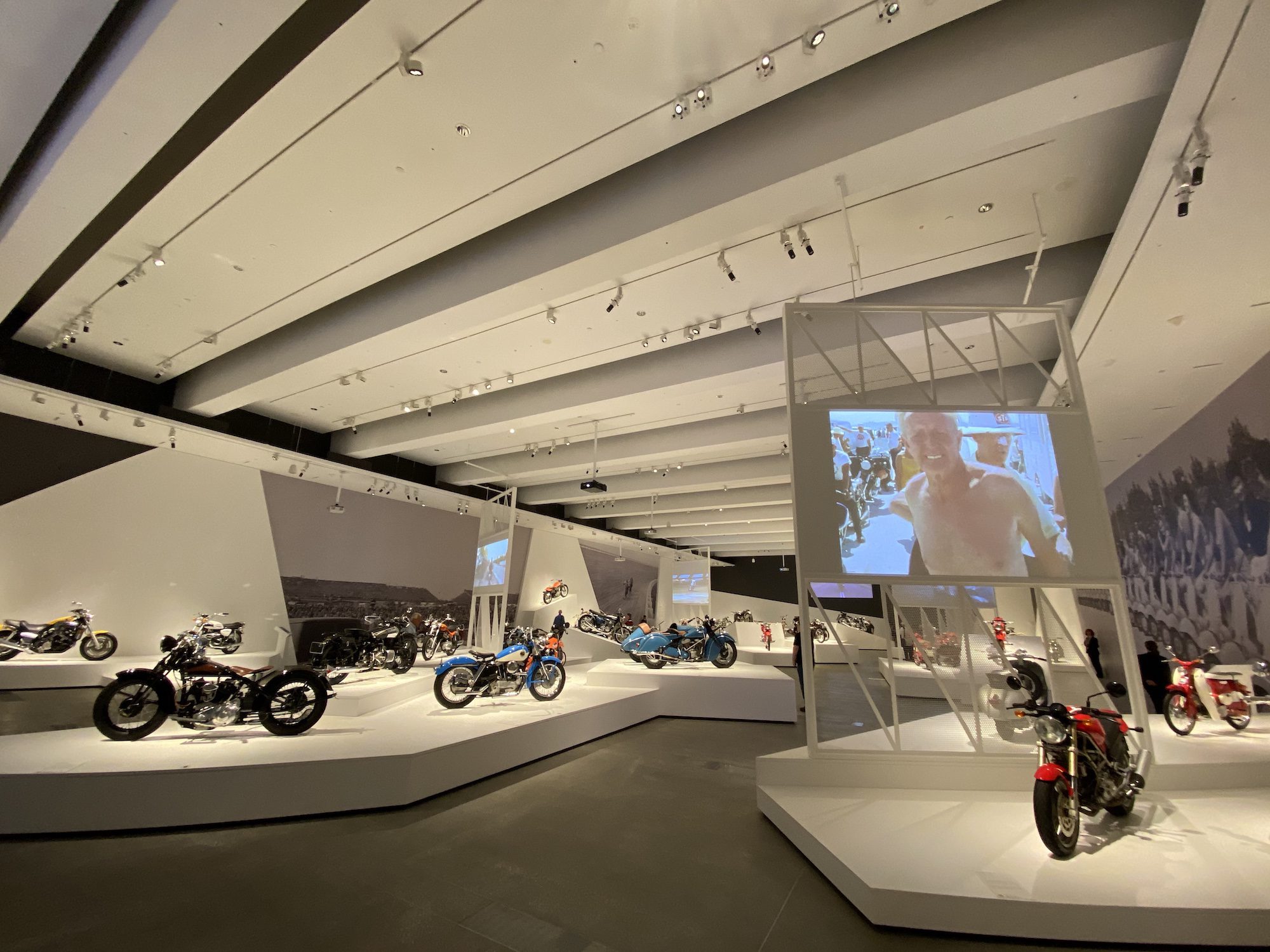 The Motorcycle exhibition will be accompanied by virtual talks and tours, storytelling events, trivia nights, and  'Motorcycles on the Green' on 27 February and 18 April 2021, featuring more than 60 motorcycles from local community groups, live custom bike builds, DJs and more.
You can also grab a gift from The Motorcycle Exhibition Shop, including exclusive exhibition apparel and accessories by cult brand Deus ex Machina, and bespoke design pieces produced by local heroes Ellaspede. 
As a memento, you can buy the publication The Motorcycle: Design, Art, Desire is  at the QAGOMA Store or online.
You can also show off your ride by posting with #MotorcycleGOMA.
GOMA Director Chris Saines says the exhibition will appeal "not only to bike and motor sport enthusiasts but to anyone with an interest in social history, popular culture, design and technology".
The GOMA exhibit has been curated by American physicist Professor Charles M. Falco and US filmmaker Ultan Guilfoyle in collaboration with GOMA.
They were co-curators of the landmark 1998 Guggenheim Museum exhibition in New York, 'The Art of the Motorcycle' that ran for three months.
It was subsequently seen in Chicago, Bilbao, Spain, and Las Vegas, with a total attendance of more than two million people.
Prof Falco described himself as a passionate motorcyclist who had his first motorcycle at 15, his first crash at 15.5 and last year rode a 90-year-old motorcycle across the USA.
"For a sustainable future, the world needs motorcycles for personal transportation," he says.
His co-curator says motorcycles are an example of how "design drives everything".
Chris says the exhibit will include the earliest 19th century steam-powered motorcycle, right through to electric motorcycles and future designs.
"Over its 150-year history, the motorcycle has undergone extraordinary reinvention, from steam power, to petrol-fuelled internal combustion engines to battery, and from humble backyard creations to custom-made, high-tech chrome speed machines," Chris says.
"More than just a means of transport, the motorcycle is a design object, with forms and styles that reflect innumerable cultural and societal influences."