The Kovix Security KDL6 Alarmed Disc Lock has a high-quality stainless-steel hardened pin system designed for resistance against any form of attack.
The zinc alloy body has been double-coated, ensuring corrosion resistance in any weather and is available in black, yellow, orange or stainless steel.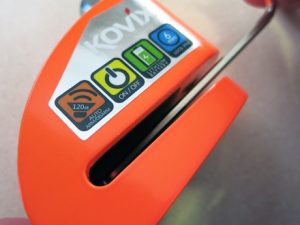 The 120dB alarm is powered by a CR2 lithium battery with a life of up to 12-months. Fitment is easy. The disc lock magnetic system senses your rotor as you slide the lock over it. After a short moment the lock beeps to notify you it is armed, after a further five-seconds it will go live and any movement will trigger the warning tone, followed by a loud 120dB alarm.
The alarm is easily disabled for situations where it is not required. The entire alarm assembly is easily removed with the included allen key.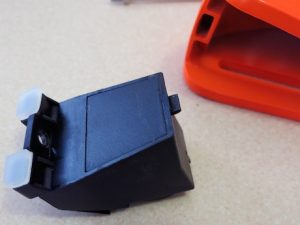 Replacing the battery is also quick and easy. The assembly is waterproof and suitable for use in any weather conditions.
Kovix Security Disc Locks are available at your local motorcycle shop at $69.95 RRP.
Visit: ProAccessories.com.au
Phone: (07) 3277 0693
HOW TO PROTECT YOUR BIKE
Use the steering lock if your bike has one and/or get a disc lock like the Kovix. Bikes can still be picked up, so consider chaining it to an immovable object.

Pull out a spark plug or fuse, or have an immobiliser fitted.

Don't park your bike in railway or shopping centre carparks as these are notorious for theft.

Park in a locked carpark. If you have to park in the open, leave it where you can see your bike or in view of a security camera.

Put a cover over your bike. It might slow down thieves and prevent theft of accessories.

If parking in a garage, block the bike with a car and ensure the garage is locked.

When riding home, make sure you are not being followed.

Stay alert for suspicious vans or trucks driving around late at night. These are used to transport stolen motorcycles.