Some bright spark at Yamaha has filed patent designs that seem to indicate they are planning an electric sports bike that looks a lot like the R1.
So far Yamaha has only released the PES1 (Passion Electric Street) road bike and PED1 (Passion Electric Dirt) off-roader for limited sale, mainly in Europe.
However, the new design shows that they are considering adding an electric spark to more models than just an R1-styled sports bike.
There is also talk of electric scooters and we suspect an electric version of the three-wheeler Niken.
Bright spark
These new patent designs are not really concerned with the type of the bike, but where the charging socket will go.
Some drawings show the plug socket in the traditional place where a fuel tank filler would be. They also show a socket in the instruments and nose cone.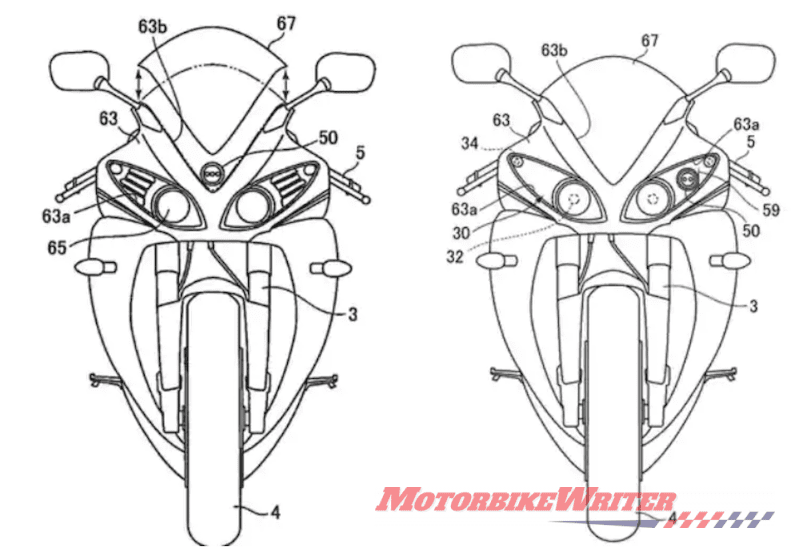 After all, it could be located anywhere on an electric bike, so long as it is convenient.
Yamaha recently joined with fellow Japanese manufacturers Honda, Kawasaki and Suzuki to standardise electric motorcycle technology such as batteries and charging infrastructure.
That would mean plugs on bikes and sockets on charging points would suit all electric motorcycle models.
That could be what this patent is about, rather than just designs for an electric version of the R1.
It seems everyone is now considering electric motorcycles and scooters.
In the past few weeks we have seen announcements and patent designs from traditional motorcycle companies such as Triumph, KTM, BMW, Buell and Kawasaki.
Ducati has even allowed a Chinese company to use their brand name on an electric scooter.