Harley-Davidson has launched two new Sportster variants – Iron 1200 and Forty-Eight Special – and applied for the trademark name H-D Revelation which could be the name for their electric bike to be released next year.
CEO Matt Levatich last month defrayed concern about their fourth consecutive year of sliding sales by announcing they would have an electric motorcycle available within 18 months.
This brought forward the previously announced due date by two years.
While their electric bike concept unveiled in 2014 was the Livewire Project, the company has not been talking about releasing the Livewire, but an "electric motorcycle".
So it could have a different name.
H-D Revelation
H-D Revelation would be a suitable name for their electric bike as many of the riders – both public and moto journalists – who have tested it have described it as a "revelation".
The name is also similar to the Evolution engines in their Sportsters and the Revolution X in the Street family.
This is the fourth new name Harley has registered in the past few months with the US Patent and Trademark Office.
The others are Pan America, 48X and Bronx.
Pan America could be a new Tourer model, while the 48X and Bronx are believed to be Sportsters, a family which hasn't had a significant drivetrain upgrade in years.
The new model names may not be used this year, as companies have a couple of years to use them before they expire.
However, we do expect about 10 new Harley models in 2018 as part of Harley's "100 models in 10 years" policy announced early last year.
In the first year of the policy, Harley released 10 new models including nine new Softails which now include the Dyna family and the Street Rod.
Iron 1200
Meanwhile, Harley has announced two new variants with hardly any changes.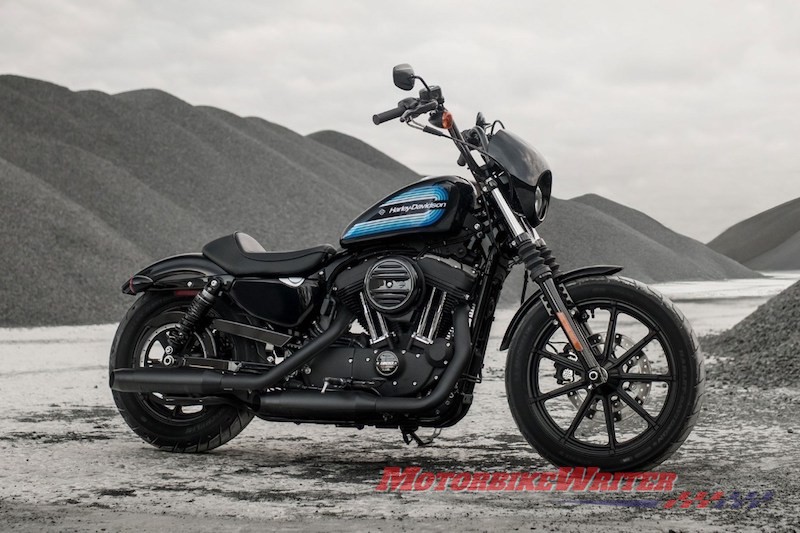 The Iron 1200 is basically the blacked-out 883-powered Iron, but with the 1200 Evolution engine.
It also features satin-black Mini Ape bars, Café Solo seat, black nine-spoke wheels, black belt guard and black rear sprocket.
The Iron 1200 arrives at the end of April and prices start from $16,495 ride-away in Australia and $16,995 in New Zealand. That makes it the cheapest 1200 Sportster.
Forty-Eight Special
The Forty-Eight Special has a wide front tyre, wide forks, gloss-black Tallboy handlebars and black split nine-spoke cast aluminium wheels.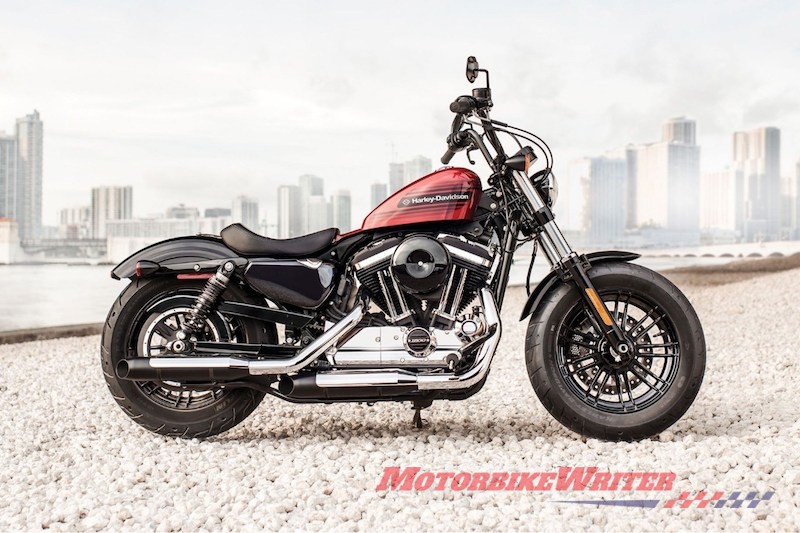 It arrives at the end of April and prices start from $18,995 ride-away in Australia and $19,750 in New Zealand. That's the same price as the current Forty-Eight.
The 8-litre "peanut" tank features rows of bold, horizontal stripes framing a simple Harley-Davidson text logo. The fuel tank come in three colour options: Vivid Black, Wicked Red, and Billiard White.
Both Sportsters comes standard with ABS and the Harley-Davidson Smart Security System.
They are not exactly a revolution or revelation in new models, but new models all the same.
It is typical of Harley to release a couple of "mid-year" mild variants around this time of the year.
We still expect a substantial upgrade in the Sportster line-up in August when they usually announce their major upgrades.
This year it will coincide with Harley's 115th anniversary celebrations in its hometown of Milwaukee.
And here's our wild tip: Like the Street family, which is made in both the USA and India, the new Sportster may also be produced in two countries.
Harley is building a plant in Thailand, so they could also be produced there.