Harley-Davidson has merged the Dyna and Softail families and killed off the Dyna, but will the popular family from the 1970s make a welcome return at some point in the future?
At the world launch of the new eight-member Softail family in Los Angeles recently we asked several Harley executives why they killed off the Dyna family and whether it would ever return.
Softail senior product manager Kevin Hintz simply said their product line was "too bunched".
In some ways that makes sense.
While the Super Glide has been a favourite Australia, it has been replaced by the Low Rider which has similar styling, tyre and wheel sizes, and mid-mount controls.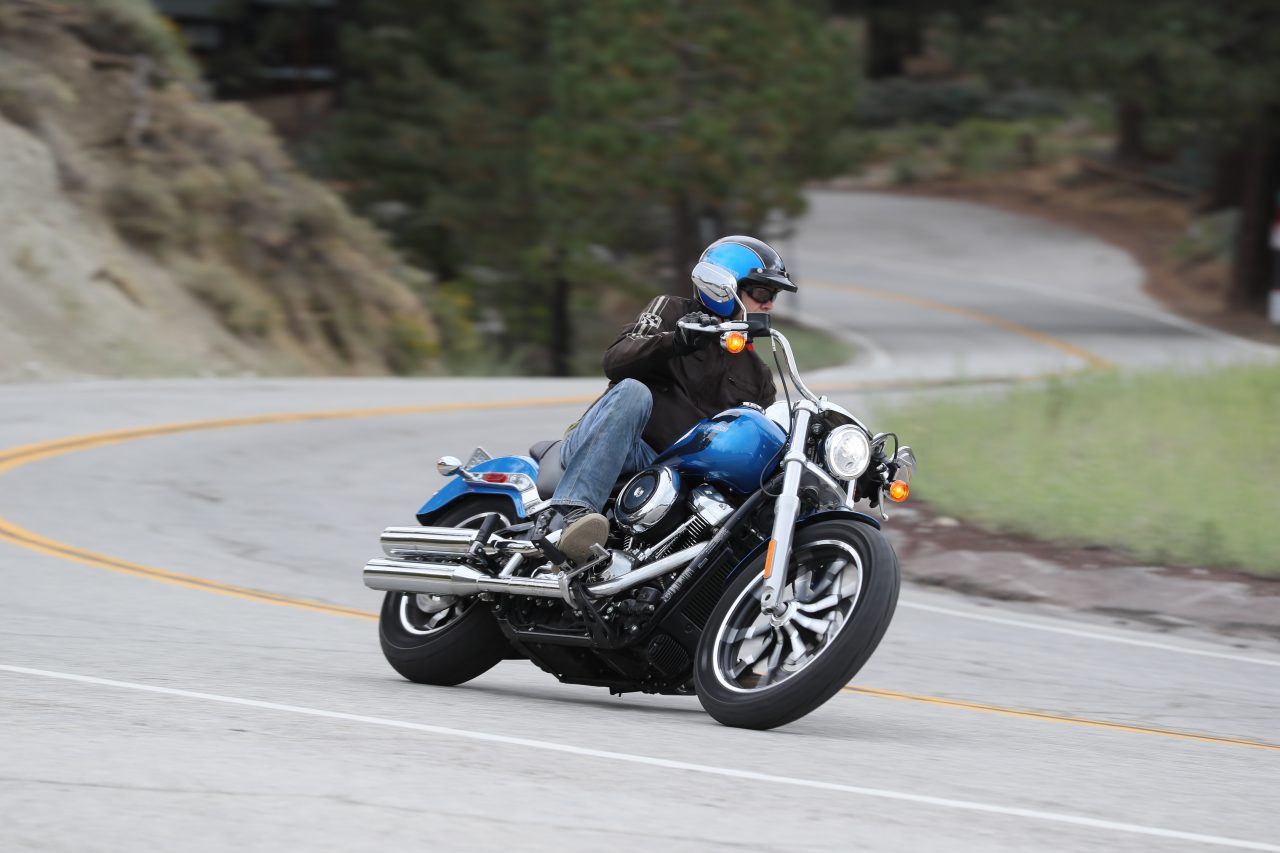 Likewise, the popular Wide Glide has now been replaced by the Breakout with its even wider rear tyres and feet-forward controls. It has become Harley-Davidson Australia's top seller for the past three years.
However, none of the executives would make any comment about a return of the Dyna family that Willie G Davidson created in 1971 when the styling director married a Sportster front end with a touring frame.
Softail styling manager Kirk Rasmussen did say Willie G. had asked about the confronting rectangular LED headlight on the new Dyna-come-Softail Fat Bob.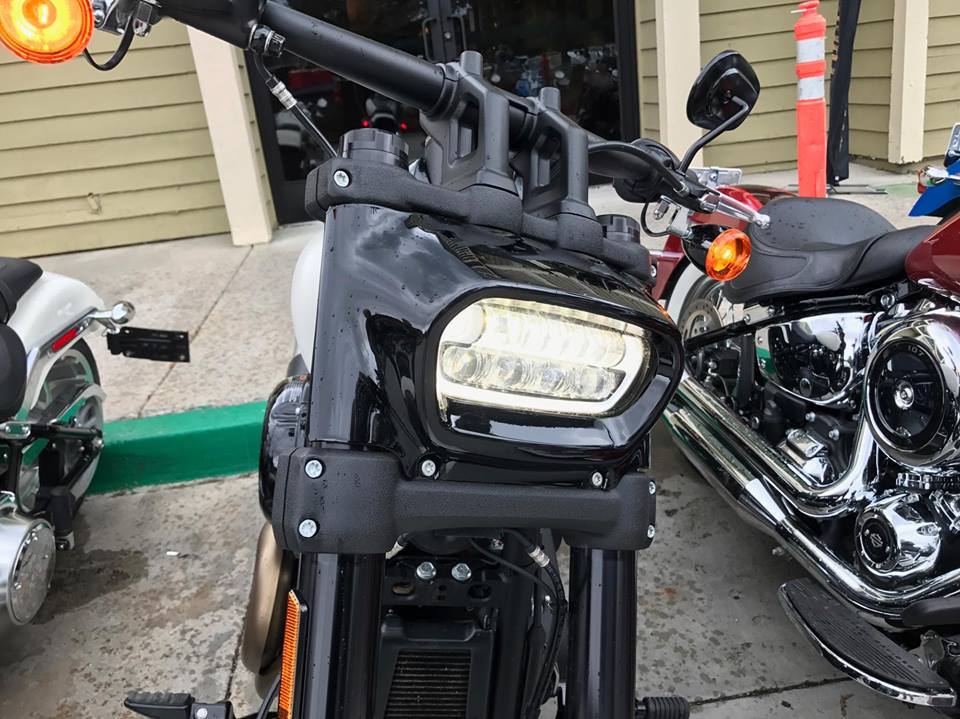 And when explaining the modern styling of the new Softail family he also quoted Willie G: "Form follows function but they both report to emotion."
Emotions certainly have been running high since the popular Dyna family was axed in the same year as the V-Rod family was killed off.
But the Harley execs suggested that we should "never say never" about the return of models and model names.
For example, this year the Street family added the Street Rod which was a model name for a shortlived V-Rod with midmount controls.
Dynas that became Softails
The Dynas that have become Softails are the Street Bob, Low Rider and Fat Bob which we have reviewed at length here.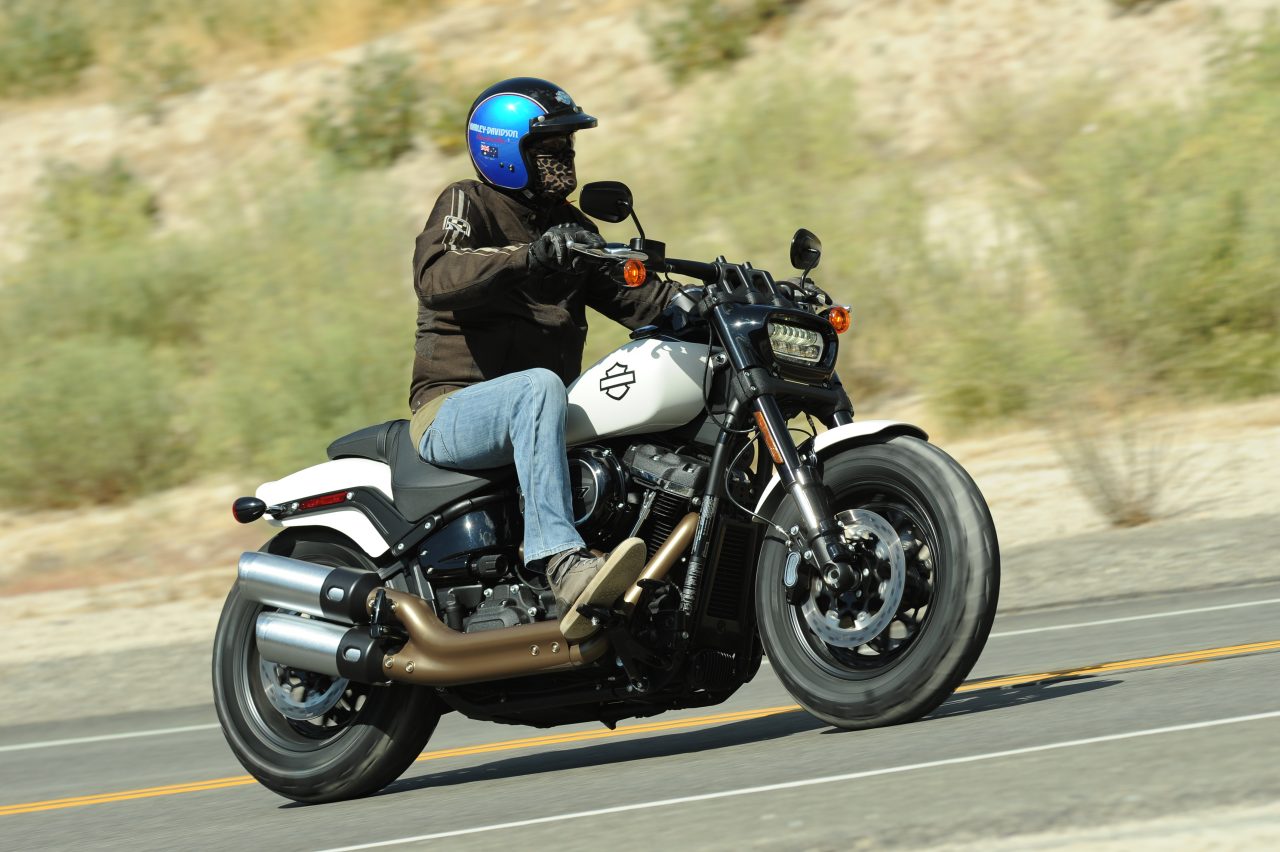 The end of the Dyna family means the end of rubber-mounted unbalanced engines in a frame with dual exposed rear shocks.
As Softails they now get the Milwaukee 107 and 114-cube Milwaukee Engines that have gone from 75% to 100% balanced with a second counterbalancer.
They are hard mounted to a totally new frame that is 20% lighter and 34% stiffer with 20% fewer welds.
They also have dual-bending valve front forks as used in the Sportsters and a single mono shock hidden to provide a hardtail look like the Softails.
The result is that these bikes handle even better than the previous Dynas which were often described as the best-handling Harley family.
Street Bob
At $23,495 ride away (up $1000 from last year), the Street Bob is the entry-point Softail, yet it gets all the mod cons of the new Softails: LED headlights, keyless ignition, USB charging port in the steering head, a bigger engine and much-improved suspension.
With its laced wheels, chopped fenders, mini ape bars and smaller 13.2-litre tank, it's a classic 1970s custom just like Willie G. intended, only with a hardtail look.
Like the Fat Bob, it features a digital riser instrument gauge that Kirk admits is "barely legal". It's very neat and tidy, yet easy to read in any light conditions.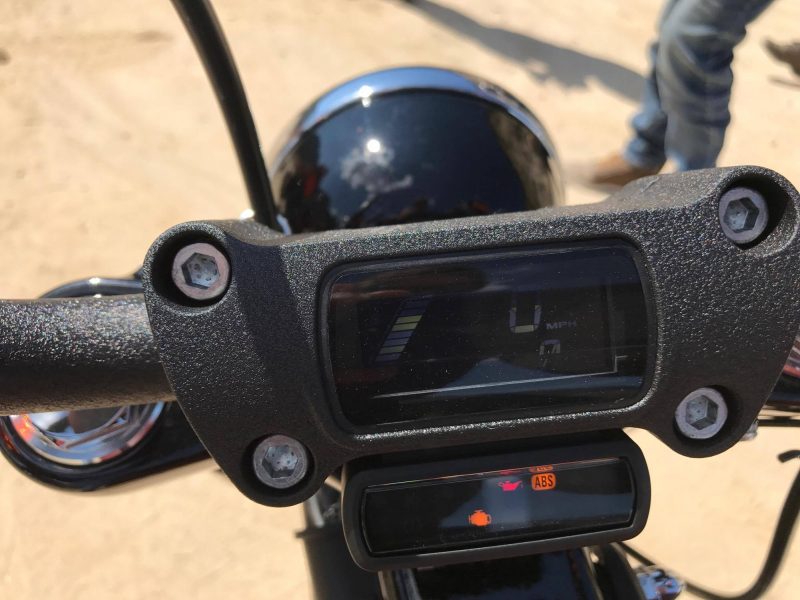 One of the problems with the Dyna family was the long side stand that was difficult to reach. Now it's shorter and easier to get at, but as you flick it forward, your shin hits the footpeg. That can make it difficult to put the stand down correctly.
A couple of motoring journos subsequently dropped bikes off their stands, so we were very careful to check the sidestand was secure before hopping off.
Once deployed, the stand is very solid as it has Harley's patented locking system so you can even park it downhill in neutral, confident it won't roll away.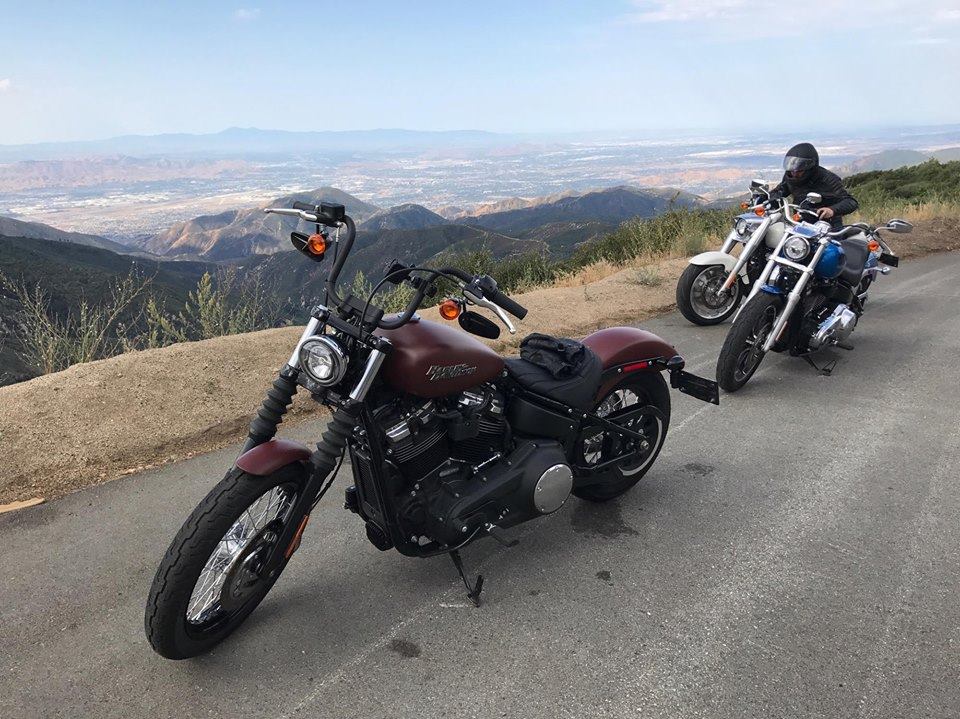 The lighter Street Bob handles and performs much better than before and those ape hangers are more comfortable and controllable than you would imagine.
They are actually very good for tight manoeuvres in city traffic and for lane filtering, or lane splitting as it's called in LA.
Low Rider
With its throwback AMF-era graphics on the tank, lashings of chrome and dual tank gauges, this is another classic custom cruiser.
But it's also become much more modern in its performance and handling, while the price has only risen $800 ($24,250 ride away).
It's one of only three new Softail models that also has an external hand-adjustable rear shock preload knob. You can even reach down and adjust it on the fly as it's located where the oil tank used to be.
The oil is now under the bike giving it a lower centre of gravity.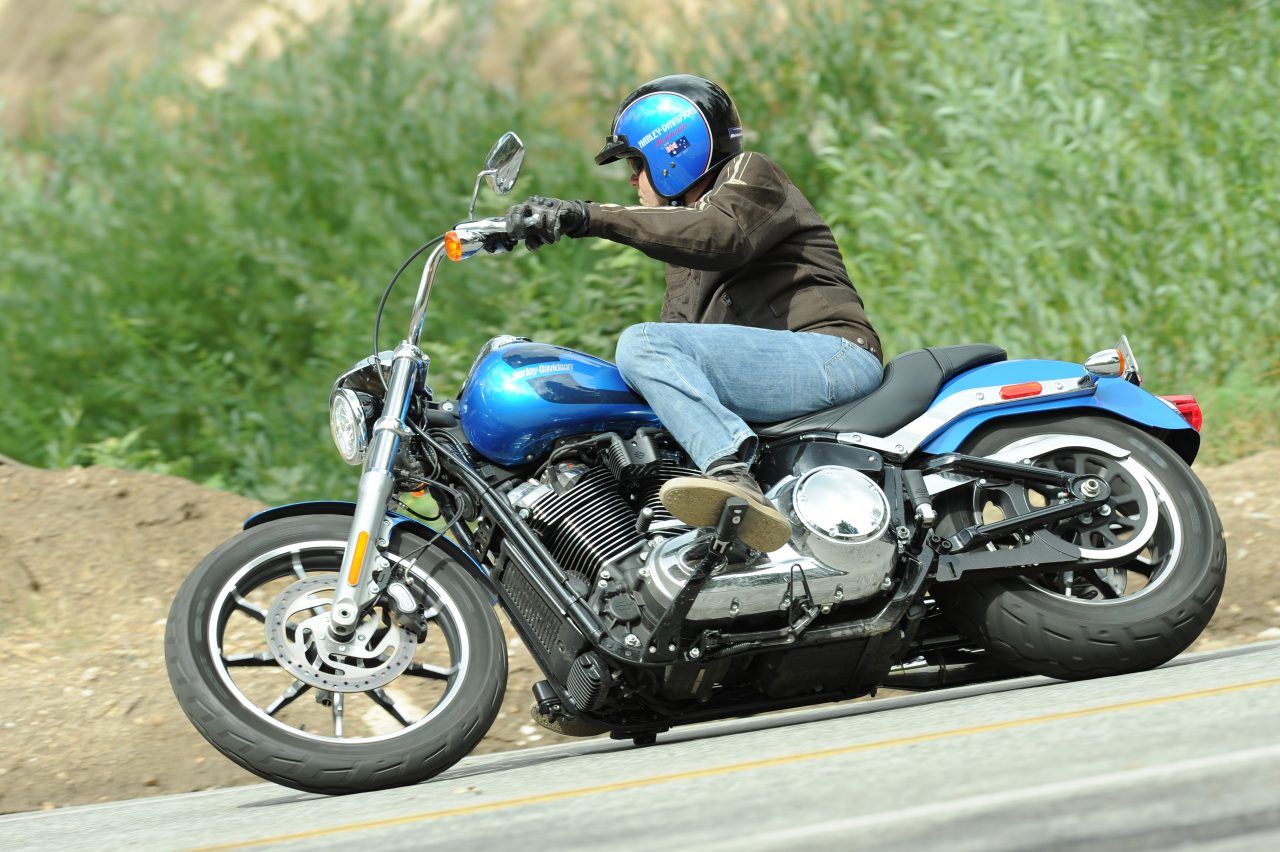 It now lifts a little easier off the side stand and feels lighter and more manoeuvrable.
Out on the winding roads up into the mountains north of LA, it sprints along nicely.
While static lean angle has been marginally improved, dynamic cornering clearance is greatly improved thanks to the improved suspension and stiffer frame.
There is no wallowing, or see-sawing between the front and rear, so the bike tucks nicely into corners and rails through them with the footpegs elegantly skating across the tarmac.