The new Monster has ditched the steel trellis frame for a much lighter alloy frame to improve power-to-weight ratio, performance, fuel economy and emissions.
But the move seems to have upset some Ducatisti, causing concern that the iconic trellis frame may be destined for the scrap heap.
Some fans even go so far as to say the new Monster is ugly and have ridiculed it on internet chat forums.
The Queensland Italian Bike Addicts facebook page is even running a poll asking fans whether they prefer the design of the new Monster or a garbage truck … so far the garbage truck is winning!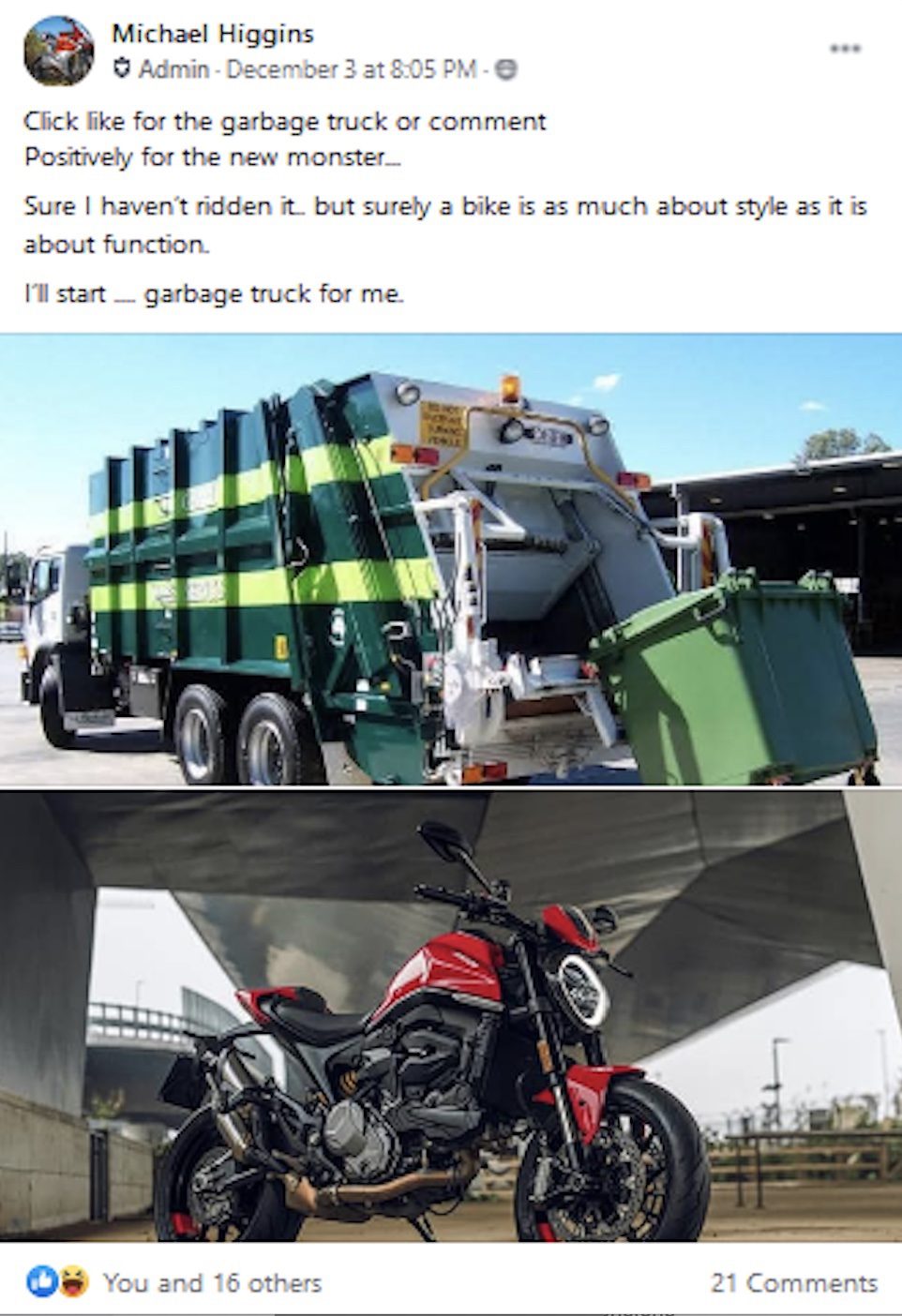 The 2021 Ducati Monster has a 937cc L-twin engine, up from the 821cc, so it has a few extra ponies.
But the biggest performance boost is in the power-to-weight ratio thanks to a 188kg wet weight which is a whopping 18kg lighter than the 821. 
The new hybrid monocoque frame with a fibreglass-reinforced polymer subframe saves most of that weight.
But has it spoiled the iconic look of the Monster?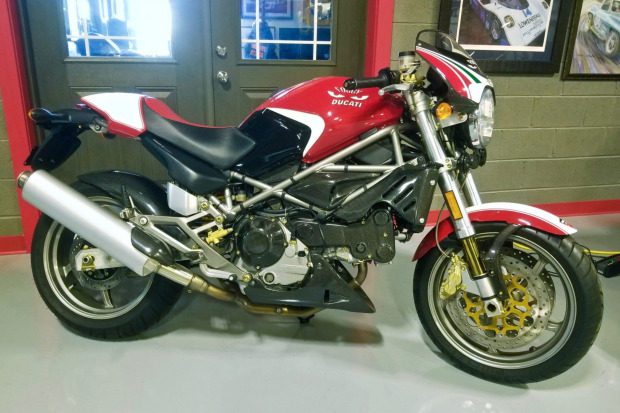 A quarter of a century ago, the Monster took the motorcycle and design world by storm with its muscular naked looks, making a highlight of the frame and L-twin. 
It even featured in the landmark 1998 Guggenheim Museum exhibition in New York, 'The Art of the Motorcycle' and is included in the current one-off, world exclusive" Motorcycle: Design: Art, Desire exhibit at Brisbane's Gallery of Modern Art (GOMA) running until 26 April 2021.
In recent years the full trellis frame has been whittled down to a shorter frame attached to the cylinder head with a separate subframe.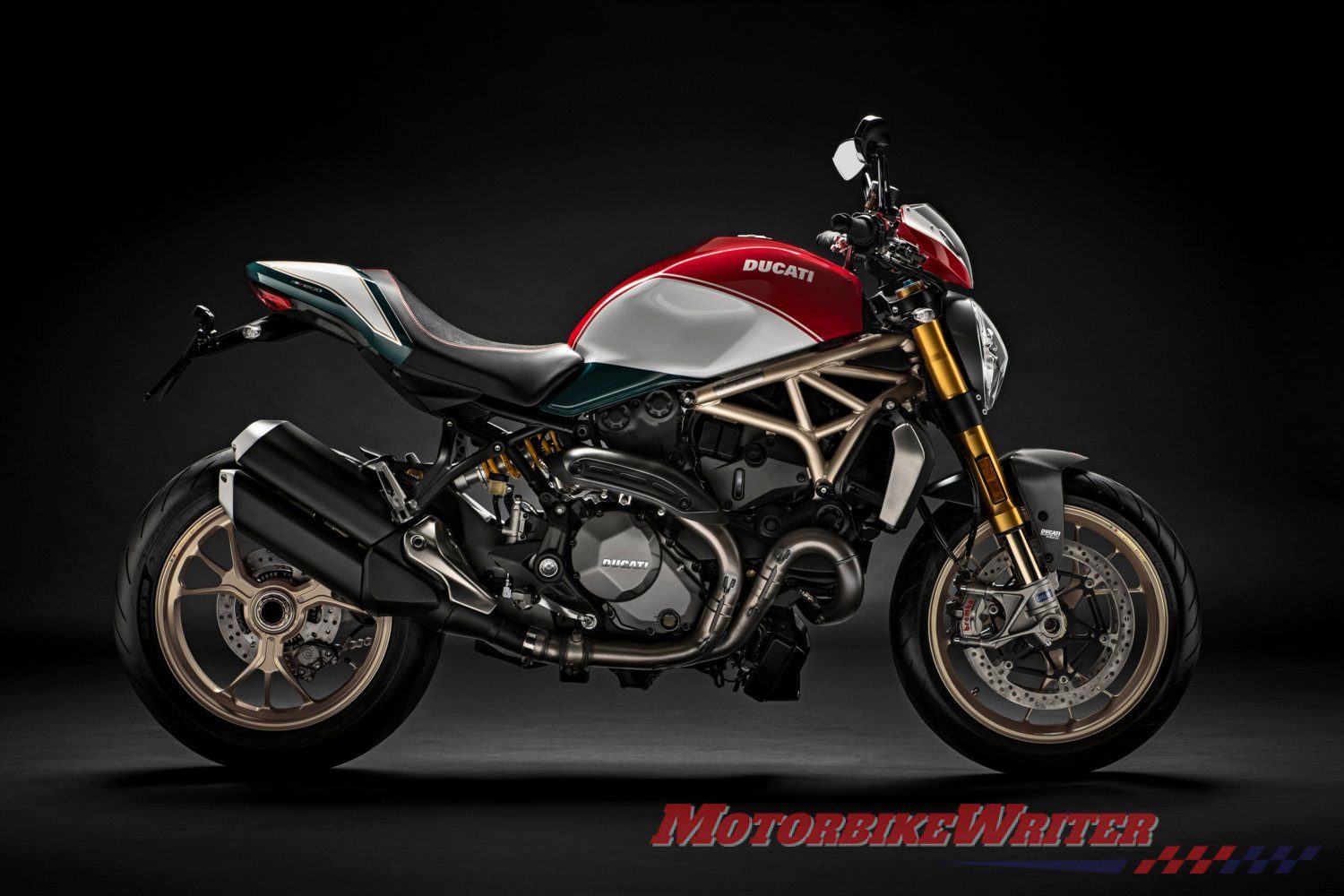 Now that it has totally ditched the trellis frame, some Ducatisti say it is no longer a true Monster.
The other missing iconic ingredient is the L-twin shape defined by a protruding forward cylinder and the "L" cam covers.
It seems the designers have done all they could to turn the motor into a formless mass of black metal.
And with its sharp edges and origami styling, it now looks more like many Japanese naked bikes, particularly the popular Yamaha MT models.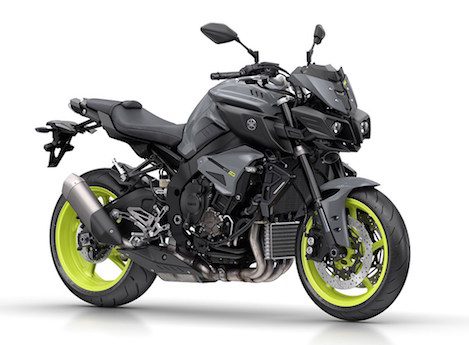 If you are really kind, you could say it looks like the MV Agusta Brutale 800 (although it retains a trelllis frame).
I can understand the need to meet tough new emissions and economy targets without jeopardising performance, but when they take away iconic design elements and make it look like many other naked bikes, it loses its identity and its appeal.
I would still love to ride the new Monster, but as the above FB admin says, this is a bike that is as much about style as it is function.
Let's hope that when it comes to updating the Monster 1200, Ducati retains their iconic design elements.
* What do you think of the new Monster? Leave your comments in the box below.