The Australian HOG Rally is set for a new era with an, as yet, unknown future format.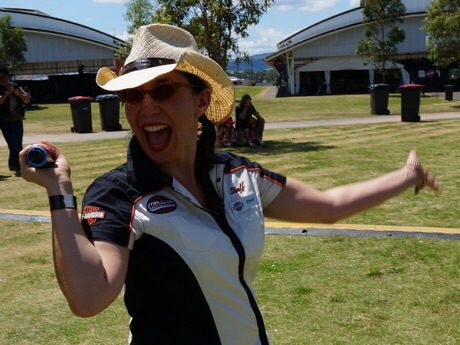 The 24th annual National HOG Rally in Tamworth could be the last one of its kind as Harley-Davidson enters a new era.
Faced with a changing demographic from the introduction of the new Street 500, the coming LiveWire electric and a new corporate mantra of "inclusion rather than exclusion", future HOG rallies could become "open" events.
That's just one of several options open to Harley as it transforms HOG to accommodate the influx of younger riders, more females and as host of returned riders.
Harley-Davidson Australia marketing guru Adam Wright says there are a lot of options on the table and they will begin the task of determining a future direction for rallies after the Tamworth rally.
The rally has already broken attendance records because of its unique cowboy flavour, central location and excellent facilities.
Adam says one option is to turn Tamworth into the southern hemisphere version of the Sturgis Motorcycle Rally which is an open rally and the world's largest.
He says an annual event in Tamworth would return millions to the local community and would attract a lot of sponsorship to make it a premier event.
The state rallies will remain, he says, but he is unsure whether closed, members-only national rallies will survive.
The mantra of "inclusion rather than exclusion" was first mentioned to us by new Harley-Davidson Australia and New Zealand customer experience manager Gaz Luxmoore who looks after 50 HOG Chapters in the two countries.
It has now been repeated to us by Adam and Asia Pacific regional customer experience manager Martin Engelbrecht.
Martin says closed events have their place, but they are "preaching to the converted".
He says open events allow non-m,embers who own Harleys or aspire to own a Hartley to be involved. He says that as more people buy the new Street 500, there will be a change in the character of HOG.
"It will open up HOG for more families. It's a bike your children can ride and it will change the character of HOG. That's a big plus point for us."
At the official opening last night H-D Australia/NZ boss Harley boss Nigel Keough challenged HOG chapters to welcome these new members.
"This is the last rally where we won't see these young Street 500 riders," he says. "I implore you guys to monitor them and bring them into the fold."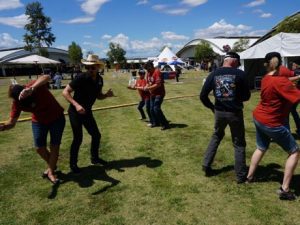 Meanwhile, the Tamworth rally, dubbed the Iron Horse Muster is proving a hit with its cowboy flavour including sheep dog demonstrations, a rodeo and barn dancing. And the Hoggies are really getting into the spirit with cowboy hats, big belt buckles and cowboy boots.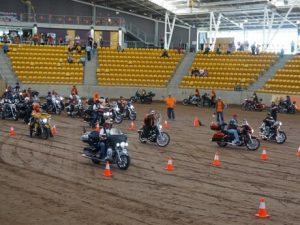 The biggest hit is the massive Australian Equine and Livestock Events Centre which to provided an excellent and cool arena for the bike games.
Although riders were skeptical of the rolled dirt floor, winner of the slow-riding race, Paul Neilson of the Broadmeadow Chapter in Newcastle, says it actually makes highly skilled slow riding a little easier.