We warned riders about supporting the crowd-funding campaign for RiderBuds earphones after customers had still not received products almost a year after the promised delivery date.
However, two customers in Holland and Canada have now contacted us to say they have finally received their RiderBuds and are happy with their performance.
We are satisfied they are legitimate customers and not linked with the RiderBuds company. 
Originally company founder Maurice Dziubinski corresponded with us and even promised a review set. However, over the past year he has stopped replying to our frequent emails requesting updates on delivery.
That, plus the many comments from disappointed customers, made us understandably wary of this product.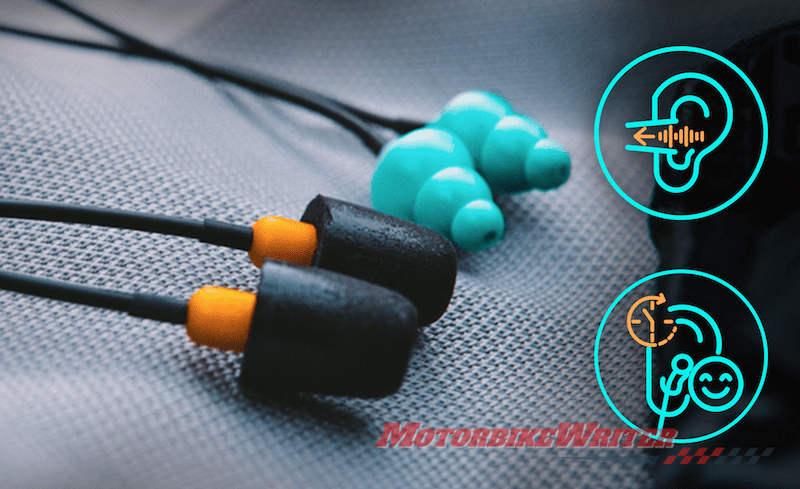 Dutch customer Stephan says he ordered them on 22 February 2019 and was hoping they would be shipped during May 2019 as promised in the Indiegogo campaign launched in November 2018.
"I eventually received the RiderBuds on 25 March 2020, which is 13 months after I ordered them and 10 months late on their initial planning," he says.
"I have to say, after they failed to deliver in May and the updates we received got less frequent, I started thinking I might have contributed to another scam on Indiegogo.
"When Maurice told us that 84% of top crowd funding projects are shipped late – often as much as one year late – I started to suspect things were not as they seemed. At that point I had completely given up on the product," says Stephan who was caught by a crowd-funding product scam.
"I started to check the updates once every few months and when COVID-19 hit around the end of 2019 I thought that he had found the perfect excuse to delay delivery even further. Fortunately I was wrong and I actually received the product, which turns out to be great!"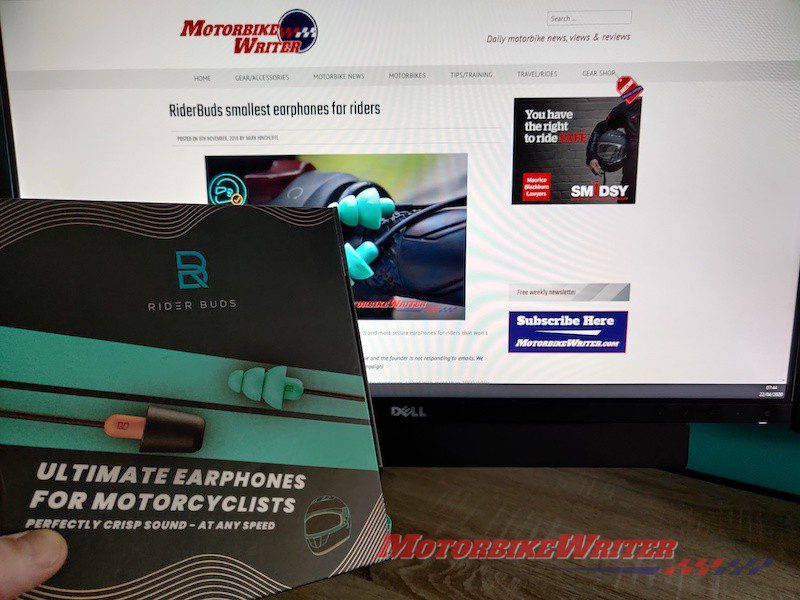 He says he has used in-helmet speakers prior before that were "terrible".
"I have a full face helmet and they do not have cut-outs for in helmet speakers, so my ears got sore," he says.
"I tried using in-ear earbuds and they were even worse; dislodging, discomfort. So when I spotted RiderBuds I was sold."
Our original article said the earphones ($US199, $A275, €175, £150) were claimed to be the smallest, softest, toughest, quietest and most secure earphones for riders.
They claimed they can't be dislodged when putting on a helmet or pulling it off like most other earphones.,
The cable connections are also supposed to be tougher and won't fray or break with rough use; even if you pull them out by the cable.
Crowd funding warning
Like other previews of prospective motorcycle products, we included a warning to our readers that supporting a crowd-funding campaign for a product not yet manufactured is not without risk.
Kickstarter and Indiegogo do not offer refunds to supporters who pledge money for products that either fail to reach their goal or do reach their goal and then fail through fraud.
The latter was the case with the infamous Skully head-up display helmet where the founders blew $US2.4m in supporters' money on fast cars and women!
Unless a crowd-funding campaign specifically mentions a refund, supporters are advised they will have to contact the campaigner to get their money back.
They are also notoriously late with delivery as has been experienced with RiderBuds.
Maurice told us on the launch of his campaign that he spent hundreds of hours testing the earphones, talked with more than 1000 riders around the world and had a few dozen Beta testers, including in Australia and New Zealand.
His crowd-funding campaign was fully subscribed in three hours, 200% in 12 hours and raised $A164,255 from 688 backers within a month.
The campaign page is still live and has now amassed more than $A220,000 from 885 backers.
We are surprised Indiegogo did not suspend the page and stop taking money after many complaints on the page from potential customers.
One comment came from a customer who suggested Maurice had moved from Hong Kong to Vietnam because of the COVID-19 outbreak and was getting the production sorted out.
The comments have now been deleted and replaced by "testimonials".