Warmthru Heated Motorcycle Gloves Review Summary
Warmthru Heated Motorcycle Gloves Image Gallery
This latest version of the Warmthru battery heated gloves are specifically designed for motorcycling. The new all-leather outer shell feels thick and supple. The interior fabric is soft and comfortable and the gloves feature a Hipora waterproof breathable membrane liner. The gloves proved waterproof in the webBikeWorld "Bucket Test".
The gloves have a large polyurethane main knuckle protector and a hook-and-loop strap over the wrist adds security. The two 7.4 Volt batteries are rated at 4,000 mAh and put out a maximum of 15 Watts to power the carbon fiber heating pads across the top of the gloves. This provides near-instant heat at four levels: 100%, 75%, 50%, 30% and off.
An LED lighted membrane button on top flashes red, solid red, white, blue or off to indicate the selected power level. The Warmthru heated motorcycle gloves come with a dual-port charger and extra batteries are available as an option. A pair of "socks" is included in the kit to store the battery modules.
Although the battery pocket and the gauntlets could be a touch larger, the new and aptly-named Warmthru Heated Motorcycle Gloves have what it takes to keep your hands warm. They're also waterproof and windproof and they have a comfortable lining. And a few other features have been added based on webBikeWorld feedback. The G4 battery-operated heated gloves put out more heat over a longer period of time than any of the other battery heated gloves we've worn to date.
We've been reviewing Warmthru battery heated gloves since 2006, with the Warmthru "Fingerheaters" heated gloves review. Each succeeding pair has shown improvements and the most recent version, the Warmthru G4 gloves (review) from 2011 (was it really that long ago?) hit the spot when it came to warmth. But all of those previous gloves had one thing in common: they weren't specifically designed as motorcycle gloves.
That has now changed with the all-leather Warmthru Heated Motorcycle Gloves.
We're not sure why these aren't called the "G5" version, because "Warmthru Heated Motorcycle Gloves" sounds rather prosaic, but at least it's descriptive.
Warmthru Heated Clothing is based in Scotland and as you'd probably guess, that means they know a thing or two about keeping warm.
Let's take a look and see what's new in this latest version of their battery heated gloves for motorcyclists.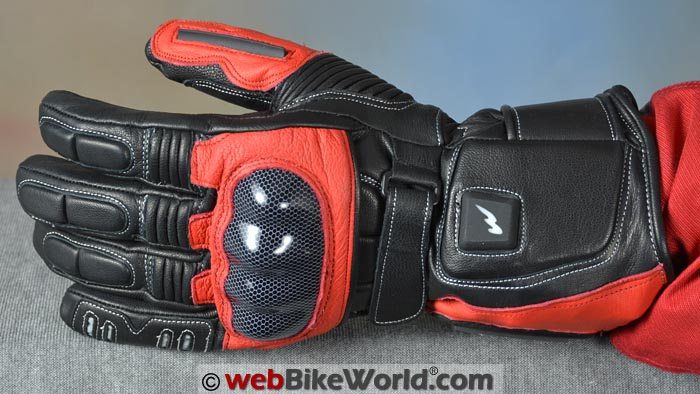 Warmthru Heated Motorcycle Gloves: Details
There are very few "real" heated motorcycle gloves for some reason. Perhaps the manufacturers figure it's easier and cheaper to make a "crossover" glove that works for winter sports, civilians and motorcyclists are a bonus.
The new Warmthru gloves are all leather, looking pretty similar to the VQuattro Squadra Heated Gloves (review) that were our favorites until we tried the Warmthru gloves.
(Here's a link to all of the webBikeWorld heated motorcycle glove reviews.)
In fact, the resemblance may be more than passing; it is possible that the Warmthru gloves were designed by or made in the same factory as the VQuattro types. Which, by the way, is moot since the VQuattro heated gloves are virtually unobtainable.
No such problems with the Warmthru gloves — motorcyclists around the world (cold ones, anyway) will be happy to know that Warmthru products are readily available, either through their UK or US websites or Amazon.com.
OK, getting back to the leather…it's very supple, listed as goat hide and it has a high-quality feel. There are no details other than that it's "leather", but some posh goats must have given it up for these.
You'll also notice the stitching, clearly visible in our photos as very nicely done, with double rows in most places and nicely hidden seams in others.
The perfect stitching is very noticeable around the fingers also. One sort of feels bad about getting these dirty, but they should stand up to it.
The interior is just as plush, with very soft and plush lining that immediately goes a long way towards keeping your digits warm and comfy.
The Warmthru Heated Motorcycle Gloves do have the winter glove feel; the fingers and chassis feel a bit thick and there may be an extra layer of insulation somewhere inside, although nothing like that shows up in the stated specs.
There is a Hipora membrane liner though, which moves moisture out while also keeping out the rain.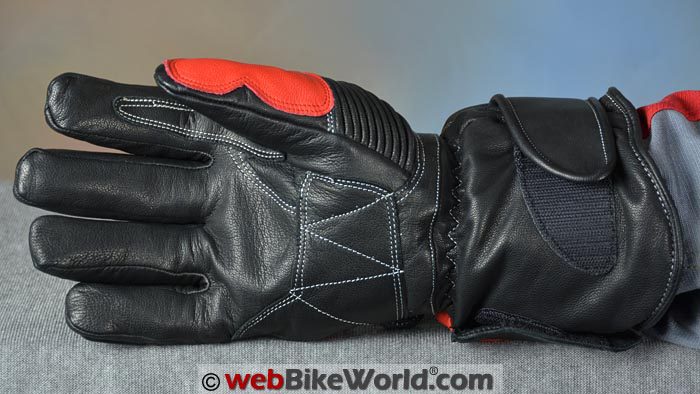 Protection
The big and nicely detailed main knuckle protector on back is the main star of the show here, with the rest of the gloves working with the leather and some padding over the secondary knuckles, wrist and back of the hand.
A large section of additional leather covers the heel of the hand and back of the thumb. All together, the protection is certainly better than most heated gloves, especially the nylon or fabric types.
The Warmthru Heated Motorcycle Gloves are consistent with high-end winter street/touring gloves when all is said and done.

Batteries and Power
These gloves have a new, high-output battery that's nearly twice as powerful as any we've seen before in heated motorcycle gloves.
That's probably as it should be, considering the last pair of Warmthru gloves we reviewed was back in 2011 and one would expect evolution in battery power over that time.
The last pair of heated gloves we reviewed was last year (2014), with the Joe Rocket Rocket Burner Gloves (review). They used the modern 7.4V batteries, but at just 2200 mAh.
The last pair of Warmthru G4 gloves we reviewed had 3.7 Volt Lithium-Ion batteries with a 3300 mAh rating.
The batteries in these new Warmthru gloves are 7.4 Volts but with a whopping 4,000 mAh and a maximum of 15 Watts. That's quite a powerplant!
Each plastic-wrapped battery array weighs 154 grams (5.375 oz.) and measures 81 mm by 73 mm by 10 mm thick.
We didn't time the charge cycle unfortunately, so don't know exactly, but it was around 4 hours to completely fill up the arrays. A wall outlet charger is provided with the kit and it can charge two battery packs simultaneously.
A North American style adapter is included for U.S. customers or country-specific adapters for other parts of the world, depending on where the gloves are destined.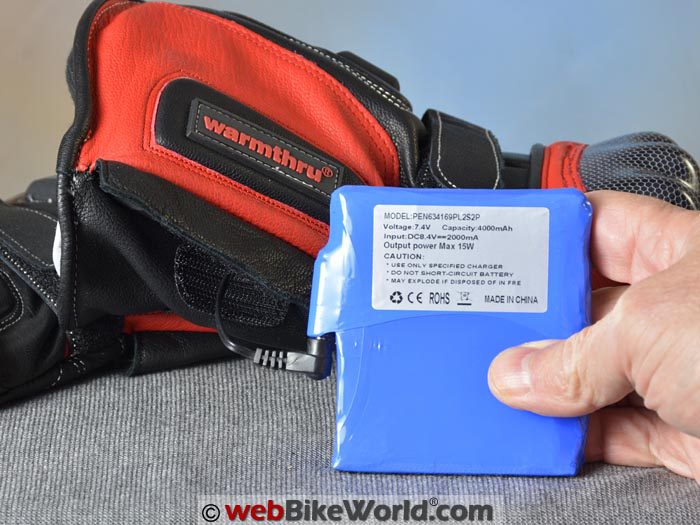 Carbon Fiber Conductivity
The Warmthru Heated Motorcycle Gloves have the new type of heat transfer system also. In the old days, real copper wires were used to transfer the heat via resistance to the wearer's skin.
Today, the hot tip (!) is carbon fiber. A carbon fiber heating mesh covers the back of the hand and when you fire these up, the heat is instant.
The mesh not only covers more acreage on the back of your hands, the heat is more evenly distributed, although due to the combination of the larger than expected finger diameter and our thinner fingers, the heat is felt more on the back of the hands than on the fingers.
There is no heat on the palm side, which is fine in our opinion. When your hands are on the grips, the wind hits topside and that's where you want the heat. If you have heated grips, more's the better, as you'll then feel it there too.
Don't forget, as always, you only need as much heat as is required to keep your hands in "neutral" temperatures. You don't actually need to feel the heat; you just want enough so that you don't feel cold.
Don't overdo it, as much as the heat may feel good at first. You're basically wasting juice if you keep the gloves cranked to 100% all the time.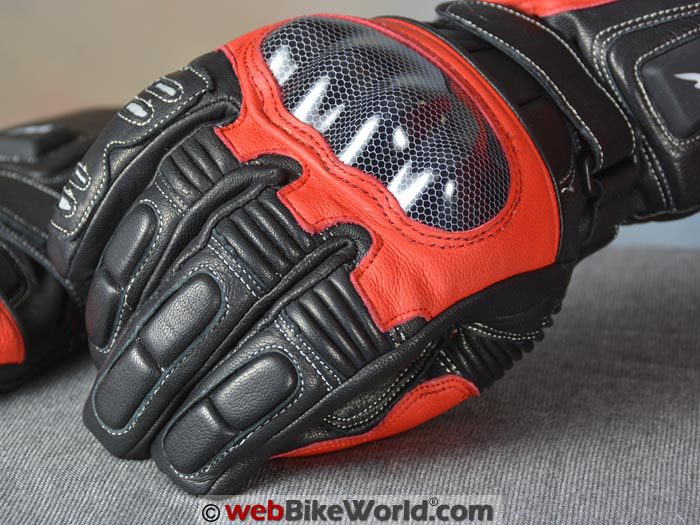 Heat Modes, Switching and Battery Capacity
Those big diesel battery arrays not only pump out large quantities of excited electrons, they'll do it for much longer than typical battery-powered heated motorcycle gloves.
The gloves have a lighted membrane button on the gauntlet. Press and hold for a couple of seconds to start the engine and a red LED will flash with an interesting buildup and decay cycle like a heartbeat.
100% (Flashing Red): That's 100% battery power, called the "preheat mode". It very quickly stokes the burners to bring the interior up to temperature.
70% (Solid Red): You don't need 100% power when you're riding, so press again and you'll get a solid red for 70% power. That should last you around 3-4 hours. (Note: Both red modes are too hot for us, at least in the 7-10° C (45-50 F) weather we've had so far.)
50% (White): Even 70% is too much once your hands get warm, so press once more for the white LED and 50% power. That should bring about 5-6 hours of burn time.
30% (Blue): You'll probably find that after you get over all that initial novelty of heat, you'll live mostly in the blue LED zone, at 30% power and a claimed 7-8 hours of battery life.
That's good stuff and you can always order a second set of batteries to keep charged. But really — are you going to spend more time than that on a bike in winter? Doubtful…
Off: You can cycle the button through any of the heat modes with a single press or press and hold for a couple of seconds for an "all stop".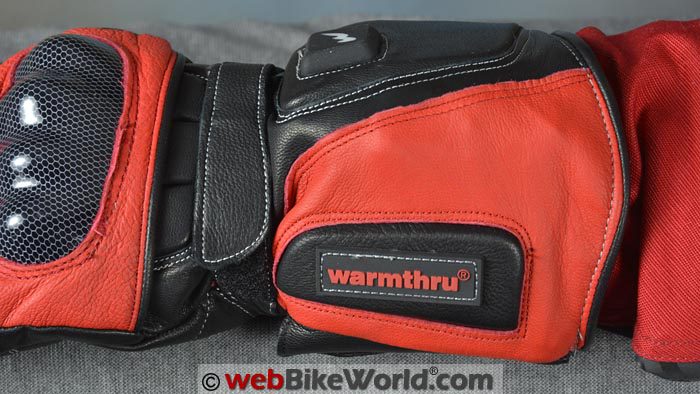 Fit and Sizing
The Warmthru Heated Motorcycle Gloves are available (or will be soon, these are just coming online at retail as this is written) in sizes from S to XL.
The sizing and fit is more or less consistent with other Warmthru gloves we've reviewed. The pair shown here are size L and although they feel slightly oversized at first, the length is about right once your fingers are around the hand grips.
The finger diameter has extra room, so anyone with larger/thicker fingers should be fine. That does lead to a slight problem for those with thinner fingers, because there may be too much room for the fingers to contact the heating grid along the top.
Our last Warmthru gloves were size XL and fit like a 2XL; these feel like an XL in width and finger diameter but like a size L in the length.
Perhaps you can send them a tracing of your hand to make sure you get the correct fit. I'd like to try a size M but don't have it available unfortunately.
Any Drawbacks?
Overall, we're very pleased with the Warmthru Heated Motorcycle Gloves and they're our new favorite heated gloves for sure.
A couple of minor nits, however: the batteries fit in a pocket on the back of the gauntlet and each battery module is very large, so you know there's a big square battery pack in the top of the gauntlet and you can feel it.
The large battery pack is also very tight fit in the pocket, so our suggestion would be for Warmthru to extend the gauntlet about 6 mm and then the pocket slit could be made longer.
As it is, you have to be careful about inserting the batteries. It's more difficult than it should be and we're afraid that after a number of in-and-outs, the stitching will start to tear.
There's no reason some elastic or larger pockets or something couldn't be used; in fact, a swath of elastic somewhere in the battery pocket, or an external battery pocket on the outside of the gauntlet, might help.
Also, the internal connector for the battery pack is smaller than most heated glove types we've seen, but it's a right angle connector. This adds to the difficulty of inserting the batteries and also adds to the width of the battery array.
Why not use a straight connector?
The plush lining may be too loosely attached. We did not try the gloves in a rain storm, but damp hands may pull the liner inside-out, so be careful.
Finally, as is usually the case, the gauntlets could be a bit larger.
They're adequately sized to fit over a mid-weight winter jacket like the old Joe Rocket Ballistic 7.0 jacket (review), but they're a snug fit over a true winter jacket. So the gauntlets could be longer and wider.
The bulk in the fingers and body of the gloves means that the hand grip feel is different from thinner summer gloves or non-heated sport gloves.
All of these issues and the differences in glove feel sort of fade into the background though after a short time when riding.
Conclusion
The Warmthru Heated Motorcycle Gloves set a new standard for portable, battery-operated heated gloves.
Battery technology has come a long way since we first started reviewing heated gloves about 10 years ago. There's really no need for the hassle of wired gloves and the powerful batteries in these should be all most riders need.
It's also good to have "real" heated motorcycle gloves, rather than the compromised general purpose sport heated gloves with fabric shell we've seen before.
The Warmthru gloves have an excellent build quality, they're comfortable, waterproof and they're warm.
The price may seem a bit stiff, but if you add up the price of a good pair of winter gloves plus heated grips, or other heated gloves without the protection and quality, it's not too unreasonable.
The gloves will be available soon in the webBikeWorld Amazon.com store.
If you're looking for a good pair of high-quality gloves that should have all the heat you need for this coming winter, you've found them.
w

BW

Product Review: Warmthru Heated Motorcycle Gloves
Available From: Warmthru Heated Clothing (UK)
WarmtotheBone (US)
List Price: £186.50 or €251.78 incl. VAT.
~$240.00 USD ex VAT). £48.00 S/H to U.S.
Colors: Black/red.
Made In: China
Sizes: S-XL
Review Date: October 2015
Note:
For informational use only. All material and photographs are Copyright © webWorld International, LLC since 2000. All rights reserved. See the webBikeWorld®
Site Info page
. Product specifications, features and details may change or differ from our descriptions. Always check before purchasing. Read the
Terms and Conditions
!
Owner Your Comments and Feedback
---
From "F.P." (January 2016): "After an extensive weekend of reading and researching heated motorcycle gloves (and) with the help of your review of the latest version of the G4 Warmthru glove, I was sold, though not overjoyed by the price tag.
I told myself you get what you pay for and it would be worth every penny of comfort. Wrong!
Firstly, the most important criteria for a heated glove is heat. Not to exclude protection and build quality. But primarily we are buying these to keep our digits warm, right?
You even mentioned these were so hot you couldn't run them at 70%, or high.
Maybe what you didn't say, didn't notice, or should of said is that these gloves can only be used on two heat settings, neither of which are capable of keeping your digits warm when temps are merely in the mid to hi 30's. And i'm talking less than an hour at these temps.
So I'm curious to know when you opened your set with the instruction manual. Did it not display a post print disclosure label? It basically reads 'use white or blue'. What it's actually say is 'Warning, use of red heat setting will cause serious burn.'
That's right, it has a localized hot spot and you simply cannot run the gloves at this heat setting. Or as I inadvertently did:
A: because both your review and their website states clearly it has 3 heat settings plus preheat.
B: because once temps drop into the 30's the lower settings are utterly insufficient.
Even for that short ride, i am constantly feeling my uncomfortably cold fingers.
These gloves not only don't live up to their namesake, Warm Thru. The company owners response to my complaints was A: I don't know what to say and B: I can't give you credit or a refund.
Unless I'm mistaken not only do these gloves not do as advertised. It appears they are are trying to cover up the fact there is a serious risk of getting burnt with these gloves.
I mean, why would you have the hi heat setting and not be able to use it?
Again, this is why we are buying heated gloves in the first place. Considering they claim to  'Completely dedicated to your satisfaction' I was completely floored by this response.
I would like to know a couple of things. A: have you yet tried these gloves in anything below 40C. If so what have you experienced. B: Who can I talk to, what are my consumer rights and who's accountable for safety standards in the US?
This is not a path i want to go down. My interest is to notify fellow motorcyclist of the serious issues and failings of this product. Sorry it's so long winded, much appreciate your time."
Editor's Reply: Something to note is that no wired or battery heated gloves that I know of have a thermostat. So you select a heat range and then either change the range or turn off the gloves if they get too warm. That's just the way they work.
If you're feeling that they're getting too hot, then the solution is to either lower the heat or turn it off.
As we have stated in several of the heated clothing reviews, it's not necessary or desirable to use maximum heat output. In fact, if you feel the heat, it's probably too much.
The idea is to keep the temperature of your hands, chest, etc. "neutral"; that is, not hot but not cold. That is the correct way to use heated garments and it prolongs the battery life on battery powered heated garments.
None of us here usually ride a motorcycle when it gets under about 40 degrees F or so. Anything lower than that is extreme for motorcycle riding and very few people ride in those temperatures, which may require specialized gear.
You may need heated grips, something like the Hippo Hands (review) or Barkbusters Blizzard hand guards (review) and heated gloves, wired perhaps, and/or a combination of the above.
If you're not using some type of wind-breaking hand guard like the Hippo Hands or Barkbusters at those extreme temperatures, you probably should be.
Blocking the wind is probably the single most important thing you can do to help keep your hands warm, because very few gloves will protect and warm your hands at those temperatures.
Again: if your hands are becoming too warm in any heated garment, lower the heat or turn it off!