The revolutionary Australian-designed VOZZ strapless motorcycle helmet is being updated and will be distributed in Canada.
VOZZ Helmets managing director Mark Bryant says the helmet is being updated after customer feedback.
"The majority of VOZZ wearers love the lid and have been the source of some great feedback on function and performance," Mark says.
"Based on this feedback, we responded by instructing the manufacturer to make some changes to the RS1.0."
The modifications include an improved comfort lining, foils either side on both locking covers and superior rubber compounds, improving the seal and reducing wind noise.
"We have made some improvements to comfort lining and the seals on the helmet and stock is currently in production for all three certifications (DOT, ECE and AS/NZ)," Mark says.
The revolutionary helmet design does away with a chin strap and opens from the top like a clam. We tested the $888 helmet in February and rated it very highly, although we were concerned about wind noise and the comfort level over the ears; issues that appear to have been addressed.

Mark says the functional improvements to the helmet have had a positive impact on performance.
"However, changes to tooling for the next round of orders has meant our production schedule is now some four months behind our plan. Naturally we are not pleased with the delays but there is little we can do to improve the factory's timelines.
"Sales are planned to commence starting October and to be rolled out globally from that date onwards."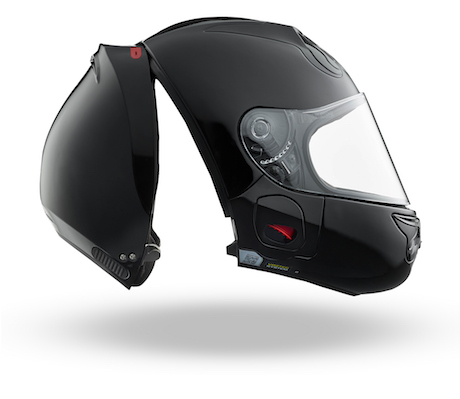 Mark says the helmet is now approved in all sizes in DOT, ECE and AS/NZ certification and they hope to expand their international distribution this year.
Their first International distributor is VOZZ Canada Limited based in Toronto, providing sales and after sales service to several motorcycle dealerships across the country.
Mark says they will announce more international dealers in the coming weeks in preparation for stock arriving in late 2016.