Volvo has developed technology that alerts drivers of cyclists and could have ramifications for motorcycle riders.

The system involves two-way communication between the car and a rider's helmet that gives drivers a head-up display rider alert to the presence of riders. Volvo will demonstrate the tech at the International Consumer Electronics Show in Las Vegas (6-9 January 2015).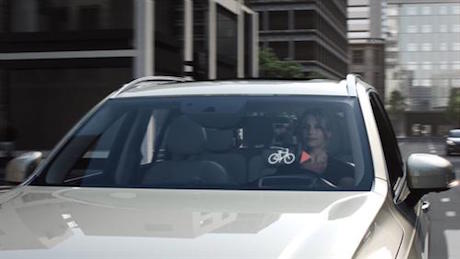 It is similar to systems that Honda and other companies have been developing where cars "talk" to each other, but this is the first time it has been used with vulnerable road users.
Another car technology designed to provide drivers with more vision and information about vulnerable road users, including motorcyclists, is Jaguar/Land Rover's "invisible" pillars.
While it is great to see these technologies being developed and attention being given to vulnerable road users, the concern is that drivers will rely on the technology rather than using their own eyes and being alert.
Nothing will replace driver education to look for riders.
The Volvo technology was developed with phone company Ericsson and Swedish cyclists technical safety gear company POC and is targeted at cyclist helmets, but it could easily be adapted to motorcycle helmets.
The system uses several popular cyclist smartphone apps to share rider and drivers positions and alert each other if an imminent collision is calculated. The driver is alerted by a head-up display alert ands the cyclist via a helmet-mounted alert light.
All these technologies are aimed at reducing blind spot and SMIDSY (sorry mate, I didn't see you) crashes, which account for the bulk of two-vehicle accidents involving cars and motorcycles.
But they need to be augmented by motorist education campaigns such as the Maurice Blackburn Lawyers video campaigns.