It is little wonder KTM is so dominant in the Dakar Rally.
I toured the factory early last year and was privileged to go across the carpark at their Mattighofen factory to the motorsport workshop and view them working on the bikes that Marc Coma and others are riding in the current Dakar Rally in South America. Read my latest race report here.
The Austrian company has won 12 straight Dakars and is coming up against strong opposition this year from Honda and Yamaha factory teams, as well as Sherco.
Global PR manager Thomas Kuttruf says KTM puts a lot of emphasis on racing. "That is what KTM stands for," he says. "It is the motivation where we get the energy for our development programs."
Almost 10% of KTM staff are involved in the motorsport section.
Of the 120 staff, 60 are based at Mattighofen and the others are seconded to racing teams in Belgium and Italy.
The motorsport workshop is very secure and our guide, KTM factory rally team Alex Doringer, has to use a security swipe card to let us in.
"We moved in last year and already the factory is too small for us," Doringer says.
"We are close to the engine plant and WP Suspension because that helps us to change things and work in an easy way."
The factory includes a "hall of fame" featuring world champion bikes and portraits of the riders. But Doringer says they will soon need a bigger room after KTM last year won 20 world champion titles, including the 12th consecutive Dakar Rally, bringing it to a total of 223 titles since 1974.
"Motorsport is nothing less than marketing. Win on Sunday and sell on Monday," he says.
KTM not only faces its toughest challenge this year in the Dakar but is also without five-time winner, Frenchman Cyril Despres, who has defected to Yamaha.
"We should be happy that Cyril helped us grow the brand," he says. "We say goodbye and good luck.
"Rally used to be just a KTM championship because we won everything. But you need competition. We have a new challenge (Cyril and Honda) and hopefully we will beat them."
He says Aussie Ben Grabham proved his potential with a 15th in his debut Dakar last year, but says he is not ready for the factory team "just yet". Grabham is currently in ninth outright in the rally.
Despite being the boss of the rally effort, Doringer believes KTM's motorsport future is on tar, not dirt.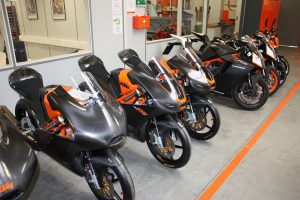 KTM is racing in Moto3 and scored a podium in the first GP this year with the top six all running KTM engines and, in fact, half the grid running orange power.
"Road racing is new to us, but is helping out with our direction in bikes. Street bikes is what we have to sell, so we hope to see KTM in MotoGP in the next few years.
"The best way is to start from the bottom, in Moto3."
KTM also races the RC8 in the German superbike series, but Doringer says an entry in World Superbikes is still a long way off.
"If we go, we want to win," he says.
And winning costs money. You can see it everywhere in the expensive machinery and massive racing transport trucks, but Doringer is coy about revealing his motorsport budget.
"It looks easy because we win so much but it isn't. It's hard (and expensive, we imagine) but you have to have passion."