If you need motorcycle luggage on your cruiser, but don't want to spoil the look with ugly pannier mounting brackets, the quickest and easiest way is with a sissy bar bag.
One of the most versatile and stylish is this leather and cordura bag for just $99 from Viking Bags who have a broad range of motorcycle luggage options.
First, it looks great with its traditional leather flaps and straps with chrome buckles to match the chrome on your bike. Hidden underneath the buckles are quick-release nylon clips like Harley uses on its soft panniers.
Apart from the leather flaps, this motorcycle luggage is made of hard-wearing, weather-resistant and lightweight cordura so it only weighs 3.8kg.
Unlike many other sissy bar bags, this will fit any size sissy bar with a very simple system of bars and strap retainers that are quick and easy to adjust for easy packing and unpacking. You can throw it over the back if you have a rack or sit it on the back seat.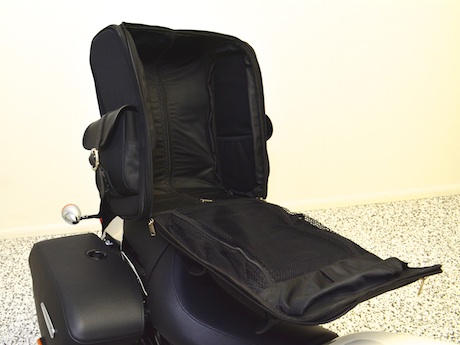 Another great feature of this bag is the fact that the main compartment unzips on three sides like an overnight bag for quick access to any item.
It has zips around either side to extend the width of the bag by total of 10cm (4"). Dimensions are 42x48x18cm (16.5x19x7 inches) for 53 litres (3247.5 cubic inches) of storage space.
Inside the main compartment are three net storage areas and the four flapped outside pockets make accessing items quick and easy. There is also a convenient weather-proof storage compartment on the top for items such as wallet, phone and camera.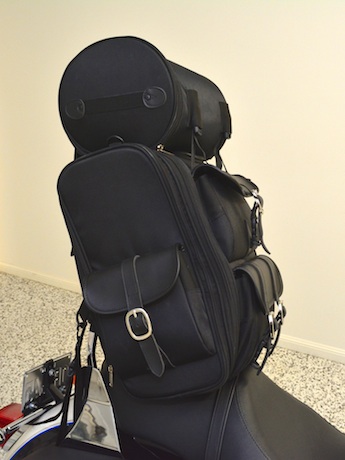 It has a handle on the top and detachable and adjustable shoulder straps to convert it into a backpack so you can easily carry your gear when you arrive at your destination.
If you're camping out, you can throw your sleeping bag into the convenient roll bag that neatly clips on top of the luggage. It also has a detachable shoulder strap.
The whole bag seems to have a quality feel about it with sturdy stitching. The zips are chunky and don't feel like they will break easily. You can also secure them with a padlock.
While there is an interlocking flap behind the zips to keep moisture out, I gave it the old garden hose test and some water did seep in. Plus the outside pockets are not very weather resistant. It comes with a throw-over water-proof cover, but the safest way to keep your stuff dry is to pack them in water-tight bags inside your luggage.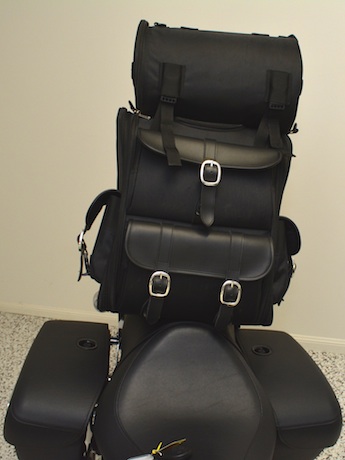 When you complete your trip, it is easy to hose the road grime off the bag, then just add a bit of conditioner to the leather parts to keep it look handsome.
All this for just $US99, it certainly seems a bargain. Viking includes a 30-day money-back guarantee.
This product is available at Viking Bags and Motorcycle House.