A crash in the 2015 Pikes Peak International Hillclimb has not deterred Victory Motorcycles who vow to return next year, confirming a sportier future for the cruiser company.
Victory had entered a street fighter, called Project 156, featuring a prototype V-twin engine of almost 1300cc in the famous hillclimb, giving the impression that the engine would find its way into a similar production bike.
However, a production street fighter or sports bike could still be some time away as Polaris Motorcycles product director Gary Gray has confirmed that they will return next year for the 100th anniversary of the hillclimb with their prototype motorcycle – not a production bike.
"We may not have ended up with the result we all wanted today – but I can say that the Project 156 represents the two things that Victory stands for – performance and exhilaration," he says.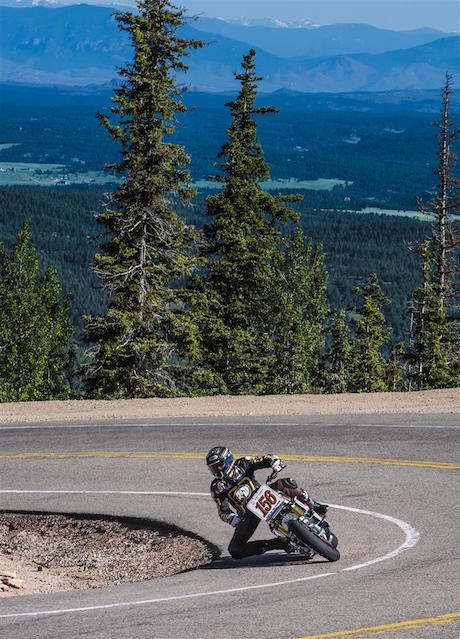 Project 156 – named after the 156 corners on Pikes Peak – is a joint development with Roland Sands Design.
GM Rod Krois says it is part of a company strategy to prove their performance that also includes the recent podium finish in the electric race at the Isle of Man TT, a stunt team on supercharged baggers and a husband-and-wife team in the NHRA drags.
Project 156 was on pace for a podium finish at Pikes Peak with a second-fastest time in the first section, but rider Don Canet had a low-speed crash in the second section and the bike failed to finish after the crash caused the bike to seemingly run out of fuel within sight of the finish line.
The famous hillclimb claimed many other expensive pieces of machinery, including a Nissan GTR which launched 70m over a lake and over the crashed remains of another competitor's Ducati.
It's a spectacular race in spectacular scenery and just to add some drama to an already action-packed day, a lunchtime thunder storm showered the mountain circuit with hail, stopping the race for about 90 minutes.
The motorcycle classes lead off first, followed by cars, trucks, quads and sidecars.
Both the motorcycle and car classes also feature electric categories and because the vehicles are so quiet, they have sirens or horns fitted to warn spectators of their approach.
In fact, interim results show that the fastest two vehicles up the mountain yesterday were electric concept cars driven by Rhys Millen in 9:07.222, followed by Nobuhiro Tajima at 9:32.401.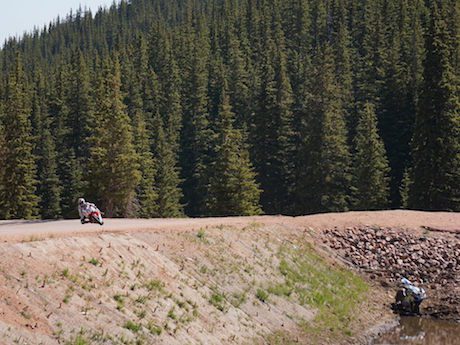 The motorcycle class was won by Jeffrey Tigert on a Honda CBR1000RR in 10:.02.735. A Ducati Multistrada ridden from LA over pavement and dirt roads to the event by former British racer Jamie Robinson was fourth with 10:30.453.
Modified electric motorcycles were not too far behind with Yoshihiro Kishimoto clocking 10:58.861 on a modified Zero motorcycle.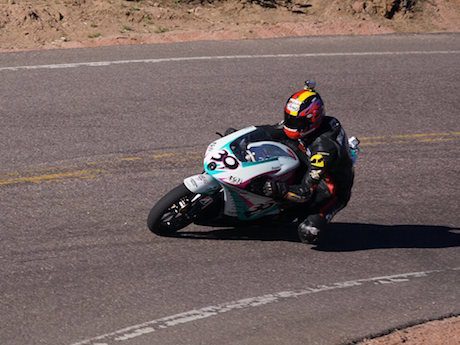 Meanwhile, Zero scooped the podium in the production electric class with Jeff Clark defending his class title with a time of 12:06.346, followed by Nathan Barker in second at 12:37.161, and Brandon Nozaki Miller in third at 13:10.894.  wacth Jeff's ride in the video below.
Victory had considered entering their electric bike in the race, but practice overlapped with the Isle of Man TT, however there is a possibility that they could enter the bike next year.
If you plan to see Victory Motorcycles attack the mountain next year, bear in mind the traffic chaos getting in and out of the event on the narrow highway. But it will be worth every moment stuck in traffic!