Victory Motorcycles is going drag racing in the US with this absolutely stunning version of the popular new Victory Gunner that hits the wind tunnel today.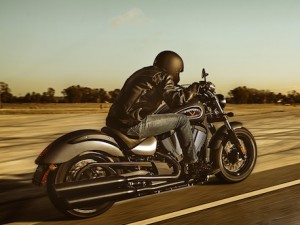 We always knew the Gunner was a mean machine, but this low, long and mean drag racing machine is something else.
Victory Motorcycles is no stranger to speed having slightly modified a Hammer to set the 2014 AMA Bonneville National M-BG/2000 record of 173.321mph (278.933km/h) at the Bonneville Salt Flats on September 28.
This NHRA Pro Stock Motorcycle should be even faster.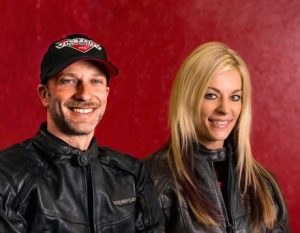 It will be piloted by husband and wife team Matt and Angie Smith who will ride gunmetal grey bikes to promote the production model Gunner.
The bikes will be powered by the Smiths' S&S V-Twin and the amazing bodywork is a joint effort between the Smiths and the Minnesota-based Victory design team.
The Smiths will take their new rides to a wind tunnel for a test today (January 30) before the season opener on February 6-8 in Pomona, California.
"I won't know how I might have to adjust my riding stance until we get to the wind tunnel, but I think it's going to be better," Smith said. "It's pretty different from what I've ridden in the past, but it's got a smaller frontal area than the Buell, which is always a good thing."
Victory will join other brands in the series including Harley-Davidson and Buell.
UPDATED JUNE 5:  Racing has begun with Matt winning his opening round elimination with an ET of 6.86 at 191mph at the NHRA Four-Wide Nationals. Matt Smith Racing got knocked out in the semifinals with a 6.89ET at 191mph.