The new Victory Gunner is basically a "parts bin special", being made up of a Vegas 8-Ball rolling chassis, Hammer handlebars and Judge pegs and wheels.
Yet somehow the bike is greater than the sum of its parts. It turns heads everywhere it goes and I reckon it's the best Victory cruiser yet in style and substance.
It hits the market at a tempting $19,995 rideaway, and for that you get a fairly basic bike. There's really nothing fancy here, just invaluable "bad-assitude".
You ride with your backside very low to the ground, nothing in front of you but a simple speedo dial and your knuckles punching the wind, Sons of Anarchy style.
It's quite an aggressive riding position with the mid-mount controls from the Judge, but somehow it seems to work. Despite being a "windsock" pose, I found it eminently comfortable on the highway and even did an hour's stint of boring motorway work, yet didn't feel numb with pain from hanging on.
Instead, the nicely scooped-out firm saddle and easy reach to the bars make for a very comfortable pose. Although my knees stick out a little with the mid-mount controls, I found the peg position handy for supporting my weight a little when the bike hit some cavernous potholes on my extended ride into NSW.
Ride and handling are great for a cruiser because the wheels and suspension work together. The high-profile tyre makes the ride a little more plush than you would expect and the almost-matched front and back tyre widths mean it turns a corner sharply without the front wanting to go one way and the back another. It simply tracks through corners with the wheels "in concert".
The fat front tyre also instills extra grip confidence when pressing into a corner. However, some might find the relatively narrow rear tyre doesn't work aesthetically with the fat rear fender.
The only limiting factor in handling is the cornering clearance. For a start, it has the lowest static upright ground clearance of any of the cruisers. The Jackpot, Hammer and Vegas have 135mm, the Judge, Highball and Boardwalk have 120mm, while the Gunner has only 119mm.
And with mid-mount controls that stick out fairly wide, it is easy to scrape hero blobs, footpeg brackets and the bottom exhaust pipe, even on roundabouts. While I like the aggressive look of the mid-mount controls, I'd be replacing them with forward controls and using spacers on the forks and a longer rear spring to gain more cornering clearance. Then it would be one of the best-handling big cruisers on the market.
Like all Victory motorcycles, it is powered by the Freedom 106 V-twin which is a refined and torquey mill with low mechanical noise. Together with the stock pipes and quiet, low-maintenance belt drive, it is a very quiet ride and many riders will be hitting the "customize" button on the Victory website to order aftermarket pipes.
That is if Victory included the "customize" feature for the Gunner page. It's only new, so I'm sure it will be added soon. Anyway, it is being released with a full ammunition box of accessories which includes pipes, pillion seat, etc.
The Victory Gunner has "Suede Titanium" paint which I like to more relevantly refer to as gun-metal grey. Other visual highlights are the spunky white-letter high-profile tyres, blackened slash-cut exhausts, black beach bars and smart 24-spoke wheels.
The trimmed-down Gunner weighs in at 294kg which is 6kg less than Judge. That low power-to-weight ratio makes it feel a little brawnier and with pulling power from around 2000 revs, it is easy to keep it thundering along.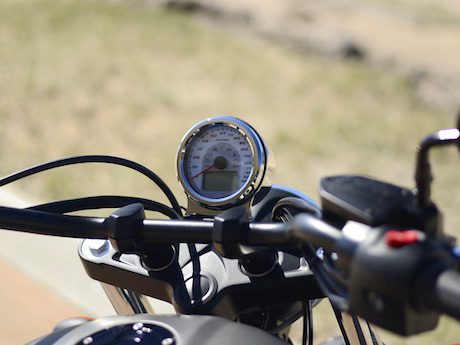 Victory's six-speed transmission is becoming smoother every year and it feels very positive in this model. The spread of ratios also seems to work well on the Gunner with three gears ideal for the city and three for the highway. What could be simpler!
There is only one brake disc up front and no ABS on any of the Victory cruiser models, yet it has braided steel lines which give plenty of feel and its lighter weight means prompt stopping is not an issue.
Instruments are basic, with a single dial that has a speedo, plus an LCD screen that includes odo, trip and revs. You can toggle between these screens with a button on the back of the left handlebar. There is no fuel gauge so a "range" display would be a handy addition.
Despite some minor concerns, Victory certainly has scored a victory with this "parts bin special".
Victory Gunner tech specs
Price: $19,995 rideaway
Warranty: 2 years
Service: 12 months or 8000km
Engine: 1731cc, 4-valve 50° V-twin
Bore x Stroke: 101 x 108 mm
Compression:  9.4:1
Transmission: 6-speed, carbon fibre reinforced belt
Fuel: 17 litre tank, 91 RON
Suspension: telescopic fork, mono shock
Dry weight: 294kg
Clearance: 119mm
Length: 2372mm
Rake: 32°
Seat: 635mm
Wheelbase: 1645mm
Tyres: Dunlop 491 / 130/90 B16 67H
Wheels: 16 x 3.5