Despite spending double his budget and "getting carried away", Brisbane rider Darius Moldovan still has more plans for his 2014 Victory Cross Country custom bagger.
"I just got obsessed with big-wheel baggers," says Darius.
"I'd seen the craze in the States over time and thought of a 23-inch front wheel, but changed to a 26 at the last minute.
"From there I just continued to get carried away.
"I've now more than doubled my original budget. It was supposed to be $30,000 and I'm somewhere above $65,000, including the purchase of the bike ($25,000)."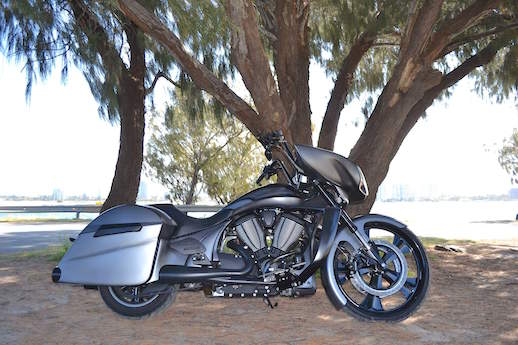 Darius funded his project by selling his other bikes, including a Victory High Ball.
"It was by far the best bike I'd ever owned but I didn't want to go down the track of a Harley which are a bit small for me at 6'2"," he says.
"I think the Cross Country is one of the best bikes. It handles really well and has a great lean angle and plenty of power."
But not enough, so it seems.
The engine modifications include a Lloyd'z Motorworkz air filter and timing wheel, Victory performance cams and a Power Commander.
All parts and modification work were done by Victory and Indian Motorcycles of Brisbane, while Fred Babcock of Pro Cycle Dyno did the dyno tuning.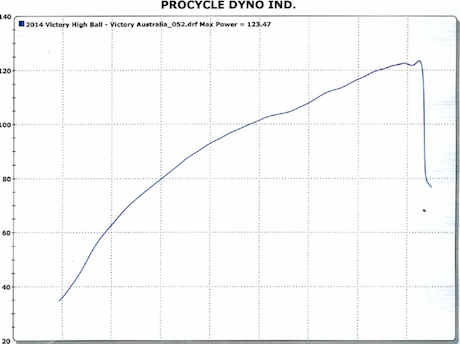 Head tech at Victory Brisbane Robertino Salbatecu says the rev limit is now up from 5500 to 6500, power has increased from 88hp to 124hp and torque is up from 110Nm to 170Nm at the wheel.
"It's a pretty kick-ass engine," Robertson says.
"The power comes in above 2800 revs and you have to hold gears longer and ride it like a sports bike."

Even so, it's still not enough for Darius.
"I feel like I want more power, but I'm not sure how to to fix that," he says.
The most radical element, of course, is the 26-inch front wheel which required a new triple clamp with an increased rake of 10.5° and 25mm fork extenders so the front wheel wouldn't hit the fairing.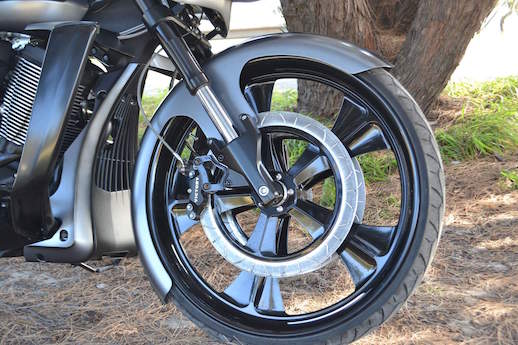 Despite the out-there wheel and styling, we love the low-sheen grey metallic paint which is more understated than the original bright orange.
Robertino says most of the modifications included aftermarket parts, but they also had to adapt and build a lot of pieces.
"Because it was such a one-off project, it was a long process but gave us a lot of satisfaction," he says.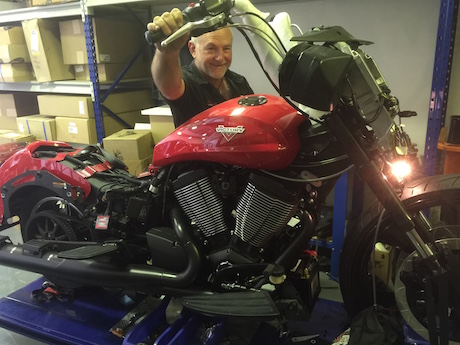 The bike has been lowered about 8cm and includes panniers that wrap around the custom exhausts, ceramic brake discs, custom floorboards, bar-end mirrors, custom fairing and a smaller sprocket to lower the gearing for improved acceleration.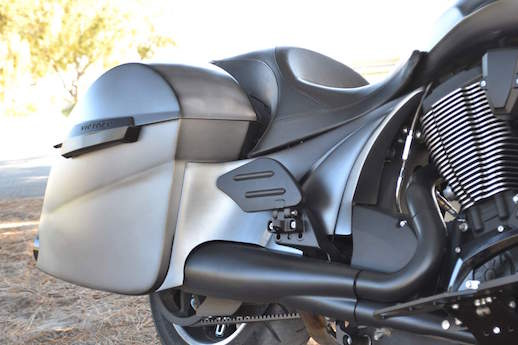 "It develops a little bit of a speed wobble at highway speeds because of the low profile tyre which is almost flat," Robertino says.
Nevertheless, it's Darius's daily ride.
"I ride it whenever I can," he says.
"I've ridden it to work and the first time it rained on me," says the tuck company contractor.
"This is an all-in-one bike that I can ride hard, can double up, tour and also show."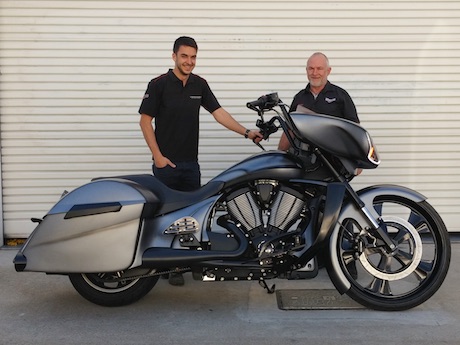 The bike has already won best cruiser at the T21 Charity Event annual ride at Old Petrie Town from 180 registered bikes.
Darius now plans to take it to more shows.
Other modifications he plans include front and rear air rides, a custom centre stand and "higher and more aggressive" custom ape hanger bars.
"I reckon I'm getting pretty close to finished. There are just a few more little things to do."
Accessories fitted to the Victory bagger
26″ billet wheel

Dual 16″ceramic full floating matching rotors (1st and only Victory to have this combination)

Custom Ridgeback fender

Smoothed out chin frame section

Powdercoated Victory Forged crash bars

Custom front fairing

Modified Ninja headlights w/bi xenon 6. 5k HID, dual white and amber halo rings, red demon eyes in projectors and white / Amber DRL / indicator plasma strips

10.5° rake kit with fork extensions

Lowered rear (soon to be air ride, front and rear)

Billet matching floor boards, speaker grilles, Derby and engine covers and cruise / radio control bezels

Cheese wedge covers off the Victory Judge

16″ ape hangers (soon to be 19″)

Custom steel braided lines

Modified levers

Bar end mirrors

Extended side covers

4″ molded bag extensions

Bag fillers

Tail lights and indicators painted

Matching painted touring trunk for long pillion rides

Smoothed and painted inner fairing

Colour is Lamborghini Grigio Estoque Metallic blended over a black base with a satin finish

Lloydz air box

Adjustable timing wheel

Ness Big Honkers pipes w/4″  tips

Cats removed

Aggressive cams with modified carriers to suit

Producing 125hp and 121 ft lbs torque at the wheel

PCV w/autotune module