Victory Cross Country Tour Review Summary
ntryVictory Cross Cou Tour Image Gallery
Here in the Northeast, it's just about the time that I add fuel stabilizer to the tank, run the bike for a few minutes, and call it a season.
The now-motionless bike in my garage is a Victory Cross Country Tour, and the season in question was my first on it.
Since the Cross Country Tour was new, not only to me but to everyone else, you might be interested in my impressions.
Here's how that season went, how the bike performed, what's particularly good about it, and what needs work.
A Short History of the Cross Country Tour
For the 2010 model year, Victory introduced a couple of fraternal twins, the Cross Roads and the Cross Country.
These "Cross" models – generally designated "XR" and "XC," respectively are traditional-looking V-twin baggers.
They have the same 106 cubic inch (1731 CC) air/oil-cooled, fuel-injected, SOHC, four valves per cylinder engine (whew!).
Victory uses this powerplant across-the-board now.
The XR and XC also share Victory's six-speed transmission, belt final drive, twin disks up front and single disk out back, ABS, and both have an 18″ front and a 16″ rear wheel (although the XR's are spoked and the XC's cast, with tubeless radials on the latter).
The XR has a fork-mounted windshield and minimalist instrumentation; soft saddlebags are now standard.
The XC, on the other hand, has a fork-mounted "bat-wing" type of fairing, more extensive readouts and sound system, and hard saddlebags; the XC also adds cruise control as standard these days.
You can read all the specs and pricing as you work your way through the Victory Motorcycles web site.
One of the options for the XC was a top case. (It doesn't seem to be offered for the XC for 2013, which is just as well – it added almost 10% to the price of the base bike).
For the 2012 model year, Victory started with the XC, did a little tweaking, added a bunch of options, and called their new creation the Cross Country Tour (or "XCT").
The major additions to the Cross Country that comprise the Cross Country Tour are:
Top case is standard.
Heated seats and grips.
Adjustable passenger mini-floorboards.
A taller windshield (more about that in a minute).
An HID low-beam for the headlight (and more on that, too, later on).
Tubular front crash bars (like the XR; the XC has flat-style bars).
Storage-pod lowers.
An air-management system, which includes adjustable fairing-mounted winglets and adjustable openings in the lowers.
In 2012, the Victory Cross Country Tour list price was $21,999 in black, $22,499 in red or white.
And my simplistic color names don't do the paint job justice, as we're talking a sort of metal-flake, even in black…
For 2013, the choices are now black ($21,999, as before), or blue and a kind of bronze (all upped $100 to $22,599).
Keep in mind, however, that Victory runs a lot of special promotions, e.g., if you take a demo ride, go to a show, get on their mailing list, etc.
Also, there's some bargaining room, or at least there was, back in January, 2012, when I actually signed the paperwork; at that time, there was a rebate program, and a discount for veterans, and a dealer incentive kickback, so I saved a lot of money.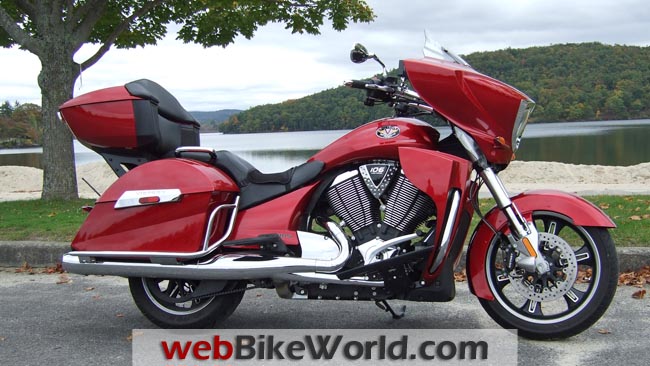 Putting the Cross Country Tour Through Its Paces
I picked up my XCT, fresh from the crate, in late March. During the season, I did about 2,000+ miles of super-slabs, including a 600-mile day and a couple of 400-mile days.
At the other extreme, I rode The Dragon at Deals Gap, forward and back, along with many of that area's great roads en route. Mostly, however, I did a lot of 200- to 300-mile day trips.
I live in the Albany, New York region, so my rides include the back roads of the Catskill, Adirondack, and Berkshire mountains or two-laners to Connecticut or Massachusetts to check out pizza and hot dog places for lunch and so forth.
Most of my riding was solo, but some was two-up with my wife, often for more than an hour at a time in between stops. Ambient temps ranged from 50 or so to the high 90s.
Some – not much, but some – of the riding was in mild rain, and some in pretty heavy rain. In short, I put the XCT through its paces. All told, I put about 8,400 miles on it in seven months.
So, how did it do?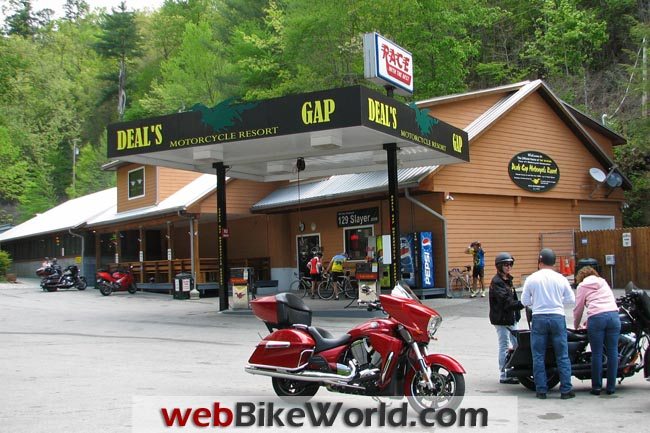 Ride Quality and Handling
The ride quality of the Victory Cross Country Tour is great.
It's stable in a straight line, but I don't know what the top end is, but I "cracked the ton" a few times (professional rider, closed course, etc.), easily and without any drama.
It's neutral in turns, and it has excellent ground clearance… yes, you can add the caveat "for a cruiser" or "for a tourer," but, after all, that's what we're talking about here.
The floorboards fold up 5 or 6 degrees (I put an angle gauge on them a while back).
After that, the next thing to touch down will be an exhaust shield (my experience) or some part of the bag guards (others' experiences).
The Cross Country Tour, by the way, uses a sensible (for handling) 180/60R16 rear tire (although Victory does offer some special phat-tired, hard-to-steer cruiser models, if that's what you're looking for).
No tracking of rain grooves, wobbling, or other handling anomalies.
There is minimal vibration (except when cracking it WFO, of course), even – and here's a novel concept – at idle.
The XCT employs an aluminum frame and inverted forks (more rigid and less unsprung mass than "conventional" forks, don'tcha know).
Further, it has real suspension: there's approximately 5″ of travel in both the front and rear.
The front suspension is non-adjustable, and seems well set up to me; the rear is a single air shock, adjustable via a Schrader valve under the right side-cover.
The size of the Cross Country Tour is in the same realm as most other full-dressed touring rigs. Victory lists its "dry weight" as 845 lbs.
I have no idea what it really weighs, when you add on such frippery as 5.8 gallons of high-test, five quarts of oil, and whatever else "dry weight" excludes (fork oil? battery?).
But both the seat and center of gravity are extremely low, so if you're used to big bikes at all you'll have no problem here.
The seat height is listed as 26.25″, and it's definitely low; not only can I flat-foot it at stops, but my knees are bent, as well.
(By the way, I believe that H-D lists measures height with some person of some weight actually sitting on the bike. So, cross-brand "seat height" comparisons may be as meaningful as, oh, weight comparisons).
What looks like a fuel tank actually is a fuel tank on the XCT.
While the fuel is up high, the bike is not top heavy; I guess the engine's weight and placement, and the frame geometry, renders that a non-issue.
Even the battery is nicely placed for handling and C of G; it's at the very bottom front of the bike, underneath the oil cooler (and you can get to it by removing four bolts, underneath the bike, that hold its covering panel in place).
If you're not familiar with bikes of this ilk, I won't give you any baloney like, "Once underway, it feels 500 lbs. lighter." It's still a big bike, and you won't be out-carving the nearest supermotard.
And you may want to practice hanging off for U-turns in some vacant parking lot (no, not hanging off the inside – the outside, you young crotch-rocket whipper-snappers).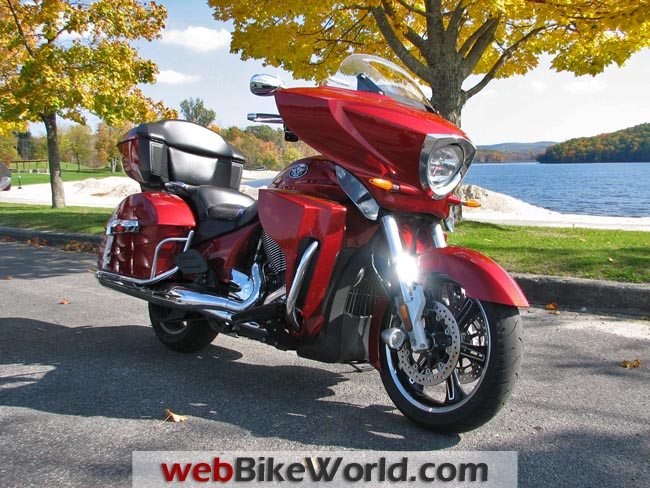 Getting the Power Down
The engine has plenty of power and torque.
Some folks feel that there's never enough motor, this side of a blown Boss Hoss, or maybe whatever that concoction was where someone put a Dodge Viper engine in a concept that sort of looked liked a bike.
Back on Earth, however, the basic 106 cubic inch engine is more than adequate.
There's never a problem getting underway from a standstill, even with a passenger.
You don't need to shift down to pass, but if you're in an absolute rush on two-lane blacktop, dropping down to fourth will take you past 100 in a hurry.
Sixth gear is used for loping along the Interstates.
I've been consistently getting low 40s for an MPG reading, whether on the highways or briskly riding back roads; I imagine you can get more than 50 MPG if you ride leisurely in 55MPH zones all day. Premium fuel is specified.
The transmission is not a "snicker," but it's not a "clunker," either.
Works fine, no noticeable drive-line slop, no missed shifts. The cable-operated clutch has a good engagement range.
As an extra added attraction, there's a trick neutral-assist function, akin to that of some Kawasakis of the last few years.
When you're below 5MPH – stopped, for instance – all you have to do is shift up from first, and there you are.
That is, instead of maybe going into neutral or maybe going into second, you're most definitely put in neutral.
There's no gingerly playing around with the clutch, or rolling the bike a few inches back and forth; you just shift up to neutral.
Once the light turns green, you shift down to first, get underway – at which point hopefully you're doing more than 5 MPH – and then just shift up to second, etc.
Stopping
The triple-disk brake system gets the job done. I'd like a little more initial bite from the front brakes, but they're linear and up to the task. The brake lever has a thumbwheel for reach adjustment.
The front tire is a braking-and-handling-sensible 130/70R18. The ABS is unobtrusive.
I don't believe I've gotten the front to kick in yet. If you're experimenting in this regard, it's much easier, and safer, too, just to stomp on the rear-brake peddle.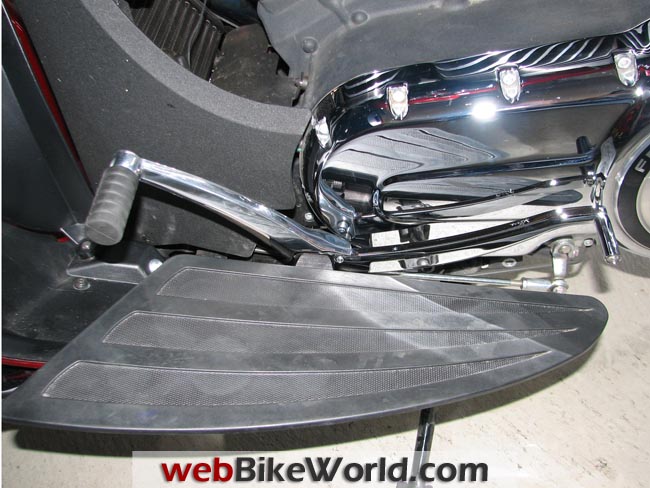 Ergonomics
To me, this is a highly significant part of the touring equation. The Victory Cross Country Tour seat is very comfy, fore and aft. Up front, nothing, um, gets squashed.
There's an upturn before the pillion area, which I think should be positioned just a tiny bit more rearward. By the way, I'm 5'9″, with a 30″ inseam. The reach to the handlebars is just about right.
On the one hand, I'm thinking of replacing them with some 2″ pullbacks.
On the other hand, I've used bar-backs/risers on every bike I've owned, so I seem to prefer a more straight-up riding position, or at least have significant bend in my arms in normal riding.
Incidentally, as a result of the dash configuration, you can't add risers – a bit of a shame – so you have to replace the handlebars if you want to bring them closer.
The floorboards are class-leading (long), according to Victory; they're certainly the longest I've ever seen. You can move your feet from about straight down to straight out, depending on your inseam.
Of course, you 6'4″ types may still want highway pegs added up front. But the point is, as sold, this is quite a relaxing environment.
The shift lever is three-position fore-and-aft adjustable, and its height can be adjusted via a threaded rod; you have to let it come up pretty far on the uptick, so I guess a little shorter throw would be nice.
Out back, my wife tells me that she's never had a better view, because the pillion portion is raised up (she considers this both a plus and a minus, as she sometimes doesn't want to see what I'm doing, in terms of what's ahead).
Anyway, the seat's also comfy for her, and the modest wrap-around curvature of the top case makes her feel sufficiently secure. The backrest is well padded and its angle is fine.
By contrast, we rode a Valkyrie Interstate for seven years, and although I kept the stock seat, I replaced the backrest on the top case, essentially just to change that angle.
And for my former 650 Burgman Exec, I had a backrest for the Givi top case custom made by a local upholsterer…
Last and most assuredly not least, the Cross Country Tour passenger gets mini floorboards, adjustable for height (three positions) and angle (through a modest arc).
We have availed ourselves of these adjustments, to the point where I know the torque value for the two-bolt adjustment.
Victory also offers a reasonably priced option for passenger grab handles. Well, you might be thinking that these should be stock, and I might agree with you.
On the other hand, these are really nice handles, and they're the most robust grab rails I've ever seen; with the proper straps and hoist, you could probably lift the back end of the bike off the ground with them – maybe even the whole bike.
Disclamer #1: The passenger grab rails you see on my bike are not stock!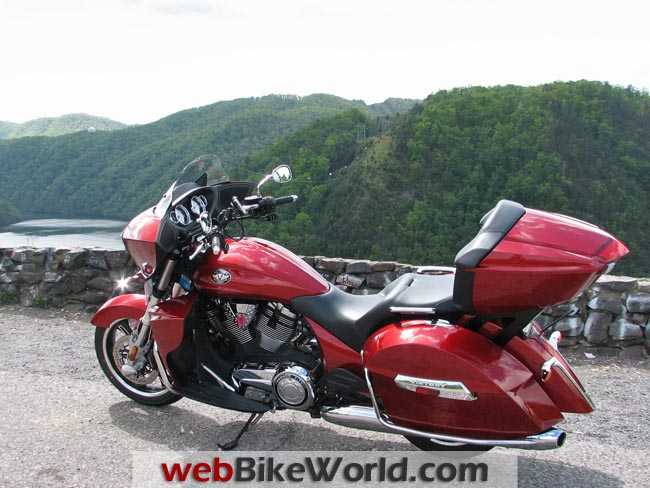 Air Management
Let's start with the windshield. Recall that the XCT one-ups the XC by adding a new, tall, windshield (along with some new brackets, to hold it in place). I did some demo rides on the XCT prior to buying it, and that windshield is too tall for me.
Pretty much everyone has to look through it, even if you shop at the Big and Tall stores.
Me, I already wear glasses, and then look through at least the shield on my modular helmet, and maybe its internal sun visor, too.
That's enough.
Regardless, I'm a look-over rider, not a look-through one. So the stock windshield was a non-starter.
Luckily, the XCT is shipped in a crate sans windshield. The dealer agreed to install a different windshield for me, for free, since he had to put one on, anyway.
(By "free" I mean there wasn't a charge for labor, just for the new windshield. I sold the stocker on eBay).
I bought the KlockWerks "Flare." Don't confuse this with the Victory-brand "Flip," both of which are sold through Victory dealers.
The Flip is just a "shorty" type of windshield, while the Flare is a little larger and adds a curved-up top edge.
The Flare works, in terms of moving any significant buffeting over my head, and my wife says that it's fine even way back there.
Disclamer #2: The pictures you see here do not depict a stock windshield!
Some people might actually like the stock windshield, especially if you're already a look-through person. I've ridden behind it at several demos, as well as some extended stints on a friend's Cross Country Tour.
It's clear, and it creates an extremely calm pocket of air. I find it too calm; almost stagnant.
However, if you don't wear a full-face helmet, or generally don't like a breeze, it may be your cup of tea, especially in cold weather.
And if you want to add some air to the mix, you can open the winglets (see below).
For those of you who haven't experienced electrically adjustable windshields, they're a very nice feature for touring.
Unfortunately, I've never seen that functionality on bikes with fork-mounted fairings, and the XCT is no exception: it doesn't have that capability.
You can, however, get a mount (with or without their windshield) from MadStad (see Victory Resources, below) that has a manual adjustment system; that mount has recently been redesigned and looks sleeker, as well as being a useful option in the windshield arena.
Next, regarding air management, there are winglets attached on either side of the fairing, just above the storage pods in the lowers.
They can be rotated from a blocking position – an adjunct to the fairing itself – around to an on-edge position, in terms of incoming air.
In conjunction with a scooped area between the pods and the tank, they do a great job of letting you control the airflow to the upper torso.
Last, the storage pods/hard lowers have their own air-control doors.
These are less intuitive: opening them all the way does not provide the most cooling relief to your legs on hot days. What happens is that if you do that, you'll mix too much engine heat with the incoming air.
Instead, given a lip at their inner rearward edge, you have to experiment with partial openings for maximum unadulterated fresh air.
This also depends on how you position your legs, i.e., forward or back on the floorboards, and toward the inside or outside of them.
Some Cross Country Tour owners just remove the entire pod/lower package in hot weather (seven bolts each, as I recall). Both the winglets and lower vents can be adjusted on the fly, so to speak.
However, it's a long reach to those lower vent handles, and you may have to take your eyes off the road while bending forward, so be careful. If I do that, I need a clear road and the cruise control on.
Given the wide fairing, wide and tall lowers, and the fairing winglets, rain protection is excellent, by the way.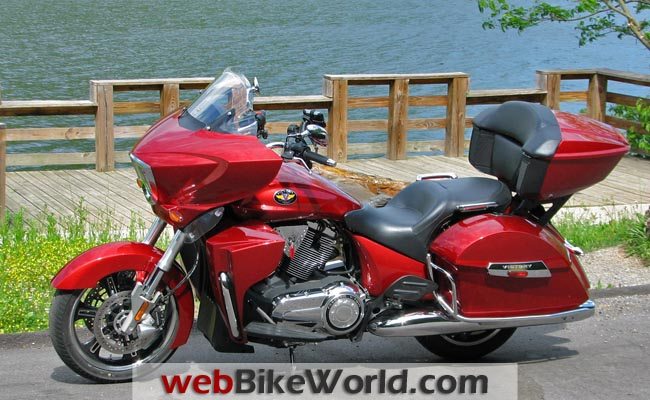 Storage
This is an area where the Cross Country Tour positively shines. The two saddlebags are huge – class-leading, according to Victory and I've seen my share of saddlebags, and don't dispute that. The top case easily holds two full-face helmets.
Total storage, including the pods in the lowers, is said to be 41.1 gallons (c. 156 liters for the rest of the world; put another way, about 22% more than an Electra Glide).
Per Victory: "The Cross Country Tour has the most storage space of any motorcycle in the world."
The saddlebag lids swing outward on a hinge, with the locks next to and below the passenger's portion of the seat.
The top case is hinged by the passenger backrest on it; yeah, Harley's TourPak side hinge is probably a better idea – you can't have everything.
The pods just snap close. If you want to spring for them, Victory sells pod locks.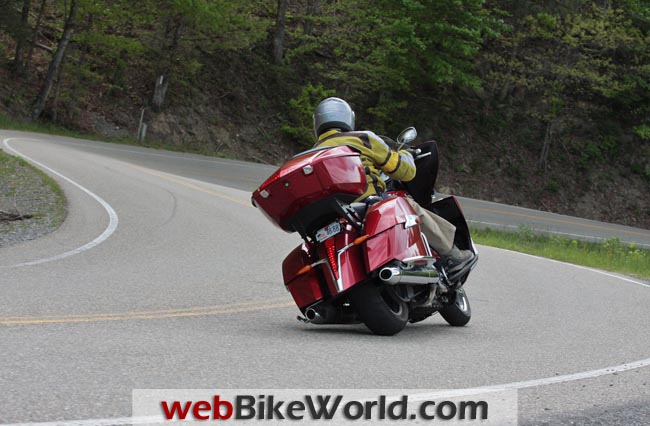 Other Amenities
The Victory Cross Country Tour cruise control is excellent.
If you're holding the throttle steady and you press and release the cruise control "Set" button, and loosen your grip, there is absolutely no change in speed, no hiccup, nothing.
And it holds the speed nicely, even in sixth gear on steep grades.
The controls for the cruise are accessible via the right thumb, on a small plate by the throttle grip.
The heated grips have a low/off/high rocker switch on the dash, and do a fine job.
After a stop in a recent ride, I switched from cool-weather gloves to lighter gloves, and left the grips on low; after a few minutes – the temperature had gone up to 60-something by then – the heat was definitely too much, and I turned off the grips.
The heated seats have low/off/high toggle switches – one for the front and one for the back – located in a nook-and-cranny area just aft of the rider's portion of the stepped seat, on the left side.
I tend to ride in cold weather with over-pants (FirstGear HT version), and add their liner if it's really cold, so this doesn't matter that much to me.
We were doing a day-long leaf-peeping ride recently, and at our first stop I reminded my wife, who was in jeans, about the switches; at the second stop, she remarked how well the system worked, and how welcome it was.
The XCT has a built-in radio, with four speakers: two in the fairing and two in the top case (on the outside of the passenger backrest area). There's also an iPod (or, I suppose, iPhone) connector in the left pod.
There are functions for AM, FM, Aux, the iPod, and a CB, if you add one. The switchgear for all of this is inboard of the left grip, on a little mounting plate.
But, forgive me (or not), I admit it: I can't tell you beans about how good any of this is, or how well it works. Simply, I don't do tunes while riding.
There are three cigarette-lighter style outlets on the Cross Country Tour: one in the fairing, one in the top case and a third resides inside the left pod (corrected from two in the original posting).
Both are covered by rubber flaps, and both are "hot" with the engine on or off.
Victory sells Powerlet outlets, or you can add them yourself; there are two areas that seem intended for them, both on the left side: one under the tank, near the seat, and one way down low, in the front, by the battery.
Lighting
The high beam on the Victory Cross Country Tour is a halogen bulb, and the low beam was an HID light. For 2013, Victory deleted the HID in favor of a halogen low beam, too.
All of the other lights are LEDs, and they are all very bright: the amber front and rear turn signals (with a four-way flasher switch by the left grip); the white license-plate light; and the red rear running/brake lights.
Regarding those last two, one is about 13″ tall, and "Frenched" into the rear fender, and the other is integrated into the top case lid, and is about 13″ wide. Nice job, all around.
I'd prefer, if I were to nit pick, that the turn signals were also running lights, and that the top case light was split in two, so that it could also function as a duplicate, high-eye-level, turn signal.
Disclaimer #3: Those lights you see down by the front brake calipers are not stock, and are not sold by Victory; they are Motolights (whose halogen bulbs I've replaced with 5-watt LEDs, if you must know).
Last, the dash gauges – speedo, tach, gas, and volts – are very readable in daylight. At night, they retain this readability with nice blue backlighting.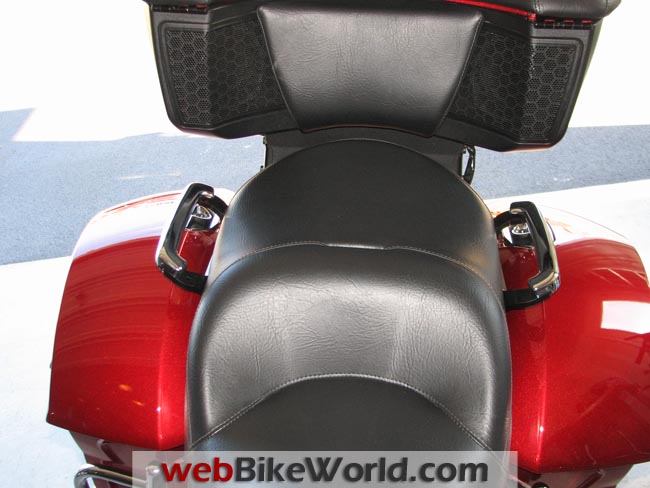 Maintenance
The Victory Cross Country Tour has an air-cooled engine, so there's no coolant to change. It has hydraulic valve adjusters, so there are no valves to adjust.
And you don't have to worry about final-drive gear oil, nor is there a chain to adjust or lubricate.
It has one engine oil drain plug, and one place to put in a fresh supply of oil. There is no bodywork to remove to get at the oil filter.
OK, so the final-drive belt is supposed to be replaced every 30,000 miles. And the air filter is under the fuel tank.
And, of course, you'll have to change the two spark plugs once in a while, flush and refill the brake system, and replace the fuel filter. But that's it.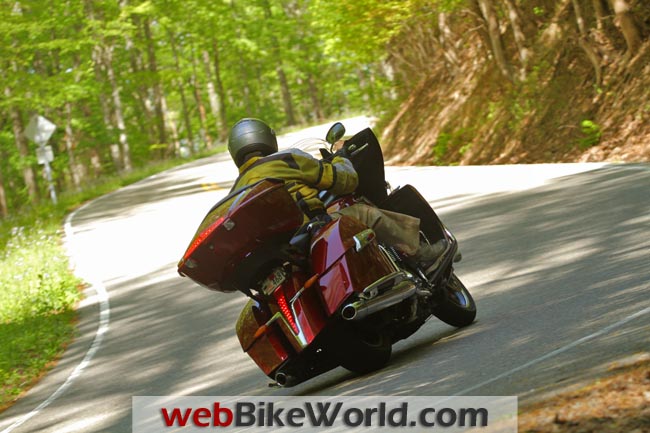 What Victory Needs to Improve
What you might have picked up on by now is that Victory sometimes backslides, and sometimes needs to be reminded to keep it classy.
There are some nice touches on the Cross Country Tour; the fenders are steel, and you certainly don't need to add a fender extender or mud flap to the front (or rear, for that matter).
The gas tank is smooth and without a flange along the bottom. The seat flows into the tank.
The saddlebag crash bars are standard, as are the ones up front (which the pods/lowers attach to).
But…What's up with dropping the HID low beam? You have a unique feature, and you ditch it?
I noticed in one of the magazines that the H-D CVO Road Glide gets LED headlights this year. Maybe Victory is getting ready to join suit?
And what's up with a cable-operated clutch? My 2000 Valkyrie had a hydraulic clutch, for cryin' out loud, and it was hardly the top-of-the-line for Honda.
I carry a replacement cable, which can easily get lost in one of the cavernous saddlebags, but still…
In typical bike fashion, the Cross Country Tour horn is of the Road Runner "meep, meep" variety. I replaced mine with a relay-triggered Stebel Nautilus air horn (review), inside the fairing.
The switches for the heated seats ought to be rocker switches, not toggle switches. While they're tucked out of the way, it's possible to bump them, and you certainly can't tell at a glance what position they're in.
And you can't tell from the photos, but those fork guards are plastic. About $30 apiece, and many owners have broken them. (You can buy metal fork guards from KewlMetal – see Victory Resources – for $143).
There are a few other plastic parts that really should be metal, too, such as what's known as the "cheese wedge," which is that part that says "106" on it, between the cylinders on the right side.
The saddlebag lids are a source of forum complaints, and rightfully so. If I didn't wear hearing aids off the bike and custom-molded ear plugs on it, along with a modular helmet, their rattling would bother me, too.
And while they have sufficient sealing and overhang to prevent any problem with rain, they let dust in quite easily.
There is no adjustment capability in either the hinge or latching mechanism.
The bottom line is that Victory needs to refine its tolerances in this area, or provide adjustment capability, or both.
Along those lines, the locking mechanism on the top case lid is a little weird. It's a separate mechanism, i.e., not part of the snap closers. This is nice in that you don't need to lock the top case (or the saddlebag lids) in order to close them.
However, the top case lid lock allows a good deal of travel, if some miscreant unsnaps the lid – very inviting for something used to pry it open.
The dash has a gear indicator, but the clutch must be engaged for it to work.
To find out if you're in, say, first or second, you have to let out the clutch.
My buddy's R 1200 RT has no problem indicating the gear with the clutch disengaged, and I've read that when the XC first came out, its gear indicator worked that way, too.
This maxim comes to mind: if you're going to do something, do it right or don't do it at all.
The gas gauge of the Cross Country Tour drops to the bottom about the same time the "Low Fuel" warning comes on, which is about when you have 50 or 60 miles left in the tank.
The warning is fine, but the fuel gauge pointer should be recalibrated such that it should then point to the top of the red-outlined warning area, not at its bottom.
Last, the engine puts out a lot of heat, and that's especially noticeable when you're not moving on a really hot day (say, 90 and up).
I don't know whether Victory has any wiggle room left with this engine, in terms of EPA approval; if they do, they should use it to make the engine less lean… and as I understand the matter, therefore generally less hot.
That R 1200 RT I mentioned runs about 20 degrees cooler in the cylinder-fin area than the Cross Country Tour – I've checked periodically, with a non-contact thermometer.
Yes, the Beemer has a smaller engine, but it's also very powerful, too. Now, for you folks who are used to air-cooled twins, this may not be an issue.
Forum posts indicate that H-Ds get even hotter, and Victory has not felt the need to shut down the rear cylinder, by using something akin to Harley's "parade mode" on certain bikes.
I ride Harleys every year at Americade (in large measure because they're the only vendor who lets you go out on your own – on a prescribed route – on everything but V-Rods).
Americade weather is usually not hot enough for a good test of heat output, but every once in a while it is.
I rode a Buell Ulysses a few years back on a very hot day, and at the first stop was wondering whether I should've been wearing a Nomex suit, especially on my right leg (although the ride itself was a joy).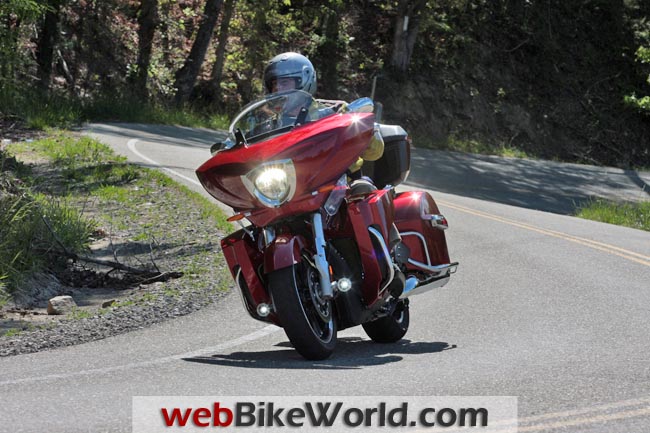 The Bottom Line
Let's say my wife and I are going on a two- or three-week trip, which will include plenty of scenic by-ways, some Interstate traveling, and a dash of everything else found in on-road riding.
If I were to have my pick of any bike, I'd choose the Victory Cross Country Tour. You're probably asking yourselves, "What the heck is he smoking?"
No, really, I'm serious. Let's review: Fine handling, suspension, and ground clearance. Very good power, shifting, and ABS braking.
Very good weather protection, and air-management adjustability. Excellent ergonomics – seats (front and back), feet options (front and back), etc.
Excellent amenities – heated grips and seats, cruise control, etc. Superb storage capacity.
You want to relax and stretch out? Check. The Gold Wing, Harleys, et al., don't have those expansive floorboards.
My wife thinks the 'Wing has the best passenger accommodations going, but admits that the back seat of the Cross Country Tour is actually pretty good, including the back support.
And then there's the adjustable mini boards back there.
Comfort is covered, front and back. And I've ridden on Road Glides, Road Kings (even rented one), Electra Glides, etc., and I feel cramped on them. Yeah, I know, the aftermarket has plenty of seats.
And longer floorboards? And Harley's web site doesn't even bother to list the suspension travel. And I don't like how they shake at idle, either…
You want to pack multiple pairs of jeans and a hair dryer? The Cross Country Tour has it covered. You want a bike with as little as possible that can go wrong? Tubeless tires, too?
Check that off, as well. Not too shabby, huh?
A nice touring addition would be an electrically adjustable windshield (see my buddy's RT, or my former Burgman Exec, or a current Connie, or…), but even a Gold Wing doesn't have that, and it doesn't have a fork-mounted fairing like the Cross Country Tour.
So that's not a unique flaw, and at least you can add a manually adjustable one.
Now, I probably have a different definition of a "tourer" than most of you, anyway.
I'd insist that a tourer have a feet-forward riding position, or at least straight down. If you think that's a strange requirement, how do account for all the highway peg sales in the world?
And if you're going to stretch out that way, you might as well have the controls up there, too. Yes, that almost excludes the 'Wing.
Hey, I rode a feet-straight-down Valkyrie for seven years; while that's comfortable, any one position gets old after an hour or two, in my opinion. I'd exclude the 'Wing on the basis of trying to get at its oil filter, too.
And it does exclude every Beemer.
I'd leave out BMW, anyway; their K 1600 GTL (report) has a back seat that covers half of the passenger grab rails (design by committee? multiple committees?) and that top case backrest is simply inadequate (as are the top case backrests on a lot of other tourers).
The one caveat I would add is that if that three-week tour's destination is, say, New Orleans in August, I would opt for something water-cooled…maybe the Vulcan 1700 Voyager.
I rode the Vaquero (essentially the same thing, sans topcase) at Americade last June, and it was a similar experience to riding the XCT or an XC… but just a bit less so, in whatever feature you're talking about.
On the other hand, one of the "less" categories was definitely engine heat. Sure, the Cross Country Tour is not perfect; no bike is.
Having said that, it has what you need, and most of what you want, to go for a long ride, and do it in style and comfort and ease. Just fire it up, and roll. So I'm sticking with my choice.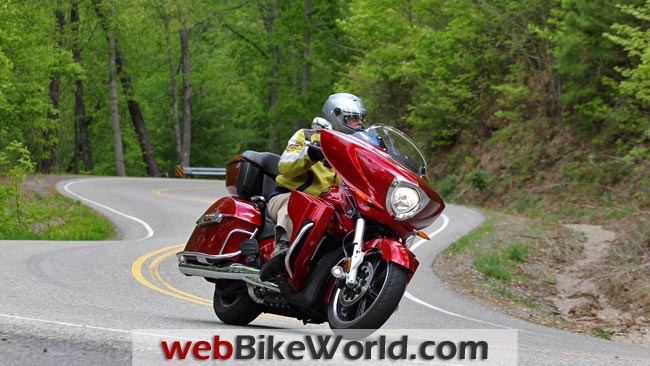 Victory Resources
Victory, the "other" American motorcycle company, seems to be doing well.
At any rate, it has done well enough that a cottage industry of Victory-exclusive or at least Victory-oriented aftermarket suppliers has sprung up. Here are the ones I'm aware of.
Victory-Oriented Aftermarket Companies
Lloyd'z Motor Workz  |  KewlMetal  |  CycleOps USA  |  WitchDoctors  |  Heavy Metal Designz  | Rick Fairless' Strokers Dallas
Aftermarket Windshields for the Victory Cross Country Tour
MadStad Engineering   |  Gustafsson Plastics  |  Clearview Shields  |  Cee Bailey's Aircraft Plastics  |  7Jurock Plastics
Victory Internet Forums
VictoryForums  |  TheVOG.Net
Note:
 For informational use only. All material and photographs are Copyright © webWorld International, LLC since 2000. All rights reserved. See the webBikeWorld® 
Site Info page
. Product specifications, features and details may change or differ from our descriptions. Always check before purchasing. Read the
Terms and Conditions
!
Owner Comments and Feedback
---
From "C.N." (March 2014): "I felt compelled to drop you a line and thank you for such a well thought out and comprehensive review of your Victory Cross Country. Hands down the best one I've read, and the most extensive (not to mention open and honest).
I nearly bought a XC myself last year, but financially I decided it was best to wait until this year.
The new changes to the HD's have caught my eye though ("Project Rushmore"), and after riding my father's 2013 Ultra Classic I put HDs back on the table.
Having said that, I've never ridden a Victory as the only local dealer doesn't seem terribly interested in offering one.
Your review has definitely reminded me of why I was interested in the XC in the first place — they just seem to be better thought out. I've been a sportbike rider since my late teens (I survived!), so this is my first foray into the cruiser/touring world.
I still have my sportbike (a mint Suzuki GSXR1K5, best sportbike ever made if you ask me), but it simply is not up to the task of the longer rides my girlfriend and I are interested in. A proper trip on a sportbike can be pretty torturous.
Going back to the XC, one of the things that still gets my goat is the cheap looking trim (e.g. the "chrome" surrounding the headlight).  It just looks flimsier than it should.
Compare that to a new HD's proper fit and finish, and some of the Victory's cockpit/fairing bits just looks like they should have a "MADE IN CHINA" label half-stuck to the bottom.
The cruise control buttons and whatnot I'm not terribly thrilled with either. If I had one other complaint about the XC, it's the ignition position/key setup. The HD just seems much sturdier and well made.
Anyhow, if you've read my blurb up until this point, thanks again for your write up. I thoroughly enjoyed it.
Any feedback, suggestions, or warnings as I continue my research and pondering is welcome and appreciated. Thanks again and take care."
Bill's Reply: Having ridden the Tour for another year now after writing the review, I still think it's a terrific bike.
I completely agree with you regarding H-D, though: they have better paint, more attention to detail, and seem to put more thought into overall integration.
Victory falls short in these aspects, and I agree that items such as the cruise-control and radio buttons look kind of just tacked on.
That said, I think the Victory is still a much better long-distance mount, with its better handling and clearance, better suspension, smoother (at idle, anyway) and more powerful (stock) engine, larger storage capacity, and roomier ergos.
I have an H-D dealer about two miles from me, which I often visit, and I continue to test-ride all the Harleys at Americade (less than an hour away) each summer.
And I have a Victory dealer 14 miles away, where I go every time the factory demo fleet is in town, so I keep up with developments.
Since the perfect bike still awaits both of us, it's a matter of deciding on priorities while we're waiting.
Also: See this thread on the Victory forum. The poster wanted responses from current Victory owners who had switched from H-D, asking why they switched, and got a couple dozen cogent answers.
Since I've only ridden and rented — but never actually owned — a Harley, they provide insight that I can't.
---
From "S.O." (August 2013): "Great article Bill. I too drive a '12 XCT, red, just like yours. Love it. 15K in 1.5 seasons and it's been great. Just today in the ship for the first "repair" for my ABS light coming on.
One thing I don't have is the passenger grab rails. Vic wants $300. You mentioned yours were not Ma Vic's. Where'd you get them and how much dinero??
Bill's Reply: I see now that — if you can imagine this! — I wrote a statement that was unclear. I wrote: The passenger grab rails you see on my bike are not stock!
What I meant by that was that the grab rails are not part of what you get when you buy a Victory "Cross" bike.
That is, I didn't want readers to think that if you buy an XCT, what you see (in the wBW pictures) is what you get (with regard to the grab handles or the windshield).
On the other hand, the grab rails are made by Victory — you just have to pay for them. Maybe I should have said, the way they do in car commercials, "optional equipment shown."
As I stand by my description of the grab rails — they're extremely robust and well-made — I think they're worth the money.
In addition for use by an actual passenger, you can use them to grab onto if you ever need to "back-walk-up" a dropped bike and also for luggage tie-down points.
I have not read about any aftermarket supplier for grab rails for the Victory "Cross" bikes, so I think it's Victory or nothing. Sorry about the confusion.
---
From "J.T.M." (January 2013): "Nice bike, but: (1) It's $22,600! These toys are getting a bit pricey. You can get a pretty nice 2013 Honda Accord Coupe for that much. Or, a real Harley-Davidson.
(2) I'll never appreciate the looks of the Victory. The "Nessie" style just looks dated, to me. Not classic, dated."
Bill's Reply: "If you start with a similar H-D dresser — fork-mounted fairing, hard saddlebags, and a top case — you're looking at the $19,699 Electra Glide Classic.
Add (single-color, non-black) paint, ABS (available only as part of the security package), cruise-control, and freight, to make the bikes more or less equivalent, you're now up to $22,139.
You'll have better security on the Classic, but you still won't have the Victory's suspension travel, cornering clearance, long floorboards, and storage volume.
And you're more likely to get a greater discount at a Victory dealer, so we're probably talking less money for the Tour.
I don't know what makes a Harley any more "real" than a Victory, but they're certainly in the same price range.
I agree that "these toys are getting a bit pricey."
Not much you can do about that if you want a full-dressed touring rig. If you want to buy an Accord instead, that's certainly an option, but it's not nearly as much fun."
---
From "J.K." (November 2012): "I am on my second Victory Cross Country. I had an early 2010. I now have a 2012 Tour. I have a few quick comments.
I have not had my saddlebag lids rattle on either bike. There is a small amount of adjustment that is available on each lid (not sure if it will help or not).
I have ridden in very warm weather as well as quite cool weather. There seems to be some variance with peoples experience with heat.
I have ridden in the south during the summer and 100 degree days have not had any significant heat issues (100 degrees just standing is quite warm).
It seems that there may be some variation in some of the bikes that causes this issue for some people.
The HID lighting can easily be remedied for about $50 from Victory HID (it includes both the high and low beam — it makes daylight out of the night).
I had added to the 2010 and replaced the HID bulb in the 2012 with one of their bulbs as well.
Lastly, there are actually 3 power outlets. The two mentioned in the article, but also one next to the iPod connector in the left pod."