A futuristic dream for an iconic retro product has become a reality, albeit a very limited one.
Piaggio unveiled a futuristic Vespa concept at last year's Milan motorcycle show and, after a strong showing of support, the company has decided to produce the Vespa 946 in limited numbers later this year.
There has been no specific allocation for Australia, but 946 models will only be made on commission with orders closing at the end of June, after which the production line will be closed down, making the 946 an instant collector's item.
The one-off production of the 946 celebrates the abbreviated first year of Vespa production in 1946 when production began out of purely practical reasons – the streets were scarred by bombs and people needed motorised two-wheelers to avoid the potholes.
However, the 946 is anything but nostalgic with a modern, chic look, thanks mainly to the floating, hinged aluminium seat which has thankfully survived from concept to production and may be the hint of models to come.
While the scooter will be made with other engines overseas, Australia will get the 150cc and will be available next March at $11,990 plus on roads ($12,990 ride away).
That's a lot more than the top-of-the-line Vespa GTV Vie Della Moda at $9490 which has twice the engine capacity.
However, Vespa Australia sales manager Gavan Moody says the 946 is a totally new ground-up design with modern technology.
"The interest in this model is unprecedented with numerous dealers already holding deposits," he says.
At the core of the 946, is the Vespa single steel component providing rigid support for engine and transmission and delivering capable handling characteristics typical of GTS and GTV models.
However, the 946 gets loads of lightweight alloy in the panel, trim and fitting.
For the first time on a Vespa, the rear shock absorber is horizontally mounted inside the body like the Harley-Davidson Softail to hide it and better preserve the clean rear lines.
The front retains the original single-sided swingarm, while the front fender is made of aluminium.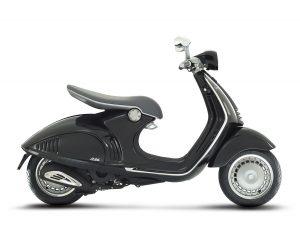 It rides on 12-inch split-rim wheels with high-profile, thick tyres to soak up some of irregularities in the urban terrain.
Like other Vespa GT models, it is bound to be agile, if a little twitchy over bumps, yet stable on smooth highways.
It's powered by a new single-cylinder 150cc 4 stroke, three-valve, air-cooled engine with electronic fuel injection.
Piaggio claims it will be even quieter thanks to the use of roller bearings which will also reduce internal friction and improve reliability. Service intervals have been pushed out to 10,000km.
Bringing the Vespa to a halt are discs front and rear with ABS standard.
In another first for Piaggio, this scooter also features their ASR traction control developed by World Superbike champions, Aprilia.
As a learner-approved scooter, the inclusion of safety features such as ABS and traction control should be welcomed by young riders.
While BMW was the first motorcycle manufacturer to have LED headlights, this scooter will be the first to have full LEDs which draw less power, have a whiter light, longer life and better coverage.
The 946 will come in either black, white and one more colour yet to be announced.
That's not the only detail yet to be confirmed. Piaggio hasn't even announced the dimensions, seat height, wheelbase or fuel tank capacity, but we suspect it will be similar to the 300cc Vespas with a 9.2-litre tank.
With scooters enjoying a fashionable resurgence thanks to a major part in last year's London Olympic closing ceremony, now might be the time to take a Mod plunge.
Vespa 946
Price: $11,990 ($12,990 ride away)
Engine: 150cc, SOHC, three-valve, fuel-injected single
Power: 9.5kW @ 7750rpm
Torque: 12.8Nm @ 6250rpm
Transmission: CVT  auto
Suspension: single-sided swingarm with monoshock (front), preload-adjustable gas shock (rear)
Wheels: alloy split-rim 12-inch
Brakes: 200mm discs
Warranty two-year, unlimited km