Vemar Ghibli Hands Review Summary
Review Summary
The Ghibli wears as well as you'd expect a sub-$150 helmet to be, but it makes several concessions with respect to build quality and usability that make it difficult to recommend. It's comfortable enough to wear, but awkward vent switches and tacked-on plastic trim detract from what is otherwise a boring-but-basic helmet.
Pros
Pretty lightweight @ 3lbs
good looking
micro-ratchet strap
Cons
Awkward front vent switch placement
visor only has three positions
plastic trim around the rear of helmet is likely to break if you look at it wrong
emar Ghibli Hands Image Gallery
The Ghibli is the second Vemar helmet I've reviewed. The first, the Sharki modular, is a pretty good value modular for the money. The Ghibli is an inexpensive full-face helmet, with an MSRP of $139. That is a very appealing price, especially for new riders that are still getting their bearings. Upon arrival, the first question I asked was "is it as good of a value helmet as the Sharki? "
To test the Ghibli, my wife Melissa wore it throughout the Summer, giving us a pretty good perspective on what the Ghibli is all about.
Features
DOT & ECE 22.05 certified
Scratch-resistant visor
Removable & washable interior liner
Intercom-ready
Pinlock- ready
Micro-ratchet strap
Colorways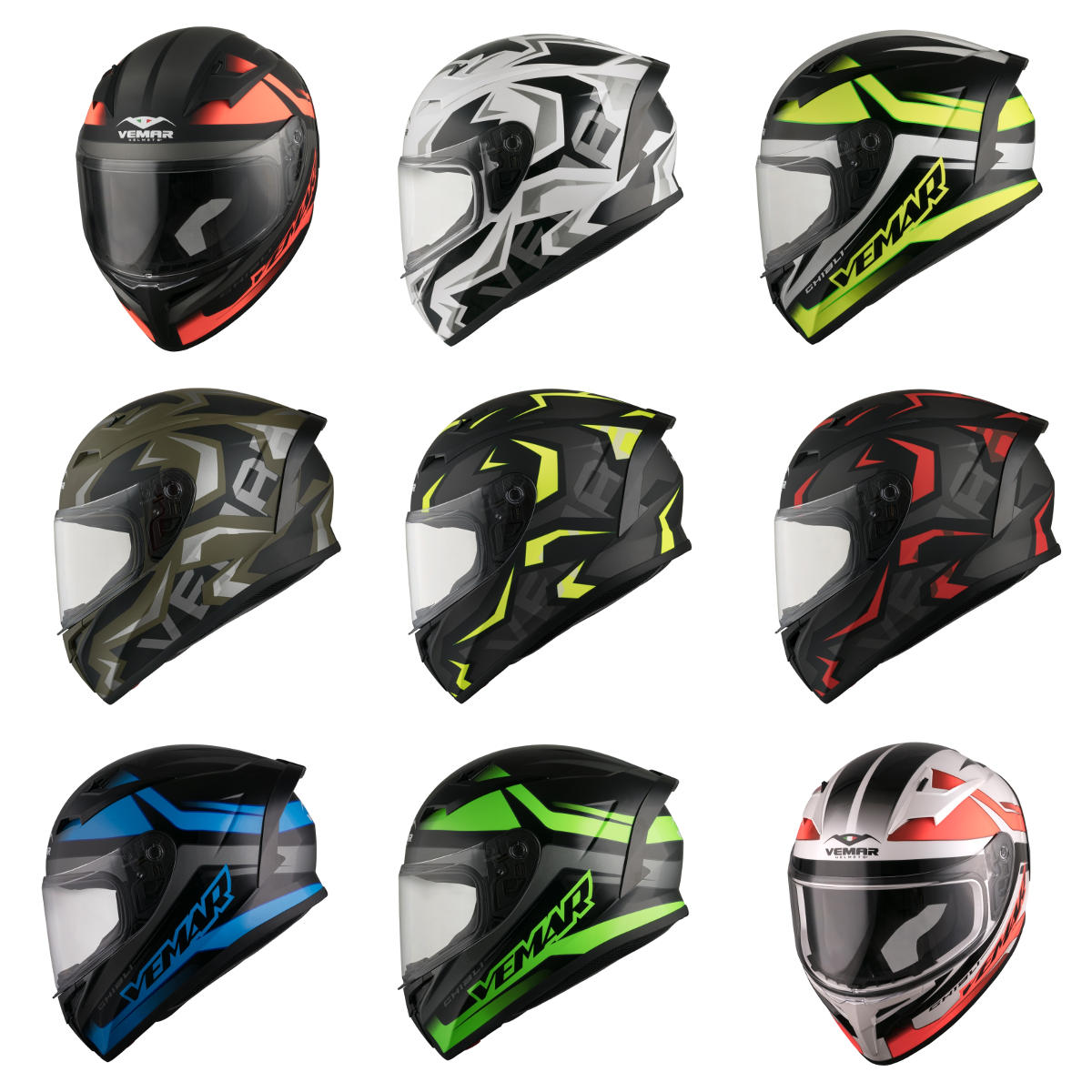 You can get the Ghibli in numerous colors, broken down into two designations: base, and warrior. The base colorways feature simpler graphics and have "VEMAR" boldly printed on each side. The warrior colorways look more, ehh, tactical by comparison.
The Ghibli I have here is the #G020 yellow base colorway.
Comfort, Fit, & Functions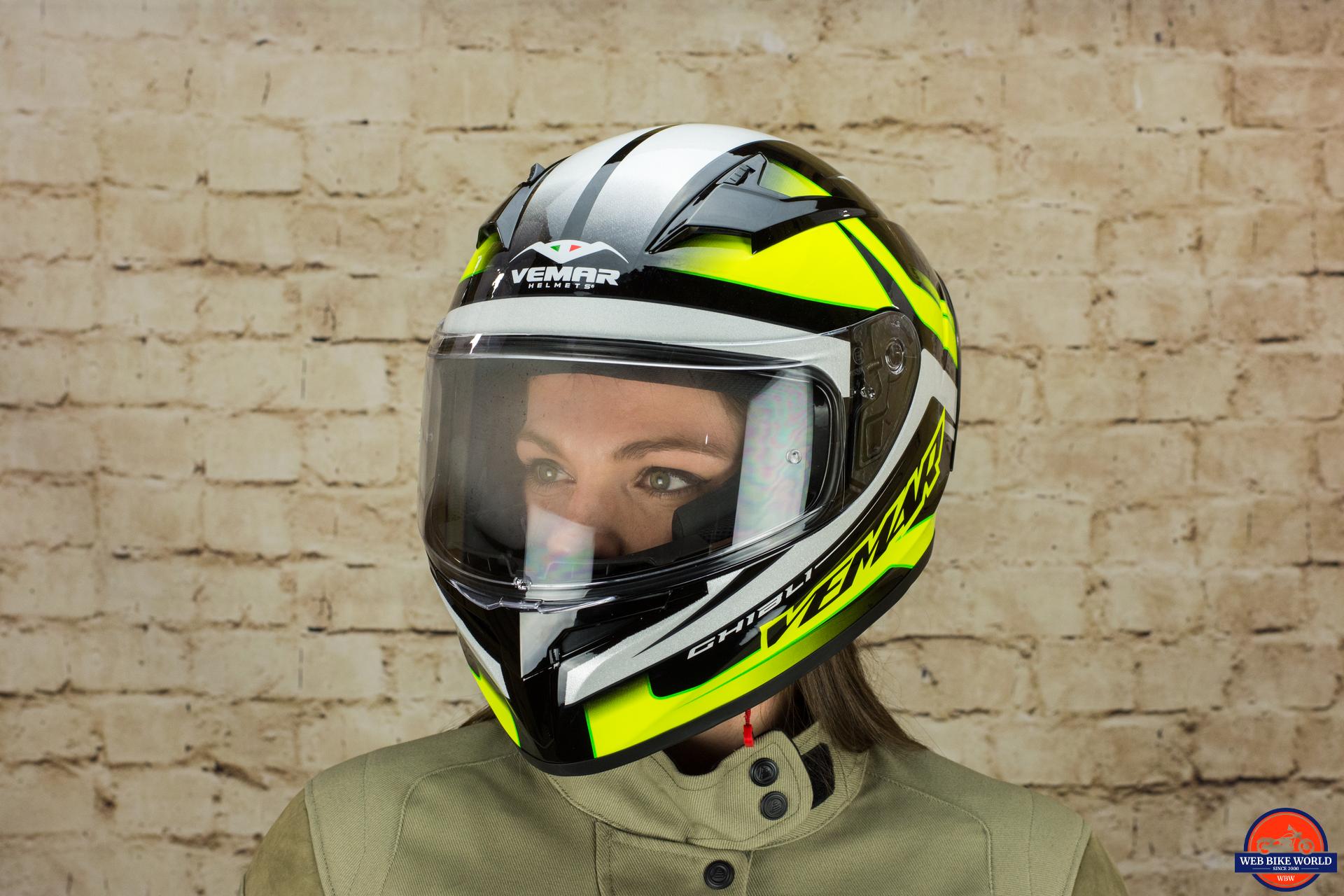 Fit & Comfort
The Ghibli is a tight fit in the size medium (as shown here). There isn't a lot of play, with noticeable snug points right on the crown of the head. According to Melissa, it isn't uncomfortable, but it's not as comfortable as other helmets she's worn (such as the Bell RS-2).
The Ghibli comes in a single shell, so I imagine that larger sizes may also wear smaller than the chart would imply. I recommend a try-on.
One thing the Ghibli has going for it is its weight, which I measured at 3lbs flat and other reviews have pegged between 3 and 3.25lbs. Since I'm using a digital scale it's important to note that it may not be objectively accurate. AKA: I measured 3lbs, but don't hold me to that.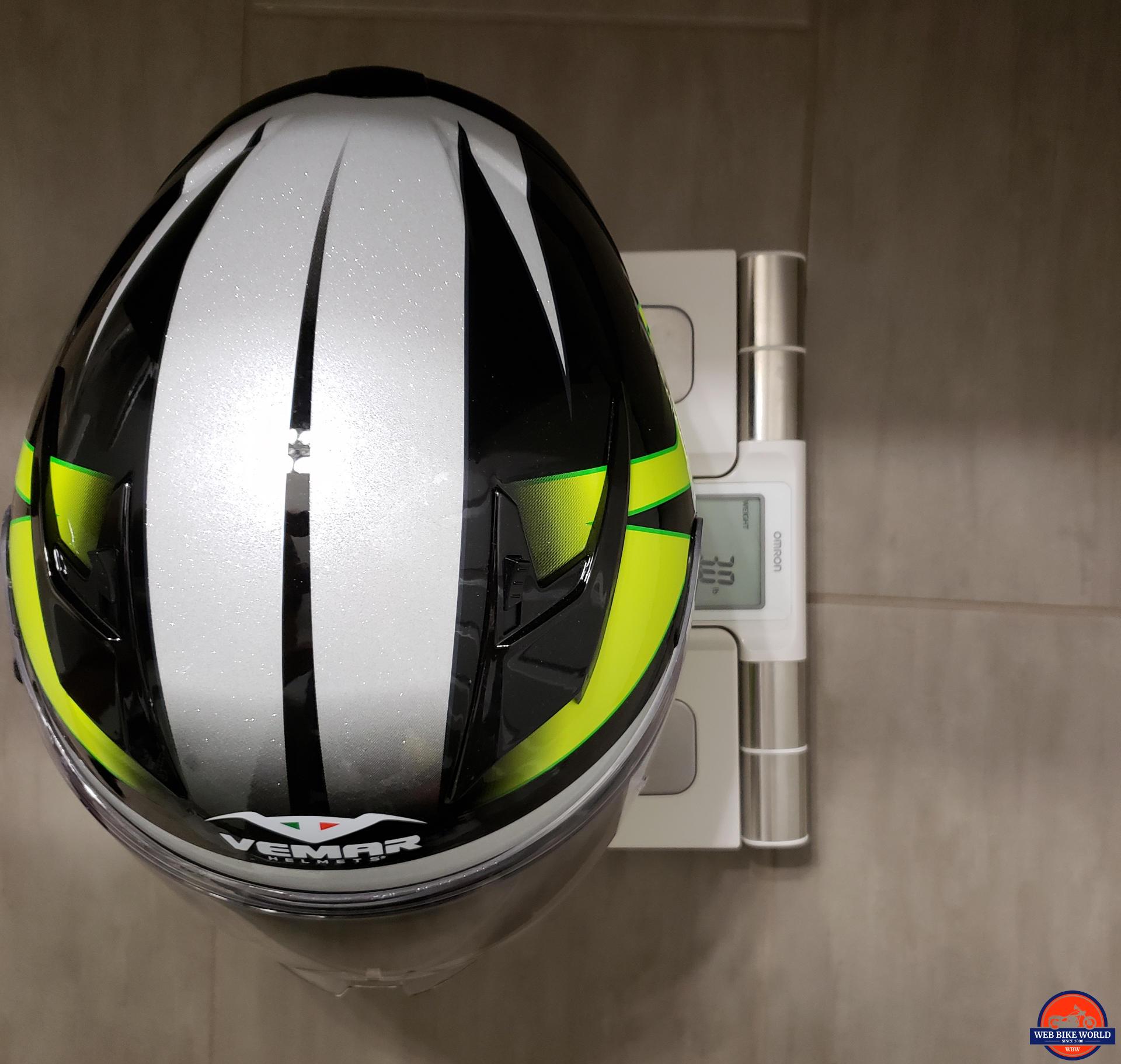 Measurement ambiguity aside, the lightish Ghibli is comfortable to wear for long stretches. This is due to the weight, yes, but also to its aerodynamic shape that slices through the air.
One drawback: there's no integrated sun visor, making sunglasses your best option (unless you've got a tinted visor handy) for daytime riding. This makes an already-tight fit just that much tighter.
Visor 

& Visibility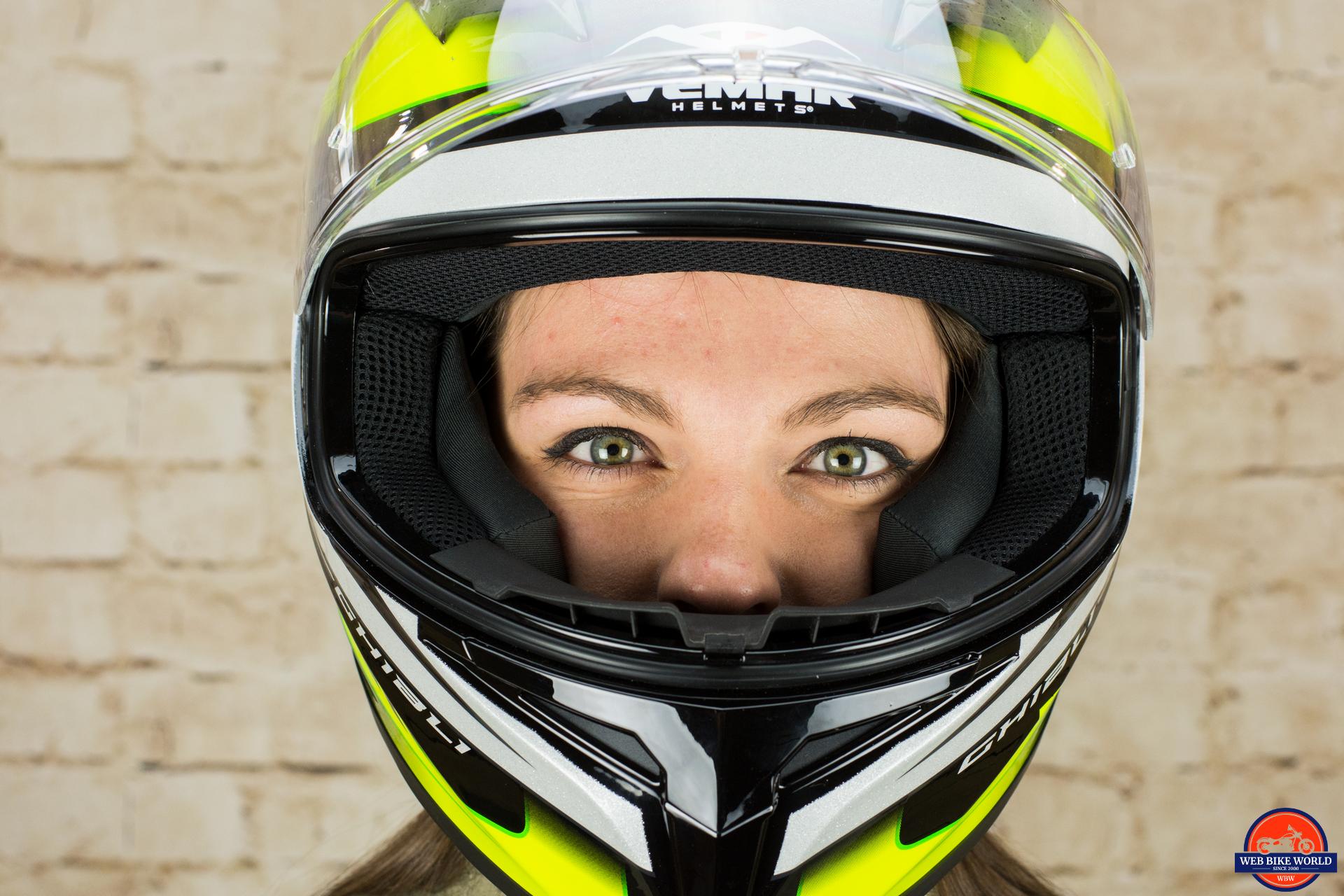 The Ghibli has a wide but relatively narrow viewport. Visibility isn't an issue as you can clearly see a large field of view, but it's not as expansive as many modern full faces. You'll see an outline of the interior in your vision, if only just.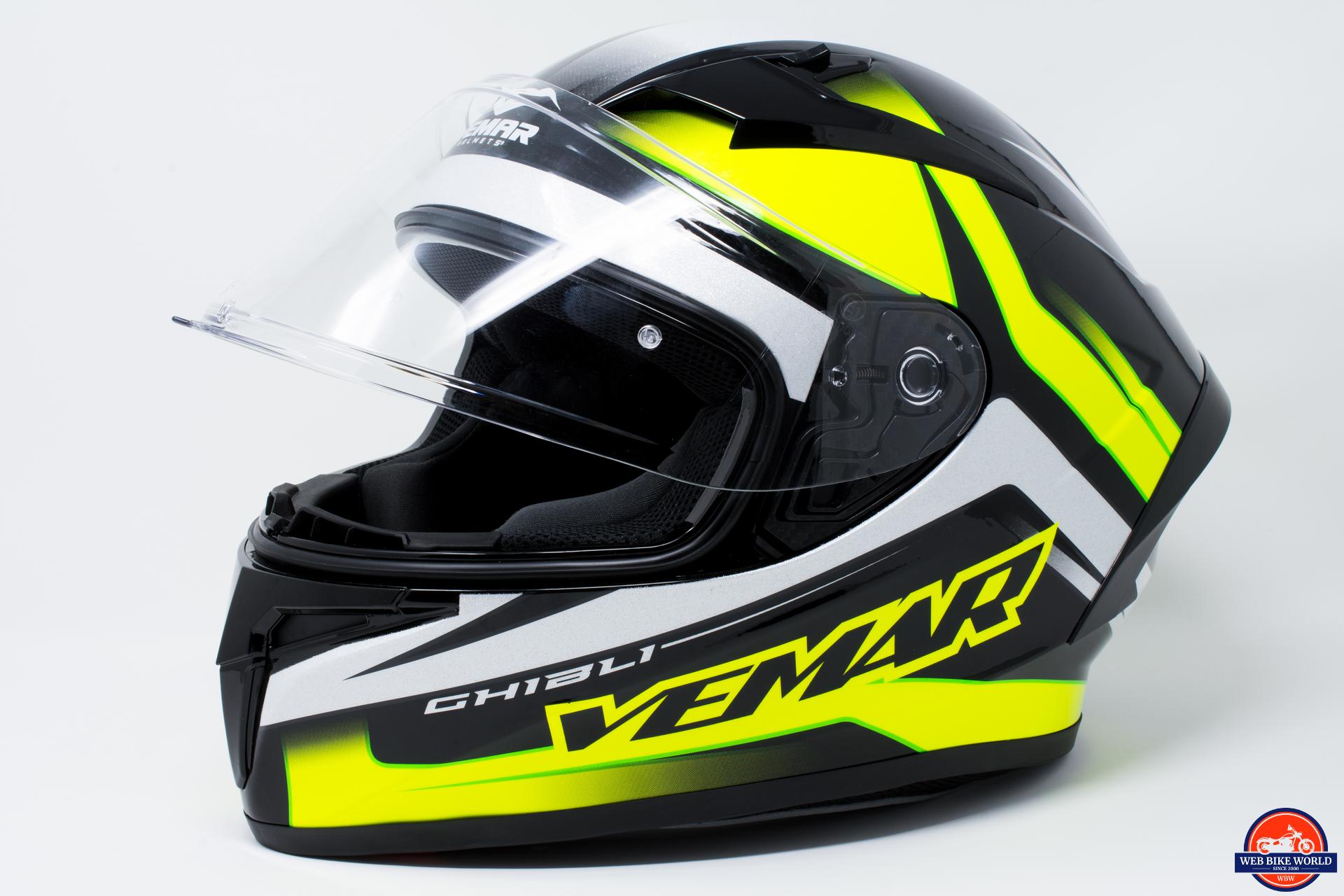 The visor on the Ghibli has exactly four positions: closed, halfway open, three-quarters open, and completely open. There is no cracking the visor to let a bit of air in; if you're opening the visor, it's at least halfway.
The good news here is that it's easy to open and close, with a bit of initial resistance in the movement that quickly gives way to a smooth opening. I also like the center placement of the finger holds on the visor; sometimes I get flubbed up on visors that have an asymmetrical layout.
The Ghibli can be equipped with a Pinlock insert for all your anti-fog needs, but it doesn't come with one.
Micro-Ratchet Strap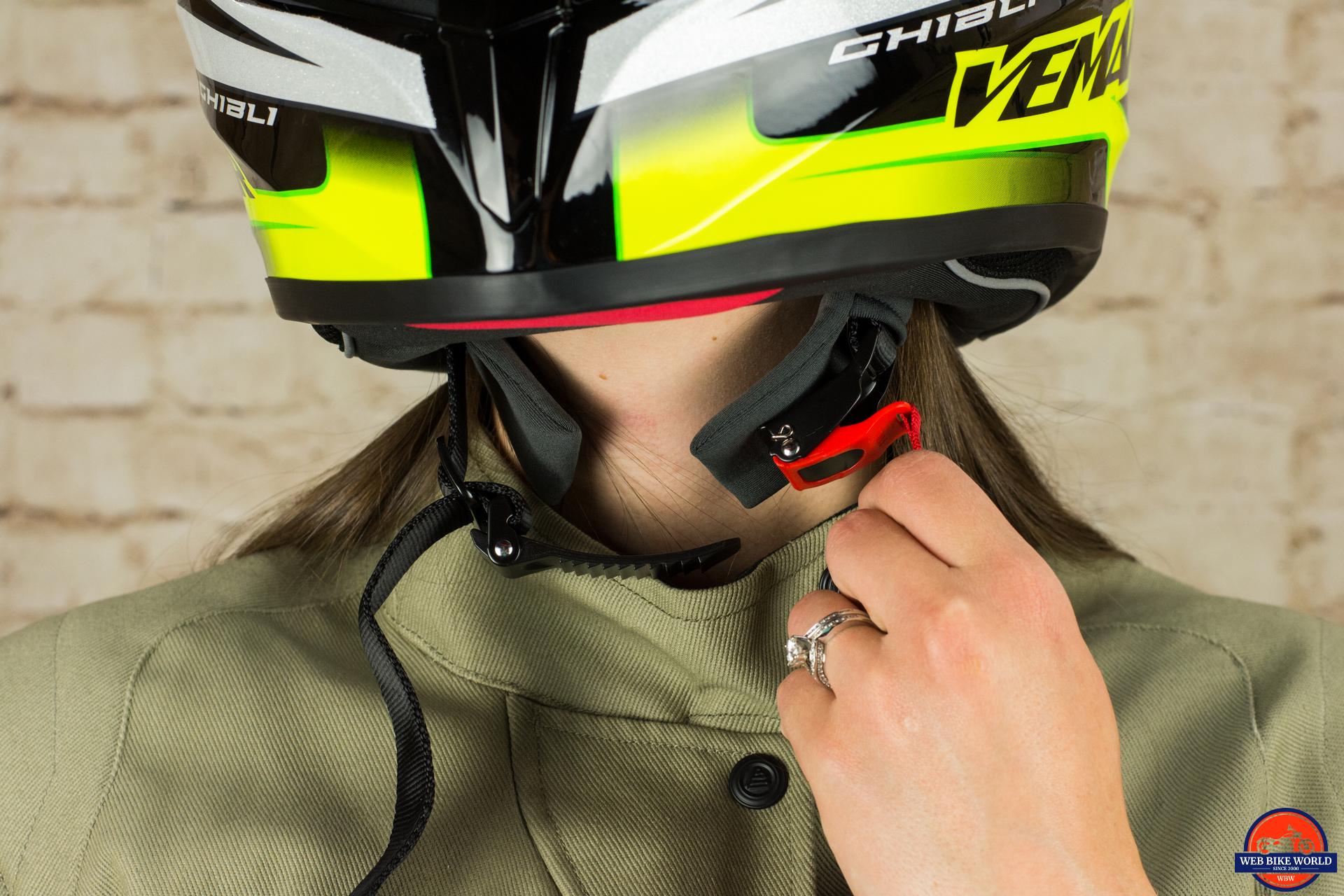 Melissa reports that the buckle is both easy to use and comfortable to wear. Operation of the ratchet-buckle is easy and smooth. It feels durable enough and I'm sure will last for many years.
Airflow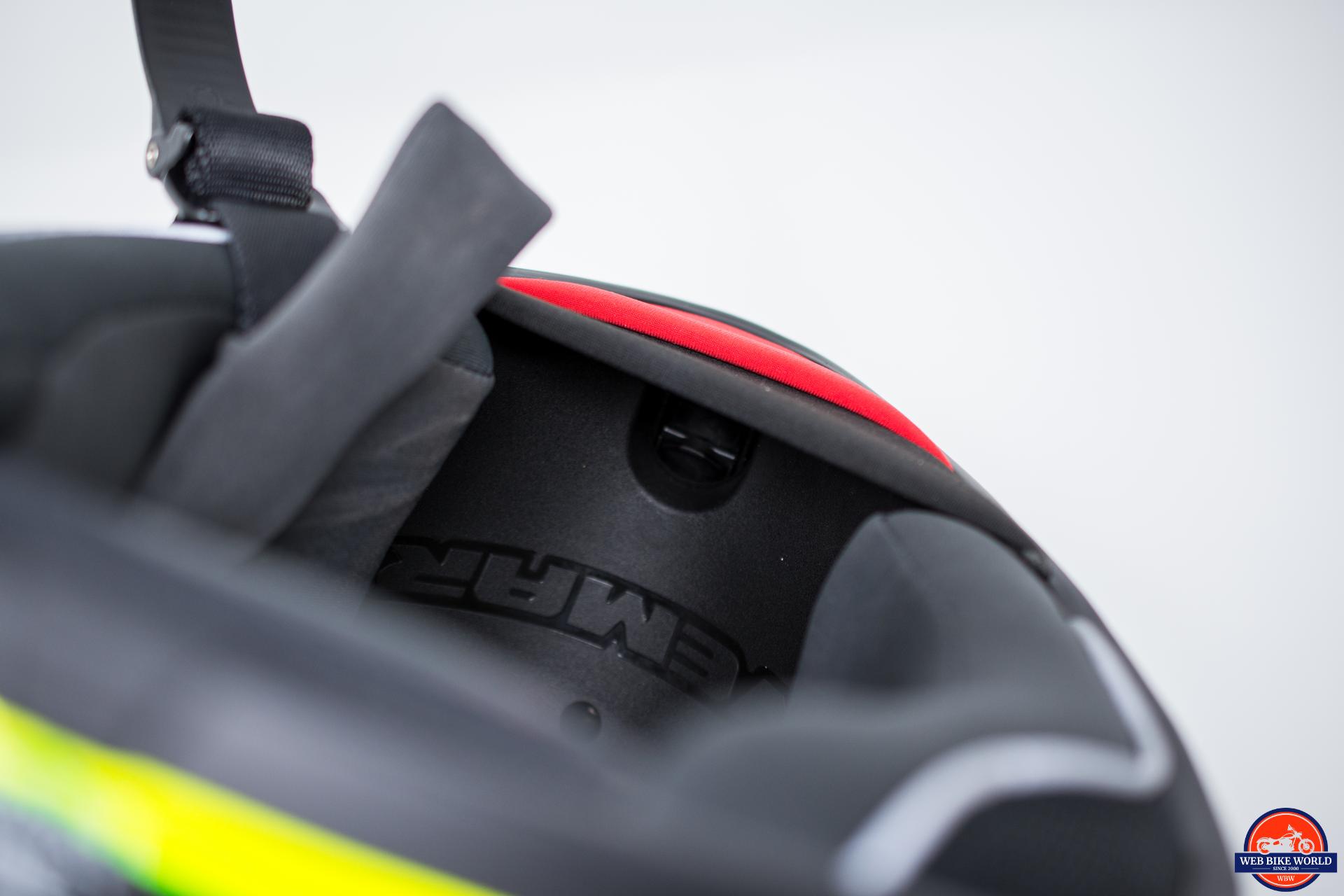 Airflow in the Ghibli is fine. There are two adjustable vents on the top of the helmet and one on the chinbar. There are two rear exhaust ports that are always open.
The upper vents do their job and are easy enough to operate; I like that they use raised sliders that can be manipulated while wearing gloves.
What I don't like is the placement of the chin vent switch on the inside edge of the chinbar, which requires reaching in past the chin curtain to use. This isn't that big of a deal when you're at a standstill, but it becomes downright dangerous to attempt while moving. Once open, the chin vent provides plenty of air. Just make sure you aren't moving when you adjust it.
Noise
Them Ghibli is a loud helmet, especially if you're coming from a mid-range model from HJC, Shoei, etc. It's louder than any other helmet I've worn this year, including three other modulars (Neotec II, C4, and Sharki) and the Bell RS-2 full-face.
It's not obscenely loud, but it's loud. So much so that I wouldn't bother with an intercom, personally- if you want in-helmet audio/communications, use headphones.
Aesthetics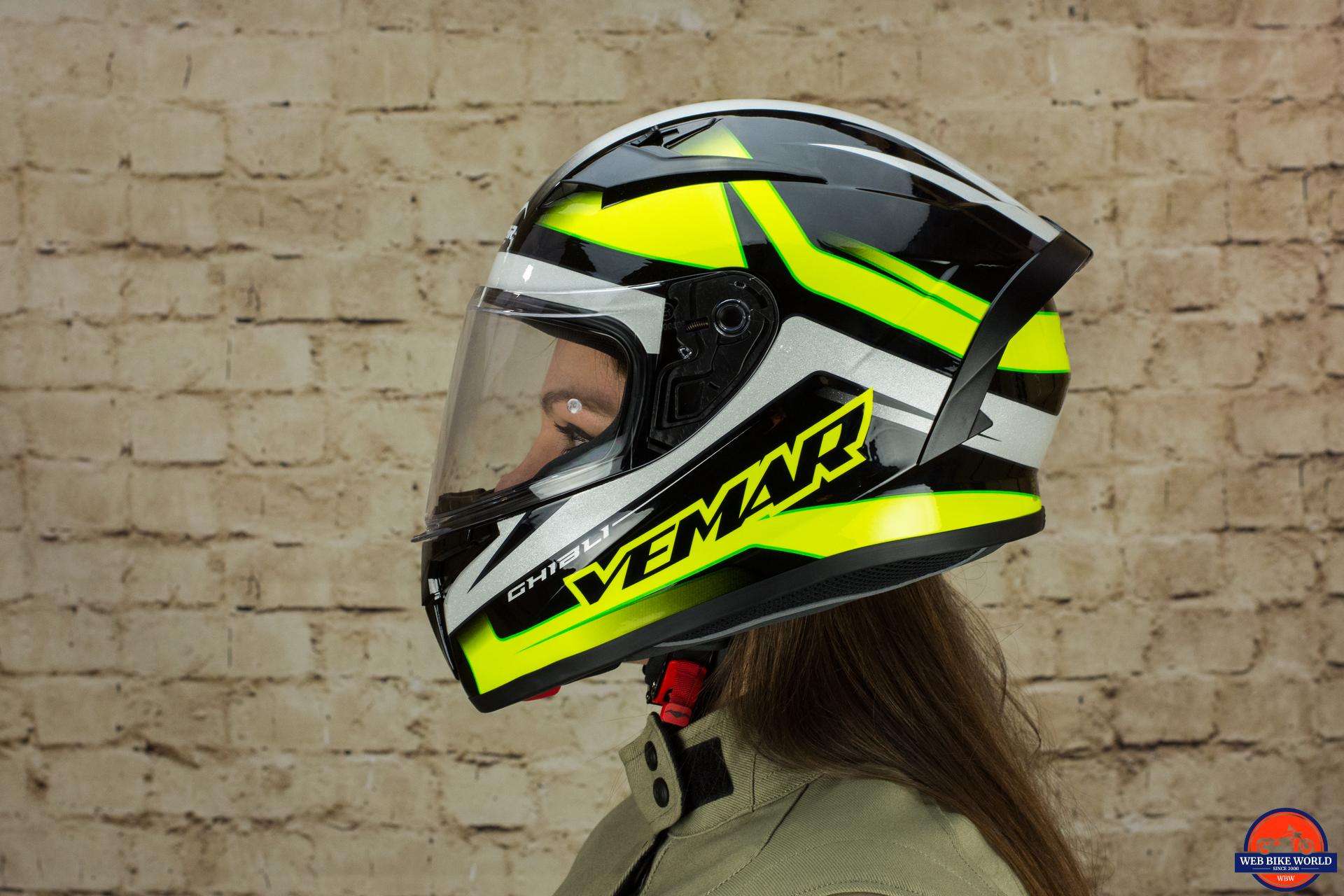 The Ghibli is a good looking helmet with an aggressive profile. I like the snub-nose design, which tapers sharply from the crown. From the side it looks downright aggressive.
If you get real close you'll find a few imperfections in the application of the graphics. The Vemar logo on the rear is off-center compared to the rest of the helmet, for example, but it's not noticeable until you start looking for it.
The plastic trim around the rear exhausts, however, is cheap… and obviously so. It pulls back easily and is only attached at either end. I wouldn't play with it much as I'm not confident it'd stand up to any abuse.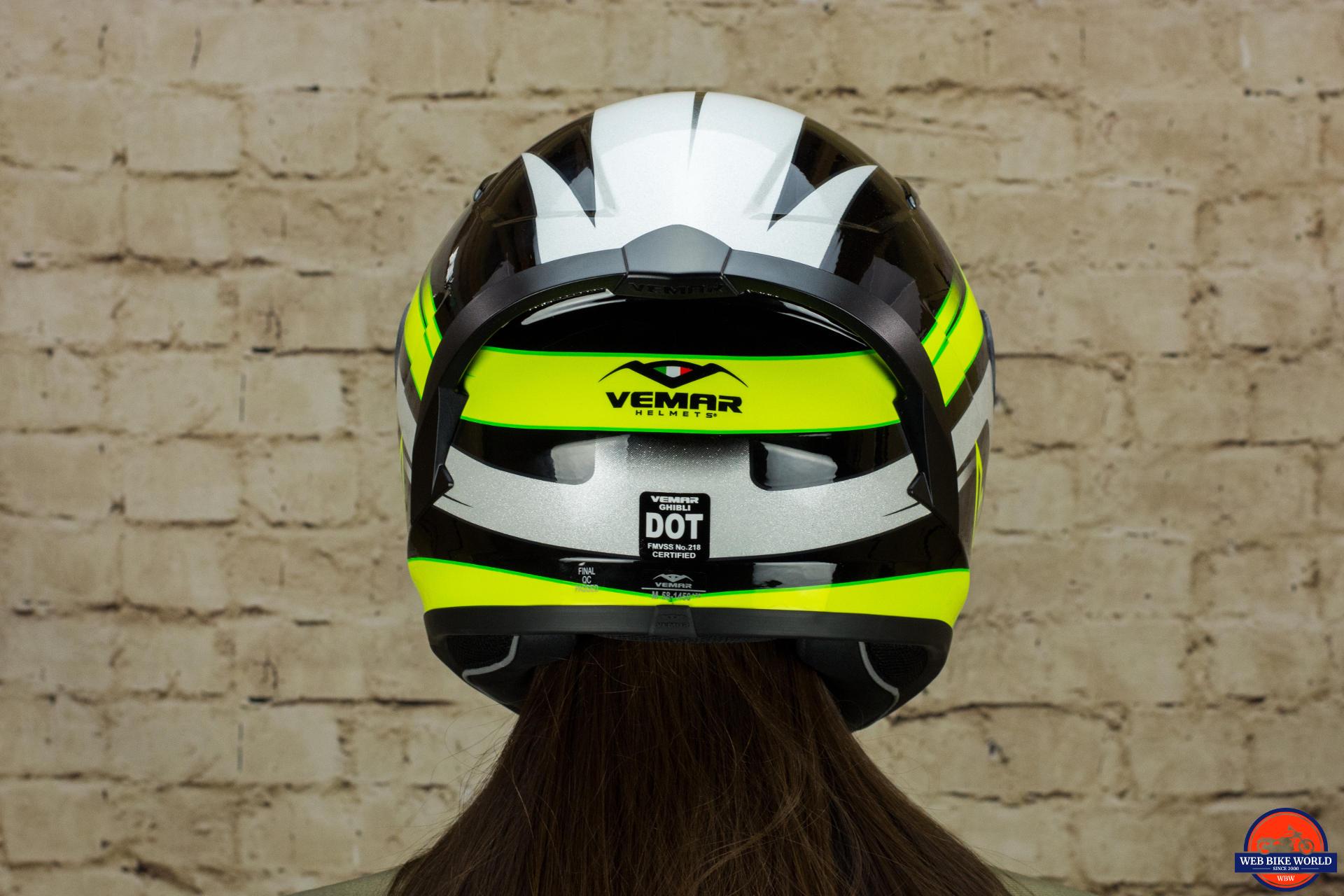 The plastic trim feeling cheap is a big disappointment since it almost doesn't even need to be there. I appreciate the aesthetic value it offers, but I'd have rather they found something else vs. include such a finicky piece to the exterior of the helmet.
While the Price is Right, the Ghibli Simply Doesn't Match Up to Competing Helmets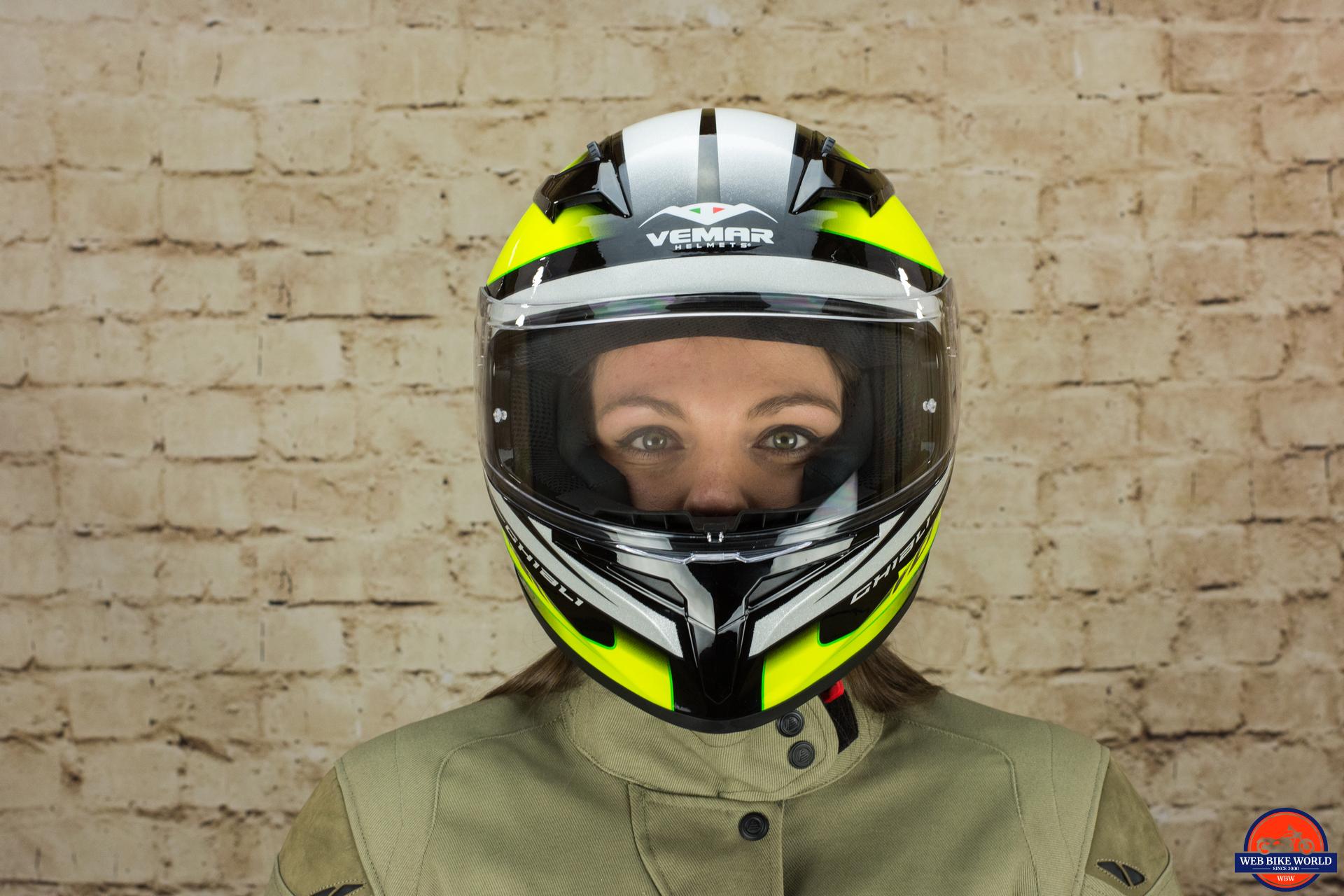 I struggled with how I wanted to position this review. Make no mistake: where it counts, the Ghibli does its job. It's safe to wear, amply padded, and lightweight.
But in a world filled with options and numerous other helmets vying for your dollars, it's hard to recommend the Ghibli over other affordable helmets that simply do a better job. The Scorpion EXO R420, for example, is only $10 more and it's an objectively superior helmet. So is the HJC CL-17, which is the same price at $139.
The Ghibli is a great $99 helmet, but a mediocre $140 one.
Pros
Micro-ratchet strap
Low price @ $140
Light
Good looks
5-year warranty
Cons
Visor only has four positions
Annoying placement of chin vent switch
Rear plastic trim is poorly secured
Some aesthetic blemishes
Noisy
Specs
Manufacturer: Vemar
Price (When Tested): $139
Made In: China
Alternative models & colors: 10 colorways in total
Sizes: XS – XXL
Review Date: September 2018