Vemar Sharki Hands Review Summary
Review Summary
Vemar's Sharki is a great sub-$200 helmet. Despite some minor cosmetic misses, the Sharki is a comfortable, relatively lightweight, and well-equipped package that offers a lot of value. Those looking for an affordable modular at this price point would do well to give the Sharki a good look.
Pros
Comfortable
Solid movement for both the chinbar and internal sun shield
Snug fit that doesn't impede your ability to wear glasses if needed
Good looking
Surprisingly quiet
VKS system provides good airflow that keeps you cool and prevents fogging
Cons
Minor cosmetic blemishes
Vemar Sharki Hands Image Gallery
Someone looking for a modular helmet in the $200 range has several options. Notable price comparable helmets in the space include the Scorpion GT920, HJC IS-Max 2, and Bell Revolver EVO. Among them is the Vemar Sharki, a feature-rich modular with solid fundamentals and strong value.
Over the years, Rick, Bruce, and others have covered Vemar helmets pretty well. See more Vemar helmet reviews here.
As with prior Vemar helmets WBW has reviewed, the Sharki gives a lot for not a lot. $200 is a great price point that makes it very attractive to value-conscious buyers, and those buyers will find that the Sharki doesn't leave much on the table despite the low price.
The Sharki is designed to meet the ECE 22.05 standard and is DOT certified.
The helmet I have here is the "Hive" colorway with a glossy finish, and I have to say that between the black and yellow scheme and the hexagonal graphics, it reminds me of "Bumblebee" from the Transformers movies. That's not a bad thing- I think this helmet looks badass.
Note: image photo gallery at the bottom of the review. Enjoy.
A Brief Introduction to Vemar Helmets
Vemar isn't a household name in the motorcycling space like Arai and Shoei are, so if you're reading this thinking "who the heck is Vemar", I don't blame you. However, they aren't the new kids on the block- not by a long shot.
Vemar Helmets, as it is today, came to be in 1992. However, the helmet making division of Vemar – an Italian fiberglass container manufacturer – was established in 1987. With more than 31 years in the space, you can feel confident knowing that Vemar knows a thing or two.
Vemar plays in the value-brand space, following a strategy of providing superior features and qualities at the price points they compete in. As WBW has found in the past, this strategy has worked out well for them.
Exterior Appearance & Finishing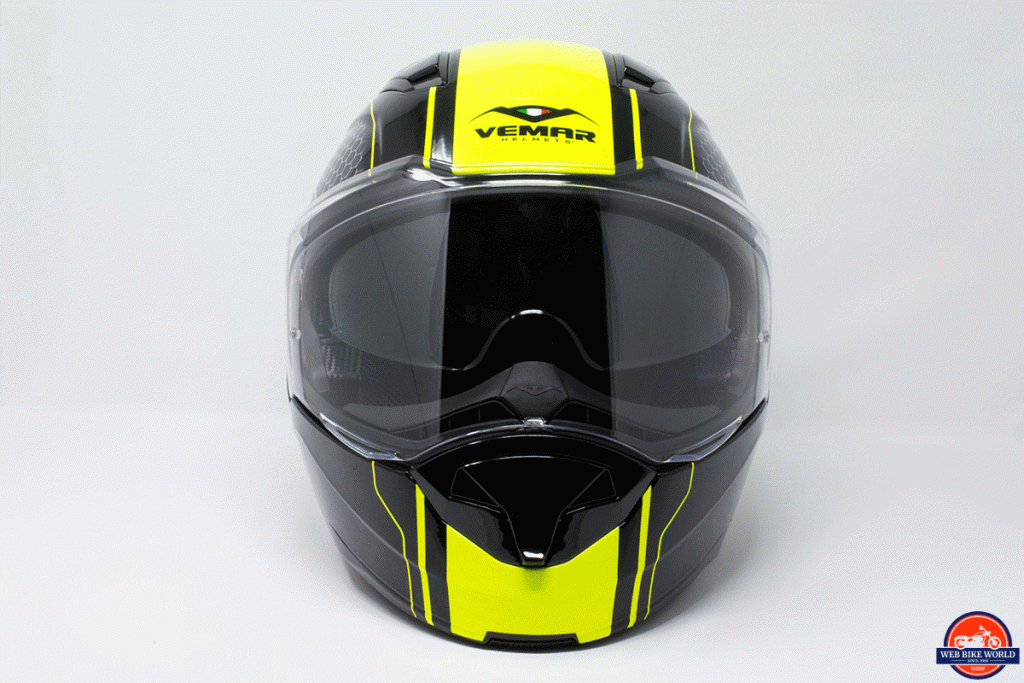 Smooth lines with subtle accents give the Sharki a sporty appearance without looking too aggressive. Earlier I labeled its looks as "badass", though not because it's got scoops and fins a'plenty (it clearly doesn't), but because it blends what I feel is a timeless shape with a slick looking graphics package.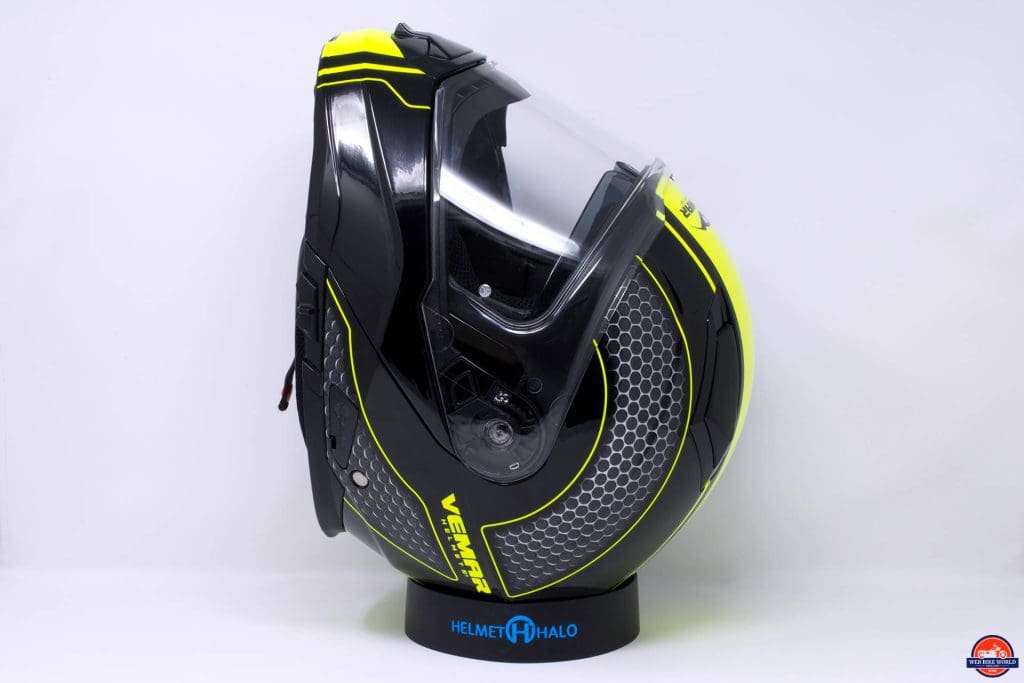 The combination of black, yellow, and grey tones elevates its look. The hexagonal graphics are pleasing to the eye and applied well, conveying a sense of depth that doesn't actually exist. It's a great effect.
Colorways
This particular colorway is a little polarizing – yellow will do that – but you can have the Sharki in numerous configurations, including both glossy and matte finishes.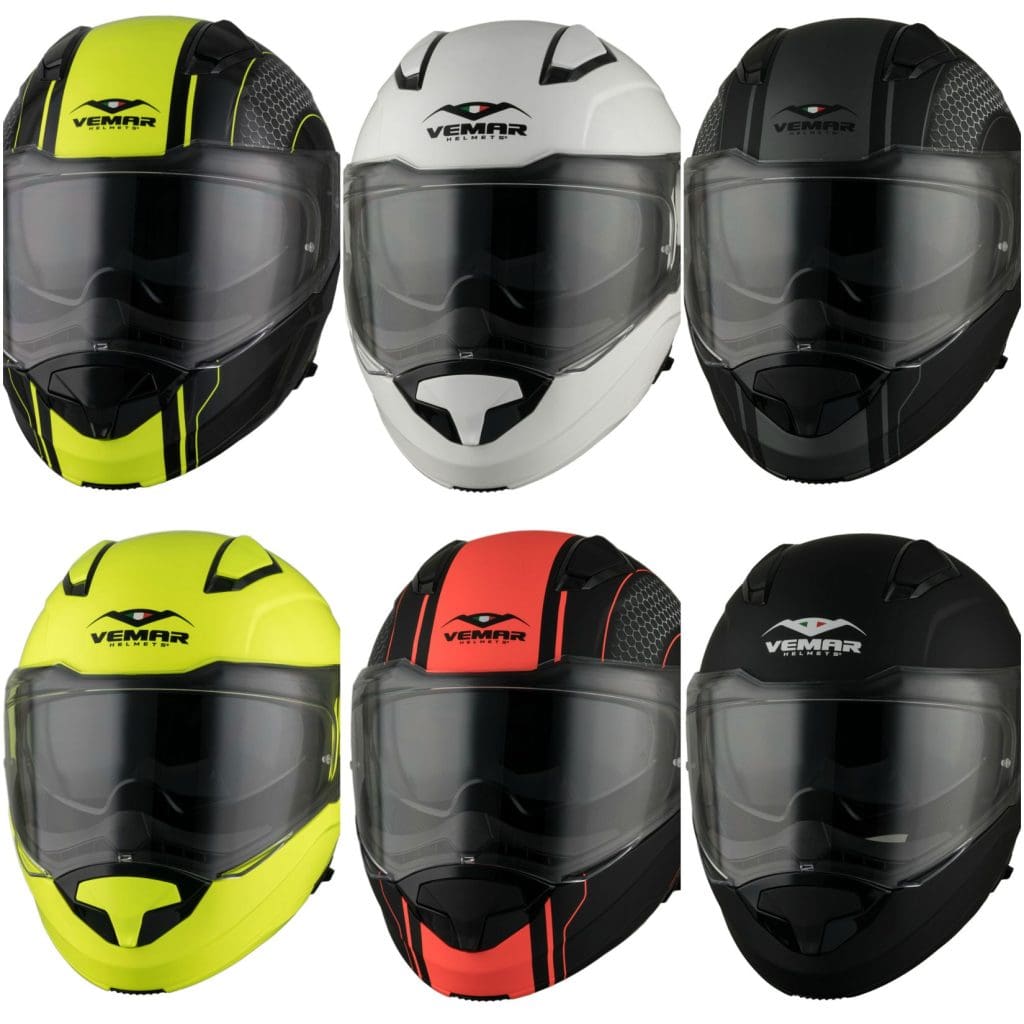 Personally, I'd go for a matt version of the red "Hive" colorway if I could do it all again.
Finishing Quality
For the most part, the Sharki is finished to acceptable standards and looks good. It certainly does from a distance, and it isn't until you get up close (and nitpicky, as you might be when doing a review, for example…) that you'll find a few – and only a few – cosmetic flaws.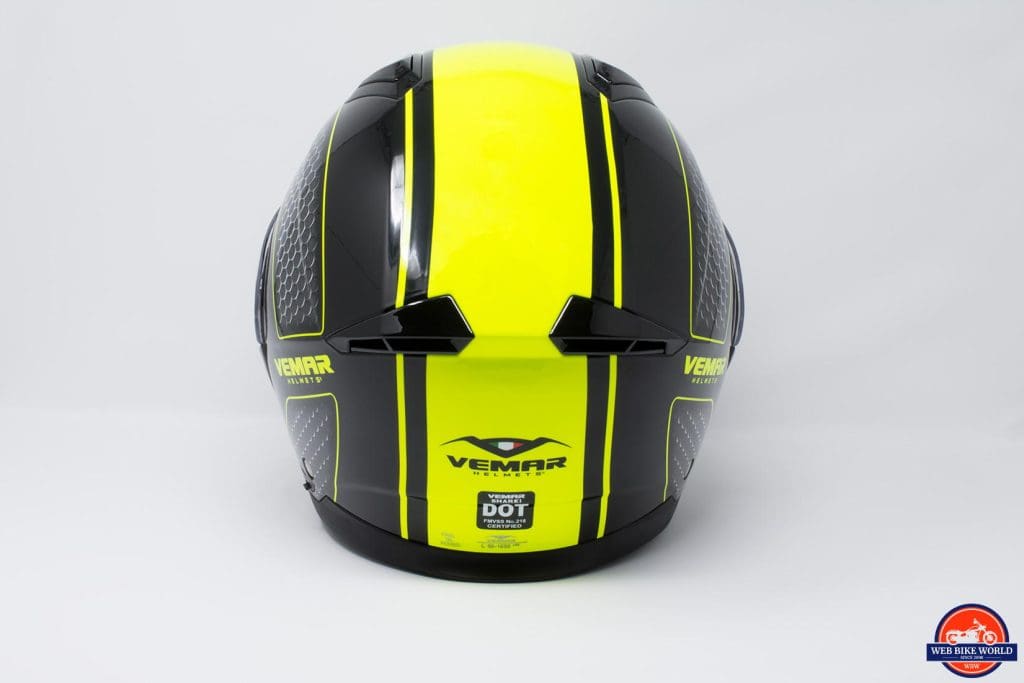 It's hard to see in the above photo, but the angles of the Vemar logo and DOT designation are at slightly different angles.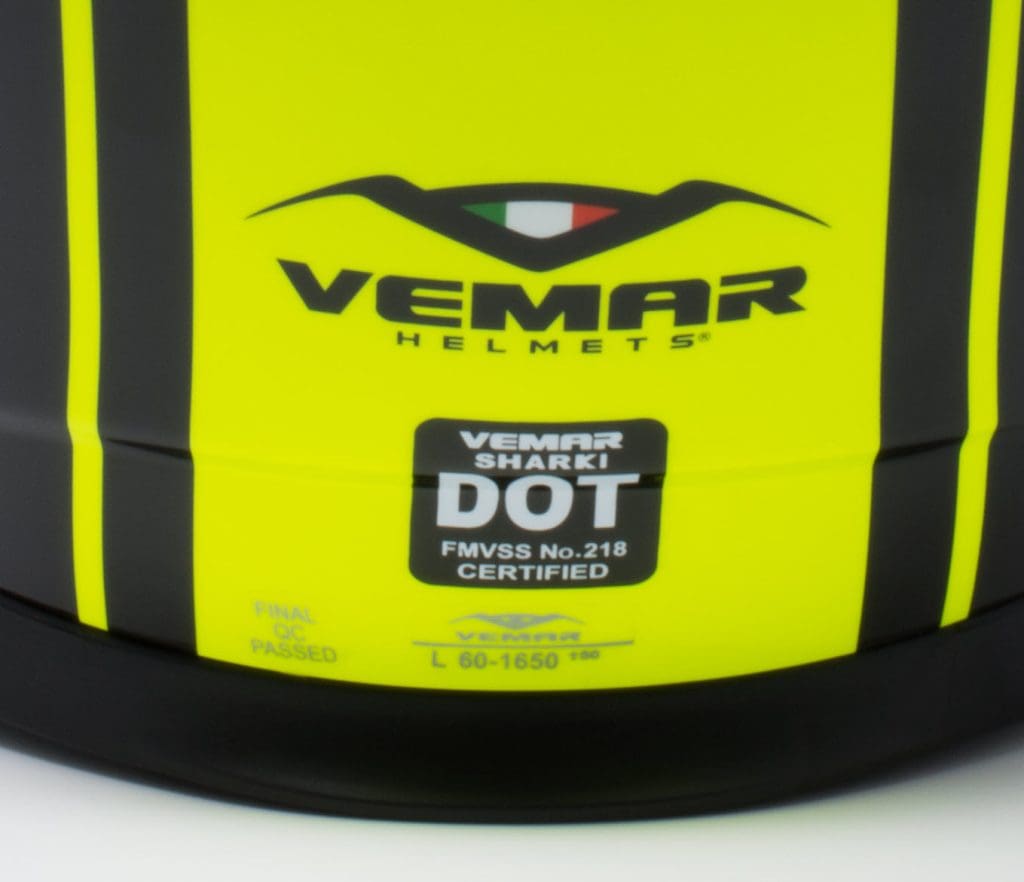 This misalignment is so minor that my pointing it out is less of a complaint and more of a "I guess it's my job to do this" type of observation. I personally only noticed it after combing the helmet inside and out in preparation for this review.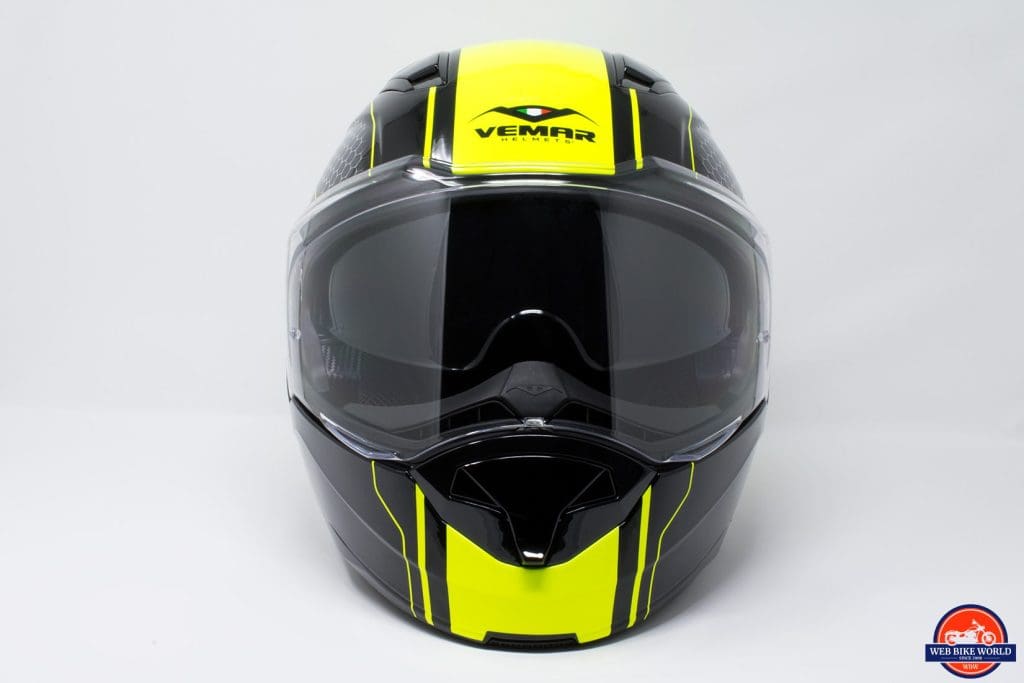 The same situation also exists with the front logo graphic which, again, is at a slight angle relative to the lines of the visor.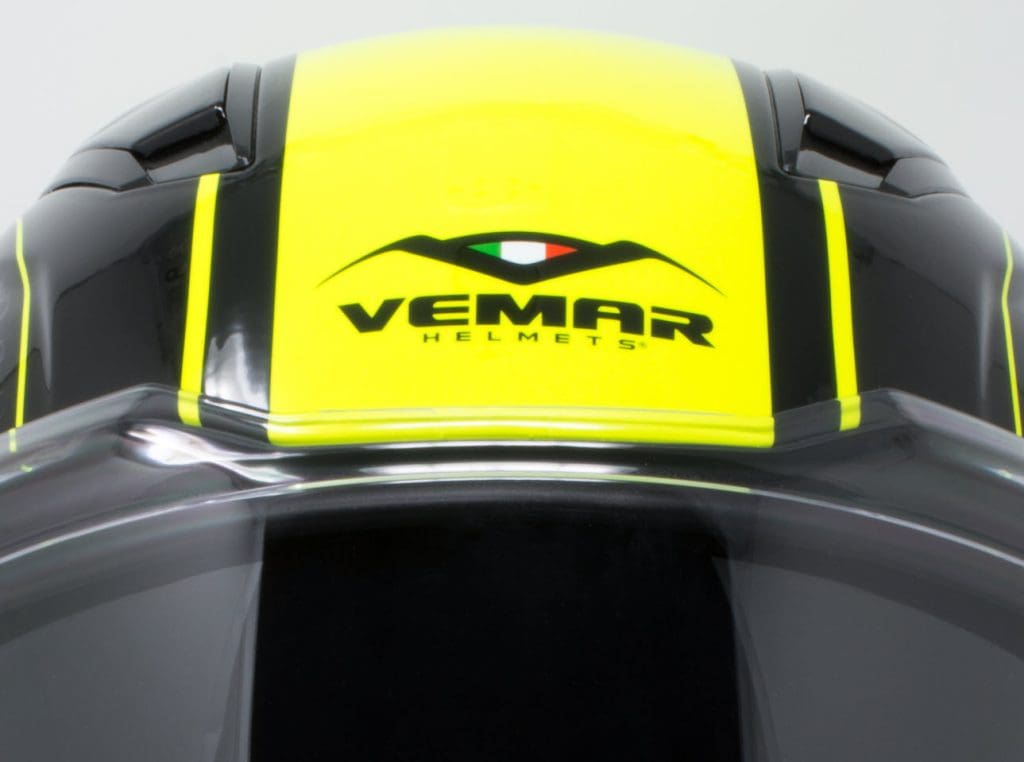 This one is somewhat more noticeable, and once I saw it, I couldn't unsee it.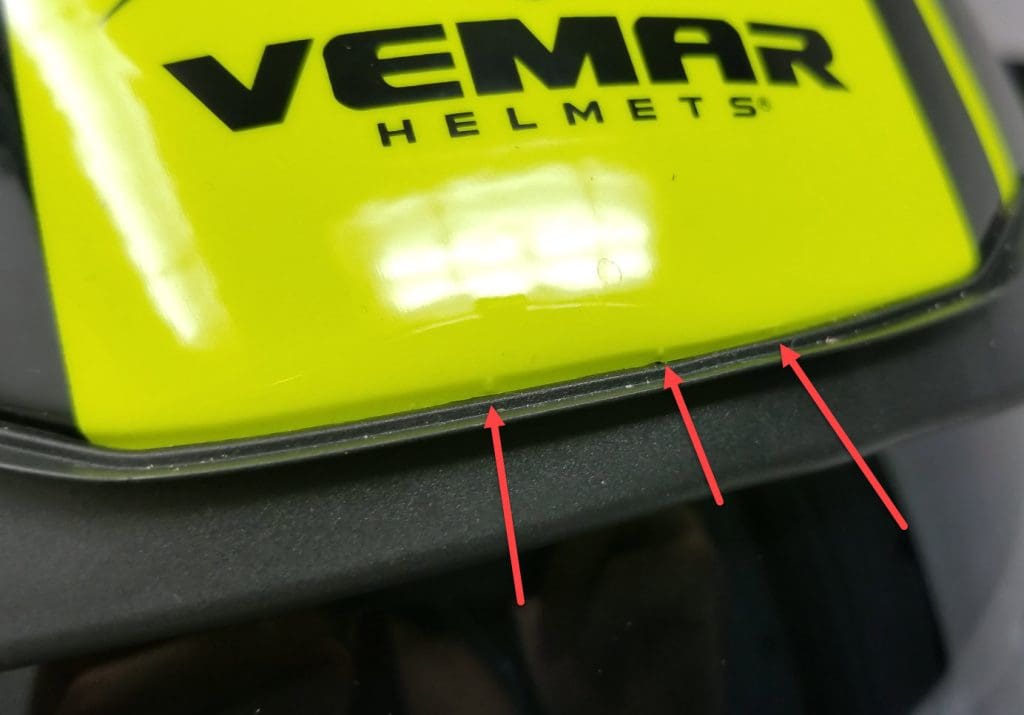 Lastly, with the visor up I noticed three small folds in the graphic application right at the lip between the graphic and visor cutout. This one is difficult to see, but again, it is there.
Aside from those 3 blemishes, the aesthetic quality is otherwise good. As previously mentioned, the quality of the hexagonal graphics and side branding is high and looks great.
Unless you're a stickler for perfection, the Vemar Sharki looks great. And, if you are a stickler for perfection, what are you doing shopping for a $200 helmet? Few in this range will deliver on that standard.
Comfort
At 3.81lbs, the Sharki is neither heavy or light. It slots in at #81 on our helmet by weight list, knocking the SCHUBERTH S2 down one slot to #82. Note that I have not yet added the Sharki to the list but will do so soon.
In my estimation, the Sharki is an intermediate oval shape.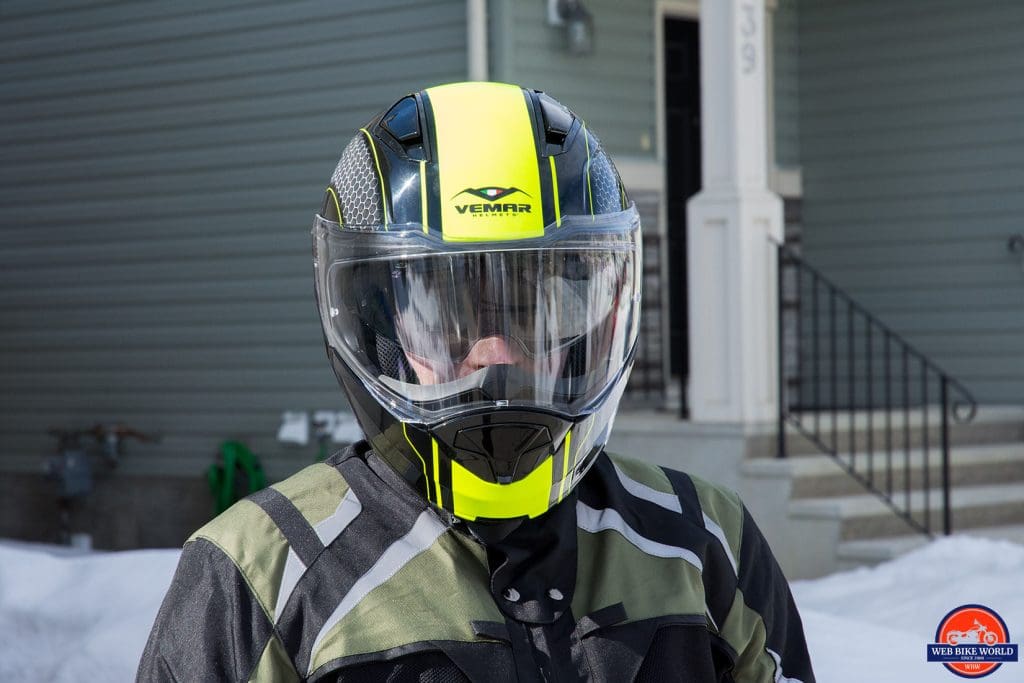 Above is my fellow Canadian, Jim Pruner (who actually rides in the snow), sporting the Sharki and his recently reviewed Siima Sibirsky Super Adventure Riding Jacket. Jim's my model of the day since I haven't got a photo of my ugly mug wearing it.
The cheek pads press slightly against my jawline, but not uncomfortably so. Enough that the helmet feels secure. Side to side movement feels snug, with no unexpected shaking, as does front to back movement.
What I have here is a size large (23.2 – 23.6in / 59 – 60cm) and it fits me well. Check out Vemar's sizing guide on MotoSport.com.
Airflow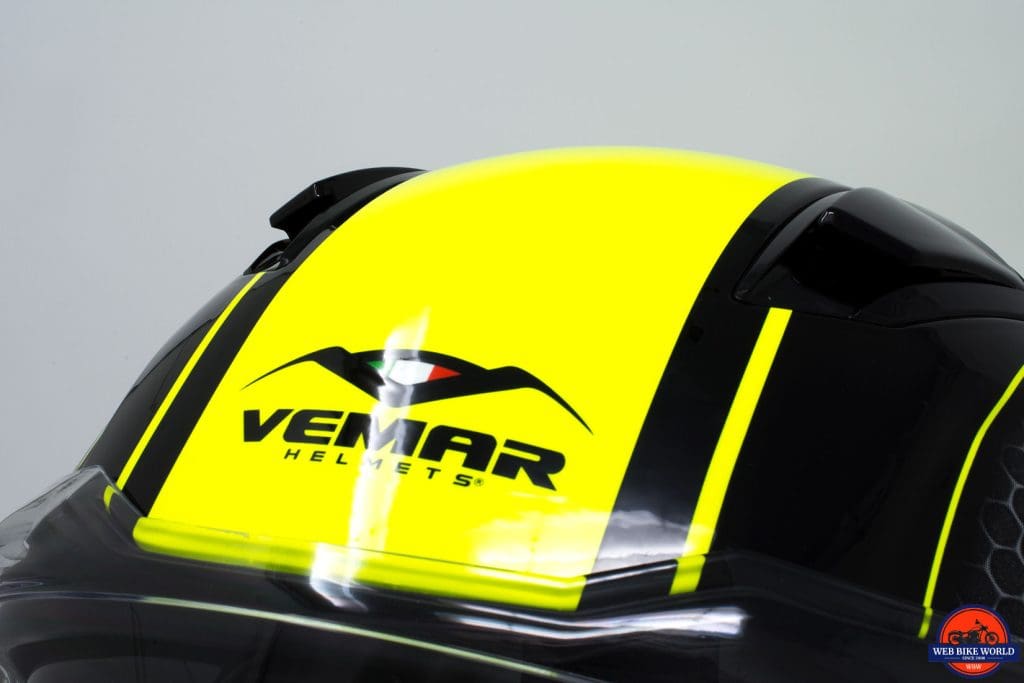 On the front of the helmet is a chinbar air intake and two pop-open vents on the left/right side of the top.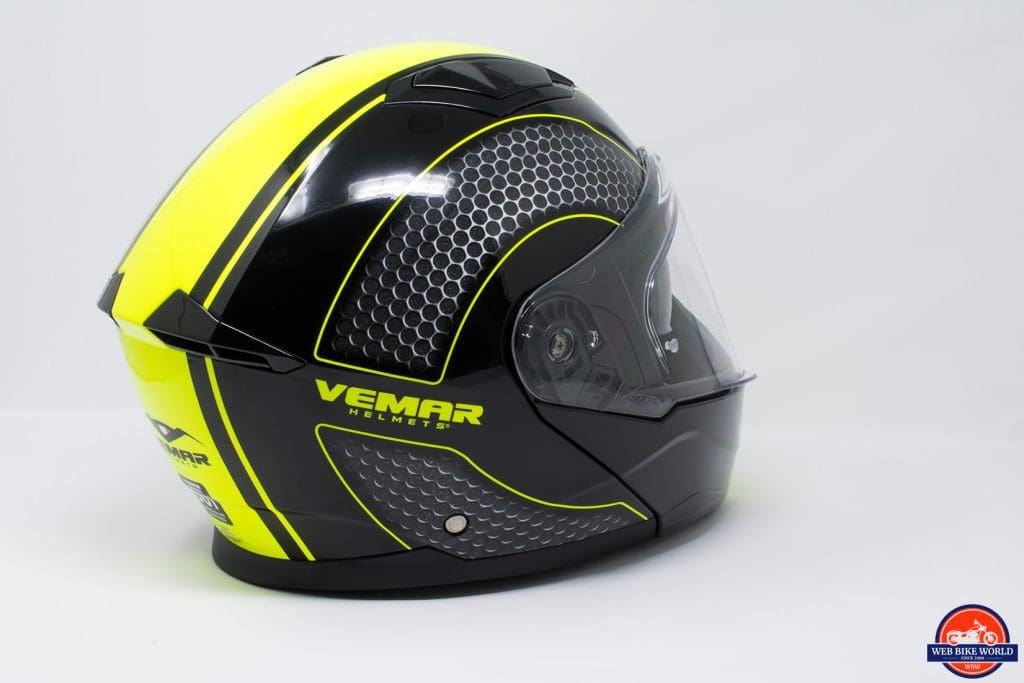 There are two exhaust vents at the rear of the helmet. Combined with the other vents, this makes up the Vemar Klima System (KVS) that is supposed to provide superior airflow and cooling. While I can't objectively measure whether or not the KVS lives up to its claims (I don't have a wind tunnel, after all), I can tell you that airflow is indeed quite good.
Visor fog is also minimal, save for when you're standing still. Excellent airflow, and the integrated breath deflector, work well together to achieve this result.
Ergonomics & Field of View
The visor opening is quite large and does not obstruct. I have no issues enjoying a wide field of vision. Thanks to its relatively light weight, it also is not a chore to look around and enjoy the scenery.
Integrated Sun Visor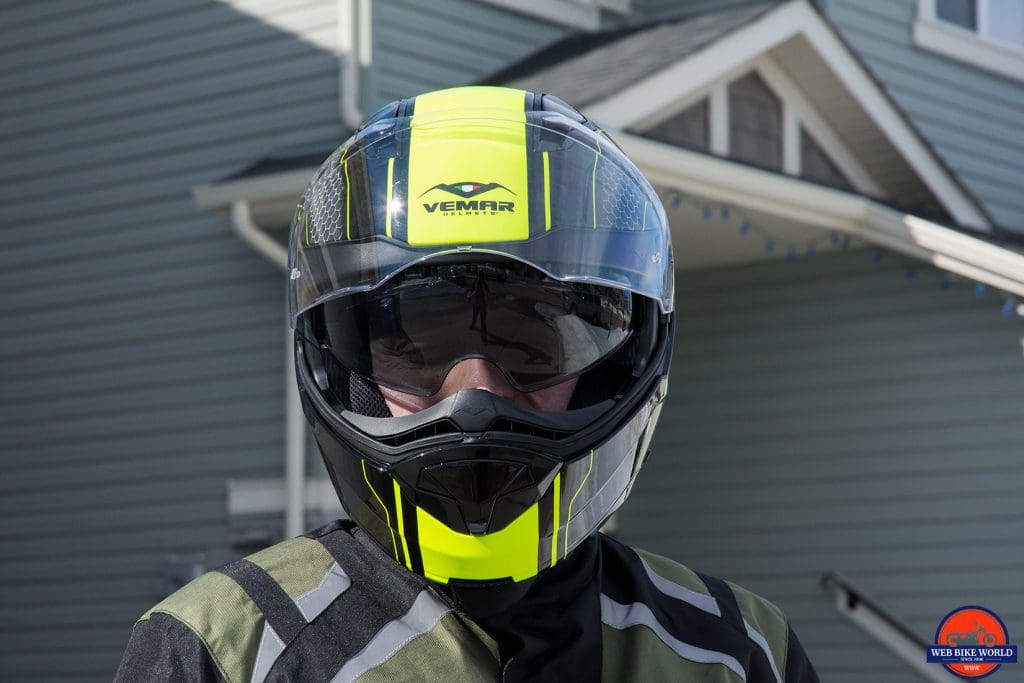 As Jim so handsomely demonstrates, the integrated sun visor is quite large. When fully deployed, it covers the top 8/10's of my vision, leaving only a small area at the bottom of my field of view without tint. However, it covers 100% of my effective field of vision- everywhere I'm looking is tinted.
Operation of the visor is smooth and precise using the left-side mounted slider. The visor can be partially or completely opened, and stays securely in place wherever you set it.
Integrated Functions
The Sharki comes with a scratch-resistant clear visor, though you can purchase tinted visors as well. The visor is Pinlock MaxVision and is swappable. It detaches easily- simply pull the tab underneath the connection point and the visor pops right off.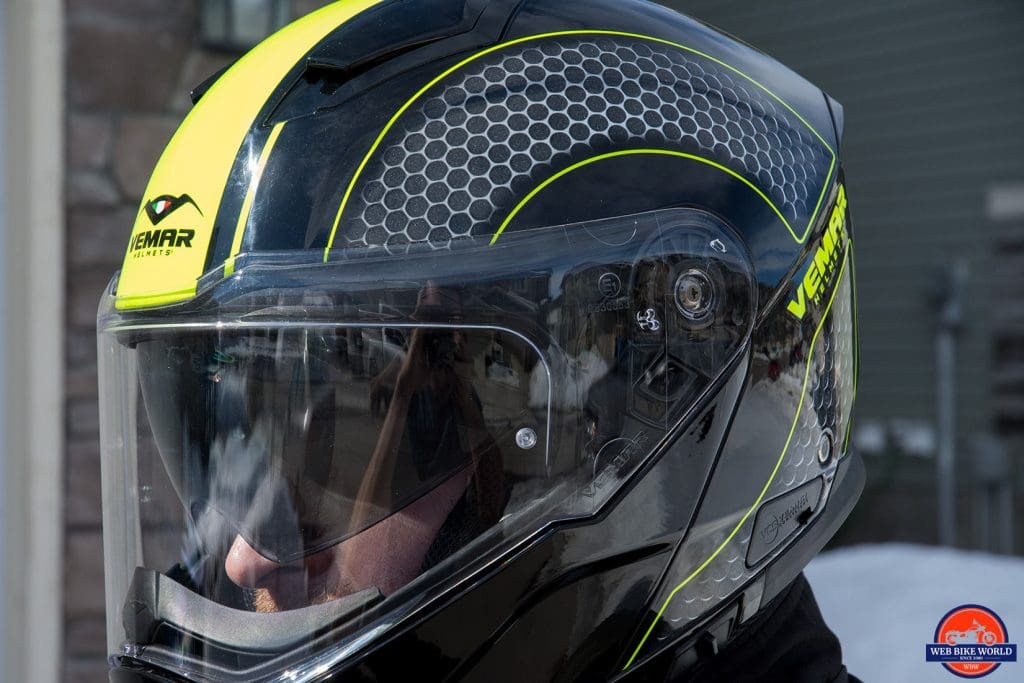 The removable lining is washable (as you'd expect) and is easy enough to get in/out.
Like most modern helmets, the Sharki also comes with easy intercom integration. Vemar has it labeled for the VCS com system, but it's a universal mount and most com systems will integrate. Certainly, modern com systems from SENA/Cardo/etc. will integrate just fine (though I have not tested this).
The chinbar is also removable should you want some open-faced riding time, not that I recommend it.
A few other line-items on the spec sheet:
Visor lock (located on the right side of the visor area)
Made from R-3P thermo-polymers
D-ring buckle with microlock
In Conclusion
Having spent 8 weeks with the Sharki, I feel that I've come to know the helmet well enough to have an informed opinion. It's objectively good, yes, and it's low price point makes it all the better.
Despite minor aesthetic misses, the helmet itself is largely a hit. It's comfortable to wear, kitted out with the functionality that most riders expect from a modern helmet, and looks great to boot. The Sharki comes with everything you need, including a five year warranty. I wouldn't let minor graphical blemishes deter you from this excellent helmet.
Pros
Comfortable
Solid movement for both the chinbar and internal sunshield
Snug fit that doesn't impede your ability to wear glasses if needed
Good looking
Surprisingly quiet
VKS system provides good airflow that keeps you cool and prevents fogging
Cons
Specs
Manufacturer: Vemar Helmets
Price (When Tested): MSRP = $199
Where to Buy: MotoSport.com / Amazon
Made In: China
Alternative models & colors: Matt/glossy finishes – red, black, yellow, white
Sizes: XS – XXL
Review Date: April 27, 2018