Metalwear Gloves Review Summary
Metalwear Gloves Image Gallery
Way more comfortable than you'd think, stainless steel riveted protection, high quality construction topped off with looks that make Sir Brian de Bois-Guilbert jealous. These are better than the similar-looking originals once offered by another company and are 30% cheaper. They're Baaaaaack!
The Borg never gave up, and neither do these. The metal knuckle look is coming to get you. Look familiar? They should. We reviewed the nearly identical twin of the Velocity Gear SS Metalwear gloves a couple of years ago. Remember the Icon TiMax (review)? And don't forget their distant cousin, the Teknic Road Iron gloves (review), also worn by Dark-Siders who want a touch of whimsy.
SS Metalwear isn't for everyone, to be sure, but de rigueur for any self-respecting Borg Cube driver. The TiMax gloves were popular and generated more than a few emails praising their goodness, but Icon dropped them from their lineup for some strange reason and the shrewd dudes at Velocity Gear took up the cause.
Maybe the originals were ahead of their time, because for some reason, the SS Metalwear gloves seem even badder now than they were then. I wish we kept that original pair (collector's items?) to compare, but they were sold in last year's webBikeWorld garage sale to a happy owner. But, as it turns out, that's not a problem — the Velocity Gear version is even better and — get this — 30% cheaper. Progress anyone?
Now you may think these puppies are all show and no go. Well, I don't remember all that much about the Icons, but the SS Metalwear gloves are, believe it or not, some of the most comfortable mitts I've worn in a long time.
Honest!
I think it's a combination of the fit, the design, the softer-than-most leather and the "floating" metal knuckle protectors, combined with the large formed shield covering the base knuckles, which gives them enough room for my hands to flex over the grips without binding.
That is much unlike the too-tight-but-well-named Hurt Schizo or the Teknic Speedstar (review)gloves.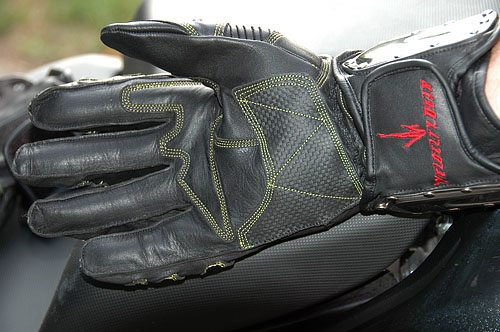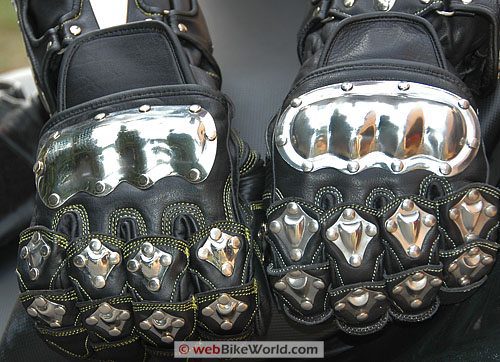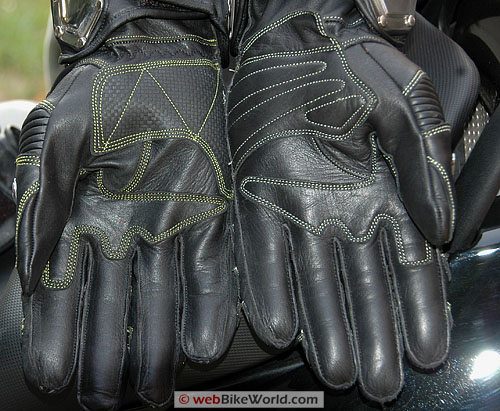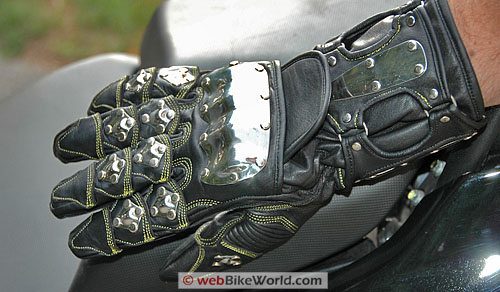 Leather, Metal and Construction
The SS Metalwear gloves have not a vent or perforation in sight either, but for some reason, I don't notice much of a difference, and I've been wearing them in temperatures bouncing around the 90-degree mark.
Velocity Gear says the gloves are made with 1 mm "Grade A" cowhide, which does seem on the thick side and, I assume, have superior protective powers combined with their supple feel.
Another millimeter of the stuff covers the palm and also the grip wear point under the thumb and forefinger, and there's plenty more sewn on the backs of the fingers and over the wrists.
These other layers hold the riveted stainless steel metal pieces, which are reminiscent of skid plates on an SUV, and about as big.
We don't have the ability to conduct standardized wear tests on the leather or the metal sliders, but my Sense-O-Meter tells me two things:
1) I don't want to find myself sliding down the road, arms akimbo; and 2) If it does happen, I'd just as soon be grinding stainless steel than muscle 'n' bone. Just think of the sparks that would cause!
After all, as long as you're going to entertain horrified bystanders with an impromptu pavement luge, you may as well throw in a free light show.
The palms of the gloves are also said to contain a layer of Kevlar. Although I'm not quite sure where it's located on the size large gloves shown here (Kevlar is used on the palms of the size XL gloves we received) and just about all of the other leather pieces are laid together with nicely spaced double-stitching.
The size large gloves have two big metal sliders on each side of the wrist and one on top that simply exclaims "RACE".
Reminds me of a '50's-era rainy, dark and lonely back road truck stop, with that single neon sign out front: "EAT". The XL's have no embossed letters.
The gauntlets are lined and big enough to fit over the thickest leather jackets I could find. The gloves also have a separate leather cuff riveted on the back, with two sections, connected by metal loops, that fold down on each side and around the bottom of the wrist to wrap things up.
These sections connect under the wrist with hook-and-loop, one over the other. This gives the critical area under the wrist three separate layers of leather protection.
The fingers have a floating leather interlocking cover sewn over each knuckle and another sewn over the top of the finger tip. Each of the knuckle leathers have a metal slider riveted on top, attached with four rivets. That seems like serious protection to me.
And that big metal cup over the base knuckles? It's locked on with 10 rivets.
The SS Metalwear gloves shown here are labeled as size large and they fit me perfectly, with enough room for grip and control without binding, so I guess they run true to size.
The size XL's we received were slightly different, with a smaller metal plate on the back of the wrist, without the stamped "RACER" script but with what looks like Kevlar in place of leather on the palms.
The metal hardware is also slightly different; a bit flatter, I'd say. I'm not sure why this is — possible due to the larger glove size. I tried on the XL's and I also think they're true to size; they feel slightly larger overall and have about another 5 mm or so of fingertip length.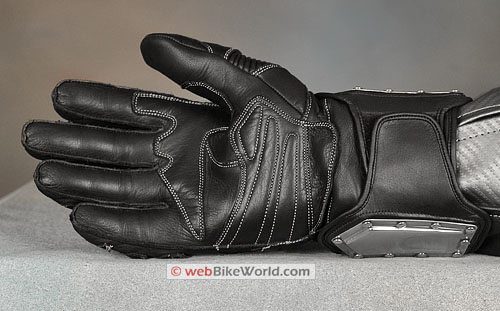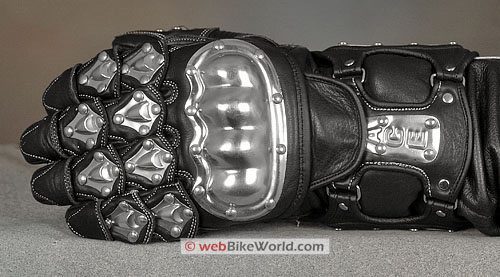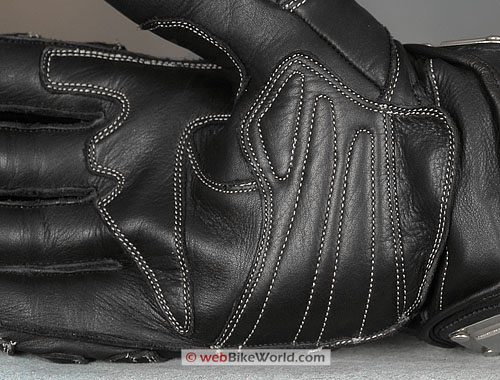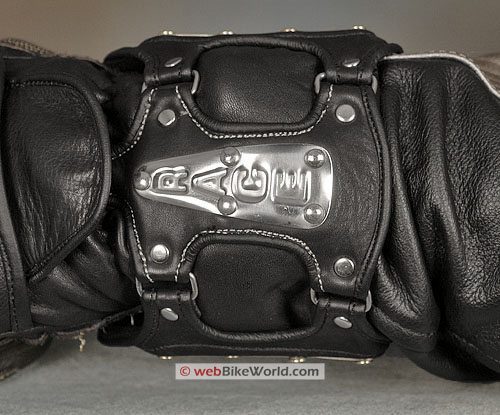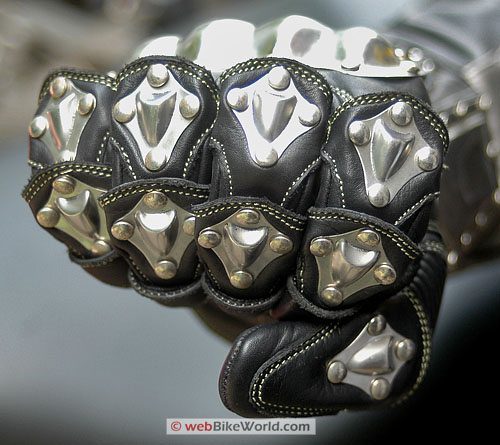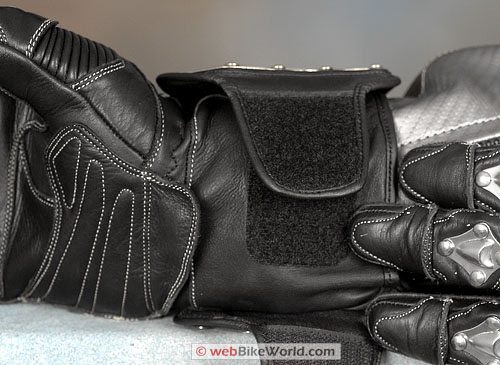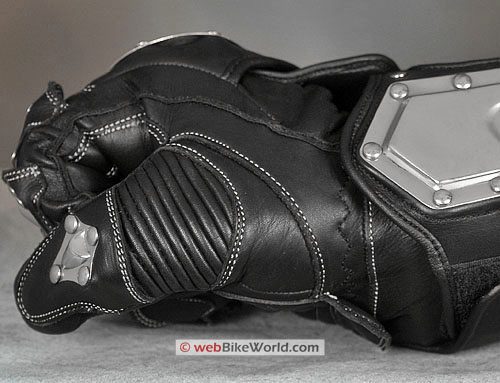 Conclusion
I'm surprised at myself — at first I thought the Velocity Gear SS Metalwear gloves were quirky imitations of the Icon TiMax, designed to put on a show. Well, imitation is the sincerest form of flattery, as they say.
The TiMax gloves were never as comfortable, and they were more complex, with a zipper, metal studs on the palm and other bits that made them bulkier and less flexible.
The SS Metalwear gloves are simpler, and in this case, less is more. These gloves are more comfortable than they should be and until someone proves otherwise, I'll guess that they offer the best protection available for 99 bucks.
w

BW

 Review: Velocity Gear SS Metalwear Gloves
List Price (2009): $99.99
Made In: Unknown
Colors: Black
Sizes: XS-2XL
Review Date: August 2007
Note:
 For informational use only. All material and photographs are Copyright © webWorld International, LLC since 2000. All rights reserved. See the webBikeWorld® 
Site Info page
. Product specifications, features and details may change or differ from our descriptions. Always check before purchasing. Read the
Terms and Conditions
!
Owner Comments and Feedback
---
From "G.A." (10/09):  "Interesting and intriguing pair of gloves, these. When I buy my 2010 V Max (right after I win the lottery, I know people who paid less for their first house than the starting price on the V Max), these gloves will be my next purchase.
They shout "Mad Max" or "Water World" (sorry if my knowing that movie scares anyone) very loudly. Can't you just see Dennis Hopper and his crew wearing these gloves on the big boat?
I enjoyed the other reader's comments about sword dueling. I used to tell folks that, yes, I do ride a motorcycle, no, I do not rape and pillage. I pointed out that pillaging on a motorcycle simply is not practical, even with expandable luggage.
The armor would certainly come in useful when that cager makes a left turn right in front of you, and you survive to follow him into the parking lot, where you also think better of taking off your helmet.
But the main reason I am writing is the statement: "After all, as long as you're going to entertain horrified bystanders with an impromptu pavement luge, you may as well throw in a free light show."
That is without a doubt the funniest line I have ever read in a motorcycle gear review, on the net or in print. I laughed so hard I almost hurt myself. Good thing I wasn't riding at the time. Keep up the great work!"
Editor's Note: Note that the "SS Metalwear Gloves" in this review have since been superseded by the Metalwear Gloves in our 2009 Velocity Gear review.
---
From "C.J.": "After reading your review on these gloves, I ordered a pair of XL's late last year. I use my bike every single day of the week. Monday to Friday it's to work and back, and weekends it's to go play on the twisties.
On average, I wear these gloves for about 2 hours every day of the week.
The first week I had some discomfort from the knuckle guard, it pushed against by knuckles, but after the first 2 weeks they either shifted, the leather stretched to move them, or I got used to it, but it doesn't bother me any more, and I find them extremely comfortable.
We have scorching hot days during the summer here in South Africa, but I never felt like these gloves are to hot or to warm for riding in. It's getting cold now, and I will only be able to tell after winter how well they hold up, but I don't think they will offer the best protection against the cold…
On rainy days they took a bit longer then my old gloves to get soaked right through, but I found that they dry quickly.
My only gripe is the Velcro fasteners on the wrists, the bottom ones are slowly tearing away, but this is nothing a bit of stitching wont fix. I also think this is partly due to the high usage I put these gloves through.
In summary, I love these gloves, I have been riding with them for about six months, every day, and they are holding up better then I thought they would. They are very comfortable, provides loads of protection and have that extra bling factor."
---
From "D.C.": "When webBikeWorld's review of these came out I said to myself that they would be fun to have. Even off the bike I could use them while wielding my cutlass.
Well, at the time I didn't have…no…couldn't justify, $99+ for a pair of gloves I might wear once or twice. I was also aware that my number of cutlass wielding days on the road was severely limited, so it wasn't until I saw them in the webBikeWorld Yard sales did I break down and get them.
Why not! It's for a good cause, and who knows what the future holds for us pirates. Anyway, the review held true, as they often do, yet I was still a bit surprised at just how comfortable they were.
Heavy, in comparison to today's crop of popular gloves made from ultra light this, and micro thin that, but what do you expect from thick leather and enough stainless steel to make a small sink.
I like having something substantial on my hands for a change. I also noticed that, properly cinched up, they were rather secure, and extremely flexible. Is it worth the price? I'd say so. Just look at the amount of work and materials that went into making these!
The number of pieces and construction steps is amazing if you know anything about leather and metal work, or even basic sewing.
Conclusion? They certainly won't keep your hands warm during a Maine winter, and you certainly will get some looks from your cruiser buddies. But let's not take ourselves too seriously. Have some fun while you ride, and if the budget allows, get you a pair of these.
Heck, we are always looking for something to polish aren't we?"
---
From "N.A." (Updated, See Below): "I just received my SS gloves from VG, which I ordered based on your review on the site. I got them for a couple of reasons: the main one is that they looked cool, and the other was that with it getting colder, I felt they would be a good fall/winter glove.
On the first part, they are great. The looks are very cool and the quality seems pretty good. I like that the seams are all on the outside, nice touch. On the weather factor, they seem like they should stand up well.
The materials are pretty tough feeling and looking. I ordered the Large after talking to VG (as there is no sizing chart on their site), and they fit pretty good. The four main fingers are perfect, with only the thumb a bit long.
I do have a few gripes though. The one prominent feature of the gloves, the SS knuckle guard, while seemingly tough, does not seem to be positioned properly to actually go over my knuckles, where my fingers are all the way into the gloves.
The guard is more over the back of my hand, right behind the knuckles. Not really a big deal for the looks, but I would like to have had the knuckle guard in its named position.
My other gripe was that they did not show up as described on wBW or VG sites, some minor variations, such as no "Race" on the metal tab.
I ended up calling VG and spoke to someone who said that they were actually closing out the glove line until the wBW review, but now have put a new order in for more that will be even better than before, more padding, ect.
So while I have a few problems with the gloves, they are not enough to return them, and the customer service from VG seems good. I would wait for the new gloves to come in and see what they look like though before ordering through Nov 07."
Editor's Note: See the ending paragraphs of our review (above); we did mention that the size XL SS Metalwear gloves were different, and they appear to be the style that you received. We reviewed the size L, which have the "Race" logo embossed and the knuckle armor is different.
If the gloves we received were only like the size XL's we have, our review would probably be different. I'm not sure why the various sizes use different patterns or if this is an issue throughout the line.
UPDATE From "N.A.": "After having and using the gloves a little more extensively, and dealing with Velocity Gear, I think that the gloves are not worth the money. In the end, it is more about the looks than the comfort of the gloves that is paid for.
My main gripe is the knuckle guards that are riveted on the back of the hand area. They are not even over my knuckles, nor are they evenly spaced on each glove. The quality control seems a bit lax.
As for the supposed new gloves (Editor's Note: See N.A.'s comments above), they still never materialized, so I am returning my SS gloves to VG for a refund, probable to use the money better on some bark-busters."