We're all amazed that you, our visitors, continue to ask for more motorcycle armor reviews.
This is wonderful news, because it demonstrates that webBikeWorlders are focused on safety and performance, which pleases us to no end.
So just for you, here's another interesting piece of armored gear for your consideration.
We found this one while shopping for the gear in our recent reviews of Velocity Gear F9 and S1 motorcycle gloves.  We couldn't resist Velocity Gear's statement that this is "The Lowest Priced Level 2 Armor In The World".
The Velocity Gear motorcycle armor includes a motocross-style hard chest protector with hard armor on the elbows and forearm, the shoulders and a back protector.  The armor assembly is worn as a shirt, but it has a few interesting tweaks.
Velocity Gear also claims that "no other company can outperfom [sic] our armor in legitimate CE certification tests".  There's a long discussion on their website that compares the Velocity Gear CE compliance with other brands, but I'll leave it up to you to figure it all out.
Velocity Armor
The armored shirt pictured here is simply called "Velocity Armor".  It's similar in style to the Knox Cross Shirt we reviewed not too long ago, which has padding in the front and armor on the elbows, shoulders and back.
The biggest difference is that the Velocity Gear motorcycle armor includes CE EN1621-2 (the back protector standard) Level 2 compliant back armor.  The shoulder and elbow armor on the shirt is CE EN1621-1 (the elbow, shoulder and knee armor standard) Level 1 compliant.
The Velocity Gear motorcycle armor looks complicated when it arrives, but it's easy to put on.  A quality YKK zipper runs up the front right-hand chest area.  The shirt is worn like, well, a shirt, and once the zipper is fastened, a wide belt secures the lower portion of the armor around the rider's waist.
The armor is sewn to the shirt, which acts as a carrier (the back armor is removable).  The shirt is a type of stretch Lycra, which is very comfortable and feels somewhat like silk, but it isn't as breathable as the wide mesh used in the Knox product.
Someone wrote us to ask if back protectors and other forms of motorcycle armor are hot in the summer.  The short answer is yes — there's just no getting around it, the plastic or padding used in this type of armor is hot, no matter how perforated it might be (and it usually isn't).  In weather like we've had around here recently, anything other than the lightest mesh seems too hot for comfort.
The belt on the size XL (fits me perfectly even though I'm a size L) Velocity Gear armor seems long enough to fit about a 38-40″ diameter waist.  It secures with "hook and loop" fastener.  I don't really like wearing the wide belts commonly found in back armor around my stomach, but there doesn't seem to be an alternative.  I guess it's just one more motivation to lose the beer gut!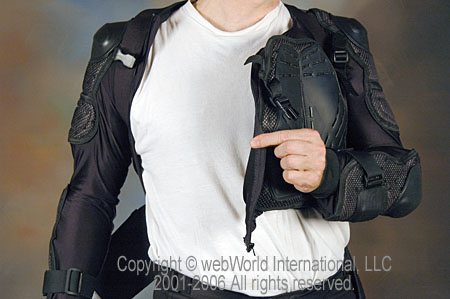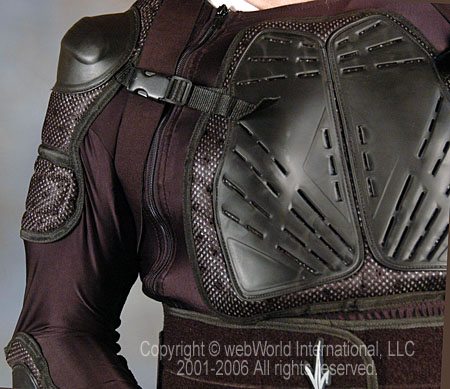 The shoulders are attached to the front chest armor via adjustable cinch straps, which I believe can help keep the armor correctly located during a fall.  The cinch straps were kind of fussy to adjust on our example, but this only has to be done once to fit the shirt when it's new.  Only the right-hand cinch strap must be disconnected using the quick disconnect to put the shirt on or take it off.
All of the hard armor on the shirt has a soft padding backing, so it's actually pretty comfortable — in fact, I'd say that the Velocity Gear armor shirt is about as comfortable as anyone can expect.  I think the Lycra really helps because it's silky smooth, which makes the shirt feel like it sort of glides over the skin.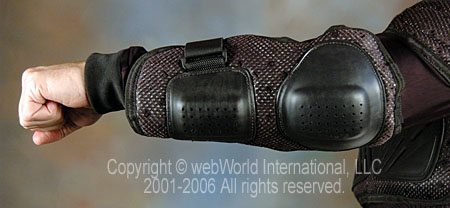 The elbow and forearm armor has adjustable elastic cinch straps, one on each side, to keep it in place.  I wish there was either another cinch strap near the upper part of the forearm, because I think this is an important area to keep secured so that the elbow armor stays in place.  But the armor is cupped and form-fitted so it shouldn't be a problem.
I'm guessing that the thin chest protector doesn't offer the same protection as the back protector.  But it should dissipate some of the energy from rocks, if riding off-road, or possibly during a fall.
The back armor is narrower than a dedicated back armor like the BMW, Bohn, Knox or TPro back armor whose reviews are linked in the right-hand column on this page.
Other than that, the Velocity Gear motorcycle armor shirt seems to fit better underneath motorcycle jackets.  My personal preference is to wear a close-fitting armor shirt like this in place of the looser fitting armor found in most motorcycle jackets.
A shirt like this one and a pair of armored pants, like the Bohn Cool Air Bodyguard probably offers the same or better protection as the armor in any combination of off-the-rack motorcycle jacket and pants you can find.
I wish Velocity Gear carried a matching pair of long armor pants, because then I'd be all set!
Conclusion
At $169.00, the Velocity Armor shirt is a bargain, especially considering the Level 2 compliant back protector.  It's comfortable, although it can get hot in warm weather, which is a problem with any armor.  If you must wear a jacket with poor quality armor, an armored shirt like this one might offer better protection without compromising style.
wBW Product Review:  Motorcycle Armor by Velocity Gear

Available From:  Velocity Gear
Suggested Retail Price:  $169.00
Colors:  Black
Made in:  Unknown
Product Comments:  Fits better than other armor under most motorcycle jackets.  Stretchy Lycra fabric is comfortable and does a good job of keeping the armor in place so it can do its job.  Sizes may run one size small; I normally take a size large and the XL fits me perfectly.  Sizes:  XS to XXXL, regular and long.  Review Date:  July 2006
Note:  For informational use only.  All material and photographs are Copyright © webWorld International, LLC – 2000-2011.  All rights reserved.  See the webBikeWorld® Site Info page.  NOTE:  Product specifications, features and details may change or differ from our descriptions.  Always check before purchasing.  Read the Terms and Conditions!
Owner Comments and Feedback
Comments are ordered from most recent to oldest.
Not all comments will be published (
details
).  Comments may be edited for clarity prior to publication.