Velocity Gear F9 and S1 Gloves Review
Nice gloves, loaded with features.
Based on our examples, they fit 1/2 to 1 size wider than normal.
We get many tips about interesting new motorcycle products and accessories from our visitors. Some of them are dead-ends, and others are golden.
The tips, that is, not the visitors!
We were recently following up on a tip about Velocity Gear, new company who claims to have the "Lowest Priced Level 2 Armor In The World!".
We ended up buying one of their Velocity Armor shirt-style protectors for evaluation and we'll report back on that soon.
While poking around on their website, we found some very nice-looking gloves at what seemed to be bargain-basement prices, relatively speaking.
I know very little about Velocity Gear and we've had no correspondence with them.
But in addition to the armor and the gloves, they also offer a selection of leather jackets and one-piece leather suits and even a few textile apparel items, all at what seem to be very reasonable prices.
I'm always interested in knowing how motorcycle gear is designed and manufactured.
There must be dozens of emails each week that arrive in our inbox from a variety of leather and textile manufacturers, most of whom are headquartered in Asia.
They all pretty much offer the same thing — re-branded "stock" motorcycle clothing or custom designs to our specifications.
I'm not sure how many motorcyclists realize it, but the vast majority of motorcycle clothing is not made by the company whose name appears on the label.
Just about anyone with enough money — and nerve — can set up a motorcycle clothing company and sell re-branded products of any shape or size.
The gear can be sourced from the vast Asian network of resources, the same ones that are turning out just about every piece of motorcycle gear on the planet.
And by the way, I wouldn't be surprised at all to learn that a single factory is pumping out several different competing brands (UPDATE:  See below for more information regarding the possible origin of Velocity Gear gloves).
Once the stuff is manufactured and the shipping containers arrive at the U.S., U.K. or Canadian distribution centers, these "manufacturers" focus most of their energy on creating the marketing strategy for the made-up brand name.
The consumer — that's you and me — will never know the full story of how the goods are designed, sourced and distributed. Huge piles of money are spent on advertising and creating demand.
Sometimes it works and the brand becomes popular, but the road is littered with the corpses of many bit players who simply didn't have the financial resources — or the smarts — to make this strategy work.
Anyway, long story, but…my gut tells me that Velocity Gear is a typical implementer of this global sourcing strategy.
---
Where to Buy Velocity Gear Elite Motorcycle Gloves
Check Reviews & Prices on Amazon
Check Reviews & Prices On RevZilla
Also: Motorcycle Jackets, Motorcycle Gloves, Motorcycle Boots, Motorcycle Pants
---
Not that there's anything wrong with this at all, mind you — some of the best known motorcycle clothing manufacturers in the world do it.
Think about it — when's the last time you've seen a jacket, gloves or whatever that was actually made by Black Forest artisans?  If you did, it was probably five times more expensive than anything else on the store shelf.
Neither of our Velocity Gear gloves have a country of origin label, so we'll probably never know. I thought there was some kind of law that mandated "Made in…" labeling on all products, but apparently not — or maybe the Federales just aren't interested in prosecuting transgressors.
In any case, let's get right to the bottom line: I can say that my first impression is that both the F9 and S1 model gloves look fantastic and both of them appear to be the beneficiaries of much attention in their design.
Unfortunately, my second impression is that this is mostly for naught, as the execution doesn't live up to the expectations for one reason — someone apparently forgot to use a human hand as a template.
This means that both the F9 and S1 gloves are bulky, with extra room here and there that just doesn't feel right. They don't seem to have been tapered to fit "normal" sized fingers and hands.
I also think that the gloves run 1/2 to 1 size larger than expected, but only in the width and not the length, which doesn't help the fit either.
The S1 gloves, with their short wrist-length gauntlet, are not quite as bad in this regard as the F9 gloves. It's really too bad, because in all other respects, both of these gloves hit all the right buttons with regards to protection, stitching and features.
They even have a sort of brutish, post-apocalyptic look to them (especially the S1), which sets them apart from typical "boy racer" styling.
I realize I'm sort of reversing the normal order of things here by getting into the conclusion before the description, but I just had to get this off my chest.
I think the bottom line here is that average proportioned hands may find the gloves too big, but those with thicker fingers may find that the Velocity Gear Elite gloves are just the ticket.
In any case, it's probably a good idea to try on either of these glove styles first or make certain the return/replacement policies are understood before the purchase.
Why the retailers and manufacturers will spend big bucks on fancy marketing collateral but then forget about explaining the idiosyncrasies of how their products fit is beyond me, but hey — that's what webBikeWorld reviews are for, right??
OK, 'nough said on that, let's get cracking on the details…
Velocity Gear S1 Gloves
I'll start with the short gauntlet S1 gloves because they're very cool looking and the price is right; they retail for only 55 bucks, which is an absolute steal, in my opinion.
And to top things off, they also do a decent job for as a hot-weather riding glove because the short gauntlet and the perforations in the fingers add a modicum of cooling ability.
But the thickness of the leather and some of the other features give them a much higher potential level of protection than those cheesy mesh leather jobs collecting dust at the local bike shop.
The S1 gloves are triple-stitched just about everywhere that counts, although I'm not sure what type of material was used for the thread. But the triple rows of stitches sure look impressive!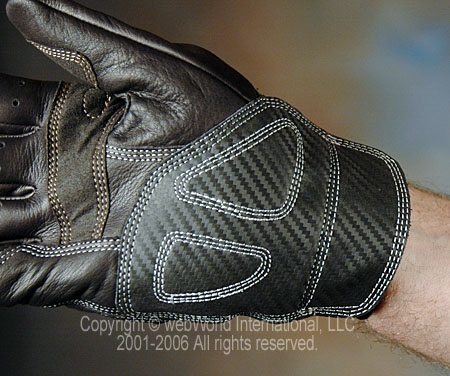 The palms have a big sheet of (claimed) Kevlar that covers the palm and heel of the hand right back to the edge of the short gauntlet.
Velocity Gear claims "2 mm Palm Reinforced Protection" in this area, but I'm not sure if they're referring to the Kevlar patch, the leather or a combination of both.
The leather used in the gloves seems thick enough and it appears to be good quality.
Extra sections of the stuff is sewn on to the edge of the hand outboard of the pinky finger; across the top of the palm where the hand rests on the handlebar and around the tip of the thumb.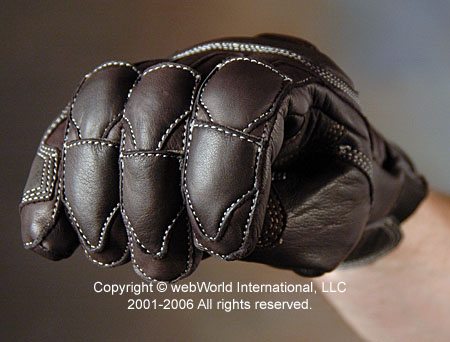 The first and second knuckles on the back of the gloves have extra "floating" sections of leather fitted on top.
These take the place of hard armor or carbon fiber protection and hopefully will offer the same levels of protection in case it's needed.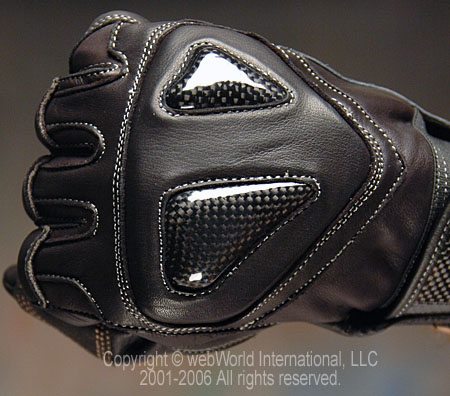 The back of the hand has a large section of leather sewn in with two triangular-shaped carbon fiber armor protectors that sit just over and in back of the knuckles.
The short gauntlet may seem unusual but it's actually pretty comfortable.
It's 35 mm wide and made entirely from elastic material. The Kevlar palm section covers it underneath, hopefully offering the protection that the elastic never could. However, the gauntlet unfortunately doesn't do much to keep the gloves on the wrist.
I don't have much confidence that they'll stay on my hands during a crash. It's very easy to pull the glove off, even with the gauntlet secured as tightly as possible.
I suppose this is due to the short length of the gauntlet and is a problem inherent in this design.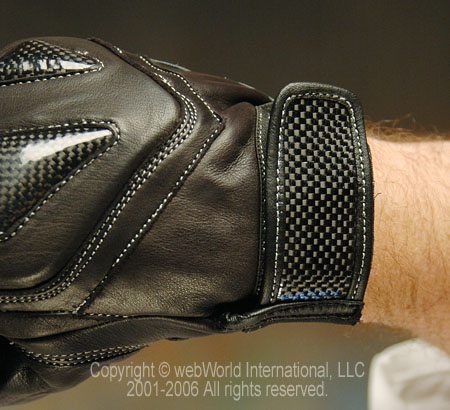 The glove fastens on the back with a section of "hook and loop" fabric glued on to the back of the elastic gauntlet. A carbon-fiber looking strap sits on top and secures the glove to the rider's wrist.
Each finger has a few holes popped in underneath; in the end, I'm not sure how much ventilation these really offer, but there you have it. The S1 gloves weigh 100 grams each (3.5 oz.) for the size large.
---
Where to Buy Velocity Gear Elite Motorcycle Gloves
Check Reviews & Prices on Amazon
Check Reviews & Prices On RevZilla
Also: Motorcycle Jackets, Motorcycle Gloves, Motorcycle Boots, Motorcycle Pants
---
Velocity Gear S1 Gloves – Conclusion
My overall impression of the Velocity Gear S1 gloves?  They seem very well made, they have several nice potential safety features and the leather appears to be of good quality and plenty thick.
The pricing is aggressive and, I think, a good deal.
My only complaint is that the gloves seem to run about 1/2 size big and the fingers and hands seem to be designed for hands on the thick side of average.
The length of the fingers are not a problem. I normally take a men's size large glove and the fingers are slightly short but the thumb is slightly long when my hands are on the grips.
But the extra material makes the gloves feel bulky in the palm and across the width. They just don't seem to be as nicely fitted as I'd like or when compared to my other favorite gloves.
Velocity Gear F9 Gloves
The F9 gloves are also priced aggressively at $89.00. But my pair has the same issue as the S1 gloves; they feel like they're slightly out of proportion, running normal in length but maybe a size big in width.
But they're loaded with features, including loads of carbon fiber, triple stitching, knuckle vents and Kevlar palm sliders.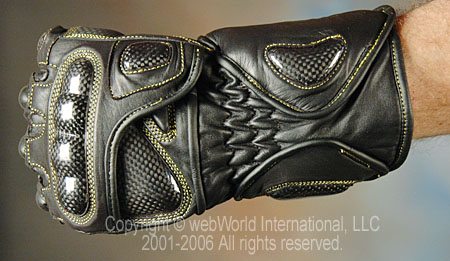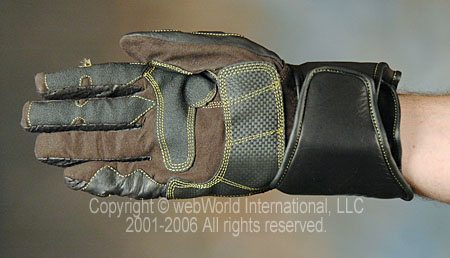 The F9 gloves have a race-style gauntlet that opens wide enough to fit over most jacket cuffs. But it secures across the underside of the wrist with two flaps that attach on to a piece of "hook and loop" glued on to the wrist side of the gauntlet.
I find this to be a bit strange, because a normal reaction would be to put the arms out, palm side down. I would think that having the wrist attachment underneath could make it easier for the cuff to come undone in a slide.
The flip side is that having the cuff secure in this manner gives almost 3 layers of thick leather for protection.
The palms are covered with Clarino leather, which is different than the leather used on the S1. The Clarino leather is softer, almost like a cross between regular cowhide and suede.
I'm not sure if Clarino wears harder than regular leather; it doesn't seem like it would, but many motorcycle glove manufacturers use it on the palms, so it must be good stuff (see the discussion on Clarino synthetic leather in the Owner Comments section below).
The rear of the palm and the heel of the hands have an extra section of (claimed) Kevlar triple-stitched on top.
The gloves also have an interesting grippy type of material triple-stitched over the web of the hand between the forefinger and thumb and also on the grip side of the forefinger and second finger. This gives good "gription" on the bike's hand grips.
The pinky finger also gets some extra protection with a section of leather sewn over the outside.
Flipping the F9 gloves over exposes the same type of good-quality thick leather used on the S1 gloves.
All five fingers have both first and second knuckle armor protection; carbon fiber on all but the second, third and fourth fingers, which have raised armor vents on the second knuckle.
The big knuckles are protected by a large carbon fiber armored floating section. It floats over a primary carbon fiber armor section that also protects the entire back of the hand.
There's probably more armor distributed over the back of the F9 gloves than any other glove I've used.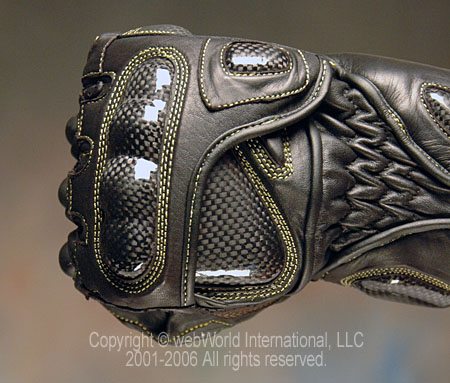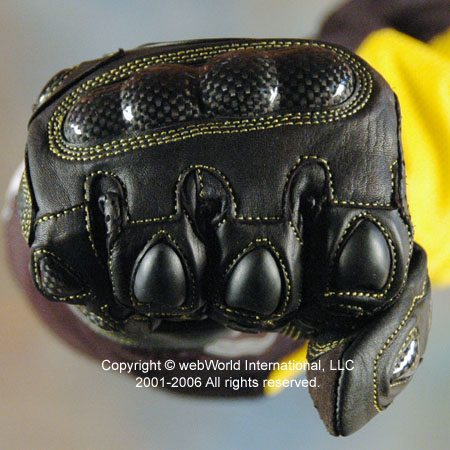 The wrist has a section of elastic sewn completely around. The flaps that surround the wrist and attach underneath as mentioned above are sewn on to the back of the wrist and have sections of carbon fiber sewn in for added protection.
Velocity Gear F9 Gloves – Conclusion
The Velocity Gear F9 gloves are loaded with features and seem to be very functional. I'll bet that they must have been designed by someone with racing experience.
The price is right at $89.00, but like the S1's, they seem to fit differently than expected, so try before you buy.
w

BW

 Review: Velocity Gear F9 and S1 Gloves
List Price (2006): S1: $55.00. F9: $89.00
Made In: Unknown
Colors: Black
Sizes: XS-2XL
Review Date: July 2006
Note:
 For informational use only. All material and photographs are Copyright © webWorld International, LLC since 2000. All rights reserved. See the webBikeWorld® 
Site Info page
. Product specifications, features and details may change or differ from our descriptions. Always check before purchasing. Read the
Terms and Conditions
!
---
Where to Buy Velocity Gear Elite Motorcycle Gloves
Check Reviews & Prices on Amazon
Check Reviews & Prices On RevZilla
Also: Motorcycle Jackets, Motorcycle Gloves, Motorcycle Boots, Motorcycle Pants
---
Owner

 Comments and Feedback
---
Velocity Gear
A webBikeWorld visitor who wishes to remain anonymous sent us this information on the possible origin of Velocity Gear.
He said: "(The gloves) are made by Cobija , a Pakistani re-brander as speculated by Burn.
Cobija is obviously making at least look-alike gear, mostly in the style of Alpinestars armor in this year's collection, their older stuff all resembled that of Dainese.
Seems a number of Pakistani manufacturers are doing that, but I'd have no idea if those particular Italian companies are sourcing their pieces from any of them or not."
Editor's Note: We received correspondence from Velocity Gear that indicates that their products are not currently made by Cobija.
---
Clarino
"Clarino is a synthetic product made to feel and look like suede, but much of it's properties are still a mystery to me. It is being used by many glove manufacturers and comes in a wide range of forms having to do mostly with the texture and stiffness.
As far is these particular gloves use of one of the various Clarino materials and it's efficacy for such things as abrasion resistance, tear resistance, or cut resistance, I don't know.
That is something we should be asking for from all of these motorcycle gear manufacturers.
There is a CE standard for motorcyclist gloves that establishes performance levels for all of those issues, but to date, I know of no manufacturers certifying any of their gloves to it.
Here's a link to the Clarino website, and of course it has no info to add to the discussion of (the fabric's) usefulness in motorcyclist protective gloves."
Editor's Note:  Clarino is a synthetic leather, used in many sporting items, motorcycle boots, gloves, etc. It has the properties of leather but without having to kill cows. Compared to leather, Clarino is claimed to have smaller fibers, softer feel, doesn't rot, water repellant, can be washed or dry cleaned.
Also: "Clarino is based on a non-woven fabric composed of special synthetic fibers that are intertwined three-dimensionally.
The material's softness and suppleness arise from the structure of the non-woven fabric's special fibers—a superfine fiber construction and tiny cavities."  From the Marubeni CLS website.
Other WebBikeWorld Gloves Posts