VELOCETTE KSS – WHAT'S IN A NAME?
In case you were wondering, the letters "KSS" stand for Kamshaft Super Sport or Camshaft Super Sport. The original owners of Velocette were German, and the German spelling is with a K. The KSS was the final development of the K-series, and it stayed in series production until after World War II, ending with the 1948 model year.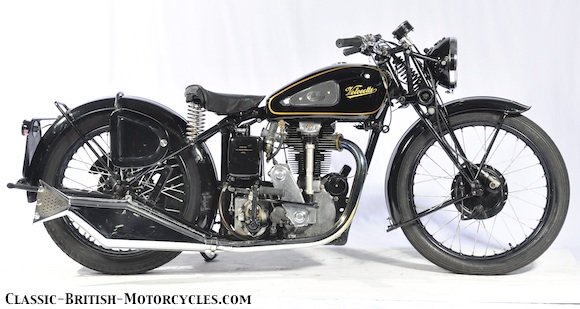 VELOCETTE KSS MK II
The KSS Mk II was developed in 1936 using the MkV KTT chassis and a new engine with an alloy (aluminum) cylinder head, offering lighter weight and improved cooling. A road-going touring version was spun off of this setup, designated the KTS, sporting 19-inch wheels front and rear.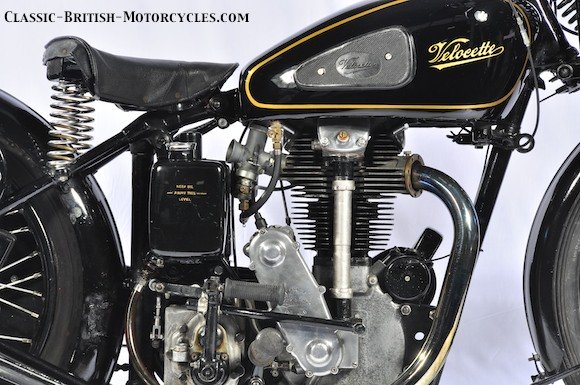 VELOCETTE KTT – ADVANCED DESIGN
Velocette was ahead of its time with the K-series of engines. Typical of the day, they were air-cooled, vertical singles with grossly undersquared bore & stroke dimensions. However, most of its contemporaries used a block-mounted camshaft (or two) which operated their overhead valvegear. Velocette placed the cam over the top of the cylinder head (Overhead Cam or OHC) driving it with a shaft running up the right side of the engine, with bevel gears on both ends. It was the method of choice for driving far-away cams, back then, as small chains weren't reliable enough yet. It provided a lot of power out of a fairly small package (although the engines grew quite tall), fairly reliable (by the standards of the day), and they loved to rev. A very successful design that was built, developed and perfected over 20+ years of production.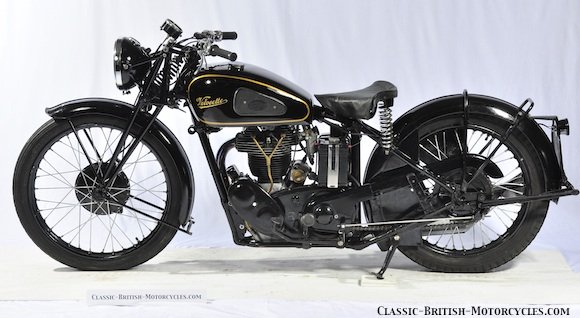 ABOVE: This gorgeous 1946 KSS has been faithfully restored to as-new condition.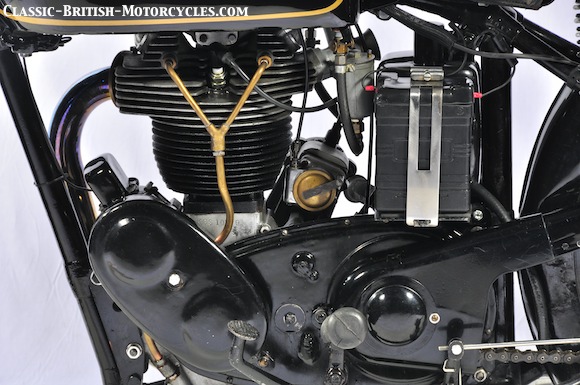 ---
Velocette KSS RACER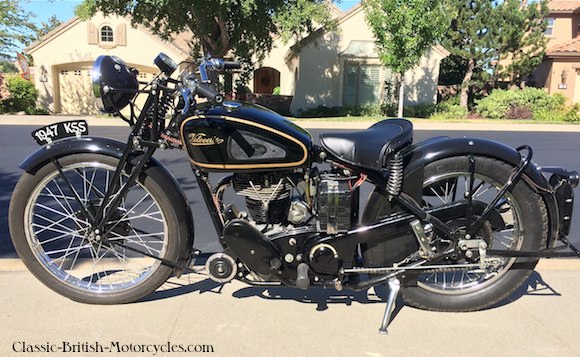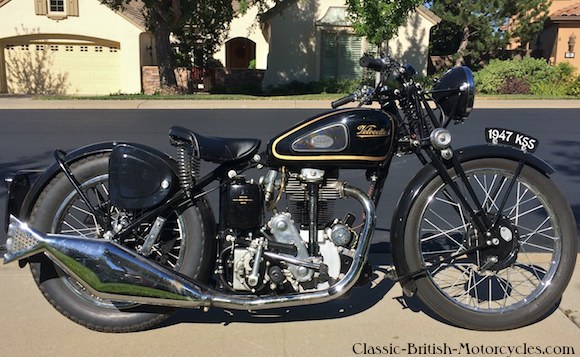 ABOVE: 1947 KSS Racer with typical period-correct racing modifications.
RACING SUCCESS
The KSS started out life as a production roadster intended for street use. But the combination of superb handling (for the day), excellent power and reliability made it a natural choice for racing. Stripped of its road gear, the KSS Racer got a racing clutch, positive-stop foot-operated gearchange (borrowed from the KTT) and special tuning, giving them a 90mph top speed, which was hard to beat in the 1930s. Here again, the excellent handling qualities helped to insure its racing success in places like the Isle of Man TT.
---
Velocette KSS SPECIFICATIONS
YEARS PRODUCED:

DISPLACEMENT:

ENGINE TYPE:

OUTPUT:

TOP SPEED: (Racer/Roadster)

TRANSMISSION:

SUSPENSION: (Front/Rear)

WHEELBASE:

DRY WEIGHT:

1925 – 1948

348cc

OHC air-cooled 4-stroke single

25hp

90mph / 80mph

4-speed foot-change gearbox

Girder forks / rigid frame

53.75 inches / 136.5cm

265 lb / 120 kg
---
Velocette KSS YEAR-BY-YEAR
---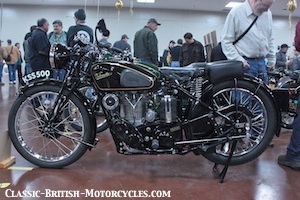 ---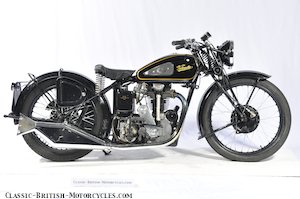 ---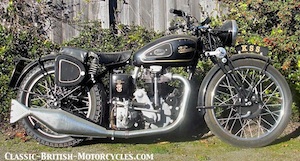 ---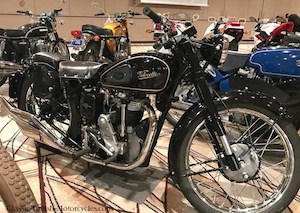 ---
Check out these VELOCETTE BOOKS
---
---

BOOK OF THE VELOCETTE ALL SINGLES & TWINS 1925-1970
---

Velocette: Production Motorcycles (Crowood Motoclassics)
---

Velocette Motorcycles – MSS to Thruxton: New Third Edition
---

The Velocette Saga: The Story of a Great Motorcycle
---

Velocette 350 & 500 Singles: All 350 & 500cc models 1946-1970 (Essential Buyer's Guide)
---

Always in the Picture: History of the Velocette Motorcycle
---

Velocette: The Racing Story (Crowood Motoclassics)
---

Velocette (Illustrated Motor Cycle Legends)
---

Velocette – Technical Excellence Exemplified
---
For more like this, please visit our
VELOCETTE MOTORCYCLE BOOKSTORE
---