Urban and country riders need different levels of abrasion, impact and seam-bursting protection in their riding gear, according to MotoCAP chief scientist Chris Hurren.
He explains the differences in this video from MotoCAP, the world's first safety and comfort ratings system for motorcycle clothing which launched on 18 September 2018.

Jackets and pants tested
Almost a year after launching, the Australian testing facility has now rated 146 items.
The latest inclusion is comfort and safety ratings for four jackets and seven pairs of pants.
Alpinestars SP-X perforated leather pants four stars for thermal comfort, the highest rating for leather pants in this category yet.
The pants also obtained three out of five stars in protection.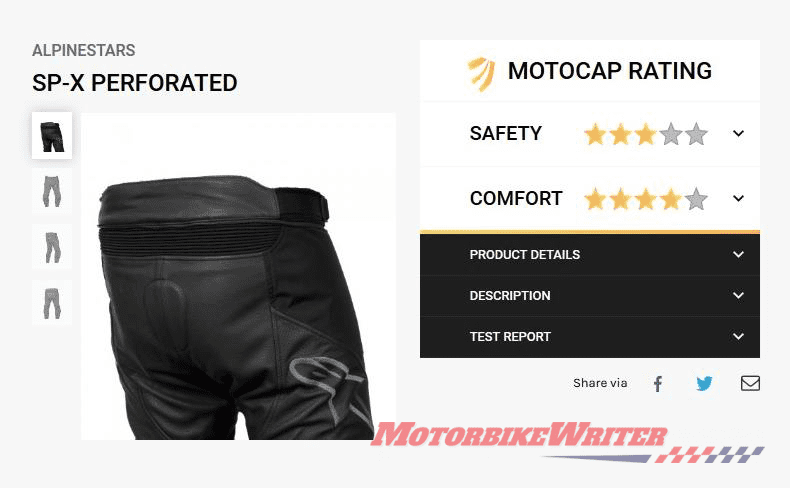 The MotoDry Advent Tour textile pants received the maximum score of 10 for water resistance, only the second pair of pants so far to earn the highest score.
The pants only scored half a star for protection, but were awarded three stars for comfort.
The Merlin Hamlin Zip-up Hoodie jacket was awarded the highest rating for thermal comfort in this release, scoring three out of five stars, and one out of five stars for protection.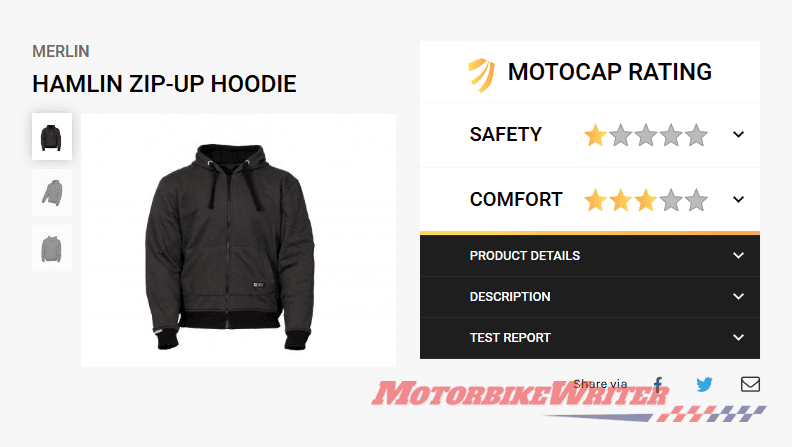 MotoCAP ratings explained
The brief MotoCAP video follows recent seminars across the country by MotoCAP researchers from the Deakin University.
If you are interested in having a MotoCAP researcher talk to your riders group, click here to contact them.
Chris says he briefs riders on MotoCAP aims, how a rider can use the service to select the right gear, what is tested and why, plus "some of the science that we do to back up our work".
Typical rider questions are:
Q: 

Who funds the program?

A: MotoCAP is a not-for-profit organisation in partnership with and funded by: from NSW – Transport for NSW, SIRA and the NRMA; from Victoria – VicRoads, TAC and RACV; from South Australia – DPTI, MAC and RAA; from Queensland – TMR and RACQ; from Western Australia – the Western Australian Road Safety Commission; plus the Australian Motorcycle Council and the New Zealand Accident Compensation Corporation.
Q: 

How many garments are tested a year?

A: It was launched in September 2018 and has so far tested 146 articles of clothing.

Q: 

Are any companies getting on board with the program?

A: Despite invitations, no manufacturer has yet come forward to have their gear tested. Instead, they use a system of secret buying.