Ducati is geared up to celebrate the 2016 World Ducati Week from July 1-3 with a special edition model and an expected 1100cc Scrambler, but "dieselgate" may spoil the party.
On Wednesday, June 22, 2016, major shareholders of the Volkswagen Group will meet in Hannover to discuss plans to solve the debacle where diesel vehicles were falsely claimed to have low emissions.
It is expected the legal blowout will cost the company many billions and that they will be forced to sell off one or more of their many subsidiaries, which includes Ducati.
Rumours have circulated that Ducati Motor and Man trucks could be put on the market. Ducati would be expected to fetch about 1.5 billion Euro.
Audi CEO Rupert Stadler is reported in British motorcycle newspaper MCN saying "Ducati is not for sale". But that's just one VW Group board member. The shareholders might think otherwise.
Meanwhile, Ducati has not officially dismissed the rumours, but seems to be playing a business-as-usual approach.
It includes the launch of a special edition model at the World Ducati Week at the Marco Simoncelli Misano World Circuit to celebrate the Italian brand's 90th anniversary.
There is no word on which bike will receive the 90th birthday treatment, however Ducati will also have a new model at the event.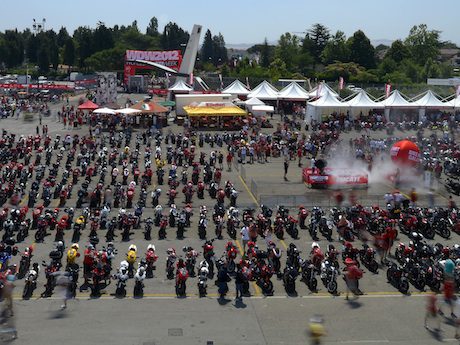 It will not be displayed publicly, but like the pre-launch of the Scrambler at WDW a couple of years ago, it will be in a "closed room" review where participants can go in and look, but not take photos.
We have tipped a bigger capacity Scrambler for some time and this could be the occasion for the secret unveiling.
The 800 Scrambler features the engine from the Monster 795/96.
Similarly, a bigger Scrambler is expected to be powered by the 1078cc L-Twin cylinder, four-valve Desmodromic, air-cooled engine from the Monster 1100.
WDW will also feature an array of past and present Ducati MotoGP and Superbike racers including Australians Troy Bayliss and Casey Stoner, as well as Andrea Dovizioso, Andrea Iannone, Chaz Davies and Davide Giugliano.
The Ducati Museum will also re-open after a major renovation over several months.