Two Brothers P1 Power Tip Image Gallery
 The P1 Power Tip is claimed to reduce sound levels by 3 to 4 dB when mounted to the stock M2 exhaust.
We weren't able to substantiate that claim.
We reviewed a Two Brothers M2 Carbon Fiber exhaust recently and concluded that it has "A Rugged/Sweet Sound Just Shy of Obnoxious".
But just for grins, I bought a Two Brothers P1 Power Tip to see if it would make a difference.
The Two Brothers website calls the P1 Power Tip a "sound suppressor" and a P1X Power Tip is also available, claimed to reduce sound output by -7 to 8 dB.
We did not try the P1X but maybe we will as a follow-up.
The marketing information says that the P1 is "a straight-through sound diffuser…(that)…quiets the pipe about 3-4 dB with no significant reduction in horsepower."
By "straight-through", they mean it's basically a tube.
To be honest, as soon as I looked at it I wondered what it could possibly do to reduce sound?
Maybe because it reduces the internal diameter of the exhaust tip?
As you can see in the photos, the P1 Power Tip is a tube, it reduces the exit diameter of the exhaust slightly (about 6-8 mm total) and it's not supposed to make any difference with power output.
3 to 4 dB should make a noticeable difference but we weren't able to notice any change in sound levels.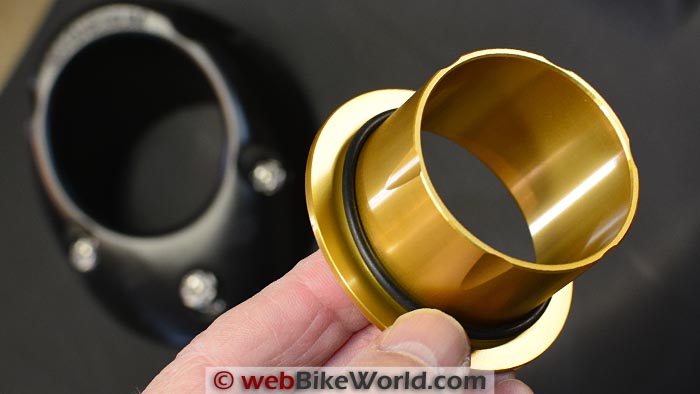 Installation
Installing the Power Tip is easy. Remove the 6 Torx bolts (photo below) on the magnesium end cap. Gently remove the end cap and don't lose the lock washers underneath.
Place the Power Tip in the recess and re-attach the end cap. It's that simple.
But wait — ours was loose and it rattled like rocks in a can when the bike was started. It appeared to be missing some type of gasket so I called Two Brothers and yes, the Power Tip kit is supposed to come with a high-temp O-ring. Ours did not and it was packed in the blister pack shown at the top of this review.
Two Bros said they'd send one if I wanted but I opted to stop by a local speed shop and the owner had a bunch of leftover gaskets and O-rings and said "Take what you want, no charge". I took a 2.25″ and it works. I have no idea if it's heat resistant but I guess I'll find out if the Power Tip starts to rattle.
Another re-installation (paused by a one-hour search for a dropped Torx bolt from the end cap — don't do that!) and it was ready to go.
w

BW

 Video: Two Brothers P1 Power Tip
Part 1: Two Brothers M2 Exhaust Review (With Video)  |  Part 3: Two Brothers P1X Review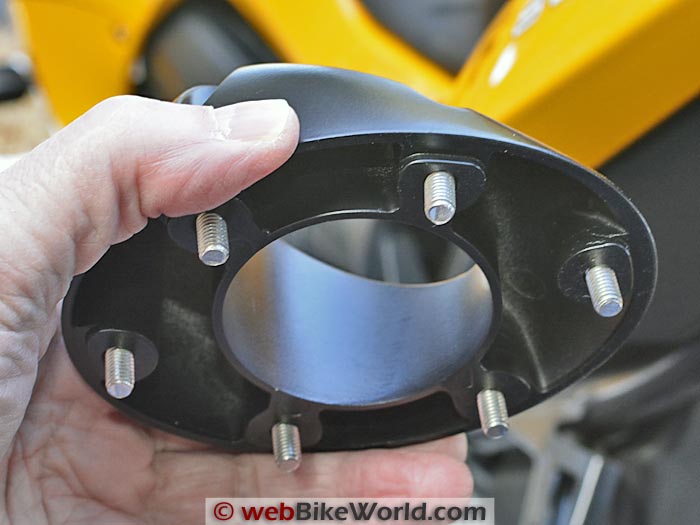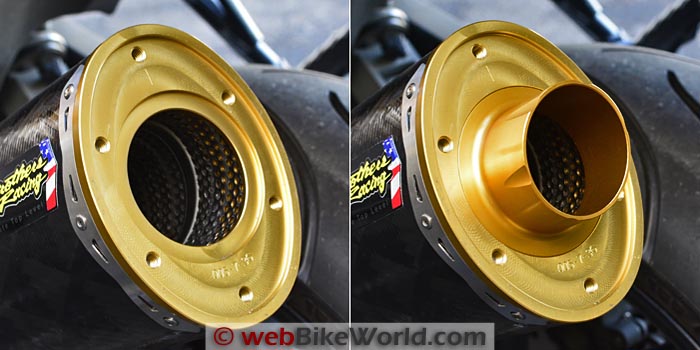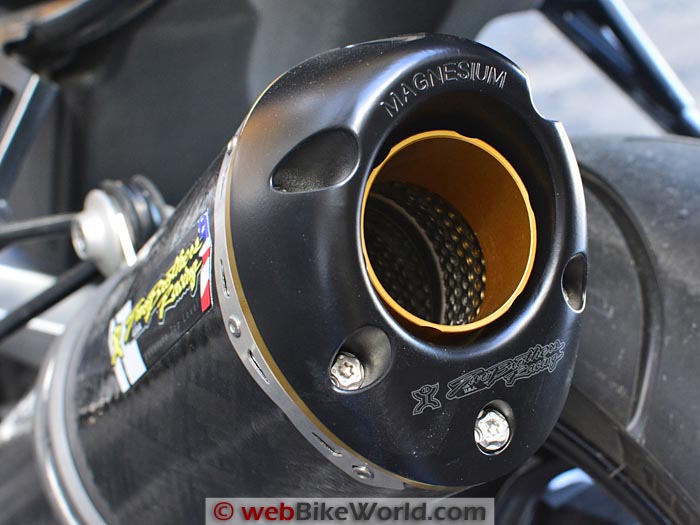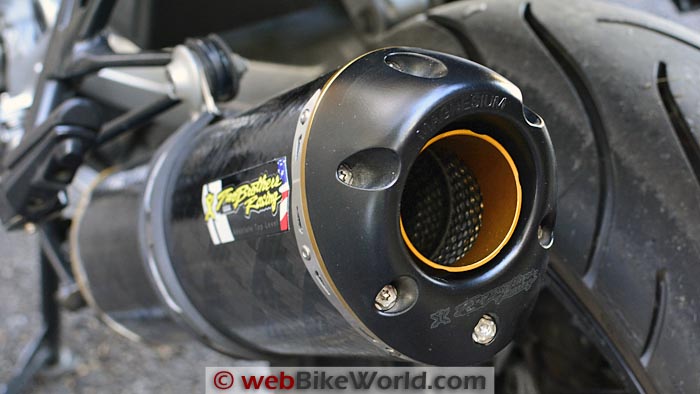 Conclusion
As soon as I started the bike, we both noticed a difference, but not what we expected. In fact, the exhaust sounded louder and more "focused".
This isn't supposed to happen, but a check with the dB meter shows that the exhaust actually registers about 1 dB louder with the Power Tip than without (see the video).
Granted, this is "un-scientific" because it's impossible to hold the throttle and rev the bike exactly the same as when we did the exhaust review, but we thought there would be some reduction in sound volume with the Power Tip P1. That doesn't appear to be the case however.
So, back to the drawing board. We'll try the P1X Power Tip next, which has an internal extension that does seem like it would help lower the volume.
More: Two Brothers M2 Carbon Fiber Exhaust Review  |  Two Brothers P1X Power Tip Review
Also: BMW F800S Blog
w

BW

 Review: Two Brothers P1 Power Tip
List Price (2015): $29.98 (P1) or $34.98 (P1X)
Sizes: Various to fit different TwoBros exhausts.
Review Date: February 2015
Note:
 For informational use only. All material and photographs are Copyright © webWorld International, LLC since 2000. All rights reserved. See the webBikeWorld® 
Site Info page
. Product specifications, features and details may change or differ from our descriptions. Always check before purchasing. Read the
Terms and Conditions
!
Owner Comments and Feedback
---
From "E.R." (February 2015): "I have this exhaust on my 2013 Yamaha FZ1. I too found that the P1 tip only changes the tone, not the DB level. I then tried the P4 tip which reduced the DB level as well as changed the tone to more like the OEM muffler.
I then bought the P1X tip and found the DB level was reduced and the slip-on retained a good deep tone. This was confirmed at a police checkpoint where my bike registered a 101 DB level on the police measurement. I was also checked the prior year with the P4 tip installed and registered a 98 DB level. Thanks for all the great product reviews!
---
From "V" (February 2015): "I'll first start off by saying that I don't own either an F800S nor a Two Brothers M2 exhaust. But is it possible you installed the P1 Power Tip backwards? Maybe you'll get more noise reduction if the smaller diameter extension goes inside the exhaust instead of protrudes from the exhaust. Just a thought."
Rick's Reply: Good thought, but it's supposed to be installed the way we did it. I don't think it will fit the other way, the radius at the corner wouldn't fit in the sharp edge of the end of the exhaust