I ride a Triumph Bonneville. It's far from the greatest performance bike in the world, but I'm in pretty good company!
If you Google search for "celebrities on motorcycles", as I did, you may come up with a similar result where almost 50% of the celebrities are on a Triumph Bonnevilles.
They include the very sexy Anne Margaret, folk poet Bob Dylan who actually crashed this bike and has never ridden again, square-jawed Clint Eastwood, rock legend Keith Richards, Hollywood star Paul Newman and the king of cool, Steve McQueen.
Now that's a pretty cool bunch to be included in.
However, I also came across a photo of Sonny Bono vainly trying to kick start a Bone as Cher looks on.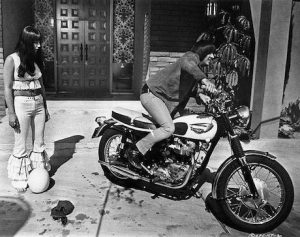 Ok, so we'll just forget about inviting them on our next celebrity Bonne rally.
So what is it about the Bonneville that makes it so popular to celebrities?
Is it the fact that the name comes from its speed records at the famous Bonneville Salt Flats in Utah?
Maybe, in the case of McQueen and Newman who were both speed freaks.
Is it the bike's unwavering style over the years, its simplicity, its raspy note or its free-revving heart?
All I know is, it puts a smile on my face every time I ride it.
It's the only bike I have ever owned that I take out for just a short run around the block. The other night I even took it for a short ride in the rain, just because it's such fun.