If four wheels move the body and two wheels move the soul, what do three wheels do?
Purist motorcycle riders don't consider three wheelers to be motorcycles at all. However, the authorities do, so you'll still need a motorcycle licence to ride one in most countries. In places such as New Zealand you can ride three-wheelers such as the Can-Am Spyder on a car licence.
No matter what you think about three-wheelers, they are a valid form of transportation and certainly great fun in their own right, albeit nowhere near as much fun as a "proper" motorcycle.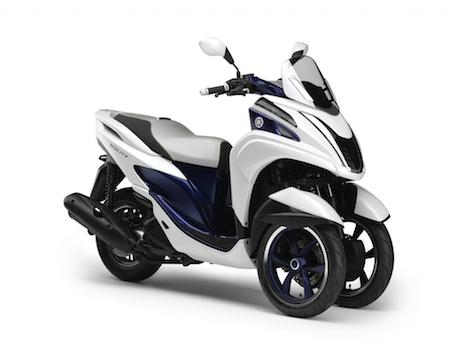 The main differences between riding a motorcycle and riding a trike is that you don't lean them and you don't counter steer. You steer in the direction you want to go. Exceptions to this are the new generation of three-wheeler leaning scooters such as the Piaggio MP3 and Yamaha TriCity.
Many of us learned to ride on a tricycle, even before we rode a bicycle and some of us may finish out our motorcycling days on three wheels. So you may need to acquaint yourself with what is available. There are many varieties of three-wheelers and this article will look at the various types.
SIDECARS
Sometimes called "outfits", these are the original three-wheelers. They turned a motorcycle into a practical vehicle for transportation and were heavily used by the military. The only company still mass-producing outfits is Ural which make road-going and off-road varieties. The third wheel is driven in countries where they drive on the right side of the road, but when the sidecar is converted to the left, it is not driven. These can be huge fun to ride and the greatest trick is to lift one wheel in the air on corners or even in a straight line. Most outfits are conversions of regular bikes, requiring substantial suspension and even wheel modifications.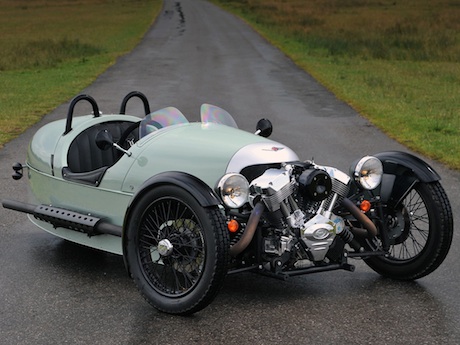 THREE-WHEELERS
Historically the next three-wheelers were really cars, not motorcycles. Vehicles such as the three-wheeler Morgan have steering wheels and, even though some of them use motorcycle engines, they are cars. They can still be awesome fun and are often used as track car, but most motorcycle riders will want to steer (sic) clear of them.
TRIKE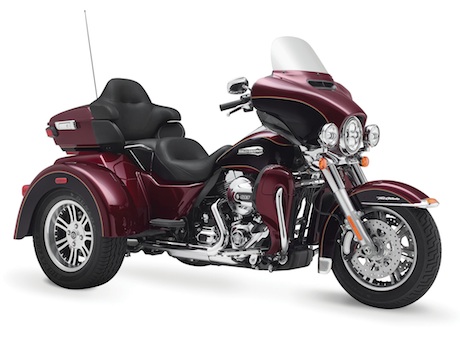 The only company making a production trike is Harley-Davidson. Their Tri Glide is not available in Australia because of their perceived ability to tip over. H-D Australia is continuing to work on getting them approved. However, through a quirk in the laws, small-volume importers are able to bring them in. It's based on an Ultra Classic and is properly designed, engineered and factory tested.
CONVERSIONS
These are non-production trikes similar to the Harley as they are based on a production bike but with two rear wheels. Many Harleys are popular donor bikes for conversions, but so are other tourers such as the Honda Goldwing. These trikes are not factory tested. They also are very top-heavy, giving the rider and pillion the feeling that you are about to be catapulted into the weeds.
TEMPORARY CONVERSIONS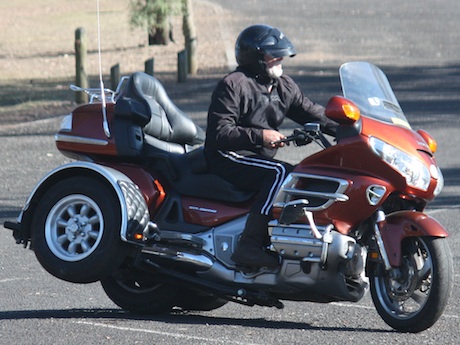 Just as dad fitted training wheels to your bicycle while you learnt, these are temporary rigs that fit to an existing bike. You actually end up with a four-wheeler with three wheels at the back. One example is the Wedgetail which bolts to the Goldwing's centre stand and footpegs. You have to remove the whole underbelly and exhaust to fit it. The rig has independent suspension hinged on the joins and it easily lifts an inside wheel on corners yet you still have three wheels on the ground. I've ridden one and it scared me. It also places a lot of stress on a bike not designed to have one fitted. They are expensive (about $11,500), they will void most warranties and could affect your insurance, so I'd avoid them.
CUSTOM TRIKES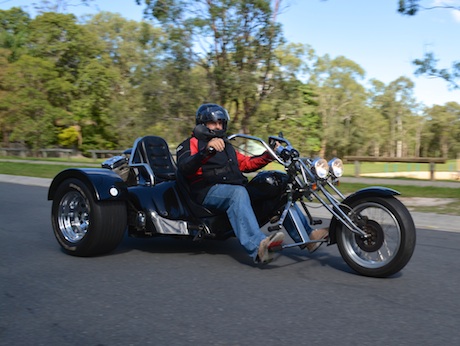 These are the most popular of all trikes. The German Rewaco is a prime example with their custom chassis, motorcycle front wheel, springer forks, engine in the rear, wide rear car tyres and solo or multi-seat with one or two pillions elevated behind the rider. They are often powered by a car drivetrain, usually a VW Beetle flat four and gearbox in the rear. These are immense fun with a low centre of gravity. They handle like a go-kart and can do awesome power slides. However, pillions sit high and can feel like they are being thrown off in corners. I reviewed the OzTours trike in a recent edition of Cruiser & Trike and will have a feature on an S&S-powered Bon Trike in an upcoming issue of C&T.
ROADSTERS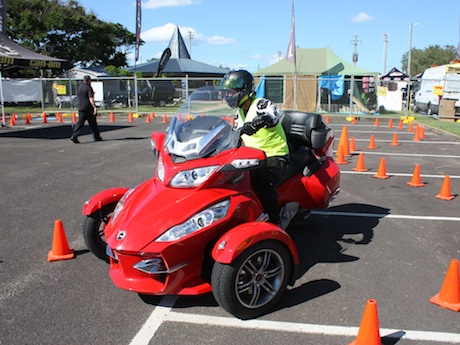 The prime difference here is that the two wheels are in the front. BRP's Can-Am Spyders have become very popular, especially with older people who still want to travel long distances in comfort. They come with electronic roll-over protection and are properly factory tested and homologated. That doesn't mean you can't roll them over – I did! But they are well sorted, officially approved and are actually easier to ride if you don't have a motorcycle rider's sixth sense. See my review here.
LEANING THREE-WHEELERS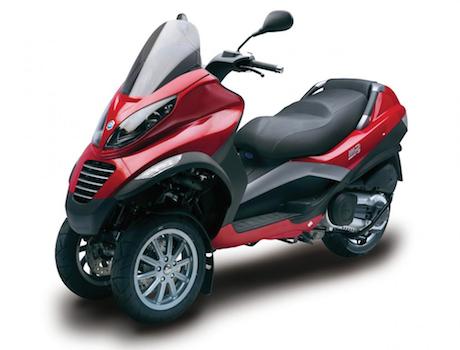 I'm not sure there is a correct terminology for this, but Piaggio was the first to market with a three-wheeler with two wheels up front that leans into corners. It feels exactly like a normal scooter or bike with leaning and counter-steering, only with much more grip in the front so you can push it hard into corners. And when you pull up to the lights, some of them have a switch that locks the front wheels so you don't have to put a foot down while stopped to prevent them from toppling over. Yamaha has recently joined the three-wheeled fun with their TriCity and now their Niken.