Tourmaster Synergy Heated Vest Image Gallery
The prodigious amount of heat is transferred smoothly and evenly through carbon fiber fabric, so no worries about hot spots or wires.
Segment-busting price includes the controller that should come with every other heated vest but doesn't.
Also, a wiring harness for the bike that should come with every other heated vest but doesn't; and the ability to connect to any of the other Synergy heated garments.
And by the way, did I mention that this baby is hot, hot, hot?
Can a heated vest be too hot? The new Tourmaster Synergy vest has it all.
That includes modern carbon fiber heating elements instead of those old-fashioned wires and lots of elastic on the sides to keep the vest and the warmth close to the bod.
Also, it includes a built-in waterproof controller and each Synergy heated clothing item comes with a motorcycle wiring harness.
The Synergy vest is thin, light and I honestly think it may actually put out too much heat, if that's possible!
The weather hasn't been ultra-frigid yet, so I'll reserve judgment for now.
But in recent 45- to 50-degree blustery damp conditions on the Multistrada, I can only keep the vest on its lowest setting (it has low, medium and high) and even then I have to cycle the power on and off to keep from roasting.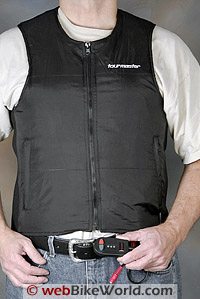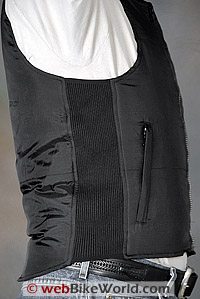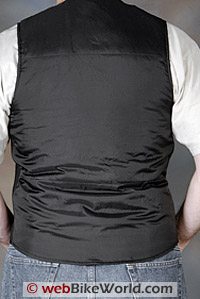 Tourmaster Synergy Heated Vest Details
Not that I'm complaining, of course, because more is better when it comes to heated motorcycle clothing.
The special carbon fiber fabric that serves as the heating element provides a very even warmth in the back and the front of the vest, and I think it's the heat in front that actually makes me feel like it may be a bit too much.
I've heard that you're not supposed to use heated clothing on the chest because it transfers too much heat to the blood going to the heart.
In fact, the heat in the Jett battery heated vest is only located in the rear of the garment by design for just this reason.
I wish I had the ability to switch the front or rear heat on and off independently in the Tourmaster Synergy vest, because I think would solve the "too hot" problem.
But then again, it may be just me, so we'll wait for some input from owners before we come down on one side or the other of this argument.
One of the benefits of wearing a heated vest under a winter motorcycle jacket (usually in 3/4-length) is to minimize layering and allow as much freedom of movement as possible while still keeping warm, of course.
The goal is to have lightweight, very flexible garments that don't bind during over-the-shoulder head checks or other movements and that make riding just as enjoyable in the winter as it is in the summer.
Heated clothing must be worn close to the body to do its thing, but not many heated vests fit correctly, nor do they incorporate elastic.
A slightly oversize turtleneck or long-sleeve T-shirt can be worn over the garment as a cheater to help get a snug fit. A welcome side effect of is that the over-garment can act as an insulating barrier.
The Tourmaster Synergy Heated Vest
I've been wearing the Tourmaster Synergy vest under a Joe Rocket Ballistic 7.0 jacket similar to the one that Rick reviewed recently.
The Ballistic 7.0 jacket uses some type of new fabric that keeps the jacket very lightweight and naturally flexible, so the thin and warm Synergy vest is a perfect match.
It feels liberating to wear a comfy and light weight jacket while riding in cold weather that would normally have me bundled up an looking like a tick.
Tourmaster recommends wearing the vest over a single shirt to keep the heat close to the body, so I wear the Synergy vest over a cotton T-shirt.
I've tried wearing a long-sleeve cotton T-shirt or turtleneck both over and under the vest.
The only problem I see is that when the temperatures start dropping below 45 or so, my arms get cold, so I may have to try either a windproof jacket or bring out the all-singing-and-dancing, no compromises winter 3/4-length Rev'it Cayenne jacket.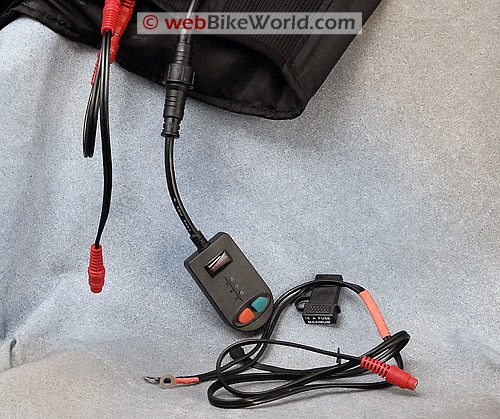 Wiring and Connections
Each Synergy garment comes with its own controller, a wiring harness for the bike and the ability to connect with the other Tourmaster Synergy heated clothing items, which as of this writing include a heated jacket, heated gloves, heated pants and another style heated vest with a collar.
I have enough trouble fitting jacket collars to begin with, so I didn't think any extra bulk was necessary and I ordered the collarless vest, which works perfectly well.
The Tourmaster Synergy controllers are waterproof and they have an on/off, low, medium and high setting.
They plug in to the robust wiring harness, which is also used to connect to other Synergy garments.
The controller on the vest hangs down the left-hand side and out the bottom of the vest with enough length to reach past the bottom of a 3/4-length jacket.
And although I have to take my eyes off the road to adjust it because I can't always tell which button is which while wearing gloves, it's pretty easy to use.
Tourmaster includes a Velcro strap that can be secured around the rider's thigh to keep the controller at hand.
UPDATE 1:  See the Owner Comments section below for feedback from "G.U." and the photo of his Synergy vest; apparently the leads on some vests may be much shorter than the lead on ours.
The motorcycle wiring harness that's included in the package is nicely made and it has a separate fuse.
And there's a bonus if you buy two Synergy garments: you'll end up with two harnesses, so owners of two bikes will be all set and they can wear the Synergy gear on either one.
UPDATE 2:  Also note that accessory wiring harnesses are available from Tourmaster, including an extra temperature controller, extra V-split connectors, a BMW "Euro" style power adapter, a battery wiring harness and a leg band (holds the controller from the vest on the upper leg).
Each Synergy garment is supplied with a battery harness, electronic solid-state controller, and appropriate cabling or V-splitter harness to connect to other Synergy garments in a system.
Synergy garments have a 3-year warranty. They are machine washable.
UPDATE 3:  February 29, 2008 – It appears that some of the initial controllers may have been defective. After some detective work, a webBikeWorld visitor contacted Helmet House, who owns Tourmaster, at 800-421-7247.
They informed him that they had been experiencing problems with some of the controllers for the Synergy Jacket Liner. They redesigned the controller unit and they believe they have resolved the problem.
Apparently, the old controllers will be replaced. Contact Helmet House for more information.
Conclusion
Between the no-hot-spots carbon heating fabric, which is also approved for use in the rain, and the built-in controller and the wiring harness — and the low price — Tourmaster has the market cornered.
Old-fashioned wired garments are so yesterday, and how about having to buy a separate "Heat-Troller" control for 60-odd bucks?  You're kidding me, right??
I can't imagine buying a heated garment and not having the ability to control the heat without also buying an optional controller. That's like buying a car but having to pay extra for the engine…
I'm sure this marketing strategy will change very soon as the old-style motorcycle heated clothing makers start losing wheelbarrows full of money to customers going to Tourmaster.
You want heat?  Here it is. End of discussion.
Next: Tourmaster Synergy Heated Gloves Review
More wBW Heated Clothing Reviews  |  Motorcycle Glove Reviews
w

BW

 Review: Tourmaster Synergy Heated Vest
Manufacturer: Tourmaster
List Price (2007): $119.99
Colors: Black.
Made In: China
Sizes: XS to 4XL
Review Date: November 2007
Note:
 For informational use only. All material and photographs are Copyright © webWorld International, LLC since 2000. All rights reserved. See the webBikeWorld® 
Site Info page
. Product specifications, features and details may change or differ from our descriptions. Always check before purchasing. Read the
Terms and Conditions
!
Owner Comments and Feedback
---
Addendum
Chart showing current draw of Tourmaster Synergy garments: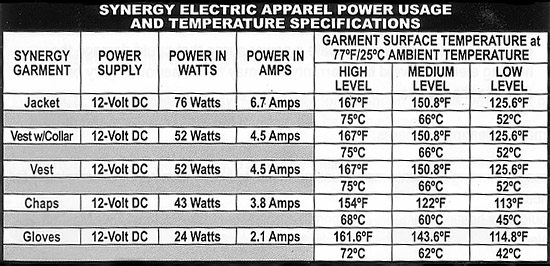 From "J.H." (12/09):  "Just thought that I'd let you know that we ordered an SAE-to-coax adapter and used the Battery Tender pigtail that was already there on the bike and the vest worked just fine. It sure does make a big difference having toasty warm heat on one's body!  Thanks."
---
From "R.K." (4/09):  "I love the Tourmaster Synergy vest, puts out good heat, but I've had some problems…
Pros:
Good heat output.
Inexpensive.
Elastic keeps it snug.
Cons:
Power lead too short, does not extend below vest, you have to fish around to find it.
Where the controller connects to the vest is a small grommet that rips out easily. I returned my first vest because this grommet ripped the material and started pulling the wires out. My second vest ripped also, but I reinforced with binder clips to stop the wires from coming out.
My second vest has stopped working after 6 months. I think there is corrosion in the controller unit.
I will be returning the vest today to the retailer, hopefully they will just exchange. As I read above the controller has been redesigned so I hope the corrosion does not return.
That problem with the grommet from the controller to the vest- well I know how to reinforce it now. I hope the new vest has a longer power lead…
But for the price and heat output I still think it is a value (provided I can get an exchange for my defective controller!)"
---
From "R.H." (3/09):  "Having just received my new (Tourmaster) vest and pant liner, I was pleased with the apparently quality. You get all the wiring you need and heat controls.
Here is my main beef however….the plug for the vest is waaaay too short. It doesnt even come out below the vest.
This would mean that no matter how cold it is, I will have to undo my riding jacket and unzip the vest so i can plug it in.
This seems like very poor engineering and makes me wonder if anyone from Tourmaster has actually used the product.
I will have to add a length of wiring to bring the plug down to where it extends slightly beyond the bottom of my riding jacket. Something I shouldn't have to do and so far I have received no response from Tourmaster."
Editor's Reply:  Something must be missing from your vest; you can see in the photos above there is plenty of length on the vest wire, and it hangs out the bottom of my 3/4-length jackets, so perhaps yours is missing a part?
---
From "J.E." (11/08):  "I just bought the Tourmaster Synergy Liner and ordered an extension cable and the BMW style socket since my bike has an accessory port. Unfortunately those two items are on back order.
I ended up installing the wiring harness yesterday and took my first ride to work this morning with the liner hooked up.
I got the liner because my arms are out in the breeze and under leather, they start to cool down real fast in my 14 mile commute along I-5. First, the liner, even without the power on, is an extremely warm layer.
I can just throw away the vest liner that came with my Alpinestars jacket, it is pretty useless.
Second, the Synergy Liner heats up very quickly. They haven't done anything about calibrating the heat setting. Low is all I could stand and only for short bursts. This thing definitely puts out the heat.
Finally the heated neck area is great. I probably won't need to use a neck gaiter this winter.
At less than $200 and the competitors pushing $300 or better, for me and the fairly temperate climate we have in the Pacific NW, this seemed the better value."
Editor's Note:  Note that J.E.'s comments are in reference to the Tourmaster Synergy full jacket liner, not the vest reviewed above.
---
From "D.E.":  "I have read your articles frequently and have used your comments to form several purchase decisions. In this regard I recently purchased the TourMaster Heated vest which I will use on my 2005 K1200LT.
I am in (Canada) and we still have a lot of snow which keeps things cool to say the least and the need for the vest. I have also purchased the Tourmaster heated gloves contrary to your opinion as I want to minimize the no of cables etc.
Hopefully they work a bit better than your review 🙂
The issue at hand is that when I tried to use my new vest all I got was a momentary flash of lights on the controller and then nothing. I checked the fuse which was fine and then checked to see if there was current in the red cable and there was.
I immediately went to the TourMaster site and found nothing. The site simply told me to contact the retailer from which I purchased the product – The MotorCyle Super Store.
The helpful service lady quickly told me that there was a known problem with some of the controllers. She told me that some of the 15 amperes controllers would malfunction and that I would receive a 25 ampere controller directly from Tourmaster.
I don't know how you would feel, but I am very put off about this. I was in fact going to order a second vest for my girlfriend but simply don't trust them to send me a working unit. On top of that I have just received my gloves and am worried about them working.
Bottom line is that I am very disappointed in TourMaster and The Motorcycle Superstore, in that they are selling products with known problems. Perhaps you can get a better explanation than I did."
---
From "A.":  "I bought the vest at the Atlanta motorcycle show this passed weekend and used it for the first time today. The temperature this morning on the way to work was 17 degrees, 8 counting the wind chill.
The vest kept me warm all the way to work without having to wear layer upon layer of clothing.
I was wearing a short sleeve technical and a long sleeve cotton V-neck under the vest (and an Olympia AST jacket) and I was warm the entire trip (about 45 minutes).
In fact the walk from the garage to the office was colder than the ride in (with the exception of my finger tips, I should have bought the heated gloves also).
The vest works."
---
From "L.S.":  "I've been riding in 10-20°(F) weather up here in CT, and it's been too cold, even with FOUR layers on under my insulated Olympia Phantom suit (total six layers).
Only good thing is that makes me like the Michelin man, figure if I fall, I'm sure not gonna hurt myself.
Anyway, was looking around for heated gear, and of course the first place to turn is WBW, and presto, your article on the Tourmaster Synergy heated vest!
Fantastic review. Was considering either the Powerlet vs the Tourmaster, because Powerlet's heated liner has a 100 watt output vs 76 for the Tourmaster.
But given what you guys said about it being maybe even too hot, I wonder if the heating is more *efficient* on the Tourmaster than on the Powerlet.
Anyway, like you said, it's got the integral controllers, etc. and it's cheaper, so I'm going for the whole Tourmaster line: Gloves, chaps, jacket, and vest."
---
From "G.U.":  "After reading your review of the Tourmaster electric vest I went on a search for place to buy one. I wasn't having much success until I found one at the Cycle Barn dealer exhibit at the Seattle motorcycle show.
I have used it in temps between 40 and 45 degrees with light rain, and found it to be a real delight. In my opinion, the heated collar is a must-have, as the neck area always seems to be a weak spot in keeping warm on a motorcycle.
At the temps I have used it, I kept it at the low setting and wore it over a long-sleeve t-shirt and under my Tourmaster Coaster jacket. It's nice not to have to bundle-up with a bunch of layers and then be too hot when entering a store or restaurant.
The only complaint I have about the vest is that the power cord lead on the vest is too short. It does not protrude beyond the bottom of the vest, and is even further from the bottom of my jacket.
Since the bottom of my Coaster jacket fits pretty tight, it means I have a hard time reaching the vest lead and connecting it with the battery lead. This would seem to be even worse with a 3/4 length jacket.
My temporary solution is to not zip my jacket until I am seated on the bike and have plugged in the power.
My long term solution is to order the "split V" accessory connector, which should make the lead exit below the jacket.
It also seems like connecting the power will be a problem with anyone using a one-piece rainsuit, or riding suit like the Aerostich Roadcrafter.
Bill's Reply:  I've worn the vest under a couple of different 3/4 length jackets but haven't noticed that the lead is too short on mine — maybe they changed the length of the lead during production?
"G.U.'s Follow-up: "I think you are right, there is a difference between the vest you tested and mine. Compare the photo of the red power lead on my vest with the power lead on the last picture of your review.
If yours was a pre-production model, I think they blew it when they went to production mode."