Tourmaster Response SC Boots Review Summary
The Tourmaster Response SC boots have all the important stylistic and functional features of the recent crop of low-cut, short motorcycle boots, but at a slightly lower cost.
I love my Doc Martens.
I've had 'em for years and they are so broken in that they slip on with barely any effort.
Plus, they give me instant punk credibility.
But these engineer-style boots also have several drawbacks: they're hot, heavy, have no lining whatsoever, and are only minimally waterproof.
These are definitely not the boots for me to use on an upcoming road trip in a hot, hot desert.
For this trip I need a pair of boots that will keep me comfortable all day long in a variety of conditions.
It was time for me to try something new.
The recent webBikeWorld review of the Alpinestars Recon Boots got me thinking that a short boot might just be what I needed.
I was tempted to buy the Recons, but the review mentioned a drawback with the laces, and the boots cost a relatively high $139.99.
So I decided to try out the Tourmaster Response SC Road Boot, which seemed to have all or almost all of the features of the Recons, but which could be had for about $30 less.
So, what did I find?  Did an extra $30 buy superior features that are lacking in the Alpinestars Recons?  For the most part, no. The Response SCs are the equal of the Recons, with just one minor exception, which I'll get to soon.
So, what features do the Response SCs offer?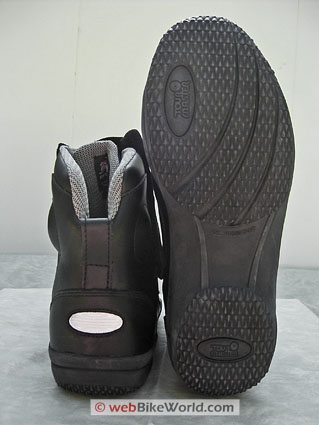 Protective Features
First off: protection. Like the Recons, the Response SCs have molded ankle bone protectors that seem hard and strong enough to offer more than enough protection in case of a fall. And not to be too hard on my Doc Martens (I really do love 'em), but they have nothing but a layer of leather in this crucial area.
And pinching my Docs on the toe with my thumb on top, I can depress the leather quite a bit with only moderate effort. Not so with the Response SCs. No amount of force could get the leather tops to compress. Tourmaster says the toes have a "hard molded toe cup."
Whether that means a plastic shell or some other compound underneath the leather exterior, I don't know. I do know that I would feel more protected in a spill wearing these boots than in my Docs.
I'm not sure what type of material is used for the toe protection, but I don't think it's metal, because that would make the Response SCs weigh too much. That brings me to one of the reasons I think I'm going to prefer these boots: they weigh nearly one pound less than a pair of my size 9 Docs, which weigh in at 3 lbs. 11 oz. (1,673 grams). The same size pair of the Response SCs weigh only 2 lbs. 14 oz. (1,304 grams).
That's not a lot if you're only traveling to the garage and back. But if you're planning on a significant amount of walking, that one pound will make a lot of difference.
I know this because I put it to the test on a recent Friday, which is "casual day" at my place of employment. I put the Response SCs on before mounting up in the morning and didn't take them off until returning home that evening. I never would have tried that with my Docs.
First of all, my boss would have scolded me for wearing inappropriate footwear ("Whaddya mean scuffed-up, old and grungy motorcycle boots aren't proper office wear?").
But more important, my feet would have been sweaty and dog tired by the end of the day. Not so with the Response SCs; with a pair of black jeans covering the tops, these boots attracted no attention whatsoever.
Don't get me wrong, they won't ever pass for wingtips, but unless one bends down and takes a close look, these boots are nearly indistinguishable from a pair of standard black work shoes, suitable for all but the toniest of offices.
Anyway, after a day at the office, my feet were cool and comfortable, even with a two-mile roundtrip trek to my favorite sandwich shop for lunch — in 85-plus degree heat.
My only concern was some soreness on the front of my shin due to rubbing with the front upper part of the boots. I imagine that this will lessen over time, however, as the leather softens with wear.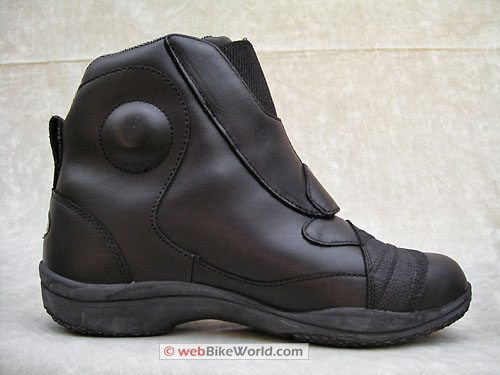 Comfort and Features
The only other comfort issue I had was in the thickness of the insoles that cushion my foot. This is the one area where Response SCs fell short, but only because of the impressive nature of their competitors.
The makers of Doc Martens make much of their air cushion soles, and rightly so. If I were to design the perfect motorcycle boot, I'd definitely give it Doc Martens insoles. I can't make a direct comparison with the Alpinestars Recons, but the webBikeWorld review noted that they had EVA foam padding.
This sounds superior to the padding in the Response SCs, which I would describe as adequate, but not luxurious. (Editor's Note: Stiff soles on motorcycle boots can help to provide a stronger platform for the rider's foot on the pegs and also to help transmit the bike's "feel" to the rider.)
Speaking of comfort, a U-shaped cut in the back of the boots not only make them easy to put on, but they allow for a good range of forward and back rocking motion. That translates into more comfort when riding and allows for smooth shifting and braking.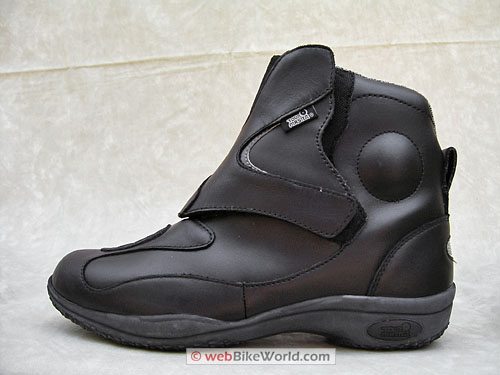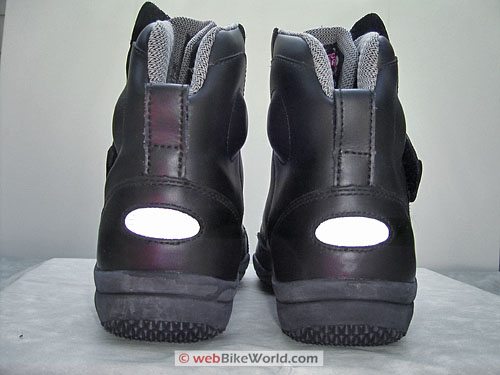 Lining and Breathability
The Nylon mesh fabric lining has a smooth texture for easy foot insertion. And the padding is generous around the ankles, which adds to the comfort level. Tourmaster lines these boots with the trademarked "King Tex" fabric, which claims to be breathable and waterproof.
Breathable, I've tested — my feet were not swimming in sweat after my all-day test. Although I've not tested the ability of these boots to keep out water, they sure look up to the task. The seam between the rubber sole and the leather uppers looks well-crafted and watertight. And Tourmaster says that waterproof thread is used throughout to stitch together the waterproof leather (1.8-2.0 mm thick, by the way), so I'm betting that these boots shed water as well as any waterproof boot.
I was skeptical at first about wearing a motorcycle boot with laces. My concerns were ease of use, extra time needed to lace up, and the danger of laces getting tangled in a gear shift or brake lever.
The design of this aspect of the Response SCs has put me to ease on all accounts. The first two concerns disappeared instantly when two quick tugs loosened the laces enough for me to slip my feet in, followed by a quick upward tug on the laces that quickly closed the front flaps together. That is, I encountered none of the lacing hassles that Burn experienced recently while testing the Alpinestars Recon Boots.
And my safety concerns were put to ease by the more than ample flap that wraps from one side of the boot to the other, holding the laces secure via a wide swath of Velcro (see photo). There's ample room, in other words, to tuck the laces safely away and keep them from contacting any part of your bike while riding.
Other Features of the Tourmaster Response SC Boots
Several other features of the Response SC boots deserve mention:
First, the boots are only slightly shorter than the Alpinestars Recons, which measured 8.625″ (22 cm) at their tallest. The equivalent measurement of the Response SCs is 7.75″ (20 cm). But remember that the Recons reviewed were size 10.5 — maybe a size 9 Recon boot would be closer in height to a Response SC.
Speaking of sizes, the Response SCs seem to run a little bit large. I normally take a size 9 or 9 1/2 shoe, and the size 9 Response SCs are a slightly large for me. So if you normally wear a half size, definitely go down a size and not up if you are considering these boots.
The bottoms are oil resistant with a tread that looks very grippy (see photo). A test following a recent downpour reveals that the gripping properties of these boots are indeed very good, better than my Docs. However, my Docs have had years of wear and the ridges and deep grooves in the treads are still there. The ridges in the Response SCs are much less defined, and I wonder how much (or how little) wear it will take before portions of the sole become smooth.
Two nice touches round out the features of the Response SCs:  First, a toe guard on the left boot protects the boot and gives the rider a good, solid sensation when shifting.
Second, the boot heels have 3M Scotchlite reflective material about the size and shape of a penny set on a track and flattened by a train (That's a standard measuring unit among webBikeWorld readers, right?!).
To wrap up, I look forward to the weeks ahead of breaking these boots in, softening up the stiff uppers, and dreaming of my desert journey, where I'm sure these boots will perform as expected.
I'll still wear my Doc Martens, though, when the situation demands it. But the Docs are definitely my second choice now for riding, because even an old punk can learn a few new tricks, right?
Conclusion
The Tourmaster Response SC boots have all the important stylistic and functional features of the recent crop of low-cut, short motorcycle boots, but at a slightly lower cost. Spending more money might get you more comfortable insoles, so if this is important to you, go for it. It wasn't a deal breaker for me.
The short cut of the boots, which might initially seem to compromise safety, should not deter you from considering these, especially if you seek a boot that will be worn off the bike as much as on it.
More wBW Motorcycle Boot Reviews  |  Tourmaster Response 2.0 WP Road Boots Review
w

BW

 Review: Tourmaster Response SC Road Boots
Manufacturer: Tourmaster
List Price (2007): $109.99 USD
Colours: Black.
Made In: China
Sizes: 7-14
Review Date: July 2007
Note:
 For informational use only. All material and photographs are Copyright © webWorld International, LLC since 2000. All rights reserved. See the webBikeWorld® 
Site Info page
. Product specifications, features and details may change or differ from our descriptions. Always check before purchasing. Read the
Terms and Conditions
!
Owner Comments and Feedback
---
From "G.R.R." (October 2011):  (Regarding the comments below on foot dragging) "I was happy to see someone address this most ungainly habit. I don't know why this "duck-landing-on-water" method of stopping is so prevalent. I see it all the time. And they do the duck-run thing when they take off from a stop as well. For goodness sake man, your feet belong on the pegs! – or shall I say "floorboards"? (Wink wink, knowing glance.)"
---
From "D.M." (05/11):  "Best boot I have ever bought. I will be buying these boots from this day forward for the rest of my riding days. They are worth more than they actually cost to purchase. They have done a wonderful job engineering these boots especially for riding.
My motorcycle's best insurance is my TourMaster boots. How's that? When I put my left foot down when I come to a complete stop. I am assured and insured my $30,000.00 bike can be supported by the grip of the oil resistant sole. I had an incident where I put my foot down in a puddle of oil on a polished concrete floor and those boots stuck to the floor like a gecko on the walls in Mexico.
The other guy who followed behind wasn't as lucky. His insurance deductible cost him more than a life time of riding boots.
Those of you with negative comments, as for those riders who ride dragging their feet for stability take your training wheels off your tricycles and get some balance in your life. Maybe take a safe riding course and learn the proper riding position and where and how to position your hands, body and feet while riding. Ride Safe!"
---
From "A.P." (9.08):  "I feel like I have to add my comments on these boots to help anybody thinking of buying these. You're really going to have to think twice about what features you want most before buying these. I love the lace system and Velcro, the fit and feel are great, but I've only had these for about a month and the soles are already starting to wear smooth.
I don't even walk around much in these, the wear is from simply putting my foot down at stops. In my opinion, you should be able to use a boot for at least a full season without it showing significant wear, and TourMaster really dropped the ball here.
I even emailed them and asked if they are able to replace the soles, and the answer was NO. A well made, quality leather upper can last for years, why not make the soles better, or at least make them so they can be replaced. I'm disappointed in these boots and wish I'd gotten something else, anything else that would have lasted longer."
Also From "A.P.": "I feel like I need to address the two comments above mine, as I think they are directed at me. I want to make it clear that I do not drag my feet or "duck walk" or whatever else the other 2 people are talking about, the wear on my boots is simply from setting my foot down at a stop. Unless they know of some other way to do things, my motorcycle only has 2 wheels and can't stand upright when not moving. I'm not sure why the D.M. and GRR people think I'm dragging my feet? I've been using another pair of boots for about a year and a half now with vibram hiking-boot type soles and they barely show any wear, so it's clearly not my riding style beating up on the soles of the Tourmasters. They are a good boot, I just think people should know they don't have a high-endurance sole."
---
From "B.W.":  "My main concern with these boots is that the sole will likely wear out very quickly.
I have a pair of Tourmaster Solution touring boots, which use the exact same soles, and they became unusable after a season and a half (about 20-25,000 miles of riding) because the soles are worn smooth, and indeed are getting quite thin in spots. The boots otherwise held up great, they're very comfortable, and they have proven to be waterproof many times. But the soles simply wore out prematurely.
IMHO, Tourmaster really needs to use a more durable sole with a bit more tread depth to it. Their boots are great products, but have this one glaring flaw which really needs to be corrected."
---
From "B.E.":  "I've been wearing a pair of Tourmaster Response SC boots for the last 3 months. They have been very comfortable, which I attribute to the laces instead of just a big zipper, so you can get just the right amount of snugness across your foot. They are definitely waterproof and have kept my feet dry through some rain and hail storms (Ouch!).
They broke in quickly and can easily be worn all day. The boots are easy to walk in and I feel the protection they offer is pretty good. I think the soles are very "grippy" and work really well when at a stop. They seem to be holding up well, so I'm hoping they will last all season.
Thanks for the great website!"
---
From "V.W.":  "I did the Yankee Beemers 1K ride in June 2006 with my new Olympia AST Jacket and the Tourmaster Response Boots and my feet and chest stayed dry during the entire ride which rained for nearly 18 hrs on and off. I like the laces on the boots. My feet don't flop around like some of my other boots. They are also cool. Just did the BMWMOA and didn't need to bring along a second pair of boots. Just took the Response boots (did a lot of walking at the rally too)."