Tourmaster Response 2.0 WP Road Boots
A comfortable and reasonably protective boot that is a real sleeper when it comes to bang for the buck.
But, are they really waterproof?
When it comes to riding gear, my boots get the most use.
I often commute to work on my bike and when I get there, I'll remove my helmet, jacket, and gloves.
But, I keep my boots on and I wear them all day long.
Since I spend a lot of time in my motorcycle footwear, comfort is obviously a high priority.
Of course, protection is important too; but finding the right mix of these two criteria can be a bit elusive.
Over the past 6 years, my Alpinestars Recon boots (review) have been serving as my daily go-to footwear.
I've mentioned them in other boot reviews before here on webBikeWorld and they have been a tough act to follow.
After being re-soled once and repaired twice during the past year, I've decided to let them rest in peace. But, as they are no longer available, the search has become serious for a suitable replacement.
Not long after that webBikeWorld Recon boots review years ago (way back in 2007), a review of the original Tourmaster Response SC Road Boots was posted on webBikeWorld.
Tim (the reviewer) compared them favorably with the Alpinestars Recon boots.
And the Tourmaster Response boots had a similar mission; that is, a short riding boot in roughly the same price range.
While the original Tourmaster Response boots are no longer in the lineup, the Response 2.0 boots are their replacements.
The 2.0 version differs quite a bit more in appearance compared to the originals but remains similar in purpose.
The Tourmaster Response 2.0 WP Road Boots are a "short" style boot with a subdued styling.
The only giveaways that these are anything but a pair of black hiking boots are the leather patches over the toes, which provide wear resistance for the shifter lever and the small reflector panel in the back above the heel.
This lack of excitement in the styling makes the Response 2.0 WP Road Boot a good choice for the workplace in many situations. The construction is leather and polyurethane.
I should point out that Tourmaster specifically refers to the leather as "water repellant" and we'll see how that works a little bit later.
It does take a very close inspection to discern which panels on the uppers are made from leather and which are poly.
When one of the panels is flexed and you look at the resulting wrinkles in the material, it becomes apparent which is leather and which isn't.
The appearance of the materials used to construct the uppers gives the boots a flat, smooth black finish as opposed to the shiny or semi-gloss look typically found on a black leather boot.
This "black-out" matte style has become more and more prevalent lately, as a matte finish is becoming popular on bikes and helmets.
The good news is that they don't require shining up. The bad news is that they always seem to pick up scuffs and look a bit weathered.
I cleaned up the boots in the photos before shooting them and they still look as if I had just dropped them in front of the camera after wearing them for a week.
I even scrubbed the soles in an attempt to have a "clean" photo, but you can still see some debris there. I guess a sticky sole is a good thing though even if it is not necessarily photogenic…
There isn't much branding on the Response 2.0 boots except for the Tourmaster logo that is embossed and lettered in white on a round rubber circle sewn to the strap at the top.
There is also a logo embossed on the outside facing side of the boot in one of the polyurethane panels, but it is pretty hard to see as it is set in the matte black material with no other coloring.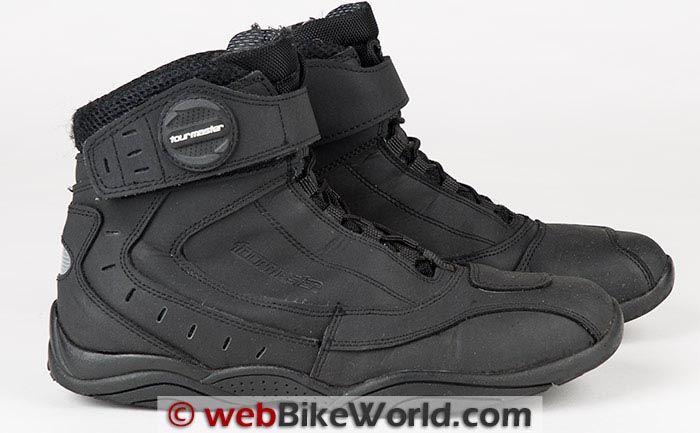 Fit and Comfort
It has been my experience that Tourmaster apparel tends to run a bit on the generous side and the Response 2.0 boots are no exception.
My normal shoe size is US 10.5 and I ended up ordering a Euro size 44 (marked 10.0 on the inside) and they fit just a little large. I tried the next size down, however, and decided they would be a bit too snug for my liking.
Overall the fit is as expected, but if you're between sizes, I would recommend going smaller.
The Response 2.0 boots feel much like a hiking boot and they are pretty stiff out of the box.
At first I didn't find the boots very comfortable, but after a couple of weeks of wearing them on my commute they started to break in.
The lining is thinly padded and very smooth, which makes it easy to slip them on my feet.
The liner contains a waterproof and breathable Hipora membrane layer to provide the waterproof (WP) capability of the Response 2.0 WP Road boots.
Some waterproof boots can become uncomfortable over time, as they may not breathe very well, resulting in warm, sweaty feet. The Response 2.0 boots, however, do not suffer from this.
Even wearing them all day long I don't notice any discomfort from excessive warmth or dampness.
Standing or walking around under normal conditions with the Response 2.0 boots feels about as comfortable as an average pair of hiking boots in my opinion.
But they don't quite match the comfort of the Alpinestars Recon boots owned before.
After a full day on my feet on asphalt helping to facilitate a Total Control riding clinic (review), my feet were hurting a bit and I was ready to take the boots off.
That kind of wear is not really what these boots are made for though, and a new insole with some better arch support may help things out a bit in my case.
Though not expressly mentioned in the description, there appears to be a stiff shank in the sole.
This is important to have in a motorcycle boot because it not only adds protection but can reduce fatigue from having your feet on the foot pegs for long periods of time.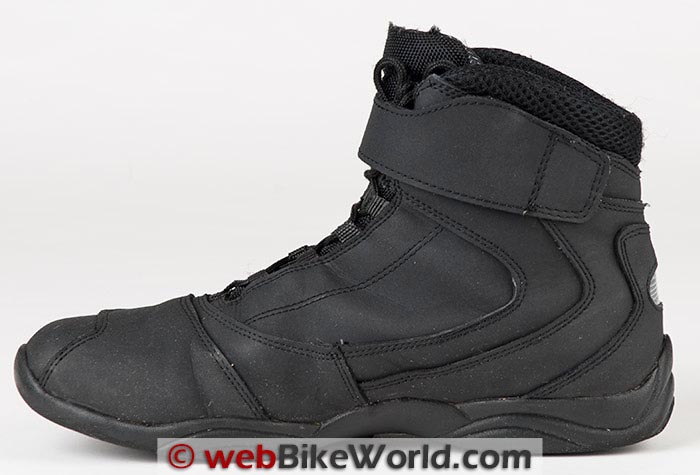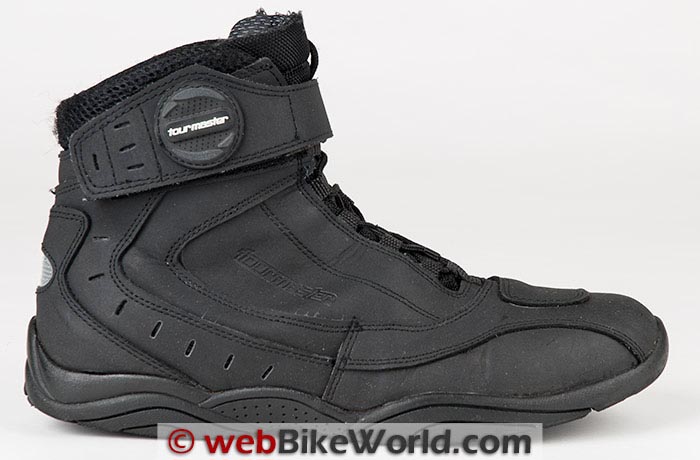 ---
Where to Buy Tourmaster Response 2.0 WP Road Boots
Check Reviews & Prices on Amazon
Check Reviews & Prices On RevZilla
Also: Leather Motorcycle Boots, Touring Motorcycle Boots, Women's Motorcycle Boots
---
Construction
Despite the subdued styling, the construction of the Response 2.0 boots seems a little over-complicated to me.
The uppers are composed of several panels of leather and polyurethane; I counted ten separate pieces that are stitched together to compose the upper portion of the boot, not including the strap at the top.
On the one hand (or foot?), constructing the upper out of that many pieces can be a way to create complex shapes and make the final product conform more closely to the wearer's feet.
But on the other hand, all the stitching involved in the construction process can become points of failure down the road. The various stiches can also reduce the water resistance of the outer portion of the boots.
The stiches used are very well done and is almost entirely double stitched for increased durability.
The only areas where I see single rows of stiching are a couple of small places on the strap and in the area where a 3M Scotchlite reflector is sewn in above the heel.
Laces are used for the closure system on these boots and despite some of the cool new ways there are today to fasten a pair of boots, this "old tech" method of plain old laces still works well when properly implemented.
Laces provide a way to achieve somewhat of a custom fit by the nature of how they operate. In this case they certainly do the job well enough, however, they can cause a bit of a fuss.
The laces seem a bit longer than necessary to me and having small strings flapping about in the wind near a drive chain can be a recipe for disaster.
Luckily, there is a large strap that wraps around the top of the boot and fastens with Velcro brand hook-and-loop fastener.
This can (and should) be used to bundle up the excess laces, but it doesn't always seem to do a good job in controlling those loose laces, however.
I find it works best if I tuck the excess laces into the fold of the liner and tongue.
This step seems to mitigate the potential for the laces to escape.
The outside facing portion of the tongue of the boot feels like it made of Cordura or similar material, while inside it is lined with the same smooth material as the rest of the interior.
The very top 1/2 inch of the boot that wraps around the leg is covered in a somewhat scratchy mesh material that contains some foam cushioning.
This aids in comfort as well as be a flexible point that makes putting them on easier.
As long as I'm wearing socks, the roughness of the mesh isn't that noticeable.
I have noticed after a few weeks of wearing the boots, however, that the top of the tongue and the mesh top of the upper have started to fray a bit.
While it hasn't caused any issues, it does make the boots look more worn out than they have a right to this early in their life. It hasn't resulted in any tearing or separation at this point but just looks a bit messy.
Time will tell if this is truly an issue or just an annoyance.
Protection and Safety Features of the Tourmaster Response 2.0 Boots
The Response 2.0 boots are certainly not for motorcycle racing, but they offer good protection that is compatible with most touring or commuting boots.
To start with, the material used in the uppers is nice and thick.
This is likely responsible for the longer than average break-in time for the boots, but for the sake of abrasion resistance, it's probably worth the effort.
The toe and heel are reinforced with a plastic cup to help mitigate impacts in the event of a crash. The plastic over the toes is not as strong as it is in other boots I've worn.
Thicker plastic (or steel) would probably be needed to prevent crushing in case a bike fell on the toes during a spill but what is there is better than none.
Over the outside ankle bone, or malleolus, is a two-inch diameter nylon disc to protect from impacts. It's thicker in the center to offer optimal protection but it's also flexible enough not to be a point of discomfort.
I would like to have seen a matching protector on the inside facing malleolus but no extra protection is present there.
The strap that wraps above the ankle should help maintain a secure fit around the leg and the rubberized logo panel sewn on it should offer a little extra impact resistance.
Keeping the laces tucked away though is probably the strap's most important job as they are plentiful and could cause problems as mentioned earlier.
The matte black surface finish of the Response 2.0 boots does make them quite stealthy, especially at night.
For night-time visibility, there is a small oval piece of 3M Scotchlite reflector sewn in on the back of the boots above the heel.
The reflector itself is a bit small and after some testing, I have concluded that it does not reflect a great deal of light.
The soles of the Response 2.0 boots are vulcanized rubber, which provides good grip when waiting at stops on the road in wet and dry conditions.
I tested them on my painted concrete porch also, because when it's wet, it can be rather slippery and the soles resisted sliding very well.
The sole is also oil- and fuel-resistant to stand up to the oily surfaces sometimes encountered at stop signs, traffic lights and refueling stops.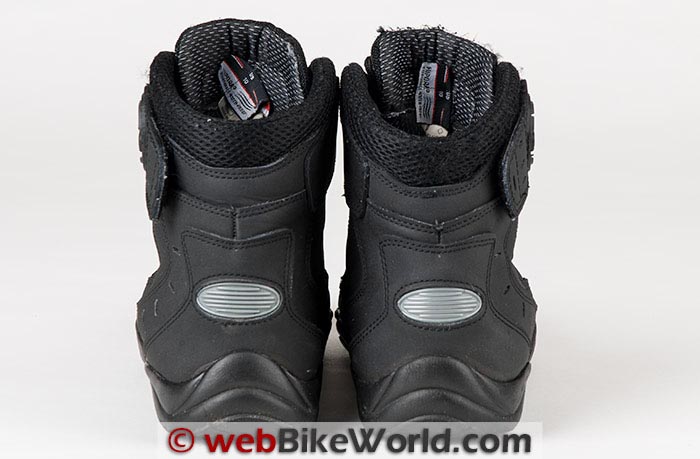 ---
Where to Buy Tourmaster Response 2.0 WP Road Boots
Check Reviews & Prices on Amazon
Check Reviews & Prices On RevZilla
Also: Leather Motorcycle Boots, Touring Motorcycle Boots, Women's Motorcycle Boots
---
Water Resistance
Though the Tourmaster Response 2.0 WP boots have a "WP" in the name and the Hipora membrane is claimed to be "waterproof" and "breathable", Tourmaster does not specifically state that these boots are 100% waterproof.
At least, that is, in the minimal information they have posted on the Tourmaster website.
The specs list a "water-repellant leather and PU upper", as well as the Hipora waterproof and breathable liner (and, of course, that "WP" in the official name of the boots).
So the assumption is that the Response 2.0 boots are supposed to be waterproof.
Several of the online retailers feel the same way, as these boots are listed in the waterproof category on some of the most popular retail websites.
Whenever we get a pair of boots to review that are claimed to be waterproof, they are put them through a "torture test" much like the webBikeWorld "Bucket Test" used on waterproof gloves.
In this case, the "bucket" is a deep sink, but the goal is the same: submerge the boots close to their top and see how quickly, if it all, water finds its way inside.
So how did the Response 2.0 WP boots fare? Not well, I'm afraid.
With my hands placed inside the boots, I could feel water starting to seep in where the sole meets the upper after about 35 seconds.
This quickly went from a seep to dribbling into the boot. Less than ten seconds later, the left boot began to leak in the same way.
This probably means the Hipora membrane is compromised in some way, pierced by one of the many stitches or that it just isn't constructed correctly.
This is not a good performance for a pair of "waterproof" boots but, technically Tourmaster doesn't actually come out and say the boots are waterproof in their online page description.
As such, I'm not 100% calling them out on this.
But certainly I think it's important to note that potential buyers are made aware of this, since despite the "waterproof" categorization on some retail sites, in my experience, the Response 2.0 WP boots are not truly waterproof.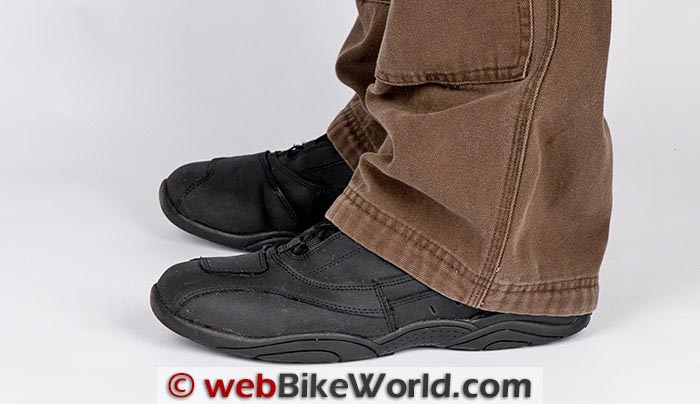 Conclusion
The Tourmaster Response 2.0 boots might seem like a bit of a mixed bag, depending on which features one might fixate on in this review.
I had mixed feelings about them myself initially; however, there are a couple of factors that have to be taken into account.
One is that as the boots take a bit longer than some to break-in properly and as a result, after wearing them for some months now, they are much more comfortable than they were in the beginning.
They still may not be the most comfortable motorcycle boots I've had on my feet, but I would say they are very good and certainly better than many other motorcycle boots I've tried.
The second factor which I've conspicuously not mentioned up to this point is the price.
The Response 2.0 WP Road boots have a list price of $109.99 (USD), which is a good value and the same price as the original Response boots from 2007(!).
Street pricing seems to sit consistently at the $98.99 (USD) at many of the major online retailers, making a "good" value become an "excellent" value in my book.
The price that is just shy of one hundred dollars makes these boots one of the best values I've seen for motorcycle footwear.
The Tourmaster Response 2.0 boots offer reasonable protection, solid construction, and good comfort compared to most similarly-styled boots, regardless of the price.
There may be more protective boots out there and more cool-looking or stylish boots as well, but often not both in the same boot and certainly not for this price. Only riders who see lots of miles in wet weather would need to look elsewhere.
w

BW

 Review: Tourmaster Response 2.0 WP Road Boots
Manufacturer: Tourmaster
List Price (2013): $109.99 USD
Colours: Black.
Made In: Pakistan
Sizes: Men's 7-14. Women's 6.5-10.
Review Date: December 2013
Note:
 For informational use only. All material and photographs are Copyright © webWorld International, LLC since 2000. All rights reserved. See the webBikeWorld® 
Site Info page
. Product specifications, features and details may change or differ from our descriptions. Always check before purchasing. Read the
Terms and Conditions
!
---
Where to Buy Tourmaster Response 2.0 WP Road Boots
Check Reviews & Prices on Amazon
Check Reviews & Prices On RevZilla
Also: Leather Motorcycle Boots, Touring Motorcycle Boots, Women's Motorcycle Boots
---
Owner Comments and Feedback
---
From "T.C." (May 2014): "I bought a pair of the Tourmaster Response 2.0 boots a few months ago.
I noticed something felt odd in the heel area this week, and saw that a hole has been worn through the lining in the heel cup area in both boots.
I contacted Tourmaster and they instructed me to return them to the dealer for replacement. I haven't worn the boots much, and was surprised to see the lining wear out so quickly.
Other than that, they seemed well made and were very comfortable."
Other WebBikeWorld Boot Posts