Why spend hundreds of dollars detailing your bike when you can take on this labor of love yourself?
Washing your own bike can be a rewarding experience and when it's all said and done, at least you know the job has been done the right way. Spend a few bucks on some cleaning materials from Amazon.com and get to work. Here are some tips to make your iron stallion shine like new.
Prewash tips
Start by removing the leather and giving the bike a light rinse with the garden hose to remove the excess dirt. Avoid soaking your dials and clocks and give the bike a wipe with a soft, damp, cleaning mitt. Remember to clean your bike in a shaded area and wait til your bike is completely cooled before starting the job.
Seal off the exhaust pipe and the battery with plastic wrap and a rubber band to prevent water damage to these components. If you have a pressure sprayer, use it on a low setting so that you do not damage the paint or force water into the bearings.

If you do damage your paint, the spray paint guide can help you repair the colour.
The prewash
After you are done with the pre-wash, it's time to get started with the meat of the job. Start with a prewash using a top-quality shampoo such as Meguiar's Gold Class Car Wash Shampoo and Conditioner. Make sure you use a microfiber cloth or wash mitt, and use separate wash and rinse buckets.
Dry off the bike immediately after the wash to prevent water spots. It is important not to wash the really dirty and grimy areas such as the wheels and the undercarriage at this stage. These components will be washed with other specialist cleaners in the next stage of the cleaning.

Cleaning the wheels & engine
Use an aluminum-safe cleaner, such as Sonax Full Effect Wheel Cleaner, to clean the tires and wheels. Follow this with cleaning the clocks and dash using a non-corrosive cleaner like Meguiars D180 Leather Cleaner and Conditioner. Polish the dash and windshield with Meguiar's Ultra Finishing Polish.
For the next task, use a spray cleaner like S100 Total Cycle Cleaner, and some soft bristle brushes to clean the transmission, chain, and engine. You may have to use an industrial degreaser to remove the really stubborn grease and dirt. Make sure that you dilute the degreaser and use a brand that won't damage the paintwork or strip the grease from the bearings in your wheels.
Polishing the chrome and cleaning the leather
Swap your micro fibre mitt for a soft cotton cloth and polish up the chrome with the same polish you used for the dash and dials. All leather components should be treated with a leather therapy wash that contains no slick additives to ensure that you don't slide around on the seat when it's dry.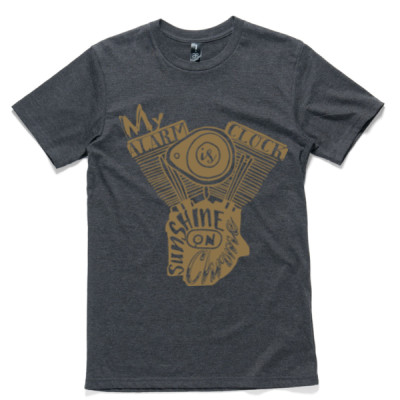 Remove old dry wax & boot rubber
If your bike has old wax or melted rubber stuck to the exhaust or crevices in the body of the bike, use a steam cleaner to soften it up before rinsing it clean and wiping it off. While you wait for the wax to soften, take a quiz and keep your mind busy.

Paint
LuminAuz Electric Glow Paint is like a superpowered glow-in-the-dark paint. It runs directly from a low-powered electrical charge, turned on and off with a switch. It uses 40% less power consumption than LEDs. In this article, you may find a few paint gun reviews that definitely help you to paint your bike.
The final thought
Take your time with the detailing and work your way through each phase with utmost care. Your bike is your pride and joy, so spend some quality time with her. If you don't know much about paint sprayers, there are websites that can give you more details on rxtooler.com.
About the author, Costea Lestoc

I began writing as a professional on my personal blog and then discovered my true calling, which is writing about  technology and news in general. I am a technical writer, author and blogger since 2005. An industry watcher that stays on  top of the latest features, extremely passionate about juicy tech news and everything related to gadgets. For tech tips, my email address is neneacostea@gmail.