Top Rated Modular Motorcycle Helmets
When it comes to the most relaxing and enjoyable motorcycle ride, knowing you are protected in the event you crash can help to enhance it. However, making the right choices for protective rising gear is important because many products out there are made cheaply, especially helmets. To avoid a serious head injury during a crash, making sure the helmet you choose is a good is absolutely essential. Check out these modular motorcycle helmets reviews and make the best choice for safety, durability, and style.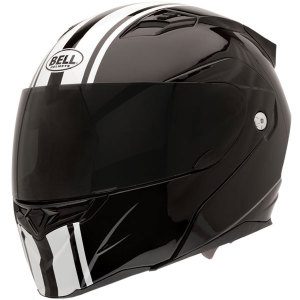 For around $200.00, you get extreme protection and durability in the Bell Revolver EVO helmet. Manufactured out of composite polycarbonate alloy materials, this Bell helmet is built to last and provide the kind of head protection you can count on. When it comes to safety on a motorcycle, the helmet you choose plays a huge role. Features on this Bell helmet include:
Redesigned chin curtain for keeping out cold air
Refined seals on eye ports for reducing noise from the wind
Newly designed flip sun shade
First ever flip-up style
Adding a bluetooth accessory will make this a great modular bluetooth motorcycle helmet
Whether or not you ride for the pleasure of cruising or you are an avid sportbike rider, you can benefit from the functionality of the Bell Revolver helmet. One great feature is how the visor can tint for protection against the sun on its own, a definite benefit for rising on days the sun is in and out, saving you time making stops. This bell helmets offers an advanced ventilation system for allowing less moisture buildup and greater temperature control. The e Bell Revolver eye shield offers anti-scratch features and excellent UV protection benefits. DOT certified and made to last, this Bell helmet is one you can count on for comfort and the highest level of cranial protection.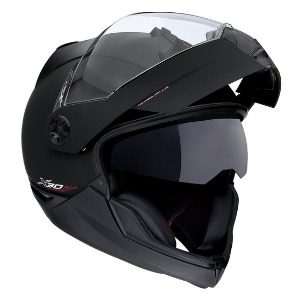 When making choices for your riding gear, keeping in mind the kind of riding you will be doing the most is important. If you will be riding in areas that are cold or produce harsh weather conditions, you can make choices for appropriate riding gear. Maybe you live in an area that has little cold weather, another aspect of your riding gear choices. When considering the best helmet for your protection from the elements and from serious head injuries during falls, checking out the Nexx X30 helmet is a good idea. Weighing only five pounds and costing around $350.00USD, this Nexx helmet offers great benefits for both safer riding and cool style
Flip-up shield with stationary chin guard
Bolder sleek design and appearance
Beneficial versatility in interchangeable option for face shield
The choices for riding gear are important, but when you choose a helmet, the shell constructions means a great deal. The protection you get for your head depends wholly on the manufacturer's material choices, with most modern modular helmets being made out of thermoplastic materials. The Nexx helmet design offers a tough outer shell with great features that allow you the freedom to remove the shield while riding. For the price, this Nexx helmet is a good choice, offering high level versatility and modern style.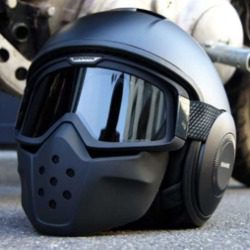 For a cool style and excellent durability, the Shark Raw is a great choice and has a lot offer. In addition to a comfortable, all natural fiber interior, the Shark Raw also features:
Diffused air venting system
A quick release goggle system for easy maneuverability during your ride
Flip up motorcycle helmet
Anti-scratch and anti-fogging visor
Mask for additional facial protection
Great helmet for riders that wear glasses due to the goggle design
Cool designed outer shell manufactured from injected thermoplastic resin, injection meaning it provides higher resistance and strength
The choices you make about your rising gear matter a great deal, especially if you ride your bike daily. The more you ride, the greater the chances are of you facing circumstances that could cause a crash. Always taking the time to look closely at the riding gear you purchase is important for enhancing your safety. The interior lining of the Shark Raw is easy to remove for washing and it easily put back into place after drying. The rider that prefers a stylish helmet cannot go wrong with the Shark raw, its sleek design offering an exceptional, modern appearance that turns heads. This Shark helmet offers style and tan ultimate level of protection for a great price.
The Bell Rogue Hybrid Helmet
One of the best features about this Bell Rogue Helmet is that it is not your typical modular motorcycle helmet.
Rather the the face guard swing up over your head, it has clips on the side the release the front chin guard.
Check out the full review of this helmet here. 
Because of this cool feature, there is not a lot of solid support to protect against impact in the front chin area. It will give you a little bump, slide and bug protection though.

The GMax GM54S Modular Motorcycle Helmet (currently unavailable)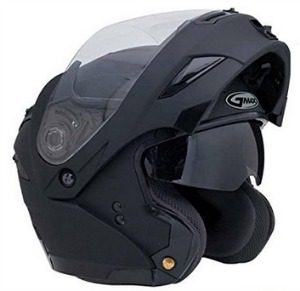 When it comes to getting enhanced safety features, choosing the GMax GM54S helmet is a good choice. For around $125.00USD, you get a rear LED light for greater visibility to drivers behind you, easy to lift inner flip shield, lens free of distortion and easy open chin bar, features that allow you less time with both hands on the bars. Another great feature of this helmet is it is lightweight with enhanced durability, manufactured from thermo-plastic alloys, materials found to be some of the strongest in the industry. Shield sealing on this helmet also helps to reduce external noise like the whistling you hear when out on the open highway while wearing older styles of helmets. Other great features of this GMax helmet include:
More visibility with a larger eye port area
Speaker pockets are built in for the use of communication devices
Chin strap is padded and pockets are lined for additional ear comfort
Manufactured using a wicking material in the interior lining for reducing moisture from sweating
Remember when selecting a motorcycle helmet, making sure you are choosing correct size is important. If you choose a helmet of the wrong size, whether too large or too small your fit will not be comfortable, no matter what brand of helmet you choose. Also, a helmet that is slightly too large can compromise your safety in the event you crash and hit your head, so make sure you know your size before ordering.
Shoei Neotec II Helmet
The Shoei Neotec II is an excellent contender in the premium modular flip-up segment. It is a well-thought-out package that includes seamless Bluetooth integration (via the SENA SRL). Riders looking for a new modular helmet should take a good look at the Neotec II
With its lightweight, highly-aerodynamic shell, advanced noise reduction, and optimal vision protection, all combined with an ease of use (critical to a modular helmet), SHOEI had indeed achieved new heights in head gear design.
But that was just the beginning. Now, with the NEOTEC II, SHOEI has not only improved on already outstanding features, but also introduced design advances to bring their premiere modular design into a whole new era.
Good build quality, attractive exterior, comfortable to wear, seamless Bluetooth integration when paired with the SENA SRL. Read full review at our sister site Shoei Neotec II Hands-On Review.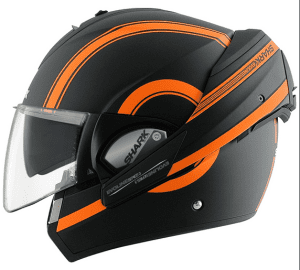 The research and development work Shark Evoline has helped to create a helmet that is aerodynamic is design and exceptionally strong and cushioning in a crash. Manufactured out of injected thermoplastic resin, this Shark helmet is built to withstand a lot. Injected plastics are stronger and offer a greater level of resistance. The cost of $430.00USD for this Shark helmet is worth it because of features like:
Automatic chin bar, unlocking visor at the same time
Designed to block out wind noise
Anti-scratch and anti-fog treated visor
Full face and open face homologation
Removable interior padding for easy washing
Improved ventilation reduces sweating and promotes greater padding wicking
Location for easy bluetooth comm option installation for a performance modular motorcycle helmets with blue-tooth
Modular helmets offer riders great versatility between a full face helmet and one with an open face, giving you the opportunity to select according to the kind of riding you are doing. If you are pleasure rising through the mountains, you might prefer the open face style helmet. However, if you are riding a sport bike down an open highway, a closed helmet style would be more beneficial. By choosing a modular style helmet like the Shark Evoline, you get both styles in addition to exceptional quality and durability.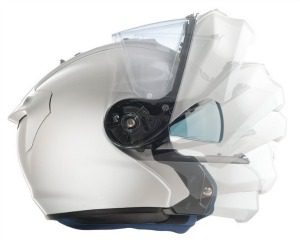 The HJC RPHA MAX helmet has a lot to offer for the price at about $400.00 USD. Manufactured to meet and exceed DOT requirements, this lightweight helmet is made out of exceptionally strong and resistant carbon fibers, aramid epoxy, organic fibers and fiberglass epoxy. Other great features include:
-A tinted sun shield for greater visibility options
-Easy push button releasing action for face shield and face bar
-Designed for extreme noise reduction at high speeds
-Innovative shield closure design places shield inside eye port gasket for allowing it to be out of the way when not in use
-Anti-fog shield benefits better visibility
-Unique airflow system for diverting heat and humidity upwards and out of the helmet
-Interior lining is made out of advanced materials for providing antibacterial wicking effects
The HJC RPHA MAX helmet offers a five year warranty, guaranteeing you high quality that equals the highest level of protection while riding. In the event you crash and hit your head, knowing your helmet is manufactured with that hit in mind is a good feeling. Taking your riding gear seriously is important and can be some of the most important choices you make when it comes to your love of riding a bike. Learning more about the kind of helmets available to you is important for being able to make the best and most informed choices about your riding security and safety.