(Contributed post on computer games)
If you haven't been able to go for a ride for some time because of the current lockdown, you may consider motorcycle video games as a substitute.
It might not get you outdoors but they can help you to relax and have fun.
In the presence of thousands of good gaming sites around the world. only a single state may have 50 betting sites. Choosing among so many options is not easy but our recommended option is the gaming website Betenemy. This website provides the best sports betting options and functionalities to all the visitors.
The following are five of the top motorcycle-themed computer games you can play when you are confined at home or can't ride for some reason.
MXGP Pro
MXGP Pro from developer Milestone srl was released in 2018 and offers a realistic and definitely challenging motocross racing experience. The game improved on the physics system of previous MX games in the series to make MXGP Pro as close to the real thing as possible. There is no doubt that the game is hard to play. There are tutorials that will help but it will take a lot of practice to get good. A nice feature of the game is that tracks become more difficult every lap as ruts form. Players will have to make slight adjustments to adapt. MXGP Pro has a nice selection of 17 tracks from around the world. You can choose from 4 game modes; Grand Prix, Time Attack, Career and Championship. Career mode offers over 1000 customizable parts for bikes for performance and appearance. MXGP Pro has a steep learning curve but is a great game for real fans of motocross.
Road Redemption
Road Redemption was released in 2017 by developers EQ-Games and Pixel Dash Studios. Those looking for realistic motorbike simulations in a game will probably be disappointed.  It's a game that combines motorcycle riding and combat with the emphasis leaning more towards the fighting aspects of the game. In Road Redemption the player leads a motorcycle gang across the country fighting all the way. Players have an assortment of weapons they can use to battle other bikers including pool cues, wrenches, shovels and swords. Various guns and explosives can also be acquired. Road Redemption is relatively easy to play with only a few basic commands. As the game progresses you can earn money by completing various challenges such as winning races or committing robberies and assassinations. This money can be used to upgrade your character, your weapons and of course your bike. Road Redemption isn't a classic motorbike simulation but can provide a lot of fun. You can find more motorcycle mayhem fun at King Billy pokies in Australia playing some of the best casino slot games such as their Bikers Gang slot.
TT Isle of Mann: Ride on the Edge 2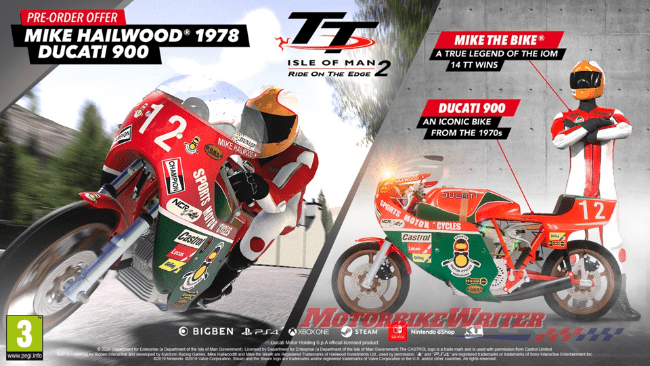 TT Isle of Mann: Ride on the Edge 2 developed by Kylotonn was released this year and features outstanding graphics that accurately replicate the entire 37.73 mile Snaefell Mountain Course. In career mode players advance through a race calendar until you reach the main race. You receive cash for placing well which can be used to upgrade parts. Most of the tracks are fictionally until you reach the main race. Unlike many games TT Isle of Mann 2 also has outstanding audio with realistic wind noise that alters as you pass different objects. The physics of the game are very realistic and there is very little room for error. To be clear this game is challenging and difficult. There is actually an achievement for falling 50 times and is one of the first you will unlock. TT Isle of Mann: Ride on the Edge 2 definitely keeps players on the edge of their seat and gets the adrenaline pumping. This is a must play game for those who truly enjoy realistic simulations.
Trials Rising
Trials Rising released in 2019 comes from developers RedLynx and Ubisoft Kyiv and is the latest game in the Trials series. It features various obstacle courses at different locations around the world in settings like Hollywood, the Eiffel Tower and Mount Everest. Although the physics of the bikes in Trials Rising is realistic the situations riders find themselves in are not which adds to the fun. There are over 100 different levels in Trials Rising. The game has an excellent tutorial that teaches you the tricks and techniques you will need to advance in the game. As with many motorcycle games players can customise their bikes as well as the riders outfit. Players also have the opportunity to create their own custom obstacle courses and share them with other players. An additional feature included in the game is the Tandem bike which can be played in local mode. Two players control the bike with each having responsibility for a portion of the motorcycles functions. Trials Rising is a lot of fun and will provides hours of entertainment.
Ride 3
Ride 3 was developed by Milestone srl and released in 2018. It is the third title in the Ride series. This iteration of the game has a great selection of bikes players can choose from. There are 230 bikes split between 6 different classes; Maxienduro, Naked, Racing, Supermoto, Supercustom and Sport. Each class has its own handling and performance characteristics so players will have to adjust their riding style when changing classes. There are plenty of customization options including aftermarket parts as well as the ability to upgrade components such as the engine and gearbox. Customisation isn't limited to bikes as you can change your rider outfits as well. There are 30 different locations in Ride 3 with more than 50 different track variations. The game has 3 different physics modes to adjust parameters such as traction control. Ride 3 has a career mode where players compete over a series of events as well as "quick race" and "time attack" modes. If you make a mistake during a race there is an optional rewind feature that allows you to undo it. Ride 3 offers plenty of variety and will keep you engaged and entertained for quite awhile.