These Are the Best ATV Winches for the Money
A reliable ATV winch will pull your ATV, and you, to safety when you get stuck in the mud, and it's useful for other tasks too. When heading off-road into areas you haven't driven your ATV before the chance of getting stuck, or finding someone else who has gotten stuck, is real. Getting your four-wheeler into the mud or soft sand is fun, if you can get out again, and having a quality ATV winch is just a good idea if you spend time working on the farm, yard or trails.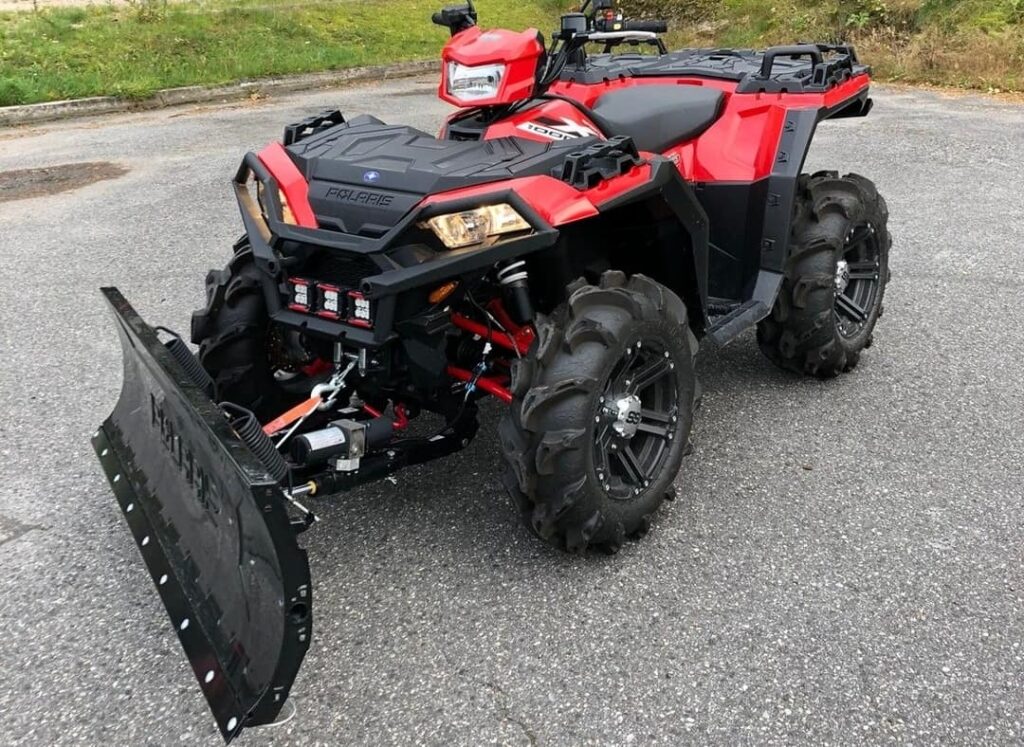 Which ATV winch is the best? Will it work when I need it? Which should I buy? To answer these questions and more lets identify industry leading ATV winch manufacturers, there are several to choose from. Whichever you choose make sure the winch is rated highly enough to carry the weight of your ATV with you on it and that it has a nice cushion beyond that. Here are the top five winches that we found were worth the price, each is made by a different winch manufacturer.
KFI Stealth Series ATV Winch: $310.00 – $458.75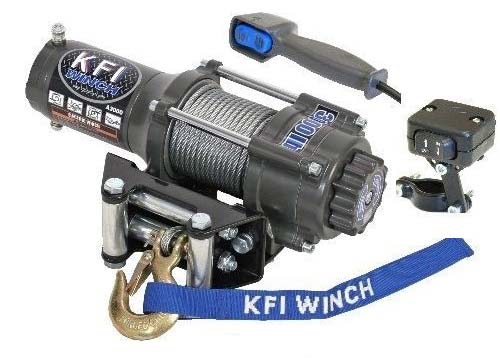 The KFI lineup of Stealth series winches are sure to be able to get you out of almost any situation you find yourself stuck in. Notable features include synthetic cables, a strong cable hook stopper, a dynamic braking system, water resistant seals and a 4-hole mounting design with a heavy duty all metal clutch. I highly recommend the SE45 model with a 4500 lb pulling capacity.
It also comes with a 14′ hand-held switch for those times where it's safer for you to stand clear of the ATV for safety. A clearly marked dash rocker switch makes the KFI stealth series winches easy to use while seated on your ATV. A heavy duty electric contactor protects your ATVs electrical system. All of this and it has a full year warranty as well. To order your KFI winch, call (877) 346-2050 or visit kfiproducts.com.
Warn VRX Powersport Winch: $274.99 – $499.99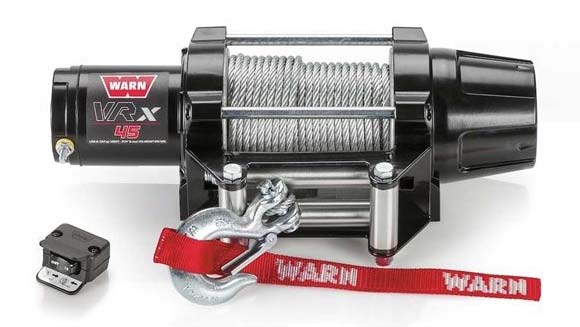 Warn introduced their new VRX lineup of powersport winches to positive reviews. It comes with 50′ of steel cable with the option of upgrading to fully synthetic cable. A cable sleeve helps protect the cable from damage where it comes into contact with a tree stump to minimize abrasion. A durable metal construction and handle-bar mounted switch ensure ease of use and durability.
Warn VRX Powersport winches have a smooth three-stage planetary gear train and are fully waterproof. A load holding mechanical brake ensures that your winch remains in full control of whatever you are towing. An optional accessory kit including load damper is also available. To order your Warn winch, call (503) 722-3073 or visit warn.com.
Tusk ATV Winch: $159.99 – $296.98
Tusk's winch has a pulling capacity of 2500-3500 pounds from a 600-800 watt motor, depending on model. Steel cable measuring 50 feet and mounting hardware with simple installation instructions are included. A roller fairlead, mini rocker handlebar switch and clutch knob are also standard equipment on Tusk winches. Water-resistant components ensure proper function in wet conditions.
I prefer to use a Hawse fairlead with synthetic rope but the roller fairlead works just as well. If cost is a concern the price of Tusk winches is slightly lower due to not coming with a remote switch, which is great if you don't need one or, like me, tend to lose the key fobs eventually. My friends own older Suzuki, Polaris, Honda and Yamaha ATVs and Tusk winches installed easily on all of them. To order your Tusk winch, visit tuskoffroad.com.
Superwinch Terra Series Winch: $249.99 – $499.99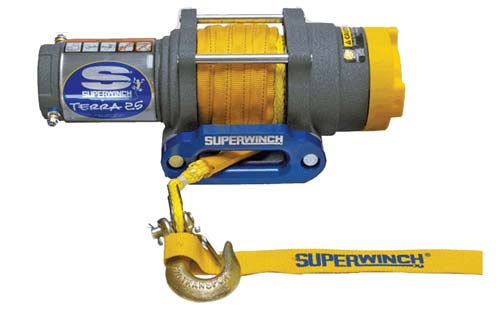 The Superwinch Terra Series winch is available with 2500 lb, 3500 lb and 4500 lb pulling capacities, depending on model. What I love most about Superwinch is durability. The Superwinch winch gears are extremely wide which gives them a wider griping surface. The winch drum and housing can interchange between synthetic or steel cable so that you can switch between them as needed.
Where the Superwinch Terra Series Winches excel is in the size and strength of their motors. Beefy comes to mind, which is important in harsh conditions. Dollar for dollar, or pound for pound, Superwinch is among the most reliable Winches on the market today. To order a Superwinch winch for ATV, call (800) 323-2031 America (44-1822-61-4101 UK), or visit superwinch.global
QUADBOSS 2500 LB. ATV Winch with synthetic rope: $264.99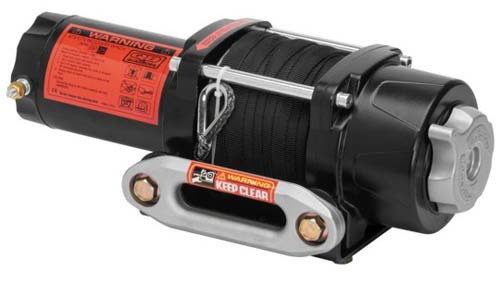 This Quadboss winch, Part Number: 608701, comes with synthetic cable called "Dyneema rope". A dual-gear planetary system ensures quick line retrieval speed and it operates on a low-current system to conserve battery power. For safety and reliability, the Quadboss winch comes equipped with an automatic load-holding and self-locking brake. The heavy-duty 3 HP motor is rated to pull 2500 lbs, or 3-4 times the average weight of an ATV with a rider on it.
Quadboss offers ATV-specific mounting kits for most ATV Brands so make sure to specify your make and model of ATV when ordering. Quadboss stands behind their products with a full year limited warranty. To order your QuadBoss winch, call (877) 8471558 or visit quadboss.com.
Recommended ATV Winch recap w/ 2020 Reviews
KFI Stealth Series ATV Winch.
Warn VRX Powersport Winch.
Tusk ATV Winch.
Superwinch Terra Series Winch.
QUADBOSS ATV Winch with synthetic rope.
ATV Winch Buyer's Guide
How much does your four-wheeler weigh? – If your ATV weighs 750 lbs with you on it and you're towing an extra 1000 lbs of cargo then obviously a 1500 lb winch will not be enough. What I recommend doing, and this has worked well for me, is adding the curb weight of my ATV, the maximum tow and carry capacity of my ATV and my body weight and doubling it to come up with a minimum winch rating.
Example: A Yamaha Big Bear 400 weighs 476 lbs, can carry 165 lbs on the racks, can tow 728 lbs more and do it while carrying an adult, so add another 195 lbs. The total ATV weight, fully loaded, is 1564 lbs. A 1500 lb winch will not suffice since getting stuck is most likely to happen when fully loaded. Doubling that total weight is a good minimum winch rating to have, when you're stuck a winch needs to pull that weight and overcome any additional resistances and friction while pulling.
Too much winch isn't better. Simply bolting on the strongest winch you can find may not work out as planned. Remember, your ATV battery and electrical system need to provide, and sustain, enough current to power the winch. It's very helpful to have an ATV manual on hand so that you can research how much electrical output your quad can give you. It's not very practical to pay for a more expensive winch that will also require a battery and wiring upgrade when it's not needed.
Consider the terrain and intended use. Pulling an ATV out of the mud requires a stronger winch than moving an object across open trails. The suction mud creates can be quite strong and hard to overcome making it necessary to have a stronger winch. Moving an item, such as a fallen tree, will not be as difficult. In some cases it's possible to use the winch like a chain, locking the rope and using the ATVs engine to tow debris off the trail won't tax the winch at all.
Get the right winch accessories for the job. When you need your winch the most you are going to depend on it being able to do it's job properly. If you have a steel rope on your winch make sure you have a strong pair of gloves, preferably made of leather, to protect your hands. A synthetic rope needs a removable sleeve to protect it from abrasion, unlike a steel rope the synthetic rope is easily damaged. Also consider bringing a strap, tie down or additional rope. You never know when you'll need an extension or to tie your ATV to a tree to prevent it from sliding. The accessories you will need depend on your intended use, include them in your cost analysis.
How to Install an ATV Winch
Frequently Asked Questions About ATV Winches
What is included with the winch? New ATV winches usually include all required wiring components including a switch, solenoid, hardware, wiring diagram and connectors. A universal mounting plate is also typically included in the base price. Depending on your model of ATV you may need to request a four-wheeler specific mounting plate which is generally available at additional cost. Typical winch rope length is 50 feet.
Will these winch mounts fit my ATV? There is no mounting system capable of adapting to all ATVs, there are simply too many differences between models, however all winches mount to the most common ATVs and/or offer a specialized bracket that will.
Steel rope vs synthetic rope, which is better? The answer depends on your needs. Steel winch rope is stronger than synthetic winch rope but it is heavier, takes up more room and may rust over time as well. The downside of synthetic rope is that it is easier to damage from rubbing against things like tree stumps.
Can I make my own winch mounting plate? Of course but it is not recommended for several reasons. Drilling holes in the tube frame of your ATV weakens it and the risk of damage during use, to you and your ATV, is increased if catastrophic failure occurs. It's best to use factory mounting bracket with your winch, your warranty may be voided without one.
What is a fairlead and do I need a stopper? A winch fairlead is a guide for the rope which reduces stress on the winch motor. Fairleads come in two basic styles, aluminum and roller. Roller fairleads perform better with steel cables whereas aluminum fairleads are recommended with synthetic rope. A winch stopper is a rubber ball or block located at the end of the winch rope to prevent stress and damage from winding the rope in too far. The stopper will not fit within the rope housing and lets you know when to stop retrieving the rope.
Additional Tips: Do's and (mostly) Don'ts
Don't tie knots when pulling with synthetic rope, they may cinch so tightly that you can't undo them afterwards.
Don't tie knots when pulling with steel rope, you may kink the cable making it hard for the winch to retrieve.
For safety reasons never stand next to, or in-line with, winch rope when in use. If it breaks you'll get hurt.
Don't use the winch from a downhill position, whatever you are pulling might run over your ATV.
Don't wrap the rope around something that can be crushed, because it will be.
Tip: A 1,500 lb winch is probably not enough. 2,500 lbs is the minimum I'd consider for an ATV, I prefer 3,500 lbs, and 4,500 lbs minimum for a UTV.
Related Posts