Currently, motorcycle helmet cameras are considered as very important accessories by both professional motorcycling sportsmen and even leisure and transportation users. Helmet cams act as a record of evidence in deciding on insurance-related claims, capturing epic and energetic sportsmen stunts during races, and also exclusive coverage of field excursions for record keeping, professional documentation, and sharing purposes.
Listed below are 2018 top 10 of highly rated, professional, and resourceful helmet cams to consider before purchasing.
Nikon Key Mission 
Regarded as the ultimate waterproof motorcycling cam, it bears 2 NIKKOR lenses and a photo sensor with 360-degree recording view that generates a 4K Ultra HD video quality. Its Wi-Fi capabilities allow video transferability from cam to phone allowing a capacity of 64GB video content. Its lightweight and flexibility in diverse mounting surfaces and complimentary kit guarantee effective usability.
Fire Cam Mini 1080p Helmet Camera
It tops the quality cam production standard for maneuvering fire environments with a synced automated Smartphone-Wi-Fi control that best serves firefighters. Its lightweight, wide-angle focus, 900F Heat resistance glass, and low light adjustments facilitate timely usability in harsh and diverse conditions. With fast download speeds that support High video qualities of 1080p and 720p HD, its water resistant sound cap has an outstanding allowance of 33ft in-depth.
Polaroid XS100i Adventure Motorcycle Camera
It dominates the extreme sports suitability features like lightweight, 10m water resistant cover, shock-proof exterior noise reducer, flexible 720p flame rates (for both slow and fast motion), aerodynamic shape, and Wi-Fi enabled cam to phone transfers with simple settings allowing adjustability while still motorcycling. Its G-sensor automates image adjustability via large 170-degree angle lens with twin file recording mechanism hence swift downloading and transmission of video.
Go Pro HD Helmet Hero
It provides convenience for high-quality video recording of extreme rough terrains action and stunts in full HD with an impressive 1080p video and audio accessory quality, as extensively detailed in https://vdashcam.com. Its lightweight version has a top-notch capacity of shooting a maximum of 60 frames in every second with a Wide Video Graphics Array enabling effects of slow motion and playback. With a 32GB SD card capacity, it guarantees 8 hours continuous shooting period owing to rechargeable long-lasting lithium battery life
ION Underwater Helmet Camera
Its usability favors miscellaneous motorcycling activities through water-resistant casing up to 9.1m depths, lightweight, generalized single touch tasks, flexibly mountable of helmet boosting personification, the High video quality of 1920 * 1080p with 30FPS and lenses at 170 °. Its lengthy usability is dependent on long-lasting rechargeable lithium battery, Adjustable 16GB Micro SD Card, and 8 GB cloud storage
Contour ROAM2
Bullet Motorcycle Cam-Precisely equipped for waterproof activities with lightweight contour mountable and 270 ° revolving lens that enhances 60 FPS and diverse colors with a prompt push to record control.
Sena Helmet Camera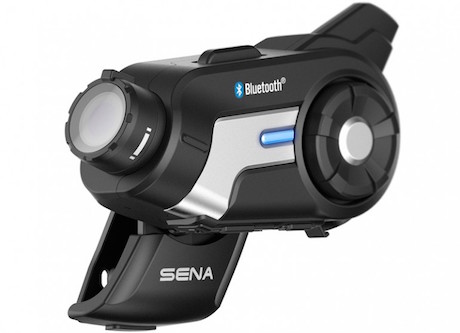 It's a fusion of camera and headset model with Bluetooth 4.0 automation, advanced voice and noise control recording 1080p HD videos and 30 FPS. It's unique due to its 1.6KM orbit intercommunication system of up to 4 users and FM radio provision to share music.
Yuntab Helmet Cam with Night Vision
It best functions in dark motorcycling environment via its starlight sensor and 1080p HD video quality that is stored in its 32GB SD capacity for a continuous 6 hours recording period. Its recording is easily launched by a push to start automation. It's lightweight and flexible in mounting, and has Wi-Fi capabilities running an impressive 50 days of power when idle.
Power Lead Case Helmet
Topping the longest quality battery life, it is slender, small and lightweight with a 120 ° lens focus that produces 1080p high video quality and 60 FPS for a continuous 2.5 hours. It comes with an expandable 32GB Micro SD card and a light sensor for maneuvering dark conditions.
Tachyon Motorcycle Camera Kit
Ranked as one of the leading resourceful motorcycling cam kits due to its lightweight, easy top helmet mount ability, and automated easy startup key triggered start-stop recording. Its high definition/audio receding, 2.5 hours recording period, 64GB memory capacity, 1080p video quality, light sensor and water resistant casing are suitable for any condition. It comes with a 12 V charging system
In conclusion, motorcycle helmet cameras are one great development in the field of motorcycle that should be embraced by all riders despite their leisure, transportation, and sportsmanship specialisation. Its advantages spread from accountability in insurance compliance, eased documentation of one's trips, and improving sports interest by recording each second of adrenaline burst. The variety of 2018 best motorcycle cameras vary from Power Lead Case Helmet Cam renowned for its energy preservation qualities to ION Underwater Helmet Camera for water environments among others listed above.
Note: Police in Victoria, NSW and South Australia may view helmet cameras as illegal, saying they make a helmet non-compliant. 
(Guest contributor)