TomTom Rider Premium Pack
Price: $699 AUD
Available: Ryda and Johnny Appleseed
Web: Click here
Satnav is very convenient, but if you just want to pop into the servo to pay for fuel, you might not want to leave it sitting on your bike, unattended.
Or if you've just stopped to go to the loo, or you are picking up some lunch … it's an inconvenience to have to unclip your satnav and stick the bulky item in a pocket and then secure it again when you get back to your bike.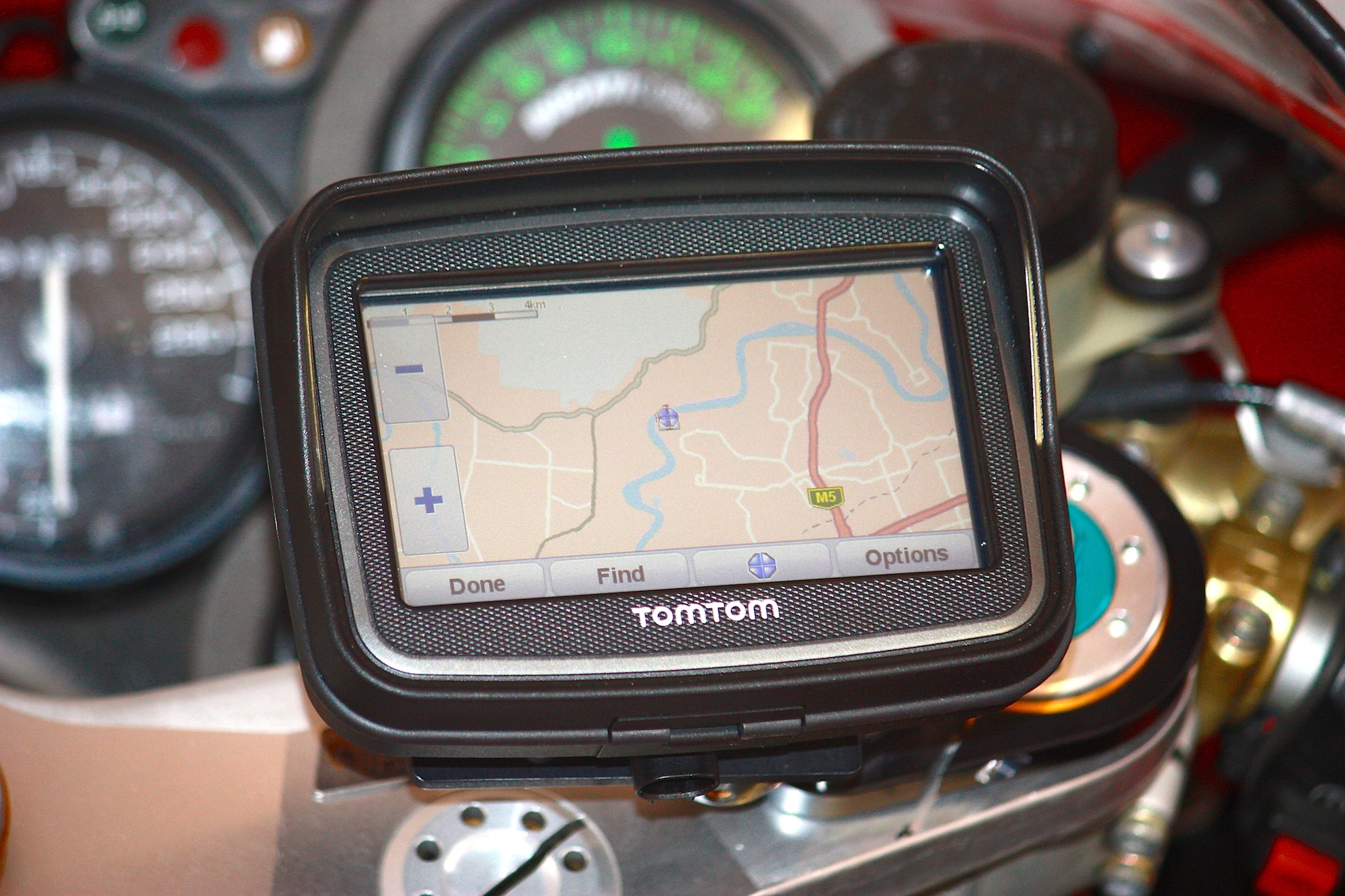 Thankfully the TomTom Rider is very easy to unclip and reholster in the charging dock, but that makes it easier to steal.
Now they have created a Premium Pack which comes with an anti-theft lock so you can leave the unit on the bike. It also has a travel case so you can take it with you in case you want to plan a route over lunch. It is also has a car mounting kit so you can use it in another vehicle.
The TomTom Rider has a nice big 55x95mm screen and a 20mm hood to keep the sun out, although it's really not big enough to prevent much glare.
The screen has a satin finish which is almost unreadable in bright sun. Surely a satnav that is going to be sitting out in the sun on a bike, not under a roof in a car, would have an anti-glare screen. The best I've experienced is the on the Honda Goldwing, so it can be done.
Some satnavs claim to be for bikes but they don't even include a bike icon. At least this one does.
However, some of the touchscreen "buttons" are a little small for winter gloves or at least make it difficult to type in a destination on the run. However, it's probably safer to do that while stationary.
The new model comes with Tyre software so you can create routes on your PC. It's not Apple compatible, which is a nuisance, so I had to use my wife's PC to fire it up.
Without getting too technical, it will do everything you need to plan a route, make changes, add and subtract waypoints with ease, then email it to your friends so you all have the same route for your ride.
However, my favourite feature is the "Plan winding route" function which suits my spur-of-the-moment sense of adventure ands the need to try different roads.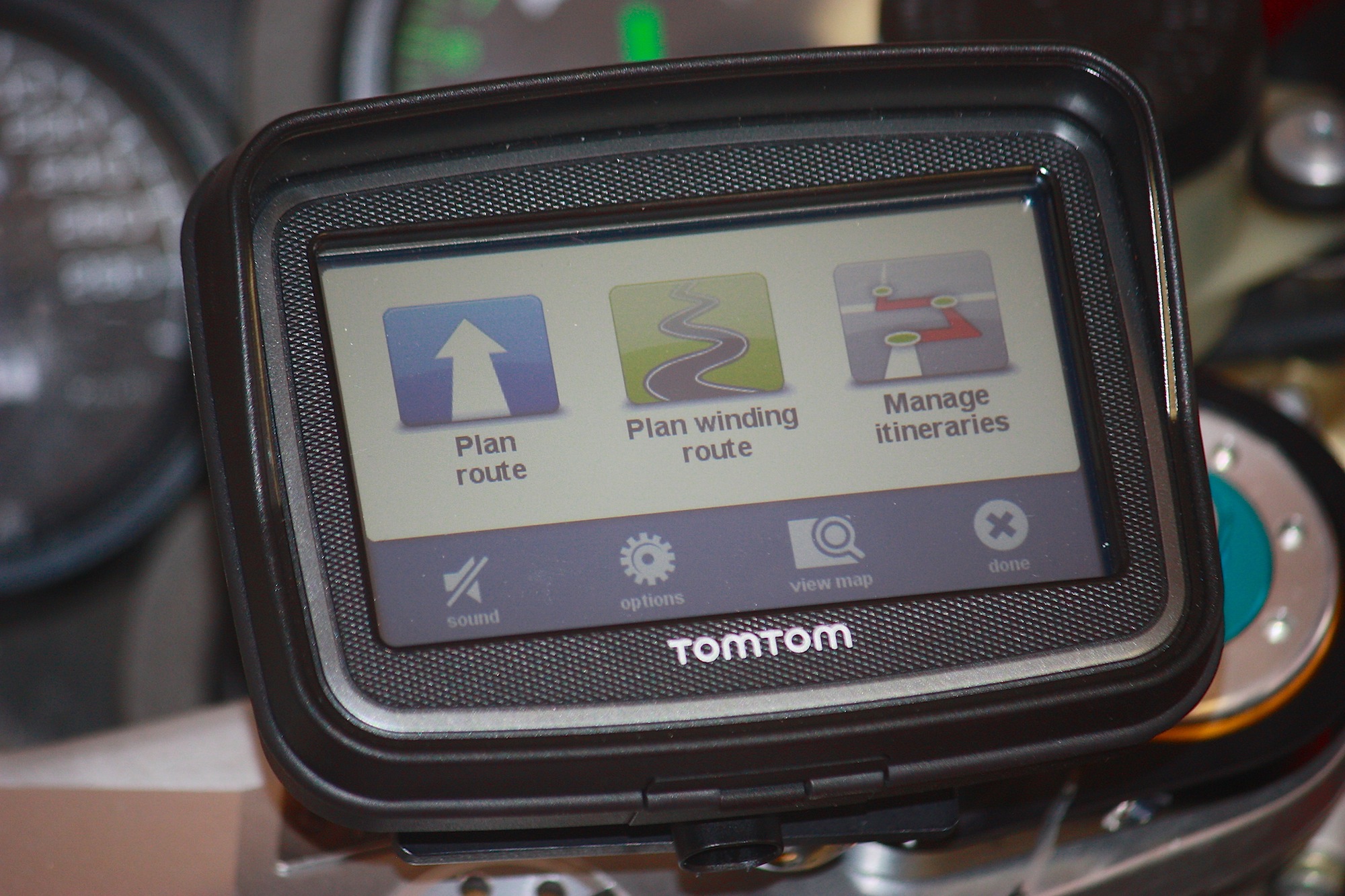 It's sort of like a lucky dip for those of us who remember such things or like hitting random on your iPod for the younger generation.
It is clever enough to plan a direct route to get you out of the city quickly, but then it avoids highways and toll roads and plans an interesting route with the most corners.
It may ignore your usual preferences such as shortest distance or fastest time, but isn't that part of the fun?
I reckon it's brilliant and just what many bike riders have always wanted. We don't always head out with a clear intention of where we are going, so this is very handy for those riders.
And if you are riding in a group, you can also share this route or another that you may have planned earlier with your friends via Bluetooth.
How good is that? No need to email your friends in advance. I'm not big on planning, so this suits me fine.
Just meet up with your mates somewhere, work out a route on one of the devices, then share it all round so you are all on exactly the same route.
This feature, alone, is worth the asking price.
But wait, there's more. How about free Australian Lifetime Maps for the life of the product?
Some satnavs may seem cheap, but when you go to update the maps they charge you an arm and a leg.
TomTom Rider allows users to download "four or more full updates" which, I guess means as many as you want! It includes all updates to the road network, addresses and Points of Interest, including interesting places to stop en-route, such as cafes, accommodation and fuel stops. You can also personalise these POI as you go, for example, if you find a great coffee stop.
Furthermore, you can become part of the TomTom Map Share community which shares other riders' favourite maps, POIs and important info such as new speed limits, roadworks and blocked roads.