Aussie Toby Price and two other riders stopped to help fallen rider Paulo Goncalves (pictured above) yesterday (12 January 2020) in the Dakar Rally.
They came across the Portuguese rider at the 276km mark of the epic 546 stage.
Paulo was unconscious and Toby and some other riders stayed with him until the helicopters arrived. Sadly, Paulo passed away in hospital.
He had raced in every rally since his debut in 2006 with four top 10 finishes and a second place in 2015.
Stage eight of the rally today has been cancelled in Paulo's honour.
Toby
says Paulo started about five minutes before him:
"I came over a small crest and saw a rider down and it was Paulo," he says.

"Worst fears kicked in cause I knew this one was serious.

"I called for help ASAP and helped get him on his side (plus more serious checks).

"Tried calling for more help and by this stage Stefan Svitko (also a champion) had arrived and helping where he could.

"The first helicopter arrived and Luc Alp and Stefan were starting to help and as the medical helicopter arrived they were already on CPR and the doctors got to our sides and worked all they could.

"Helping holding drip bags, getting bags of medical equipment and guiding other riders around a bad scene.

"We all worked as long as we could but there was nothing we could do. I helped assist carrying him to the helicopter as it was the right thing to do. I was first at his side and wanted to be the last to leave.

"We will miss you're smile and laughter in the bivouac, #speedy.

Toby on Saudi the dunes in stage 6

"My last 250km of the special stage was tough. I'm dehydrated from tears.

"At the moment I'm not even worried about the result, I couldn't care.

"Many thoughts with family and friends on this day, we don't start the rally day eight for bike #8 in respect to family and friends and the loss of a HERO.

"Thank you to everyone for the messages of support worldwide, especially Portugal with all the kind things.

"We are human and this is nothing but just a race. I would give up all my wins to have any of my fellow racing mates back with us."
Toby still in contention
Toby finished 51st on the longest stage of the Saudi Arabian event, but the time he spent helping Paulo was deducted and his overall position adjusted.
On the adjusted timings, Toby is fourth overall and only 28 minutes behind the leader, Ricky Brabec (Honda, USA).
If victorious, he would be the first American to win the Dakar and it would halt the impressive 18 consecutive wins for KTM.

Top 5 rankings
| POS. | N° | DRIVE-TEAM | MARK-MODEL | TIME |
| --- | --- | --- | --- | --- |
| 1 | 9 | | MONSTER ENERGY HONDA TEAM 2020 | 28H 25′ 01" |
| 2 | 5 | | ROCKSTAR ENERGY HUSQVARNA FACTORY RACING | 28H 49′ 49" |
| 3 | 17 | | MONSTER ENERGY HONDA TEAM 2020 | 28H 52′ 02" |
| 4 | 1 | | RED BULL KTM FACTORY TEAM | 28H 53′ 45" |
| 5 | 12 | | MONSTER ENERGY HONDA TEAM 2020 | 28H 54′ 30" |
Other Aussies
Queensland veteran competitor Rodney Faggotter (Yamaha) has now moved to be right with Toby.
He finished the epic stage in 17th, moving up two outright spots to be 12th.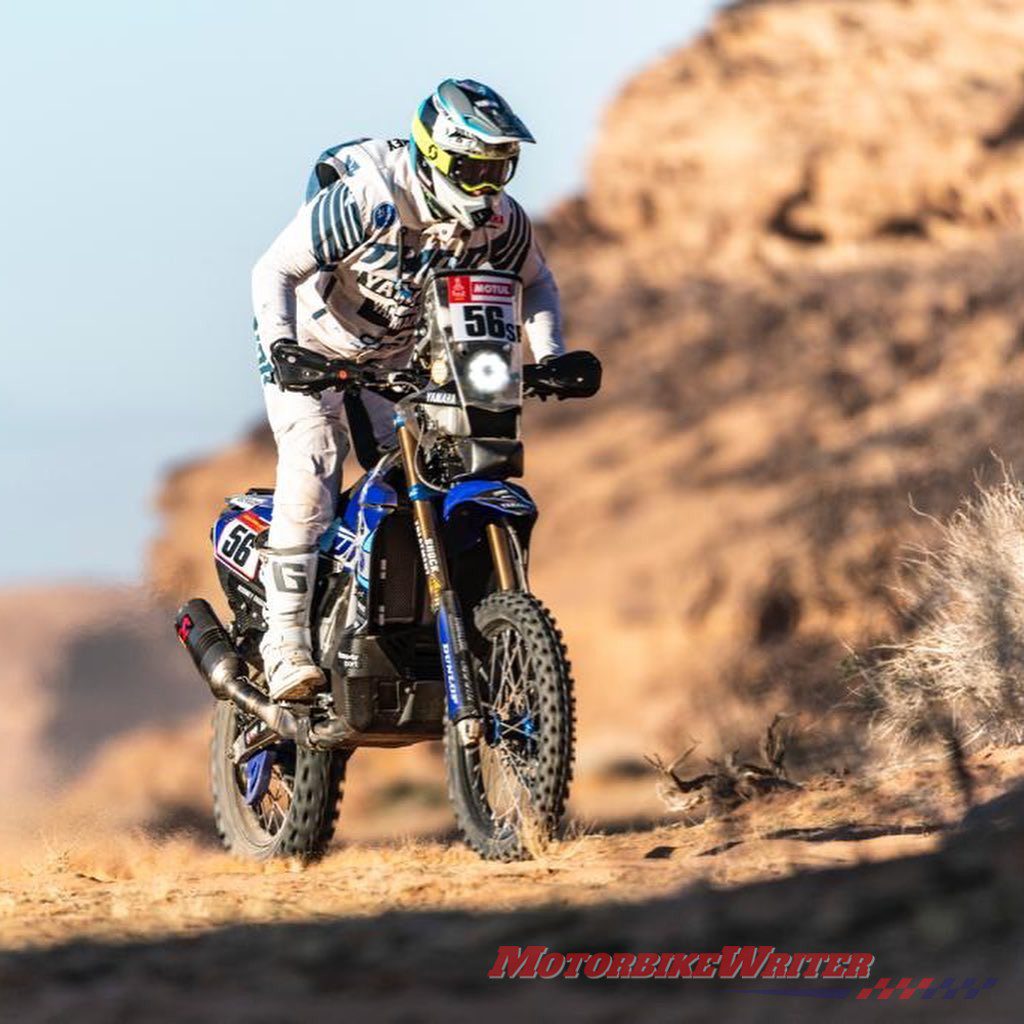 Fellow Aussie Ben Young (KTM) finished strongly in 54th place in his second Dakar, moving up nine positions to 57th overall.
Matthew Tisdall (KTM) had his best finish yet with 99th place and is now 102nd outright.
For the first time the Dakar rally is being run in the one country, Saudi Arabia, after being run in 35 countries on three continents since 1978.
Toby aids firefighters
Like many Aussie sports stars and celebrities, Toby is raising money for the bushfire appeal.
He is auctioning his starting jersey and pants for firefighters
Toby is also doing his bit for the current critical bushfire situation by auctioning his starting jersey and pants with proceeds going to the NSW Rural Fire Service.
It is open worldwide, just send in your bid in Australian dollars on his Facebook page or Instagram.
Current highest bid is still $13,001.
Auction closes on 18 January at 5pm (AEST).
If you can't bid, please donate on this link.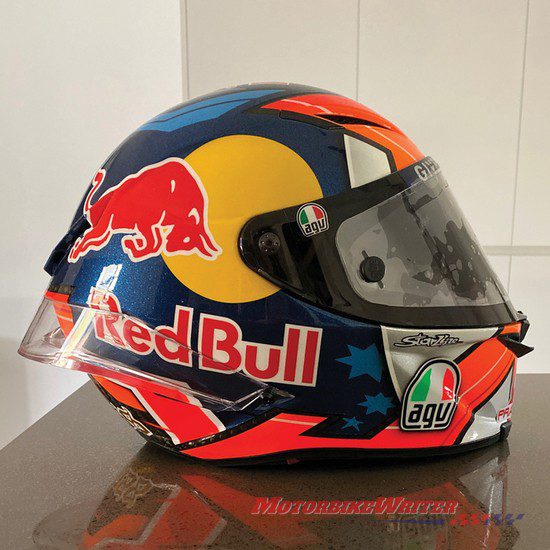 Meanwhile, Aussie MotoGP racer Jack Miller put his 2018 MotoGP helmet up for auction to raise money for the bushfire crisis.
The auction has now closed with 22 bids and the winner bidding  $18,000.
Jack will sign and send the helmet to the winning bidder