Australian rider Toby Price has extended his lead in the 2016 Dakar Rally after winning the Stage 9 which officials cut short because of the tough dune conditions.
Cheer on Toby by sending a message of support to his Facebook page.
The KTM rider is Australia's only entrant in the gruelling rally which proved its reputation today when many competitors became stuck in the sand dunes, prompting the stage to be cut short at CP2.
Toby is a sand specialist and had finished the gruelling special stage when the officials decided to cut it short so he was declared the day's winner.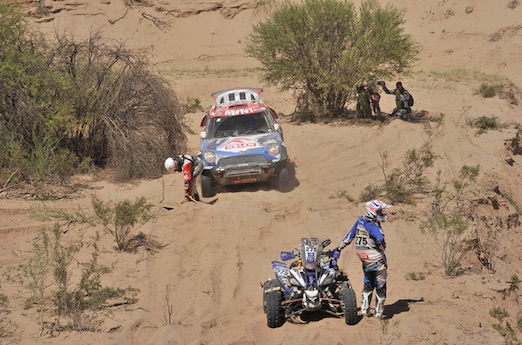 "I get to the finishing line and then they cancel the rest of it," he said. "That's a bit of a shame, but that's the way it is. We'll just have to wait and see and see what call they come up with. It's a bit of a bummer for me… I have to get to the finishing line and I've done that, but they've called it. I guess that's just the way it is."
It is his fifth stage win and puts him now 24 minutes in front of fellow KTM rider Stefan Svitco of Slovakia with just four rounds to go.
It's not an unassailable lead as anything can happen in this tough and unpredictable rally.
His main rival, Honda rider Paulo Gonçalves of Portugal, found that out today as he seems to be out of the standings after piercing his radiator with a tree branch.
"I think we're cruising along all right, so we can't complain," Toby said.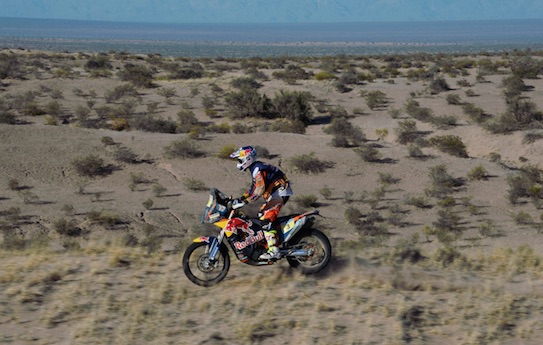 No other rider this year has managed more than one stage win and Toby is the only rider to have led a stage from start to finish.
Toby is also now the most successful Australian in the 27-year history of the famed rally.
Mainstream media is only now starting to wake up up to his enormous feat with minor mentions in newspapers and short TV spots on the sport after the football shenanigans, cricket and tennis. However, SBS provides daily coverage of the event at 5pm.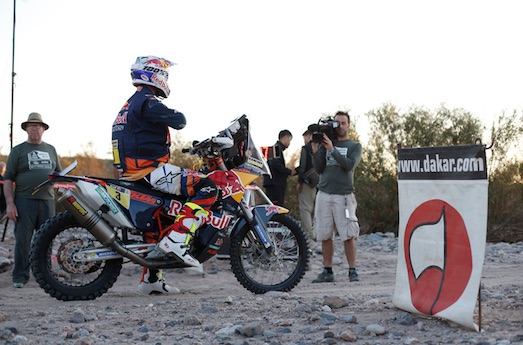 The 27-year old
Hunter Valley
rider last year achieved a stunning and significant third place. He was not only the top-placed rookie but also the equal highest-placed Aussie finisher in the event's history after fellow rookie and privateer Andy Haydon placed third in 1998.
Now he has the hopes of a nation riding with him to ascend to the top step of the podium.