KTM rider Toby Price is now in defence mode of his lead in the 2016 Dakar Rally after a third place in Stage 10 in the Argentinian sand dunes.
Cheer on Toby by sending a message of support to his official Facebook page.
"It was a key stage," says Toby. "I took it easy because my motorcycle struggled in the heat yesterday. I also focused on navigating. Two chaps came from behind and caught up with me, but I can't complain, it was a good stage. I can ride a bit more defensively now, no need to attack to gain time like I did yesterday. I've got some margin, but no guarantee. Anything can happen, I've got to continue working. I must avoid any mistakes or missing waypoints. What's important is to be in good shape and ready to kick it up a notch if necessary."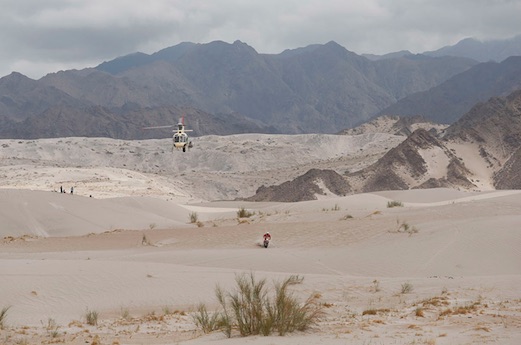 While Toby finished third to Slovak Štefan Svitko (KTM) in his maiden win and second-placed Kevin Benavides (Honda) in his home country, he is still the overall leader by 23:12 minutes over Svitko with just three stages to go.
In fact, it's more like just two stages as the last day is more of a short procession for the crowds.
He's also come through unscathed with no bike issues on what is a marathon stage where no mechanics are allowed to access the bikes overnight and riders have to do their own maintenance.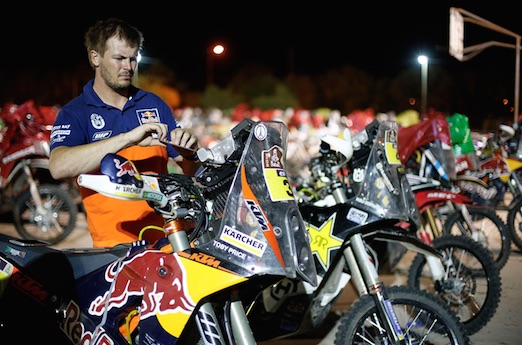 Meanwhile, his biggest threat, Paulo Gonçalves (Honda) of Portugal, is now back in third place overall after a disastrous Stage 9 when he lost the lead to Toby by crashing into a tree and putting a hole in his radiator.
Toby is Australia's only entrant in the gruelling rally. He has won five stages, while no other rider this year has won more than one.
He is also now the most successful Australian in the 37-year history of the famed rally.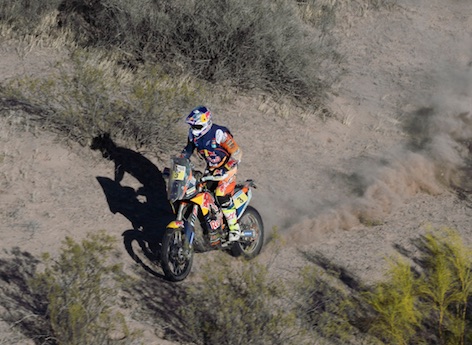 While mainstream media continues to pay only minor attention to Toby's phenomenal performance, SBS provides daily coverage of the event at 5pm.
The 27-year old
Hunter Valley
rider last year achieved a stunning and significant third place. He was not only the top-placed rookie but also the equal highest-placed Aussie finisher in the event's history after fellow rookie and privateer Andy Haydon placed third in 1998.
Now he has the hopes of a nation riding with him to ascend to the top step of the podium.